July 11th, 2008 by Sandeep Agarwal | Filed under
denim
,
Denim Collections - Int'l
,
Denim Data & Figures
,
Denim Market - International
,
Jeans
,
US Denim Imports
.
Evisu Deluxe Spring Summer '09 collection follows the first voyage of a Japanese ship sailing to America (in 1860).It draws from the historical references of the time and tries to combine the best of Japanese and American tailoring..As the Evisu blog mentions, the 'tailoring is inspired by the naval details such as shaped patch pockets,a high buttoning reefer jacket,sailor collars and wide legged cuffed trousers' .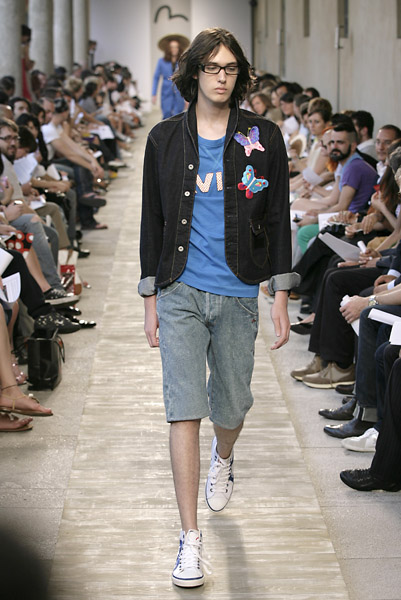 The denim collection is also inspired by the LEE brand(H.D Lee company was founded in 1889). The collection uses a newly developed selvedge denims including No.13LEFT- a Japanese woven reproduction of the denim fabrics used by LEE 1910s onwards.Jeans cut from 13LEFT denim have the leather patch sewn on the left side of the waistband.
Sea Washed(!) : The jeans have been hand washed in the sea and dried on the rocks nearby.This means that the washing effects will be subtle and denim will be hard (no chemicals to soften the denim are used).'Whiskering' and 'honeycombing' will come with time as the jeans wears out..Exclusive tailoring is used whereby each jeans is tailored by a single operator who signs each completed pair(if I am correct -Earnest Sewn also uses such tailoring techniques to ensure quality).
The overall effect of all the above mentioned techniques would probably give a clean ,natural looking jeans with somewhat trouser looks. Here is a Evisu's SS09 Milan Spring Summer Video
[youtube=http://www.youtube.com/watch?v=RtWgbzmh-QQ&eurl=http://www.evisu.com/blog/2008/07/09/evisus-ss09-milan-spring-summer-video/]
Related Links on Evisu:
Evisu Autumn Winter '08 Milan Men's Show
Evisu Autumn Winter'08 Milan Show Video
Backstage photos at Milan '09 Show
| | |
| --- | --- |
| | Want to Get our Denim Articles Free? Enter Your Email Address . You can unsubscribe any time :) |
Tags: denim collections, evisu, Jeans, jeans ss09, Lee, sea washed jeans, spring summer 09 denim, ss09 denim