After New York, London and Milan, it was now the turn of the Paris Fashion Week to bring some of the coolest fashion designs to the world.  High end Labels like  Anthony Vaccarello,,Balmain, Christian Dior, Isabel Marant, Saint Laurent, Louis Vuitton ,Chanel besides many others worked out their magic on the ramps. We bring denim looks from some of these designers in this report.
Louis Vuitton
Louis Vuitton's collection tries to reflect a future that is influenced by the biker gangs and  Japanese anime. Designed with the digital age in mind where clothing needs to have a visual impact for a population that lives more through its devices then in real life. The collection also portrayed a strong reflection of warrior women who are fierce and in your face. Denim overalls and dresses match up to this portrayal.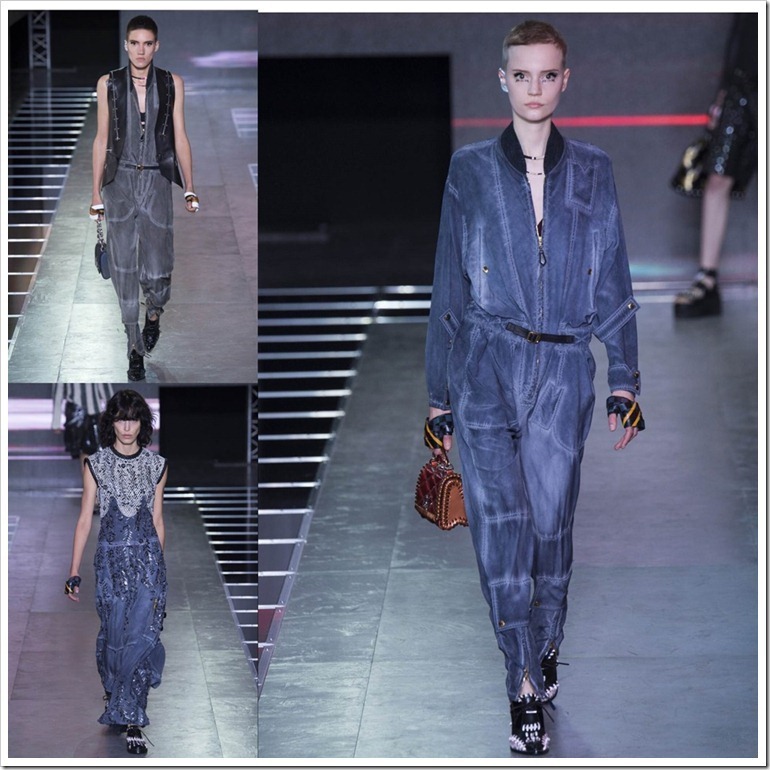 Allude
Andrea Karg explored the lightness of summer cashmere in her Spring 2016 collection at Allude., Karg played with deconstruction using recycled jeans and  remaking them as trompe l'oeil skirts and using trouser legs as overlong sleeves. It was new take on using denim by a label !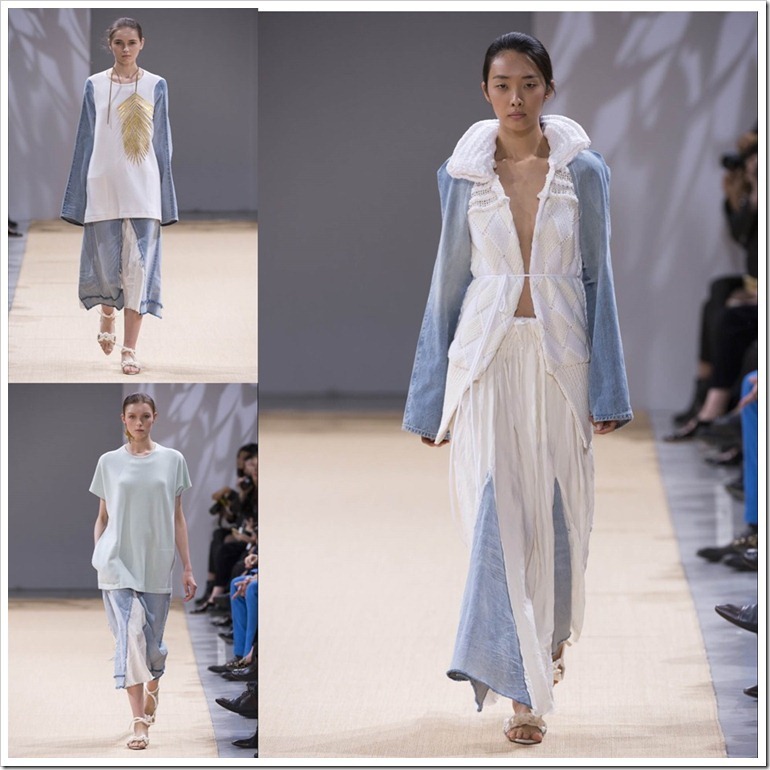 Vanessa Seward
Vanessa Seward  is a French fashion designer. She was born in Argentina in 1969 and grew up in London before, aged 12, moving to Paris with her mother. After studying at Studio Berçot, Seward worked for nine years as an accessory designer for Chanel and Tom Ford at Yves Saint Laurent before becoming second-in-command to Loris Azzaro..  She brings out chic looks on her pieces with simple elegance. And she manages to do the same with her denim pieces .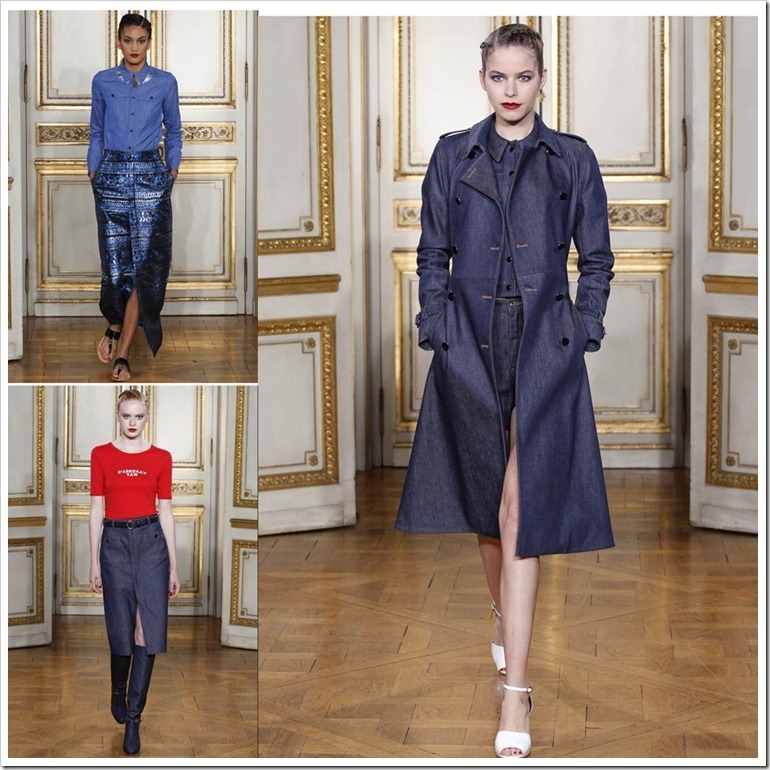 Koché
KOCHÉ has its collections produced by most specilaized French Artisans including the Maisons D'Art , Mntex & Lemaire and others.Luxurious , yet very casual, it brings out a Haute Couture approach to fashion which incorporates denim .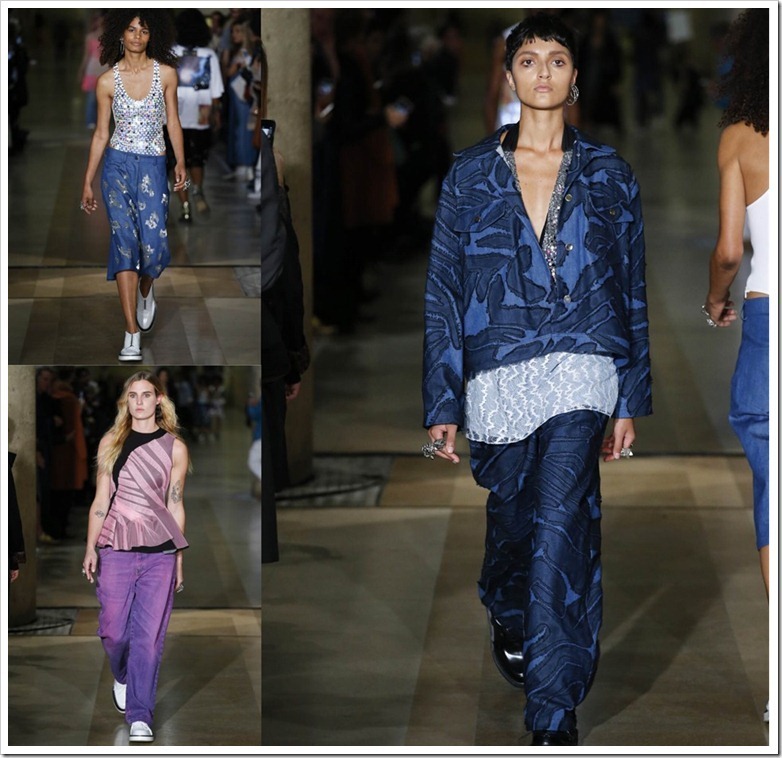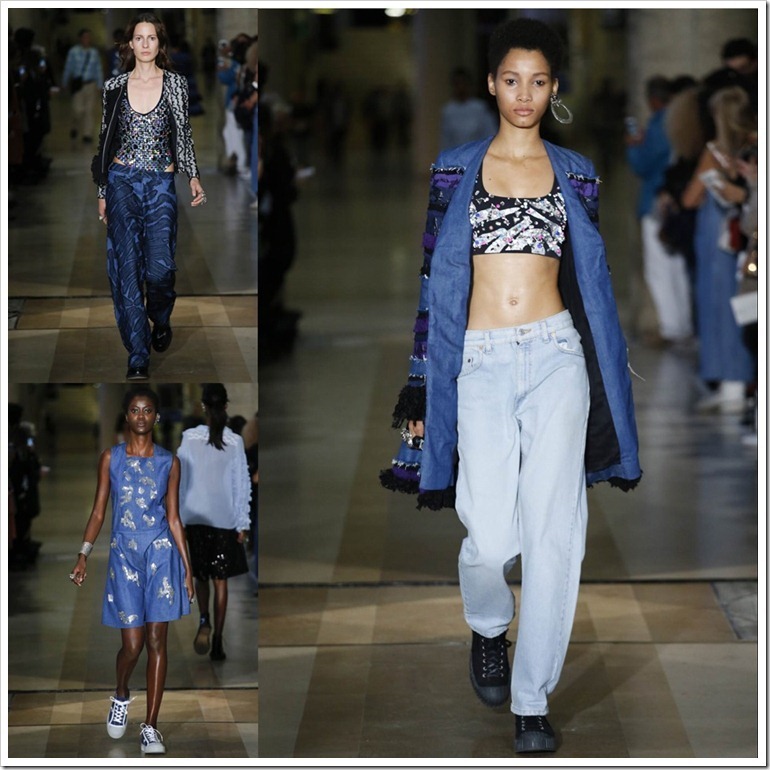 Guy Laroche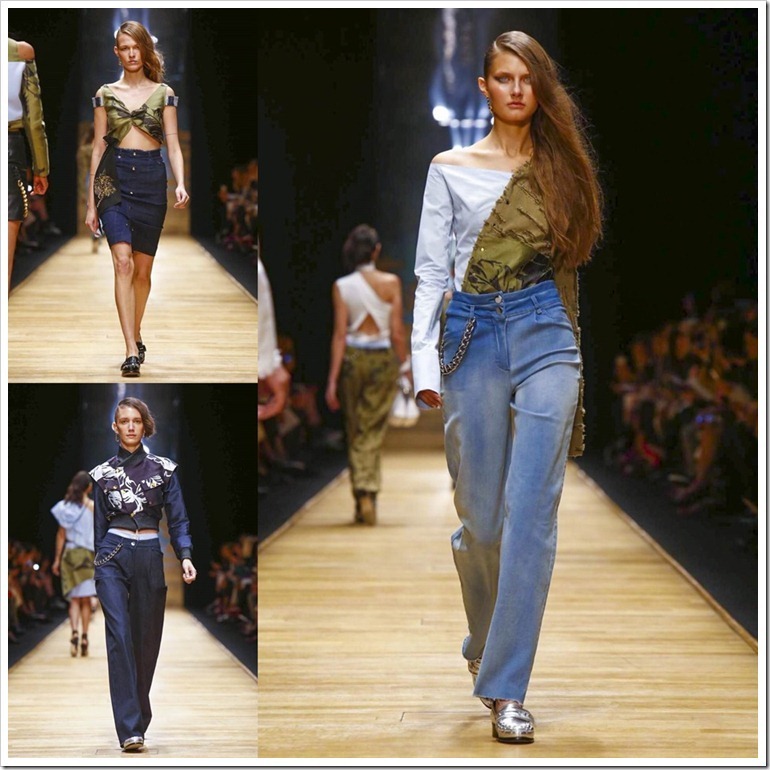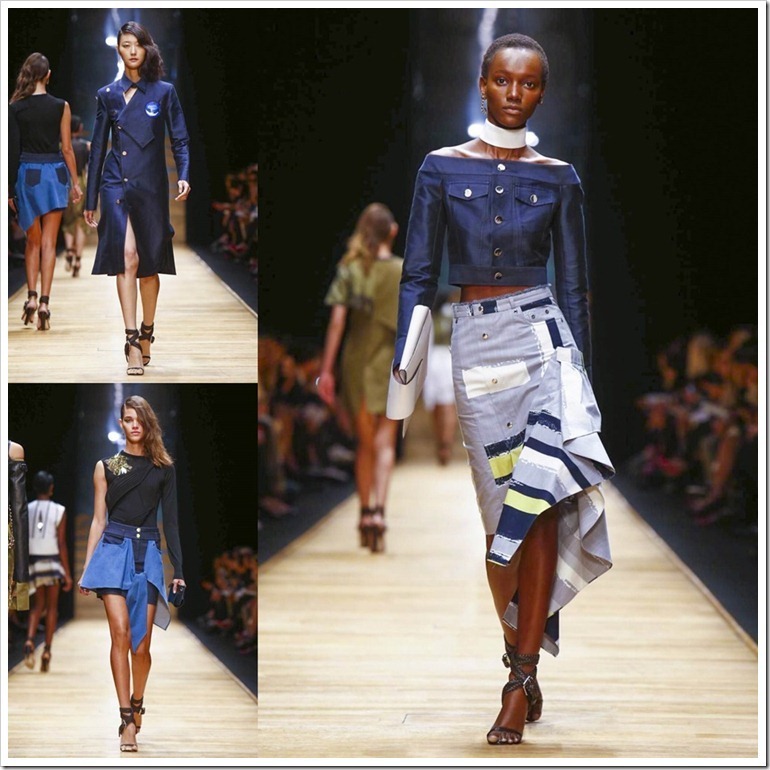 Chloé
French design house Chloe brought sporty chic to the catwalk on Thursday, presenting  floor-sweeping skirts for women's wardrobes next spring.Creative director Clare Waight Keller sent models out in indigo, burgundy and beige sporty tops and trousers, slit below the ankle, as she presented Spring/Summer 2016 collection at Paris Fashion Week.
Keller had interesting takes on denim: usually shorts and skirts tied with drawstring and frayed at the edges. For her SS'16 collection, she took inspiration from 1990s looks. .SS16, however, was still a very western, grunge-era look, and one that brought out Chloé's glory years under Stella McCartney.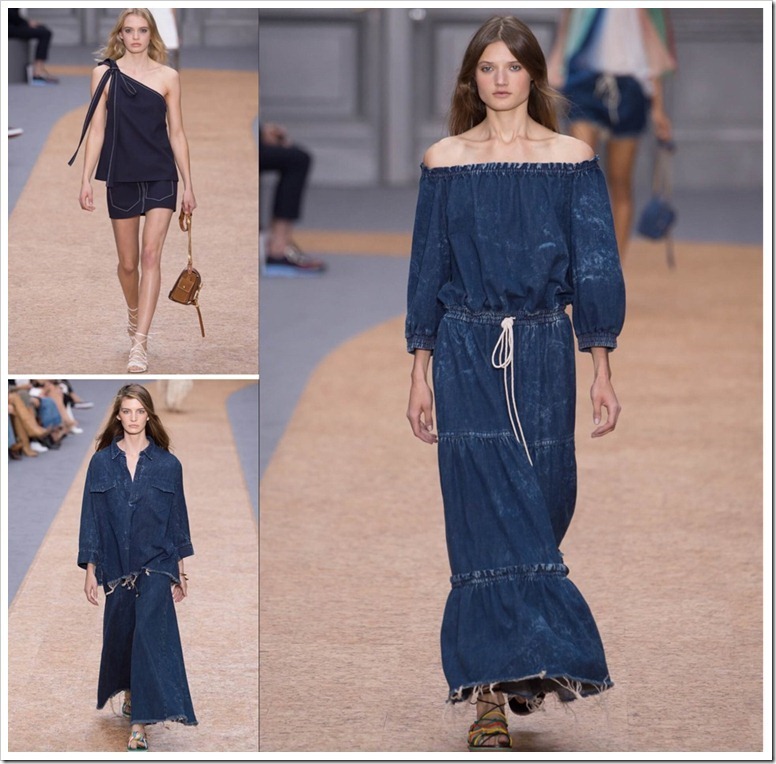 Martin Grant
Born in Melbourne, Martin Grant was a child prodigy and was named the young deisgner of the year in Australia. His designs are simple but spectacular and reflect his understanding of structure, balance and volume. He has worked with major luxury brands including Barney's . The national airline of Australia recently invited him to design the company's new uniform. Miranda Kerr unveiled his collection earlier this year at Sydney. His usage of denim is in his characteristic style – uncluttered , simple but spectacular.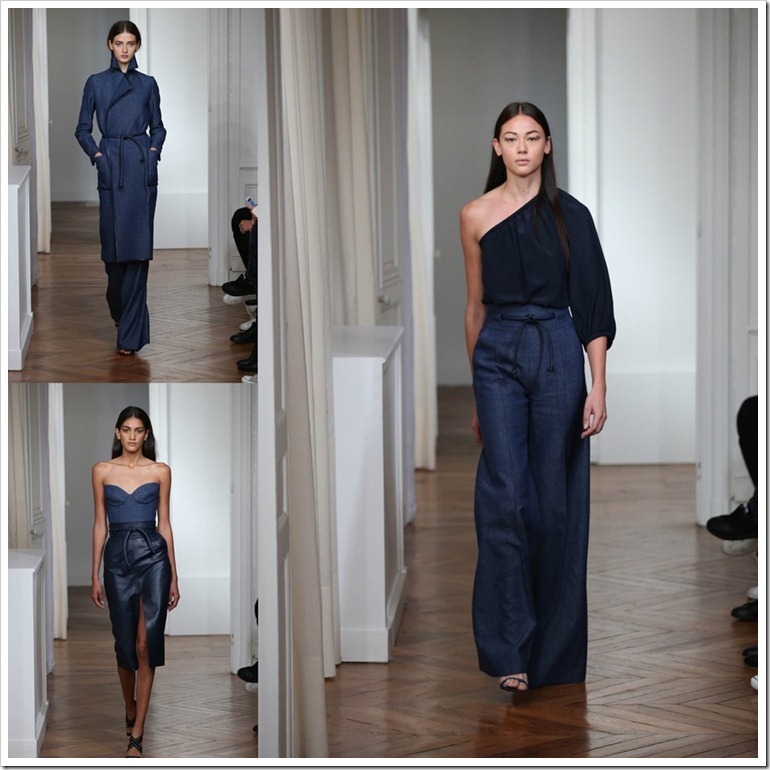 Andrew Gn
Decorative, girlish and feminine, abounding flora and fauna  and visually aggressive hemming were the hallmarks of Andrew Gn's designs.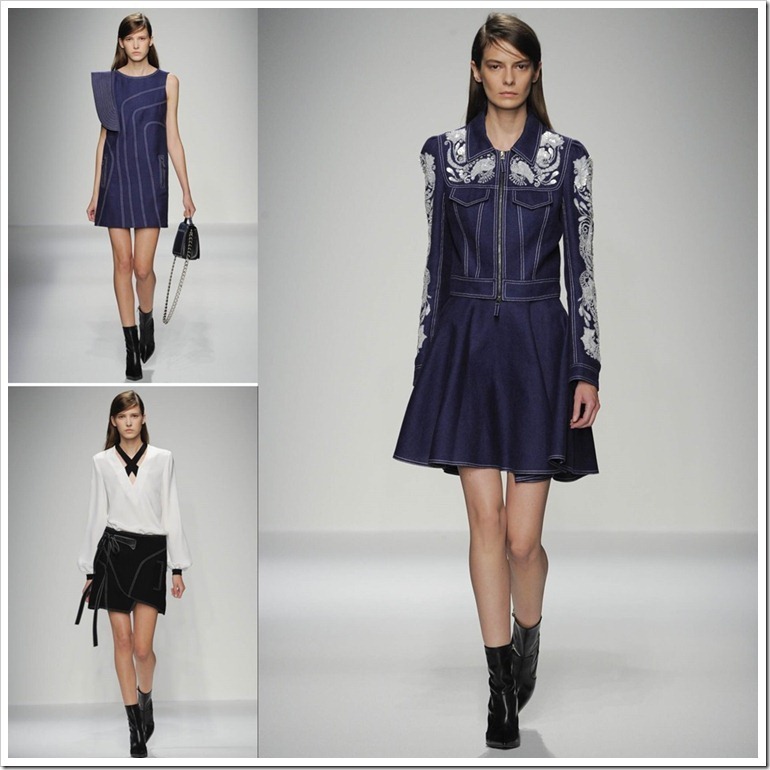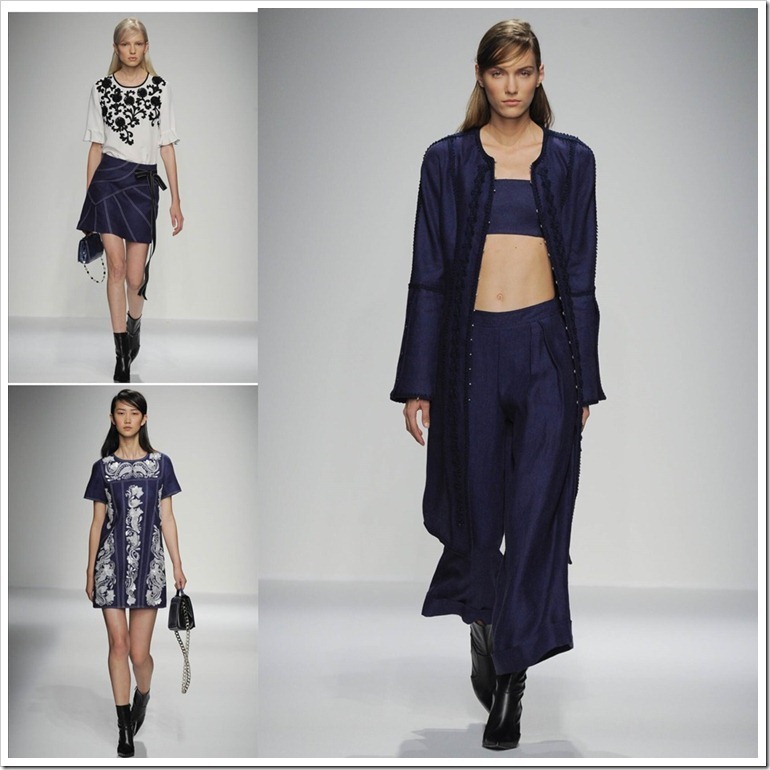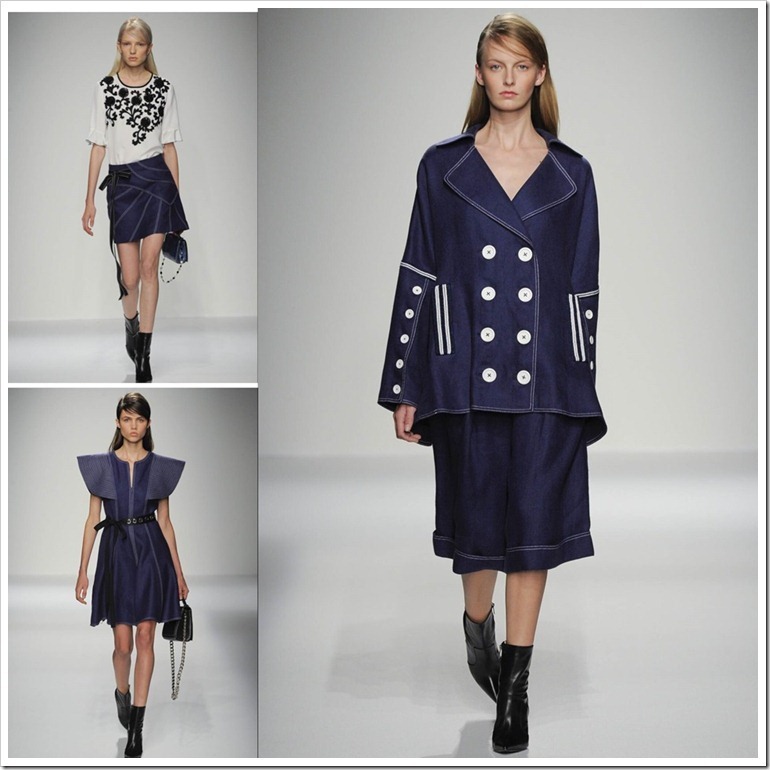 Chanel
Karl Lagerfeld  turned the Grand Palais show venue into a sleek airport terminal where everyone was travelling first class. The whole show had the smart passengers (models) moving up and down the terminals creating that life like impression of how a Chanel customer should travel !
It also had that casual element.  For those voyagers who preferred a more casual approach for their onboard attire, some wide cut printed denim trousers paired with  motif intarsia pants and sweaters . Also there were some chic denim dresses with motif prints and some plain button less denim jackets to pair with long skirts. On the whole, an element of elegance added to denim !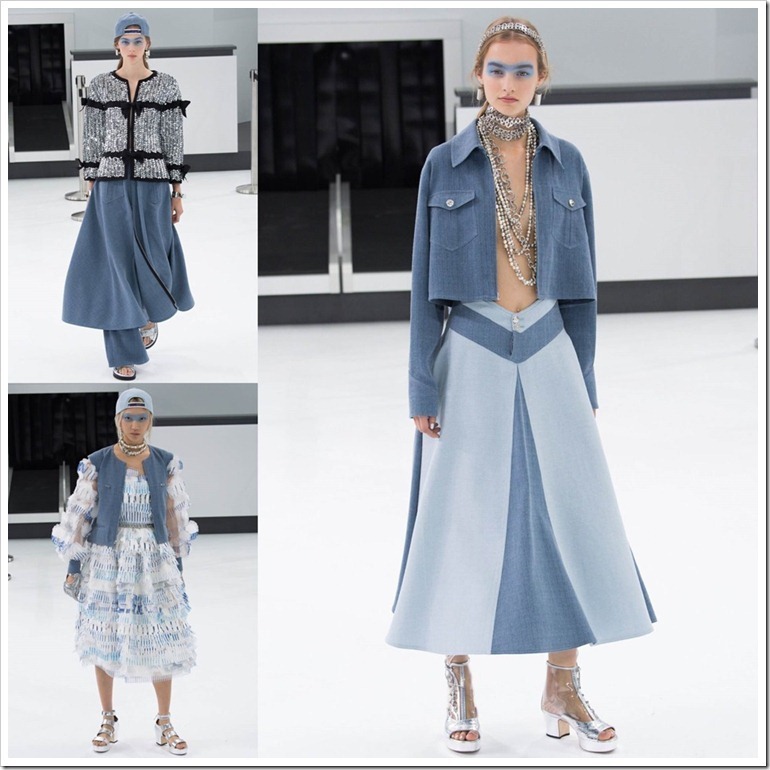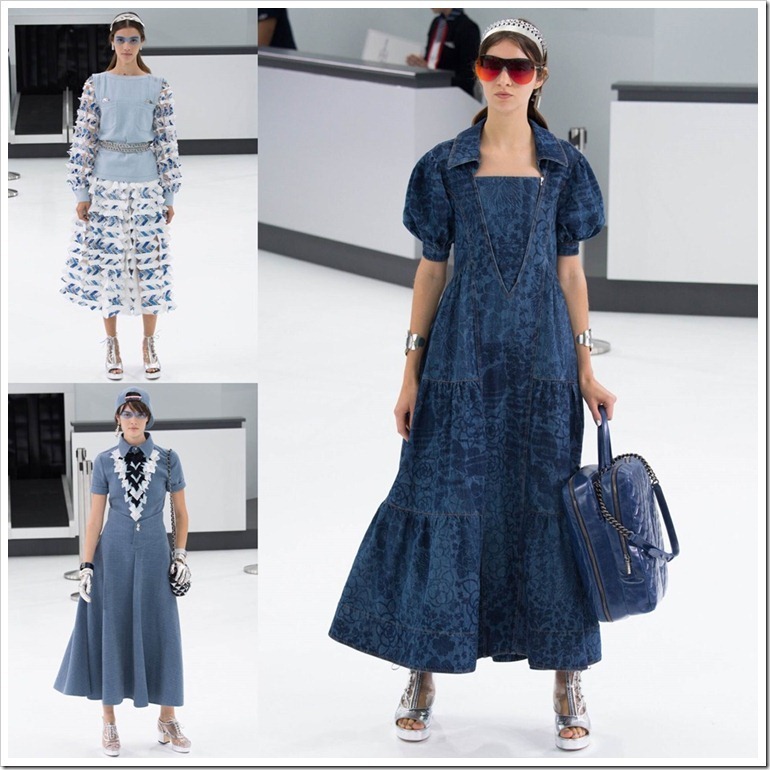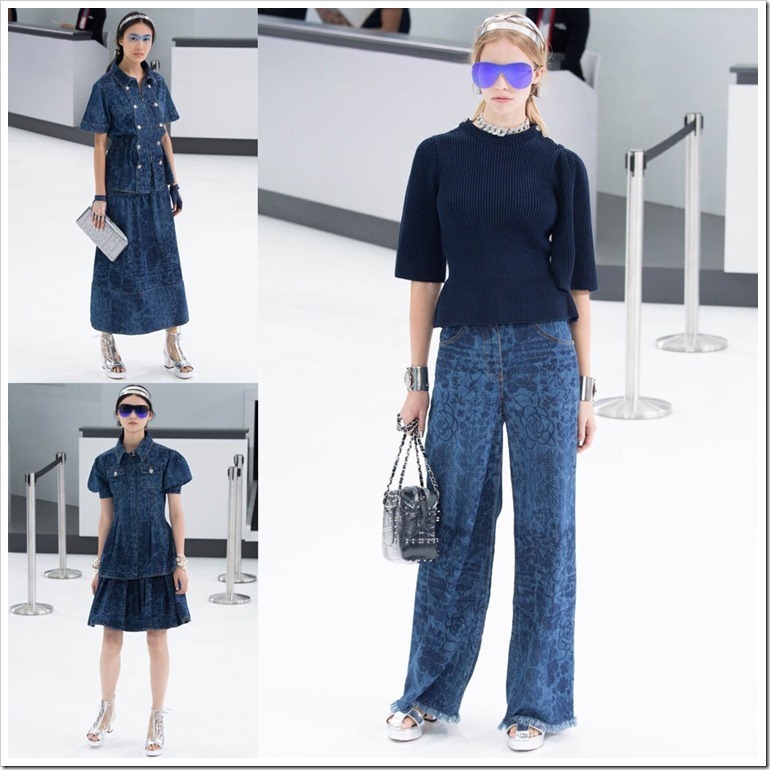 Paul & Joe
Bold colors, prints  and fun define Paul & Joe collections. Same this time with  some embroideries added up on denim shorts and jeans along with some embellishments for that carefree fun attitude.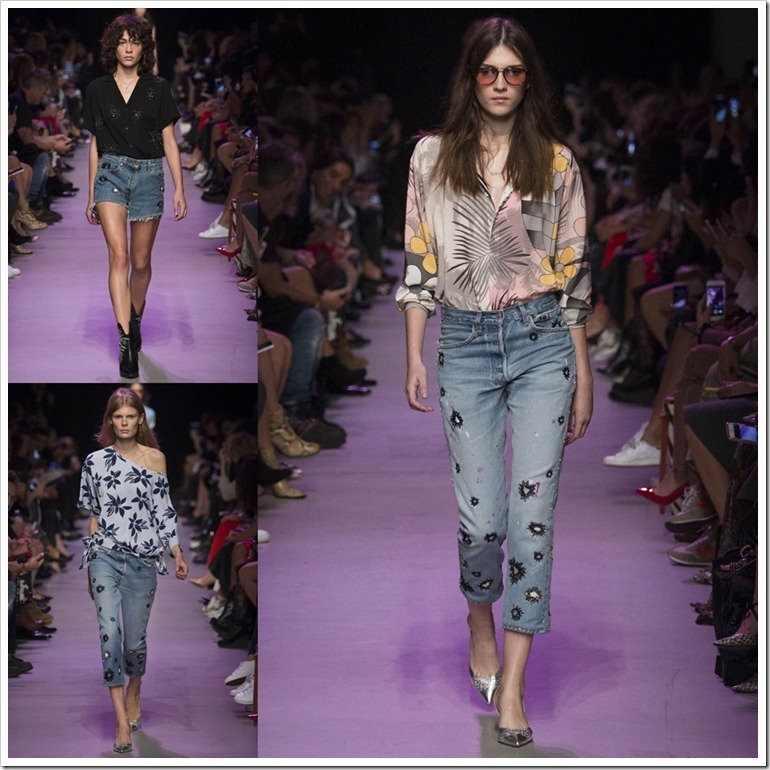 Yves Saint Laurent
Rainboots  paired with some classic denim jeans his boyfriend denim jackets, patchwork denim coat, oversized perfectos were the hallmarks of the collection of YSL related to denim.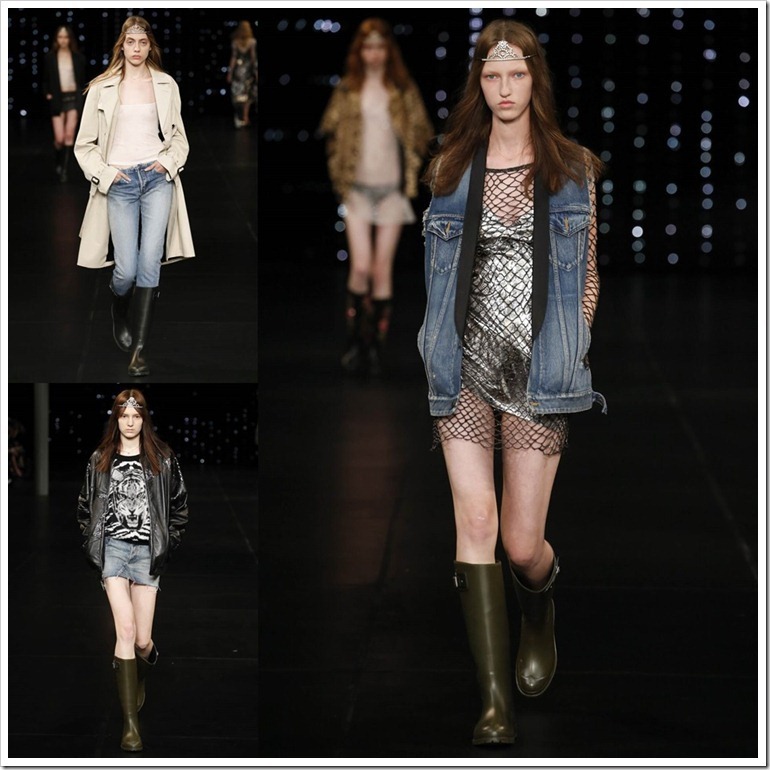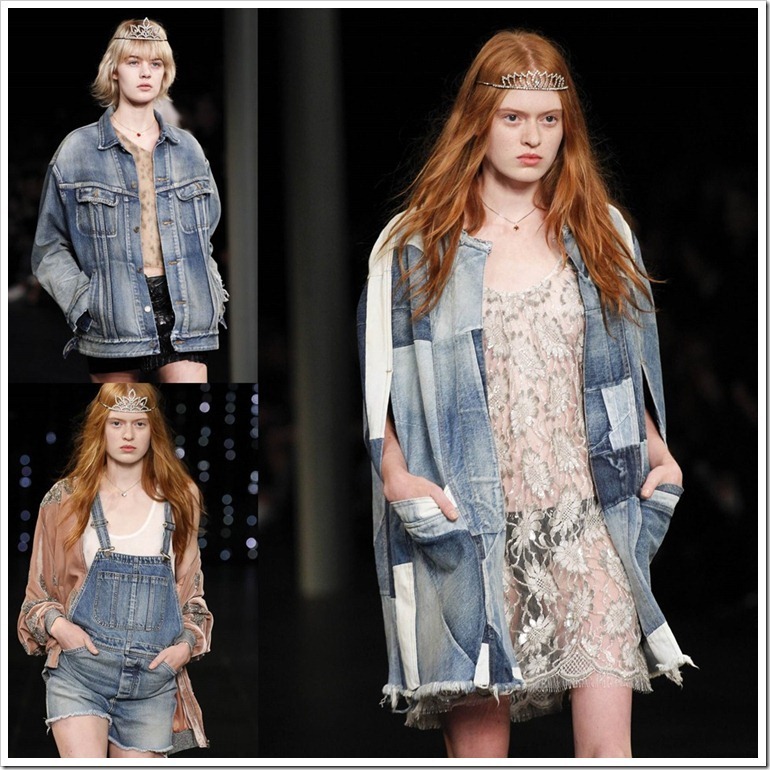 Sonia Rykiel
Denim and lacquered tweed from the new SS 16 collection …tweed denim. Very interesting !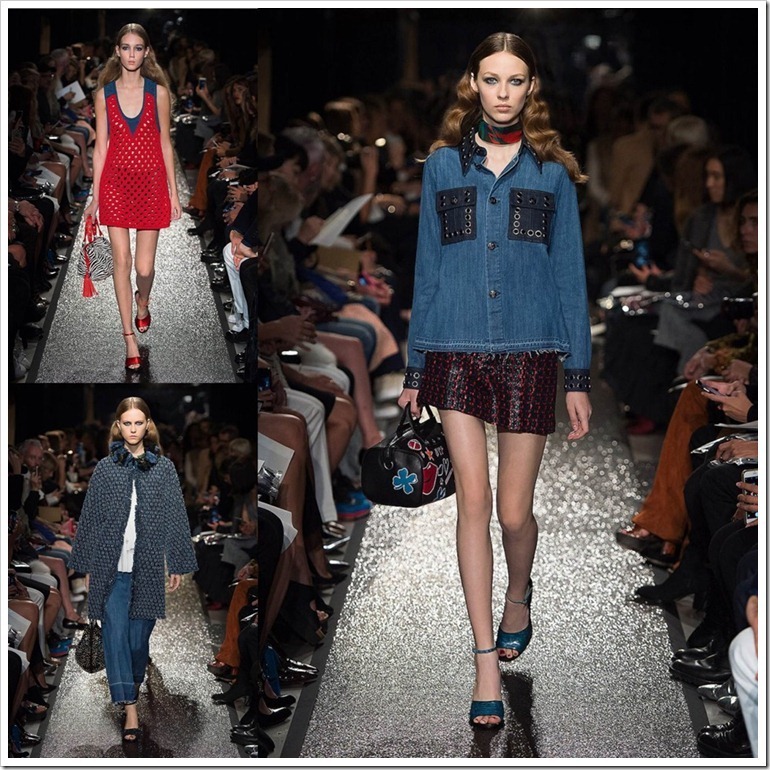 Vivienne Westwood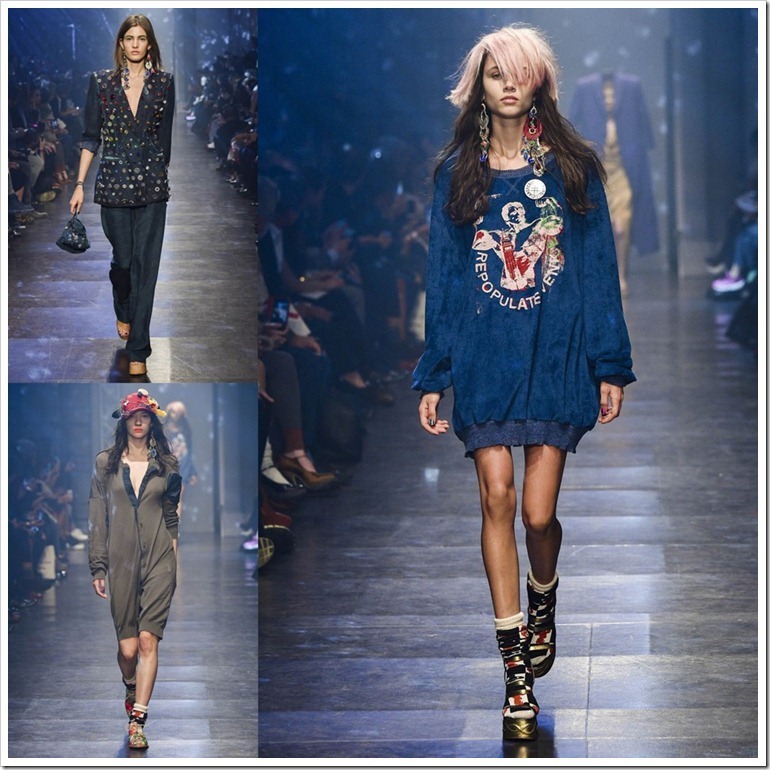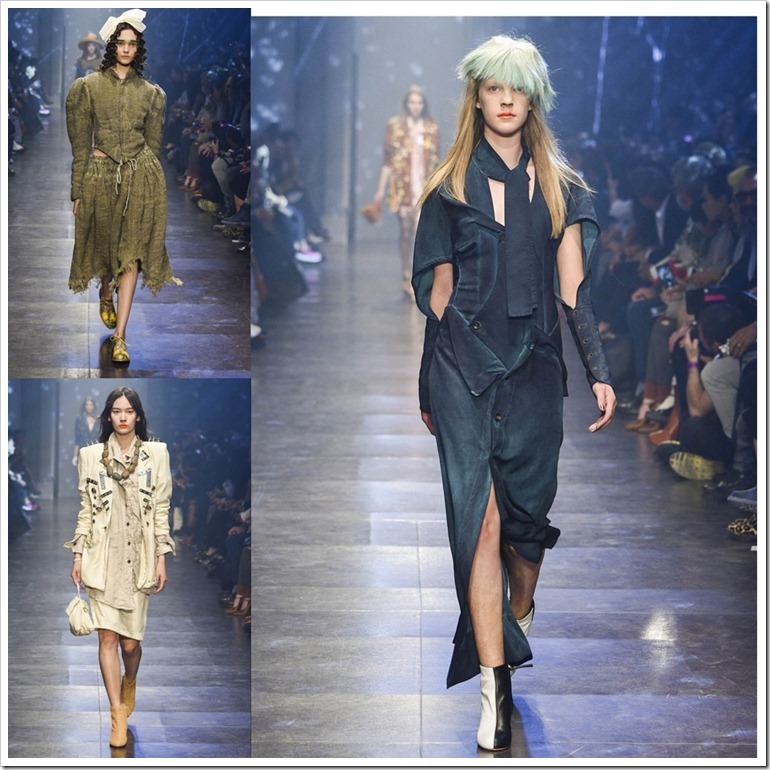 Alexander McQueen