The famous Naked and Famous denim from Canada is self proclaimed Japanese denim aficionado , using the same in most of their products. In their FW22 Collection , there are some exquisite products out of which we chose some of the 3 of the most most attractive ones and bring out in this post.
Rope Dyeing
Blue Smoke Selvedge
Raw denim often fades from deep indigo to lighter blue tones and finally white. Rope Dying , as we all know , is a unique dyeing procedure that causes this. White cotton yarns are repeatedly submerged in indigo dye during this process, but the strands are never submerged for long enough for the indigo to permeate the center core of the yarn.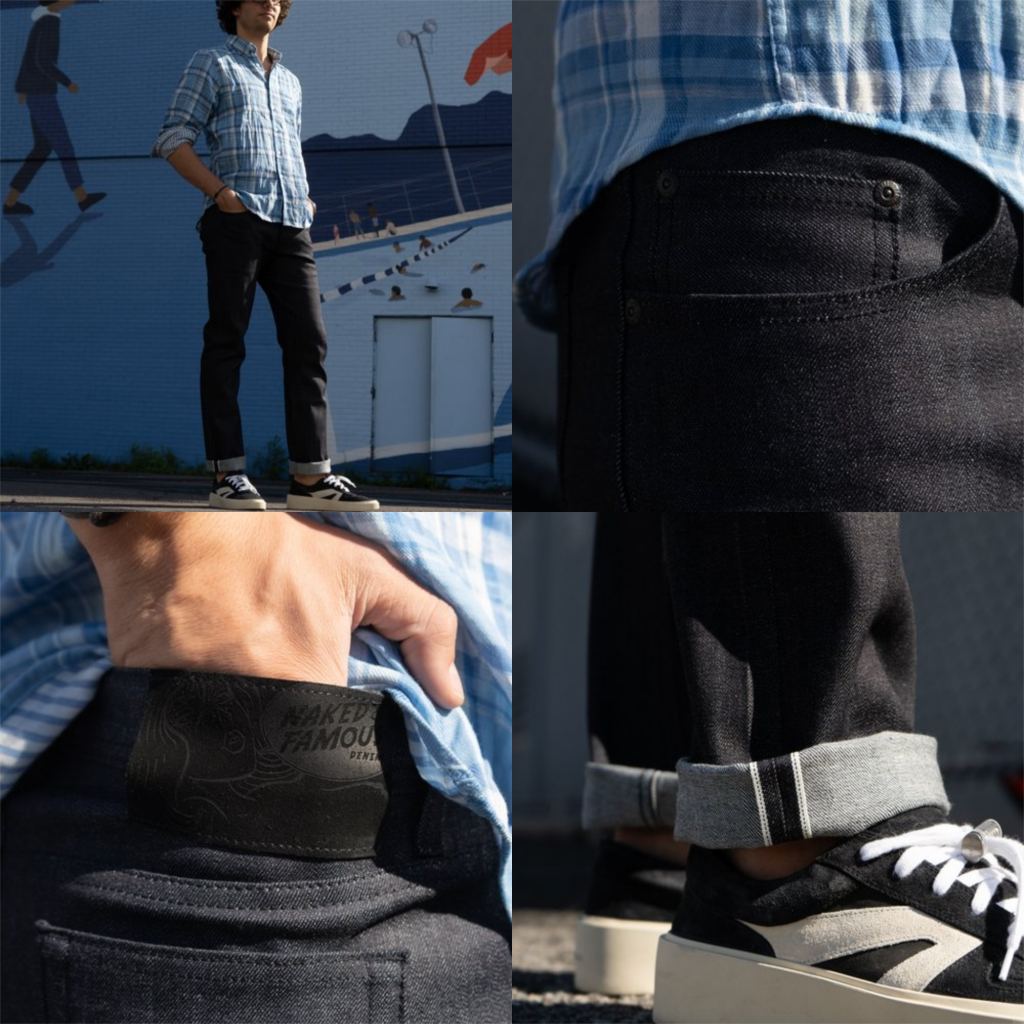 The Blue Smoke Stretch Selvedge appears to be a basic 11 oz selvedge denim. It has a classic appearance at first glance with a black exterior wrap, however it is actually a dark shade of indigo shadow. The white weft that can be seen peeking through the twill lines adds to this. The key to this fabric's unique Smokey color is a small amount of black tint that is mixed into the dye. Thus, these begin as a clean denim with tonal features but gradually the blue fades and intensifies with wash. More and more of those tonal details will emerge in contrast to the denim. The Blue Smoke Stretch selvedge is a terrific option for year-round wear.
Composition: 98% Cotton, 2% Elastane
Design: Black Stitching, Black Suede Patch
Color: Dark Indigo x White Fabric Weight: 11oz Fabric Origin: Japan Made in: Canada
Red Gradient Core Denim
The 12.5oz "Red Gradient Core" denim is a special Japanese Selvedge denim woven on antique shuttle looms specifically for Naked & Famous. Here the yarn was dyed initially with a permanent reactive red dye and then rope dyed with indigo. After certain use, the core will reveal the variety of red hues to achieve a fading gradient tone. Sanforized to prevent shrinkage, the jeans retain a firm texture that will soften with wear. The jeans were made, cut, and stitched in North America.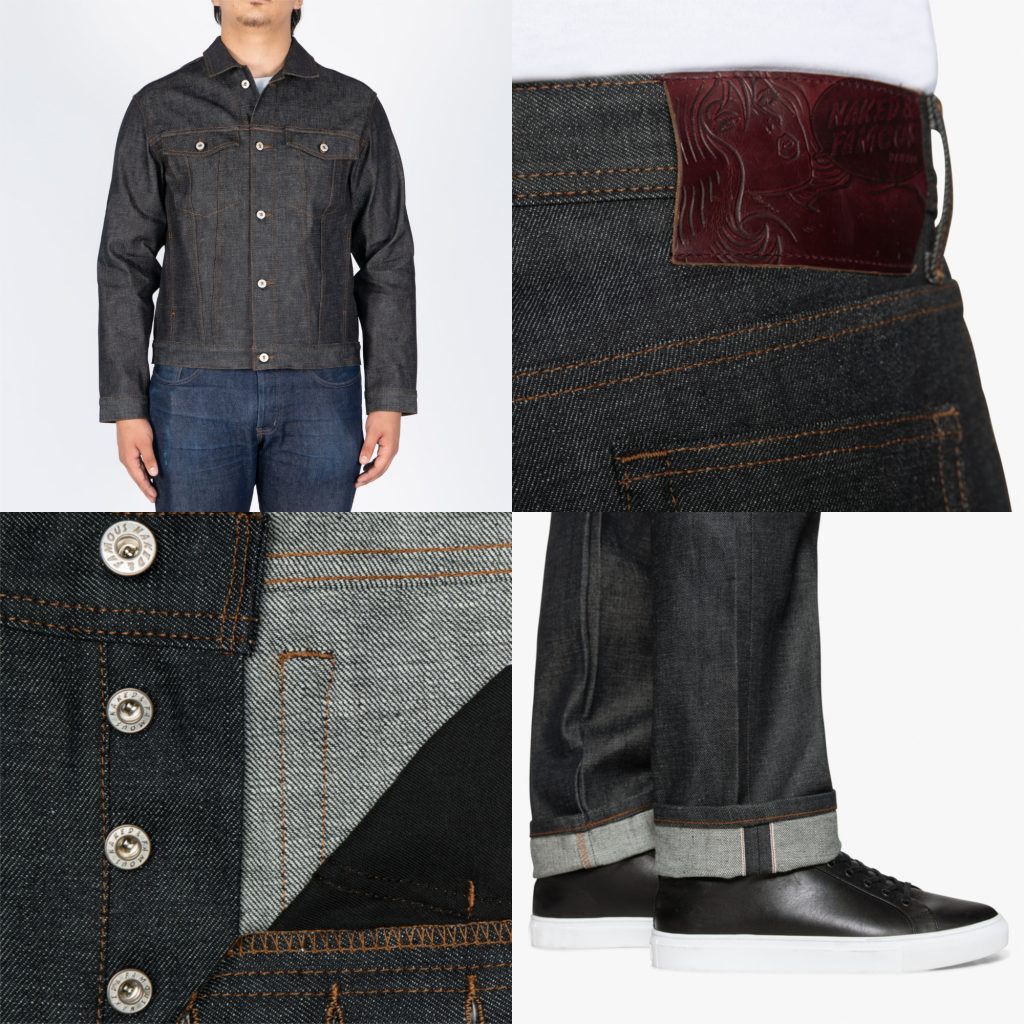 Composition: 100% Cotton
Color: Indigo x White Fabric Weight: 12.5oz Fabric Origin: Japan Made in: Canada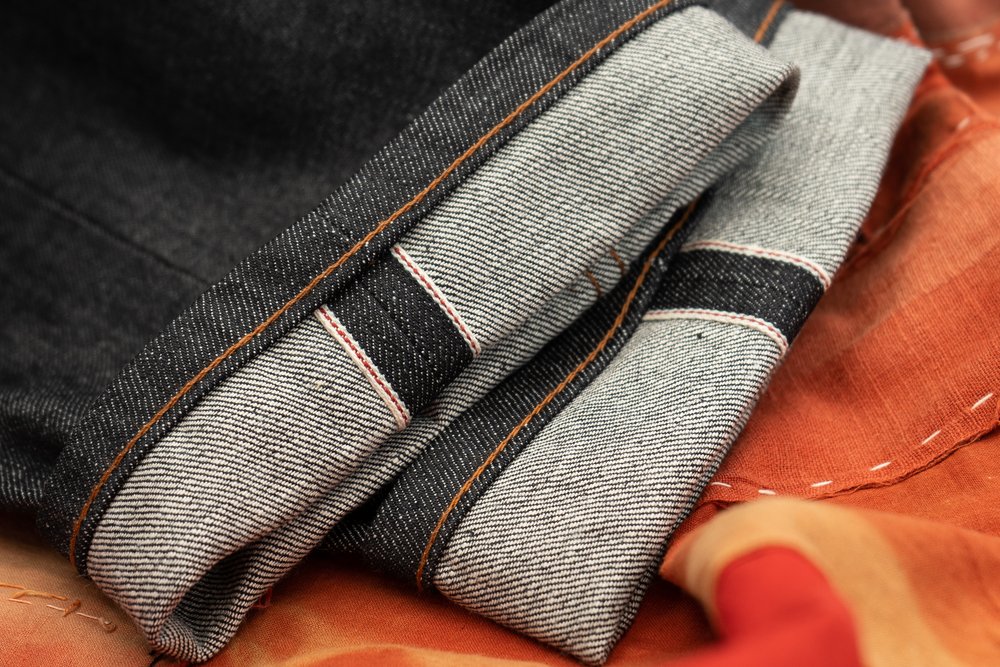 Catechu Selvedge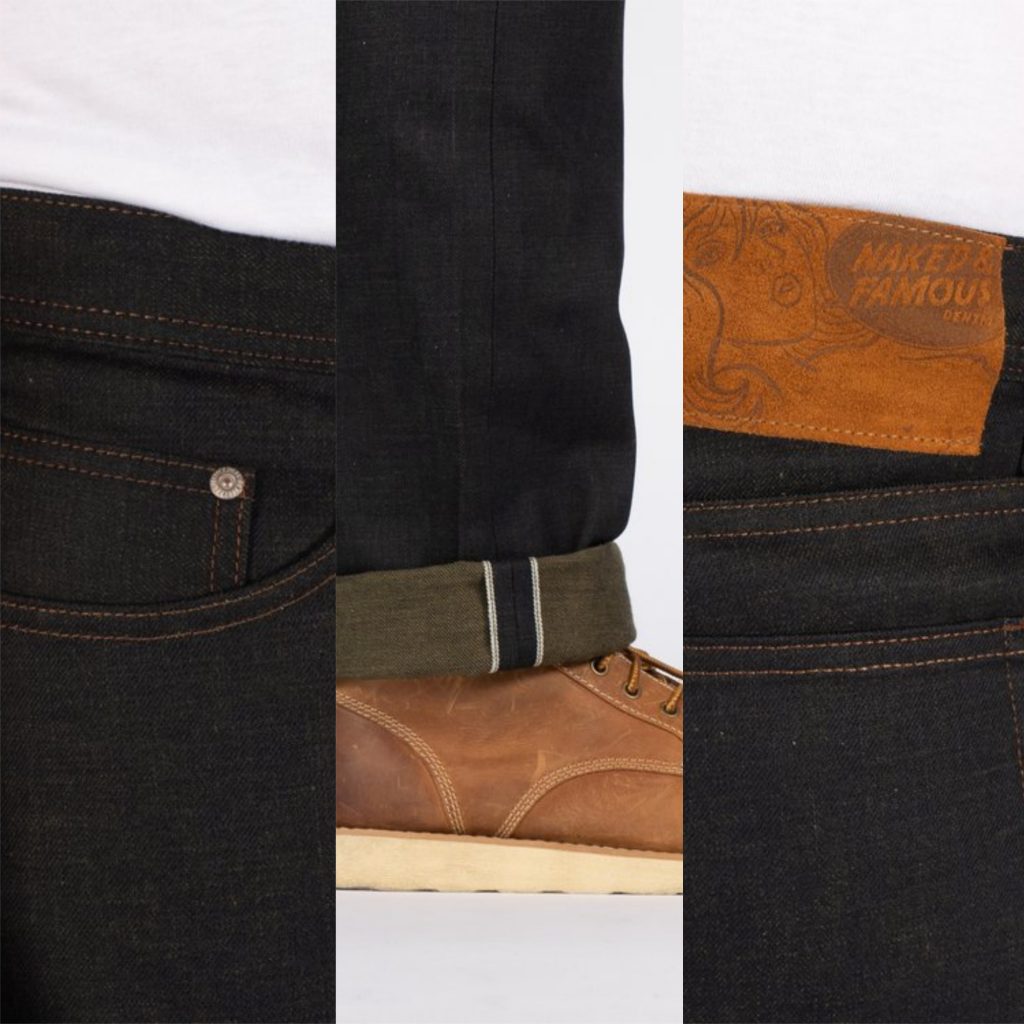 The Catechu Selvedge is a 12 oz. Japanese Selvedge Denim that has had its inside weft naturally dyed with Catechu dye derived from trees. The Catechu dye is created by boiling, evaporating, and collecting the residue from the Acacia tree. This indigo denim has a warm earth tone that can be seen peeking through the twill lines. To see the color of the interior completely, flip up the cuff. Short slub cotton yarn is used to weave the indigo warp, giving the denim additional personality and highlighting vertical fading. The Catechu Selvedge has the traditional raw denim feel and is stiff and crisp. With contrast stitching, a green line selvedge ID, a suede leather patch, and silver metallic buttons and rivets, this item was cut, sewed, and constructed in Canada.
Composition: 100% Cotton
Color: Indigo x Catechu Fabric Weight: 12oz Fabric Origin: Japan Made in: Canada