The simple and cheap work wear  clothing has mutated over the last 100 years and specially in the last 10 years so much so that one end of its spectrum touches the sky ! This end of denim designs are no longer a clothing for the bourgeois and are the plaything of the rich and the famous ! With prices of such high end jeans touching over $ 1 million, only very few in the world can afford them.
The prices of designer, embellished jeans is touching the sky and new brands are taking them up as the new fashion item .  We list some of the most expensive jeans that we have come across in the article below ( I am sure we still missed some !)  .
1.Secret Circus
–
$1.3 million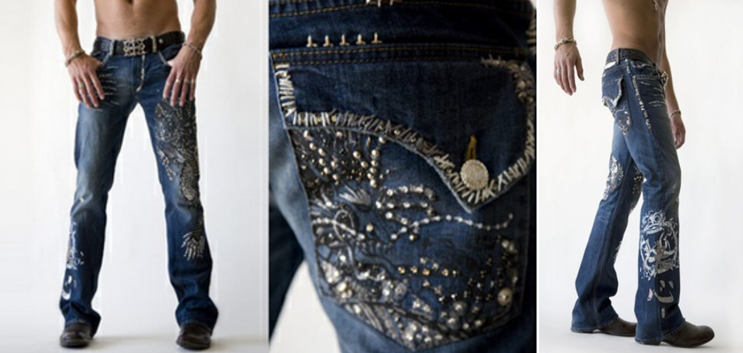 This is the pair of denim  women all over the world would die for ! . Secret Circus offers denim that is diamond encrusted. The design of the jeans is classic enough, but the clincher here are the 15 high quality large diamonds sewn into the back pockets of the jeans. And diamonds are diamonds, regardless if you wear them as part of your necklace or use them as design for your pants. The jeans were hand-made in Los Angeles and then flown to England to be embellished with the design that includes 15 diamonds cut by London-based diamond firm Duttson Rocks.
Wow !!.
2.Dussault Apparel thrashed denim line-$250,000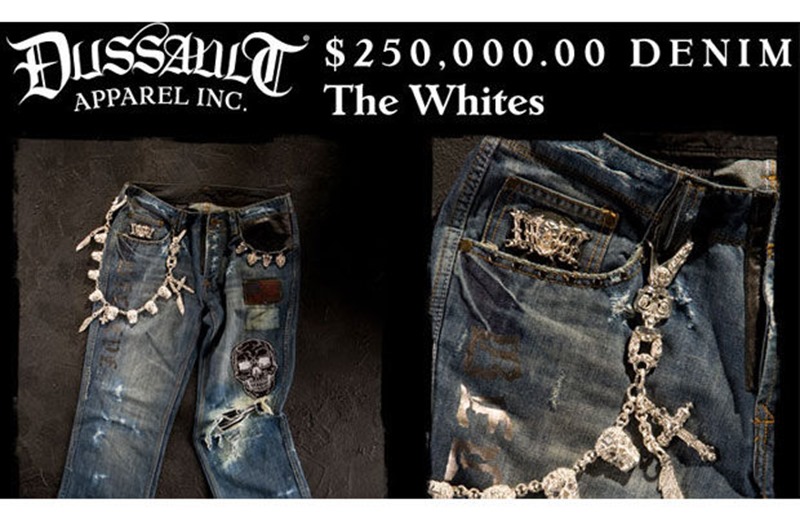 Dussault Apparel blew the competition out of the water with their Thrashed Denim Line that clocked in at a quarter million dollars. They look not so attractive  but each pair includes 16 one carat rubies, 25 half-carat rubies, 8 half-carat diamonds, and 1,080 grams of 18k white or rose gold. And lots of skulls.
The hand-made process involves washing the jeans 13 times while dying and painting the pants between each wash.
3.Levi Strauss & Co.-$60,000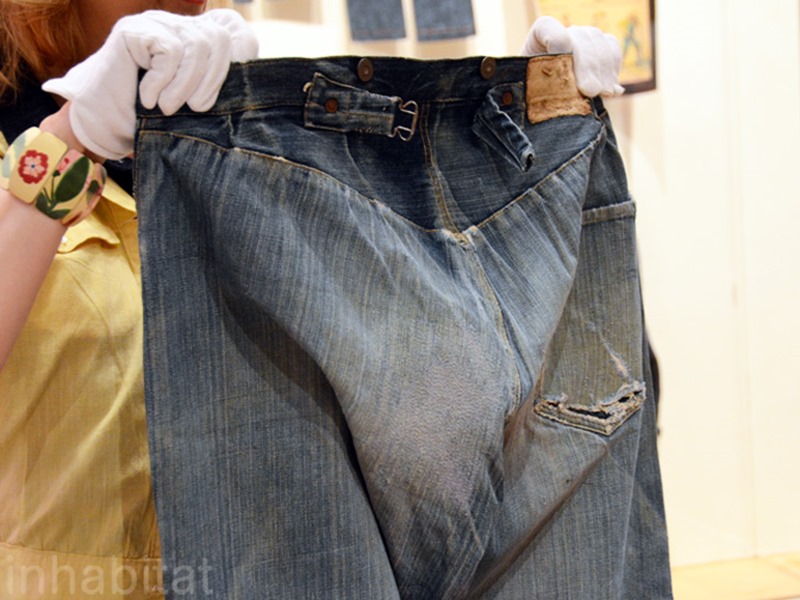 Jeans get better with age. A Japanese collector took that to heart and bought a Levi's jeans that date back to the 1880s for $60000 in an auction. The vintage jeans come from the 501 series that Levi's is known for.
Just how valuable are vintage Levi's jeans? Two other old jeans, one from the late 1800s and the other from the early 1900s, were purchased for $46 thousand and $36 thousand respectively. Levi's itself was the buyer of the former.  Now these jeans are estimated to be over $1,50,000 .
4.Escada-$10,000
Escada is a brand which makes customized pair of jeans for you. A customer can have jean pant designed according to its wishes. Customer can have some design or embellishment done on it or can prefer regular old faded jeans, hence the prices of jean pants from Escada store starts from $10,000.
5.Apo  Jeans-$4,000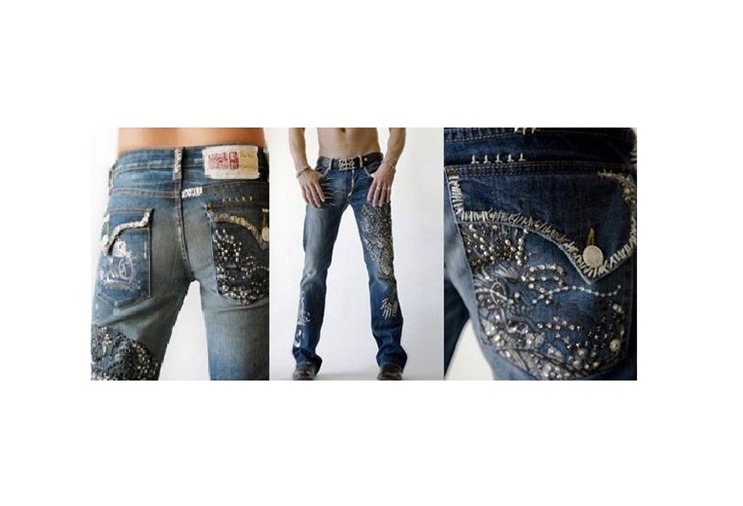 APO jeans come with silk pockets and riveting made of gold, silver or platinum. A diamond can also be used as a button. The creator will also ensure that only the finest fabrics are used for your customized denim pair. To ensure authenticity and value, a prestigious jeweller will study, appraise and certify the gemstones included in your jeans.
6.Gucci Jeans-$3,100
Anything which has a name Gucci attached to it becomes fashionable, expensive and elegant. Gucci introduced line of its jean pants in 2010 in fashion show held in Milan. Like other accessories by Gucci the jean pants of Gucci are also expensive and start from $3100.
7.Dolce & Gabbana-$1,200
You need to sign up if you want a pair of these jeans because there is a waiting list of people willing to buy it.  The Dolce & Gabbana pair features distressed faded fabric as the material for the denim. It also has embroidered butterfly designs. The back pocket is covered with a pink patch and adorned with a gold logo of the fashion design company.
8.Roberto Cavalli-$1,200
You have probably heard of Roberto Cavalli from watching all those Sex and the City shows .  The Roberto Cavalli jeans are well known, and they are very popular among women because a standard pair is usually decorated with different jewels. His shop is located in Madison Avenue in New York City, but you should be prepared to shell out $1,200 if you want a pair that even celebrities adore.
9.Earnest Sewn Custom Fit-$1,000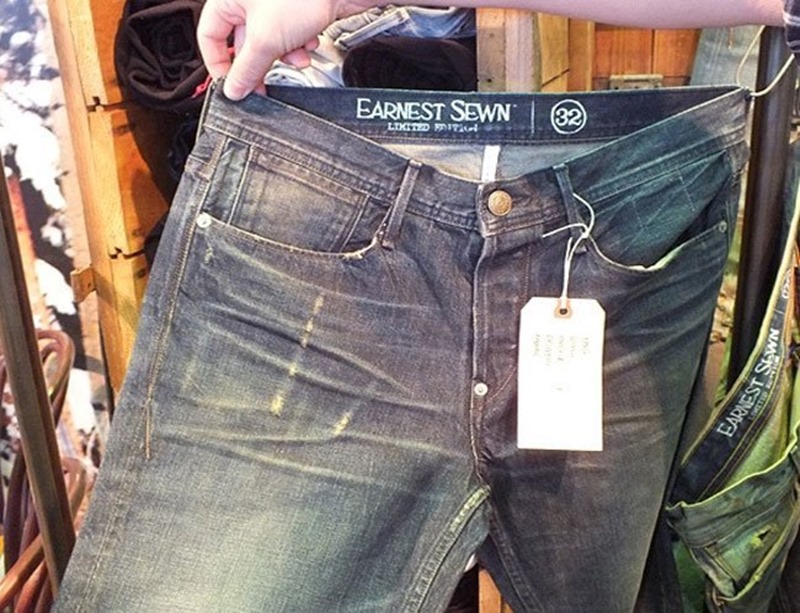 For a customized pair, Earnest Sewn has definitely pushed the idea of bespoke jeans to new limits. Not only can you ask for a customized design, you can actually ask for a personalized fit. The company will take your actual and exact measurements, thereby ensuring that you will get a perfect fit once it is done.