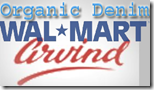 Arvind Mills –India – is scaling up its Organic Denim Production to meet increased demand . Organic denim is witnessing a surge in demand worldwide with big retailers like Walmart  focusing on the same. Wal Mart is rumored to be aiming to convert almost all of its denims to 'Organic'  .  The organic denim usage was popularized by some Japanese brands and then Italian and LA brands picked it up – as we mentioned in a previous report. .
Now with large retailers jumping the 'Organic' bandwagon , we can see some real action coming up in this niche.
Arvind is currently manufacturing about 6 million mtrs of Organic denim per month and aims to double the same in the coming 2 years. It has tied up with over 1000 farmers in India and buys organic denim directly from them under contract farming. This is definitely beneficial for the farmers as well as for Arvind itself.
But the other aspect of the entry of Wal-Mart and other similar retailers in this segment  is that the price structure gets severely affected – what with Wal-Mart offering Organic Denims at USD 12 !
It makes it much more difficult for other brands to offer Organic Denim as a premium product and offer a REAL ORGANIC DENIM ie denim which does not use any harmful chemicals at all in all stages of production . Denim manufacturing process spoils the environment at  various stages :
Many indigo dyes themselves have toxic substances. The release of indigo into the environment pollutes the same.
Denim washing uses a large number of chemicals harmful for the environment.
The whole process of denim washing is very wasteful in terms of high level of water usage.