Cone denim (ITG – Burlington Apparel Solutions)  is always on the forefront of innovations providing apparel solutions to brands and retailers worldwide on various fashion and lifestyle products. In their latest effort , they have tried to find a solution to address the demand for achieving color weft looks on the denim and non-denim fabrics. Colored wefts have been a strong denim trend for the last few seasons. The garment manufacturers faced some problems in this kind of product :
The minimums required by mills to produce these fabrics are usually not very small.
The color in the weft is created by the mill and the garment manufacturer cannot make any changes in the color if he wants.
There is a limitation on the number of colors a manufacturer can buy or a mill can supply.
To overcome these shortcomings of traditional way of  coloring the weft –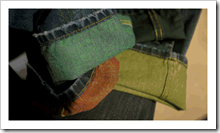 whether its by way of using colored weft yarn or performing a color coat on the reverse of the fabric , Burlington developed chemicals and its application process which, the company claims, overcomes the above mentioned drawbacks..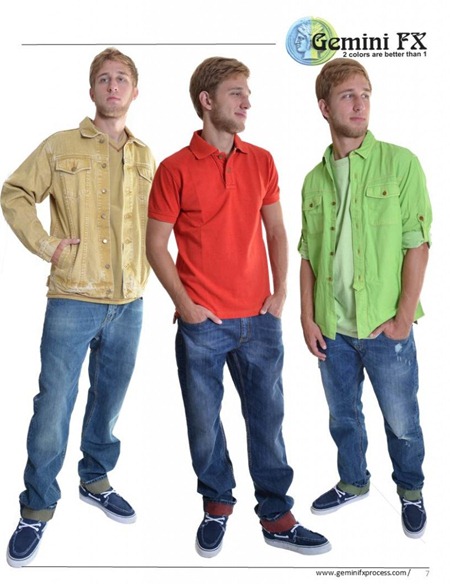 The Process
The fabric to be given different color wefts in the laundry are first coated with an invisible chemical on the reverse side (weft area). At this stage the denim (or non-denim) does not look any different than what it was before.
The fabrics are cut and sewn by manufacturer and the garments are either washed or kept raw.
The jeans/garments are finally taken through an overdyeing  process where special chemicals – the Hi White chemicals are used in the dyeing. The property of these chemcials (from Garmon) is such that they will show color only on the reverse side of fabric where the coat of chemical was applied.  Thus the front part , in case of denim , will still show as Indigo color and the reverse would be dyed in the color the buyer choses.
And the color weft fabric is created !
I asked Gary Kernagham from Burlington whether these chemicals to used during the overdyeing process would also be supplied by them.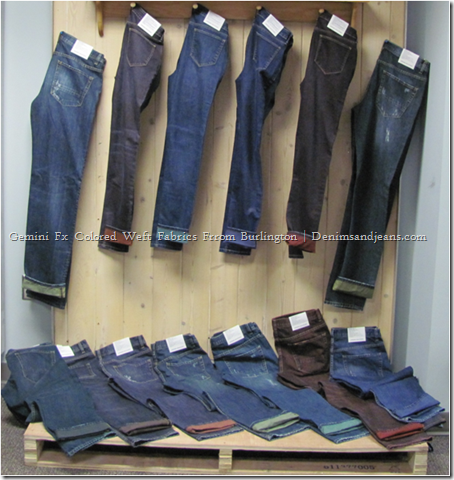 He said
"..We do not Supply the Dye and other Chemicals used in the garment dye recipes provided on our website. These chemicals come from Garmon. We worked with Garmon  to  develop a range of Dyes they call HI White Dyes that work with our Gemini FX  textile Pretreatment . They have Global  distribution & technical services that our customers can utilize They have screened & tested the 10 dyes noted on our website for Color fastness & light fastness. HI Whites also have an advantage over other dyes in that they have very little staining on non pretreated fibers yarns or in the case of Gemini FX  the front of the fabric. The other chemicals found on the Recipes provided Such as Geopower PFD, Hydros TED , ECO2, Elam ECO-c , & Elam RP are also available from Garmon.  Of course  the obvious reason for  including these Garmon chemicals in our recommended procedures was to  control the usual  variables of other suppliers cemisties. By using a consistent supplier to take developments from the lab to a broad global we feel we have a much better chance to replicate these looks in laundries ranging from China to  Bangladesh to Cambodia to Vietnam  Etc.  which is consistent with our customers sourcing plans. These desizing Enzymes softeners and Ant back stain chemistry   were also  chosen due to their Enviromental friendly Low Temperature capabilities which we felt were consistent with the Low temperature and Salt free environmental advantages of HI White Dyeing of Gemini FX Fabrics .We realize that  a mill such as ours publishing garment dye recipes with such detail is not the norm but it the Objective of our Cone apparel solutions to make it as easy as possible for our customers  to implement new innovations like Gemini Fx into their global sourcing instruction no matter how globally challenging that might appear to be.
I asked further whether these whether these colors bonded strong enough to sustain heavy washes on denim . Gary Kernagham  replied "
" For Both the Denim & Natural ready to dye Gemini FX fabrics The HI Whites dyes are bonded to the back side using a Cationic chemistry similar to the one used in our Affinity process fabrics thus the Bond is extremely strong and thus have great wash fastness Crocking etc .
He further suggested that
" …we would recommend that  these denim garment are garment dyed first  as the recipe procedure provided  outlines and then stonewashing  & dry process is done in order to avoid the rear shade from tinting in Scraped and Stoned areas.
The technology is new and interesting and looks quite promising for addressing a fashion related backend problem. It now needs to be seen whether it can pass the tests in bulk productions.