I was on  a recent visit to Brazil – one of the most fascinating countries in the world . Thanking Vicunha for inviting me to visit this beautiful country, it was quite an experience getting a feel of this country that lives in its own world  . With a population of only about 200 million , the country is huge with a size of over 8.5 million sq km – more than double the size of India. The Brazilian culture is one of the world's most varied and diverse as it has been a melting pot of nationalities which brought brought ideas, innovations and belief systems from around the world (specially Portugal)  shaping the local societies significantly. All of these different influences have meant that the modern-day Brazilian culture is unique and very complex.
One of the most important part of this visit worth mentioning was the visit to the biggest farm  that I have visited in my life. A thrilling 2 hour flight from Brasilia in a 4 seater plane took us to the farm in Bahia with the pilots managing with twists , turns and ducks to avoid the heavy water laden dark clouds and occasionally giving the jitters .  We reached the farm and landed on its own airstrip – it has 2 for its own fleet of planes used for spraying chemicals, pesticides ,  etc . With a total area of about 50,000 hectares and producing cotton and soya , it is not easy to comprehend  the actual size of this farm. If this farm had a 1 km width, it would be 500 km in length !! The farm had actual in farm road length of about 400kms (within its actually cultivated area of 30,000 hectares)– a massive operation by any standard and managed by its staff of about 200 people.  The farm had some great arrangements for all the people who stayed there  and looked more like a resort than a farm house. The workers, as we understand from them, were paid salaries higher than the minimum of about $310 regulated by the govt.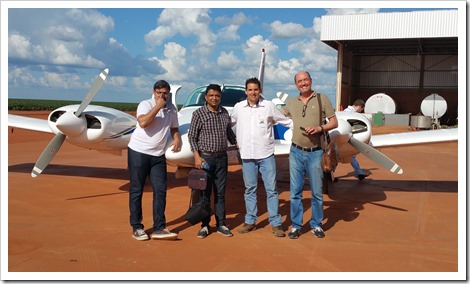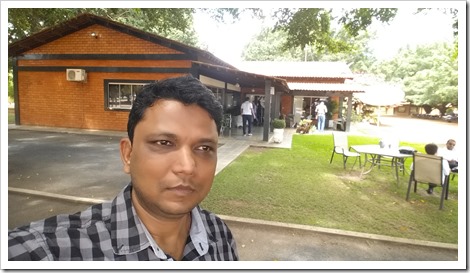 We went around the farm and had a look at their operations and how they controlled such a huge area . The farm was highly mechanized with latest machines to manage the large area besides a few planes to help in sowing . The sowing system was well planned to ensure that the seeds could be sown in a way that they could be harvested in right sequence so that the subsequent processes could be aligned and timed when the crop matures. The harvesting machines were huge , dwarfing even tall ones (!) , and could harvest over 20 hectares in one day.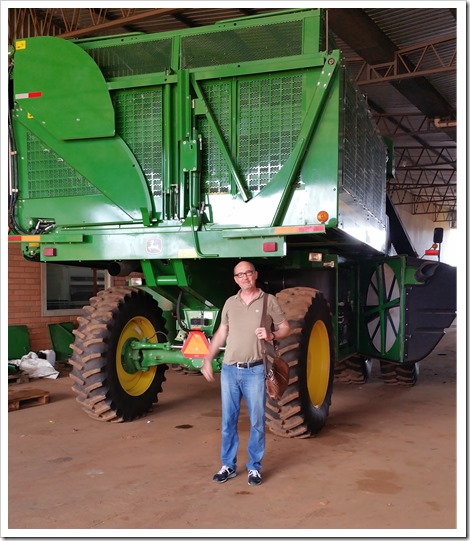 With  a large in house ginning plant , the farm could gin its own cotton . One of the interesting feature of the ginning plant was the high level of security features , mandated by the govt. , which added to the costs of ginning but made the ginning process  safer. Worker safety regulations in Brazil are stringent and seem to be strictly enforced by the govt.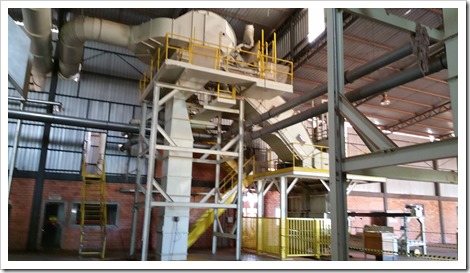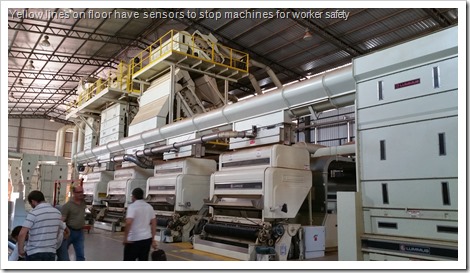 Many of the farms in Brazil are circular in shape. This is a unique shape (normally minimum 100 hectares )and  is specially made to ensure easier irrigation. If you notice there is a large pipe going through the radius of the farm. This huge pipe – sometimes in few km  length– ensures that each part of the farm is irrigated equally and at same time.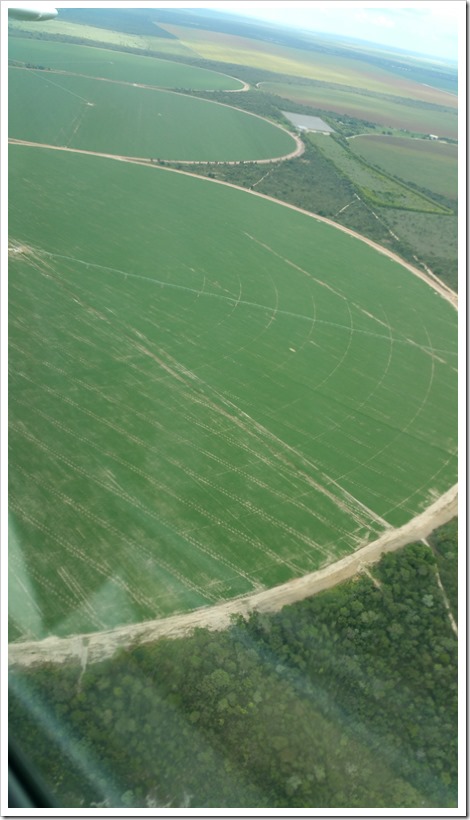 Sustainability
Cotton production in Brazil is mainly controlled by the ABRAPA – the Brazilian cotton grower's association. The association has its own certification whereby it provides the right methods of cotton production and certifies the farms following the parameters. There has been a benchmarking process between ABRAPA and BCI. It is an agreement  allowing for the grower to obtain, at their discretion, the BCI licensing together with the ABR certification. This is an important development for Brazilian growers whereby they are able to give BCI certification to the final user of cotton (like mills) easily. Thomas Dislich (Director Europe, Vicunha)  mentions that this is a very positive development and enables them to give BCI certificate to their customers for most of their production and is helping them to make their own contribution towards sustainability.
Coming to the visit to Vicunha mills which I was eagerly looking forward to, it was a pleasure to visit their plant at Fortaleza – probably the largest denim plant at one location worldwide- besides the other plant at Natal. Vicunha is the largest denim producing company worldwide with over 15 million mtrs of production per month. Brazil, as a whole , has an annual capacity of about 650 million mtrs pa in denim.  The company gives high priority to employee welfare and I understand from the senior executives that the cost of benefits given to them is almost equal to their financial salary.  Among other benefits to workers like medical, family welfare, air conditioned transportations, it was good to note that all the workers to top management had lunch in the large and very well equipped canteens  arranged by the mgt. – signifying the importance given to all employees.  One of the interesting feature of the plant was the recycling done of the dyed waste generated at the plant. A large, indigenously designed plant, converted the dyed yarn waste into fibers and these were used in the right combination with the raw cotton to generate regular denim but with a recycled component.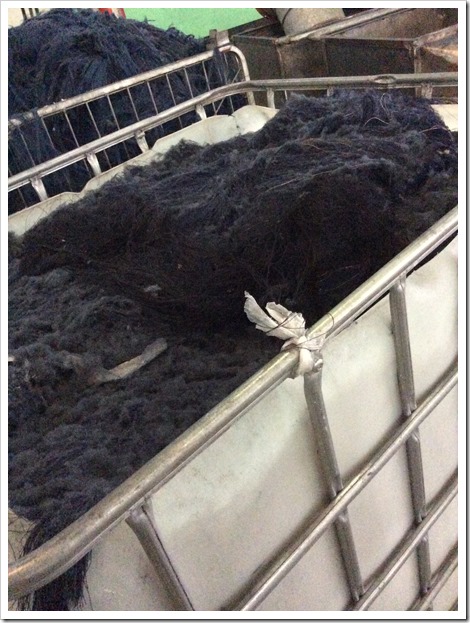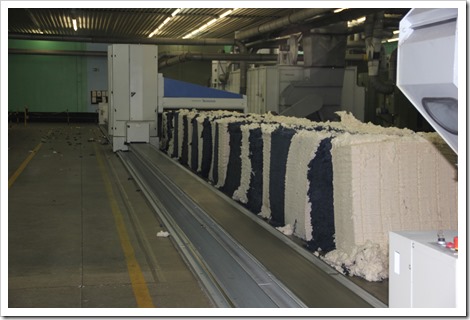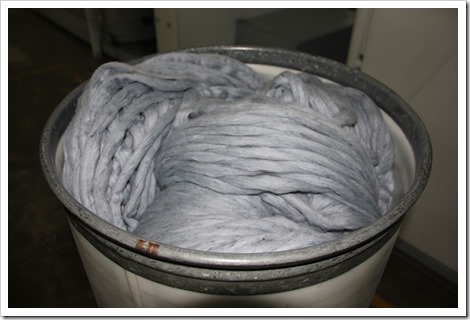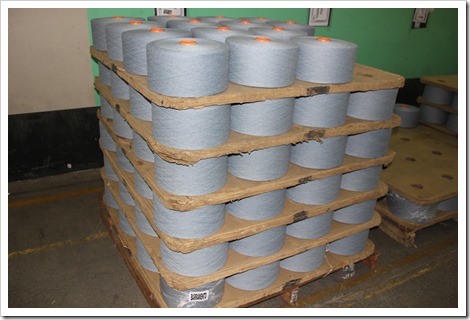 The above images show how the dyed yarn waste is converted into sliver and then yarn. This yarn is further used for further dyeing and to get the desired product. The company mentioned that it was a regular process with them and it ensured them to recycle most of such waste and to create better qualities for their customers.
Sao Paolo , the next destination – is a city with a very cosmopolitan and trendy vibes. A city supposed to be populated with over 20 million people – is a city in love with denim. Most of the people – whether males, females or children – wore denim in some form or another. Brazil is actually supposed to be having highest per capita consumption of denim worldwide . Fashionable women could be seen in trendy flares , capris , dresses, jackets, skirts etc in a wide variety of washes – distressing being one of the most common one.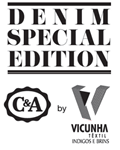 Another highlight of the visit was the occasion of launch of Denim Special Edition  C&A by Vicunha . This special collection was created by Vicunha for C&A . Focused on Premium denim, the collection bets in different shades of blues, black and grey with super stretches, fabrics that reinforce the return of authentic denim and light items of hosiery.The launch was marked by presentations and panel discussions – Panorama Denim– at Vicunha showroom ( a lovely place) with people like Ian Berry of Denim Art fame, C&A Brazil Product Director and others contributing their views on denim industry.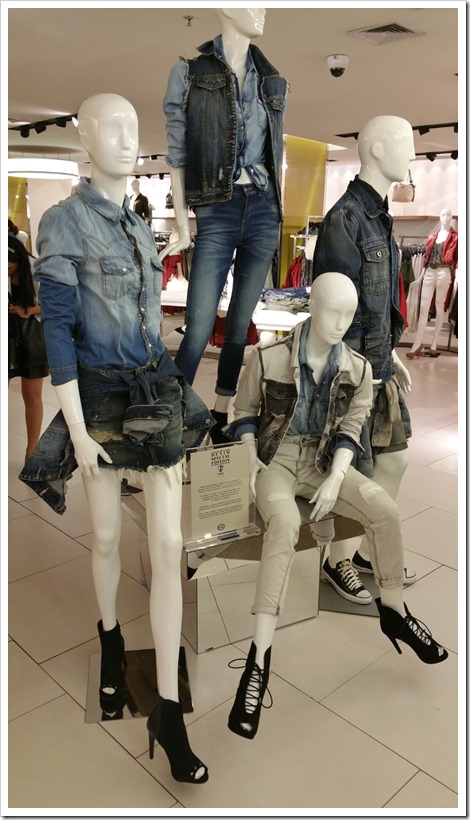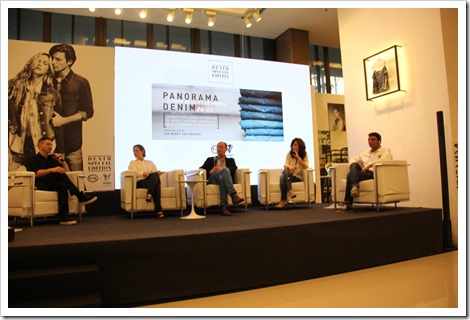 The actual launch took place in a C&A store in the evening with the fashionistas and who's who of the industry being present. The collection , in some cool washes, was targeted for customers looking for premium denim at cool prices .The collage below reflects some looks and moments from the launch .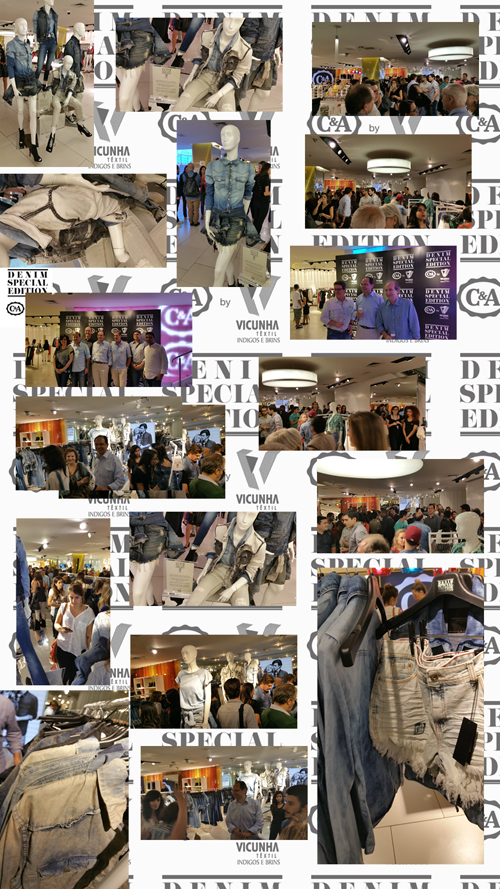 The visit to Brazil would be incomplete without mentioning the visit to their large wholesale market area in central Sao Paolo , alongwith my friend Andre Duarte who kindly took me there, which has thousands of shop selling denim and other apparel to retailers who come from around the country. It was interesting to see the huge and highly organized wholesale market  focusing on denim on such a large scale. Many people there claim that it is the largest denim wholesale market around the world.
On the whole a very eventful trip that enabled me to have a glimpse into what Brazil is all about . The country works and lives with  its own rhythm  and it has a very distinct aura of its own. I found most people very warm and welcoming and one feels at home immediately. The pace of life is relaxed in most cities and people take their time working hard and enjoying at the same time.  It was quite an experience feeling this country and I thank Thomas Dislich and all at Vicunha for kindly arranging the memorable visit.