Continuing our series of #Covidtimes – How are you coping, Sandeep Agarwal speaks to Albert Tjandra – Director of Grandtex Indonesia about the current crisis to get an Indonesian perspective and how Grandtex as a denim mill is evolving itself during these tough times. Albert shares his candid views on all questions during the Instagram live talk
Sandeep
Hi Albert, How are you? How's Indonesia is doing?
Albert
Hi Sandeep, How are you? We are good so far, trying our best to stay healthy and doing what is so literally called "homework" for now.

Technically we are late/short on disclosing the fact and details at the beginning, where people all over are wondering if this 4th largest populations country really not least affected by the virus.
We have started applying the Big Scale of Social/Physical Distancing Policy, where numerous rules set to bound the mobilization without saying not allowed. Certain numbers and distance set for public transport mode.

Keeping pushing people to stay home with new law penalties and enforcement. Limit the official works/ office in related only for supply chain and health assessment ,only F&B retails, small grocery store/market, basic needs shop, drugstore, bank and energy, electrical, communication, hospital and medicare allowed to be operated in certain hours. The rest are closed.
Sandeep
How Indonesian Industry is responding to the crisis?
Albert
The pandemic shuttered factories in late March. Companies in all regions of Indonesian facing huge layoffs, labor termination, and closing. The travel industry is the most affected by the current. Retailers are on the same path followed.

We do have 2 different markets for Indonesian textile and garments. Both are contributing to the biggest percentage of Gross Domestic Product for the Indonesian Industry. Its a big population and big market indeed for Indonesian, the fact that we do have one major season, which is Eid in the next 40days.
Locals are supposed to start distributing the goods to retail for new clothes. Garments are on final seasons to complete the productions and begin with logistics.

Then this issue comes up so suddenly and heavily spread out. Stores closed, the factory closed, delay payment and soured cash flow. People will not be spending on clothes, which usually a major category for locals during the festival.
They are going home to the village, being unemployed, where its kind disrupting the government plan of encouraging social distancing since the beginning.
Export has suffered significant numbers of cancellations and postponements of orders. Indonesia is currently exporting 14 Billion USD to world textile and garment, US is major 5B$, Japan 2B$ and EU 1,5B with the rest of the regions. The impact on current crisis is massive. We are seeing lots of factories closed. Goods abandoned unshipped and not knowing payments will be honored.

The Government is working on all measures that will be incorporated as a stimulus package for almost US$ 1Billion , aimed at easing rules for export -imports as supply chains continue to be disrupted by the virus spread. They are also working to relax the income tax and import duty to boost production. But this is truly beyond the safety net. The uncertainty about the duration of the crisis weighs heavily on the industry.

Sandeep
How are you coping personally and professionally?
Albert
I think as many people globally ,I share the same experience to continue contributing to the industry by working from home. That should be not be an issue for most of the Indonesian business level, The system and digital world really put us through this tough situation with tremendous help and effort.

Our office team located in the central city of Jakarta had been doing social distancing as early protocol months ago and stayed domestically home for the last 10-14 days for now. The main goal for everyone here today is to stay healthy. Holding on digital technology to have the meeting virtually, we were able to engage everyone simultaneously and try to be even more efficient.

While some part of us from the production unit at the factory is still running, with very tight scrutiny following government protocol , we do have a thousand workers in the facility who currently put on hold partially for the day in and day home policy to maintain the social distancing.
Sandeep
How is your company / industry operation affected and how you are reinventing yourself?
Albert
Coming in the month of April, there are no other mills (denim) running production in our region . Safety and health will always be a priority, so by the next 2weeks, perhaps we will declare shut down, as an extension of the Muslim holiday, which will be very long indeed.

Coronavirus lockdowns aren't the only thing affecting our industry's ability to pay our workers. Most of us will say the main problem is unreasonable demands from big clients. We've also experienced demands for cancellations for goods that are ready or are work in progress, or discounts for outstanding payments and for goods in transit.

They are also asking for 30 to 120-day extensions on previously agreed payment terms. Some brands are showing a true sense of partnership and a high level of ethics in trying to ensure at least enough cash flow to pay workers.
Sandeep
Any CSR initiatives during the current times in relation to coronavirus by your company?
Albert
Yes. Once the operations taking a slow pace, what we can assure to our nearby environment, by distributing more supplies and water needed for the villages around the facility. We are employing more unemployed workers to maximize our operations.

We are producing fabric masks optimizing our capacity. We are not doing this because there is a demand, but because it's the right thing to do.
Sandeep
How do you think the fashion world is going to change after things come under control?
Albert
Well, I guess it will definitely come from Retail and Consumer point of view, who will drive back the whole industry.

They had waited too long at home and some are eager to put all effort and excitement to go on the shopping floor again especially for the medium to long-run prospect. We do have a certain society here from medium core buying power, who just simply dying to go browse over fashions and step in retail stores once this pandemic issues over.

But others may change their way of shopping. By all means, logistics and distribution will definitely change. The supplier needs to be closer to the consumer in this way. All kind leading to near sourcing will imply sooner or later.

People who had been in digitalization will keep remain doing so, and others will start to follow, I had even seen these in our local market which Indonesia is just had few digital market-place to go e-comm for textile and apparels, but their rating and sale numbers are spiking up during this situation.

The Millenials and Z Gen are being the most active visitor for these. And yes, we all know they are roller spender but somehow they are less dropping attention to identify what the brands are. These are the generation that doesn't care about names and brand tags.

These are the direct buyers for the direct user, they may have brand loyalty but always open for new evolution immediately.
In terms of quantity may also be simply changed, they will not aim for more, instead, they will be very particular on what they want to buy, They will buy in better quality and making better choices.

So yes, definitely we will see a lot of changes in the fashion world as soon as all these are over and lifted. We just do hope every player in the chain industry, from manufacturer to retailer will have and provide the right products that consumer wants.
Sandeep
Do you see possibilities of creating Personal Protection Denim (PPD)?
Albert
At the current stage, more units are pivoting their production to manufacture such products as medical masks and gowns, including Grandtex – this also leads the reason why we still allowed to operate during the time.

However, I think we have to be reasonable and responsible for what we produce. There will be a limitation on cotton woven to get into the medical parameter which has a concern with human healthiness and safety.
On some possibility stage, comes along with consumer demand changes, denim will be provided as a safety protection product somehow.

We had produced highly constructed denim fabrics with special anti-burn finished and water repellent applications for some Mining/Tobacco company uniforms. We are now applying antivirus/anti-bacteria with water repellent finish on our woven denim tops range for blue medical uniform 1st layer before their actual spunbond protection unit. These are more into general performance fabrics.

But when it comes to denim as daily fit casual wear with protection applications, I think these will take some part of consumer mindset consideration in coming.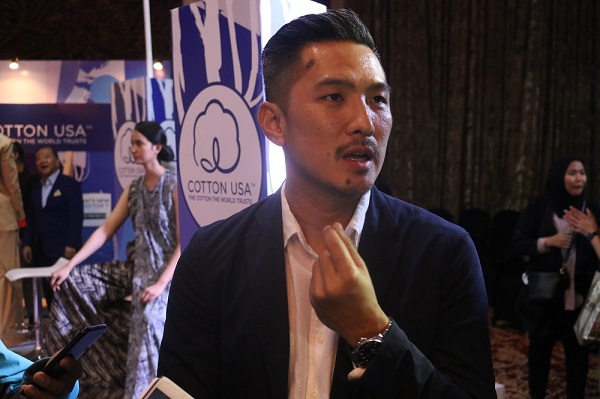 Sandeep
Do you see Denim becoming more technical?
Albert
Indeed it will. Like we discussed earlier, people are eager to know what's inside the materials. Before they want to know what's inside the garment, now whats inside the materials, what kind of cotton, how friendly the dyestuff and washed chemicals are that we use.

When it comes to performance instead of appearance, details on the property will be transparently projected. Then suddenly buying denims not only for the look and fit but also how it constructed will be more appreciated. That's the shifting of premium denim.
Sandeep
Do you expect Consumer behavior changes post Covid to be different in different regions?
Albert
The consumer will evolve with the situation differently. Some regions will have earlier store opening will lead consumer closer to the store floor, while others may have enjoyed exploring the digital platform to source products . Again subject to different regions' situations indeed.

For sure, Slow fashion will play major role impressions, More transparent and committed to sustainable production will be needed. Ready where people can find out the impact of the brands they want to buy just as easily as they can see the price or size
Sandeep
Two key changes in the basic character of denim as an apparel product Post Corona.

Albert
Well, denim not again will be as structured as simple as it was. Two changes will be:

1. Denim as basic casual wear means People will wear basic denim for better life performance simple jeans.
2. Denim as basic casual fabric means, whatever current interest simplicity that reflects the originality of denim fabric plus includes green processed within.
Sandeep
How do you think consumer will evolve in his preferences after going through this crisis
Albert
One thing for sure, consumers becoming more alert on the information, craving for the content and property over physical appearance. They will start looking at what's inside. What kind of materials the manufacture use. What will be the hygienic performance that the brand pushes for after these issues happened globally?

Some may still keep brand loyalty but mostly they will be more realistic in making a purchase. There will be more on anti-bacteria/ anti-virus/ less odor breathable denim jeans compare to fashion nice-looking novelties fit.

We had been enjoying the privilege of having premium denim for better margin, for just appearance and feel. Now they will ask what premium can give them on better and healthier life enhancement?
Sandeep
Sustainability – Your thoughts considering the existing situation?
Albert
The definition of sustainable fashion has changed over the years, and yet global fashion still searches platform aims to bring some clarity. Sustainable fashion defines as protecting the future of our planet and the people through design, how we create and wear our clothes, by carefully managing resource use to reduce waste and climate impacts, protecting the welfare of the human being, and the assurance of the safety and fair treatment of workers all the way down the supply chain.

People start talking in advance on Biodegradable jeans, which are a stretch of jeans made from renewable resources and free from plastics and micro-plastics. This is really sustainable product-driven.
Sandeep
and how it will change?
Albert
Denim remains one of the most-wanted sustainable products. In a world where resources are diminishing and landfills are overflowing with discarded garments, it's our duty to look for renewable resources
So yes Sustainability will go on as it remain as the soul of the apparel industry. But will the Recycle and Reuse garments gain more consciousness after the global pandemic? Are people start asking questions on the should we still pursue on pre-owned" and "secondhand fashion, that will need further clarification.
Sandeep
What do you think are the main positives from the current situation
Albert
Perhaps when no one can control the virus or even the economic fallout but we can control how we react to the crisis. I am very positive about our prospects for the future—surfing through the crisis in the short-to-medium term and in the long-term recovery. I believe if we are flexible and efficient enough, we will be well-positioned, to get through these difficulties.

We are looking for ways to drive efficiency and speed to market and reduce waste while improving the company's operations through and beyond the pandemic. I had seen a lot of chances to reshape and get slim light for the company, people will look at products in more different aspects, asking the different ways of sourcing.

Thus the crisis gives us an opportunity to not just renew the business, but to reset it for the future. Garment manufacturing has been diversifying away from China for around ten years due to China's high costs. We will just have to play out our strengths, go as efficiently as we can.
Sandeep
Thanks, Albert. Pleasure talking to you and see you soon. Stay Safe and Please take care.
Albert
Thank you so much for the time Sandeep, as hoping we will keep in touch and share what's happening in the industry, Wish you all the best and stay safe.
Note: We will be continuing these series of daily talks – with normal timings being 10.30 am NY time / 3.30 pm UK time and 8.00 pm India time at our Instagram handle. Do follow to be notified.
Video link of the talk