Marithé François Girbaud is a famous clothing company based in France. It was founded in 1964 by François and Marithé Girbaud.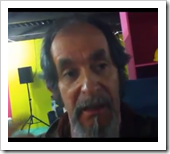 During my recent visit to Denim by PV (Paris)  , I had the opportunity to speak to François  Girbaud .  He was kind enough to give his views on various issues related to development in denim fabrics . But the main focus of the discussion was on eco friendly techniques and he expressed his concern over insufficient progress in the industry on this aspect. He also exhorts youngsters to come out and innovate with new techniques and processes of jeans production which have lesser impact on environment. Here is a video on this interaction with him.
Internationally based clothing brand Marithé François Girbaud was founded in 1964 by designers François and Marithé Girbaud who specialized in unique casual clothing, using uncommon styling and fabricates for comfort. Notably in 1977, they launched the first baggy jeans. In 1980, the company launched the legendary X-pocket.The legendary X-pocket jeans presented a style that was embraced by young men and hip-hop artists everywhere.