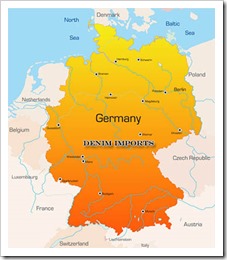 Germany is the biggest market of jeans in Europe constituting about 30% of the total imports of jeans. It consumes a large quantity of value jeans and a decent quantity of premium jeans as well.
The German economy is powered by exports. Its current-account balance (the difference between the money it receives from the outside world and what it spends abroad) is one of the world's largest, at 7% of GDP. It is an open economy: its ratio of exports to GDP is double China's. About 6% of German exports go to China, especially what are  "capital" goods such as heavy machinery. Germany has also been hit by slow growth in the 17 other euro-zone countries, where it sends 40% of its exports. Also issues with Russia are affecting its capital goods export to that country . Though the unemployment level is still low at about 5% , the country needs to worry about its other aspects as its costs of manufacturing are increasing. The Fukushima nuclear disaster in 2011 resulted in focus being shifted away from the nuclear energy – due to which its energy prices are increasing – and causing shifting of some manufacturing away from Germany.
But still Germany is the country that powers the Eurozone. Its performance is an indicator of how the zone performs. We will , in this report, see how the country is performing in terms of imports of jeans over the last 5 years from 2010 to 2014. We will see:
1. The quantity of jeans imported from the world during this period .
2. The value and prices of such jeans imported.
3. Breakup of these imports in terms of men's and women's jeans. Import market size in terms of men's and women's jeans component.
3. The imports compared from within and outside EU in terms of quantities , prices , shares etc.
4. The main gainers and losers from 2010 to  2014 for exports of jeans to Germany. Top exporting countries and their share
5. Eight tables showing the supporting  figures and their analysis.
Rest of the report is visible to our paid subscribers. In case you wish to contact us for more info at , send email at mktg@balajiinternational.com . To see all protected reports titles,visit this page http://www.denimsandjeans.com/subscriber-only-reports-3