Denimsandjeans Vietnam show was successfully organized on March 1-2 , 2023 after a covid gap of more than 3 years ! It was a memorable day for us as around 35 of the most recognized denim supply chain companies from 12 countries in Vietnam had come together to provide their finest products and services to the attendees. The event had special arrangements which gave the visitors more options when it came to choosing their favorite products. To add on, a separate denim bazaar section was established which had a range of exclusive Vietnamese local brands on display.
The two day event held in Vietnam drew a significant number of attendees from more than 250 companies. With a total of 1000 visitors from Vietnam & countries such as China, Hong Kong, Cambodia, Europe and US flocking to the event, it was a huge success. The visitors got to experience first-hand the Denimsandjeans platform that had been put together for the occasion.
There was no shortage of popular brands and retailers from these countries participating in the event and showcasing their products. The event was attended by companies such as Asmara, Gap, Shein, Li&Fung, Target, Landmark Group, PVH , Levi's , Newtimes etc to name a few.
Event Theme
This year we introduced a new theme ' YOGIM' that combined two favorite everyday trends – yoga and denim. Yoga and denim go together in so many ways. Soorty (Pakistan) and Viethong (Vietnam) – presented their fresh collections of denim clothing designed for yogis, along with interesting ideas about how one can make exercise in denims more enjoyable. To capitalize on this message, the event also featured skilled Vietnamese yogis who performed impressive movements in stylish denims, demonstrating that it is entirely possible to bring elements of yoga into super comfortable denim-wear.
Trend Area
The 5th edition of DnJ Vietnam had a Trend Area at its event which showcased the YOGIM theme. The collections that were on display in this event featured majorly five categories:
Loose n Loose (for loose jeans), Performanz (for performance jeans), Hy gene (for sustainability products), Minimalists (for subtle but elegant denims ) and My forte (for individual creativity).
Each of these categories is reflective of the latest trends and provide customers with clothing that had both look and functionality.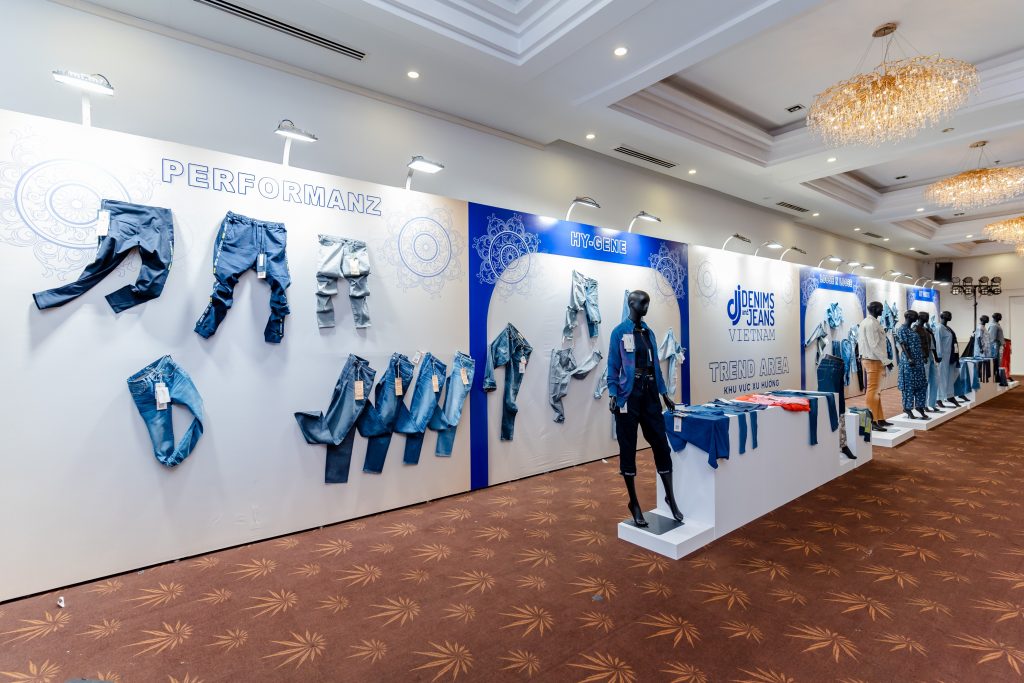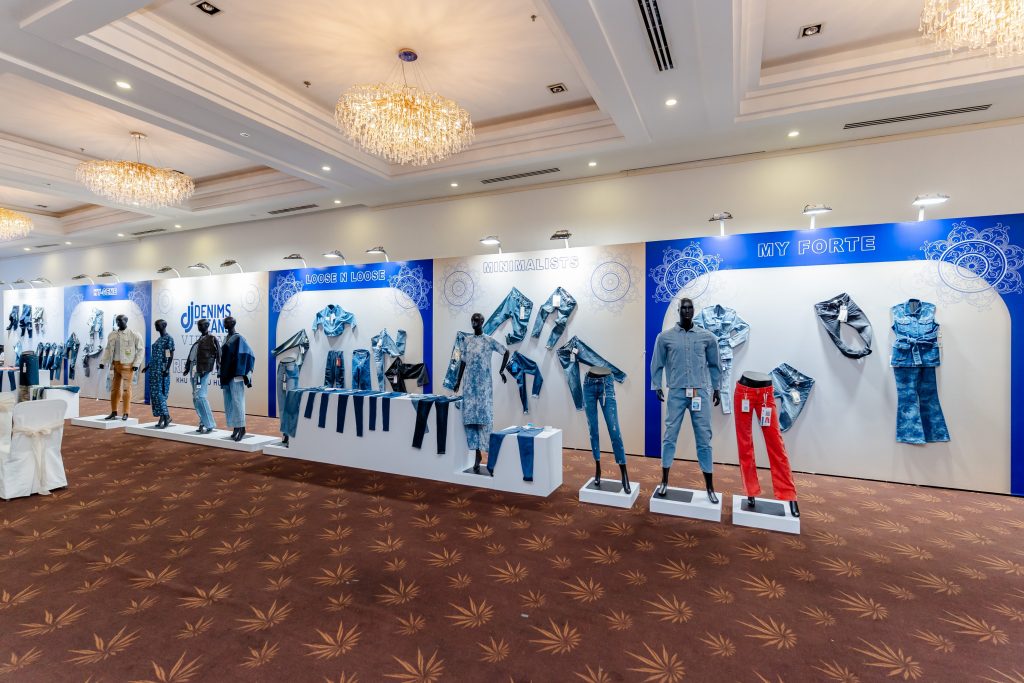 Seminars
Participants were also invited to join forums and seminars conducted by experts on different topics related to important denim topics. The primary goal was to provide useful insights and ideas on how this framework can be used as an effective tool for business operations in various industries.
The speakers' presentations were inspiring and very informative. And we share the same with the youtube links below .
Nicolas Prophte
VP Sourcing , Product and Innovation Denim for Tommy Hilfiger
Topic : "How Vietnam Could Play A Role Towards A Circular Denim Industry".
Florian Schneider
Founder of YellowCrank Creative and Ex Director Sourcing PVH Far East
Topic : "Denim in 2030"
Kyle Stephens
CEO of Kolai Denim
Topic : "Disrupting Denim With The Help Of Creative AI".
Vo Manh Hung (William)
Representative for Cotton Council International and Cotton Incorporated
Topic : "US Cotton Trust Protocol" Sustainability and Traceability & A Needed Solution in the Challenging Market
Alice Tonello
Marketing & RD Director Tonello
Topic : "Laundry (R)evolution – Simple, Digital, Automatic
Serdar Demirciouglu
Sales & Marketing Director Kaiser Textile
Topic : "Latest Innovations In Laundry Chemistry"
Denim Bazaar
This season, a special bazaar section was set up for B2C consumers. They could purchase local Vietnamese denim brands' handcrafted bags, accessories and trendy jeans directly from the makers. Participating denim brands included high-quality and ethically sourced jeans and accessories that featured unique embroidery, stitching, and personalization options. Customers were pleased to discover authentic pieces from these local artisans that took a modern twist on an iconic fashion style. All products were in limited supply, so it was essential for customers to shop early and act quickly before these items disappeared!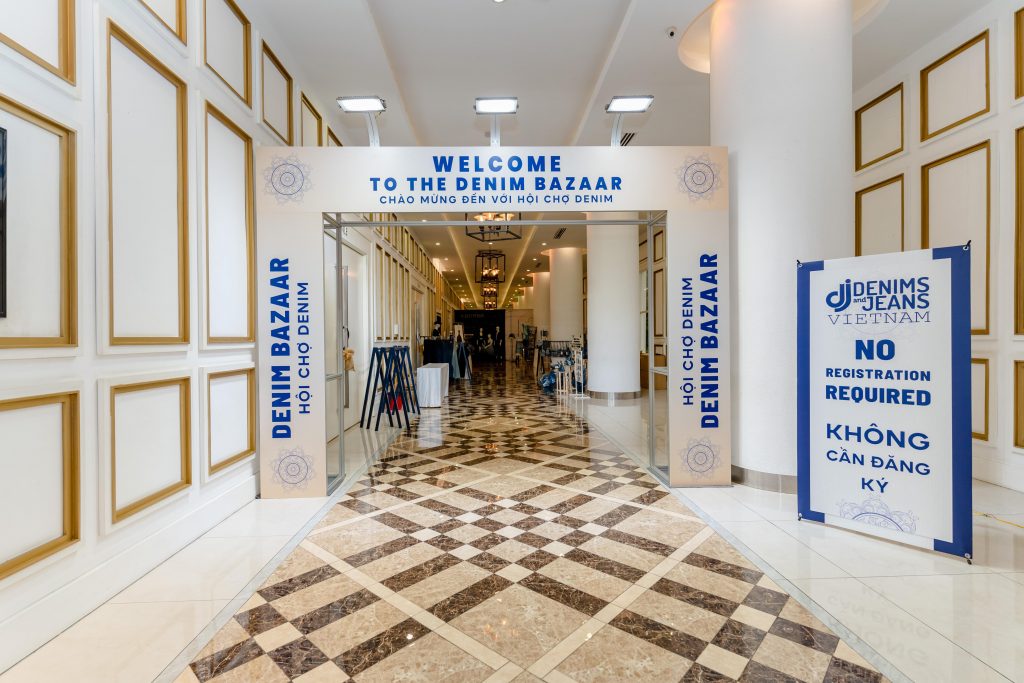 We are thrilled to announce the dates for our upcoming event in India on April 26-27 at the Lalit Ashok in Bengaluru. This event promises to be an exciting chance for exhibitors and visitors alike to discover new products and services, explore innovative ideas, and build great networks. Register HERE for the show in Bangalore.
---
Follow Us On Our Social Media
Stay Tuned for upcoming events