Wabash – Indigo Discharge Dyeing , refers to the process of creating patterns and prints on a fabric base that is dyed in Indigo. The phrase discharge dyeing is almost an oxymoron, because the process by which a Wabash print is created is actually not dyeing but removing parts of the already dyed indigo fabric to create a pattern or print. The base indigo dyed fabric goes through an oxidation process to remove parts of the dye in the form of a pattern.
Wabash looks like quite a formal fabric, but in fact it was commonly used for work wear from the early 1800s through to the early 1900s, very often as uniforms for the massive US railroads work force. Finding out a lot about Wabash is very difficult, but we believe there were 2 ways in which the dots were originally "applied" to the base fabric:
The pattern would be applied as a block print to the undyed fabric with a starch based "resist" and then dyed, the dye not adhering to the resistant pattern; and

The fabric was dyed and then the pattern bleached into the fabric – this was done by applying a mildly acidic solution to the cloth via copper rollers with the pattern raised from the surface of the roller, a process known as discharge printing.
There have been a number of famous Dyeing and Printing companies which used this technique in 19th and 20th Centuries. Perhaps the most famous of the American Wabash dying and printing companies was J.L. Stifel & Sons set up in West Virginia in 1835. They called their product "Indigo Wabash Stripe" and it was often characterized by an impressive assortment of dots, triangles and diamonds. A few advts. pertaining to that era are illustrative.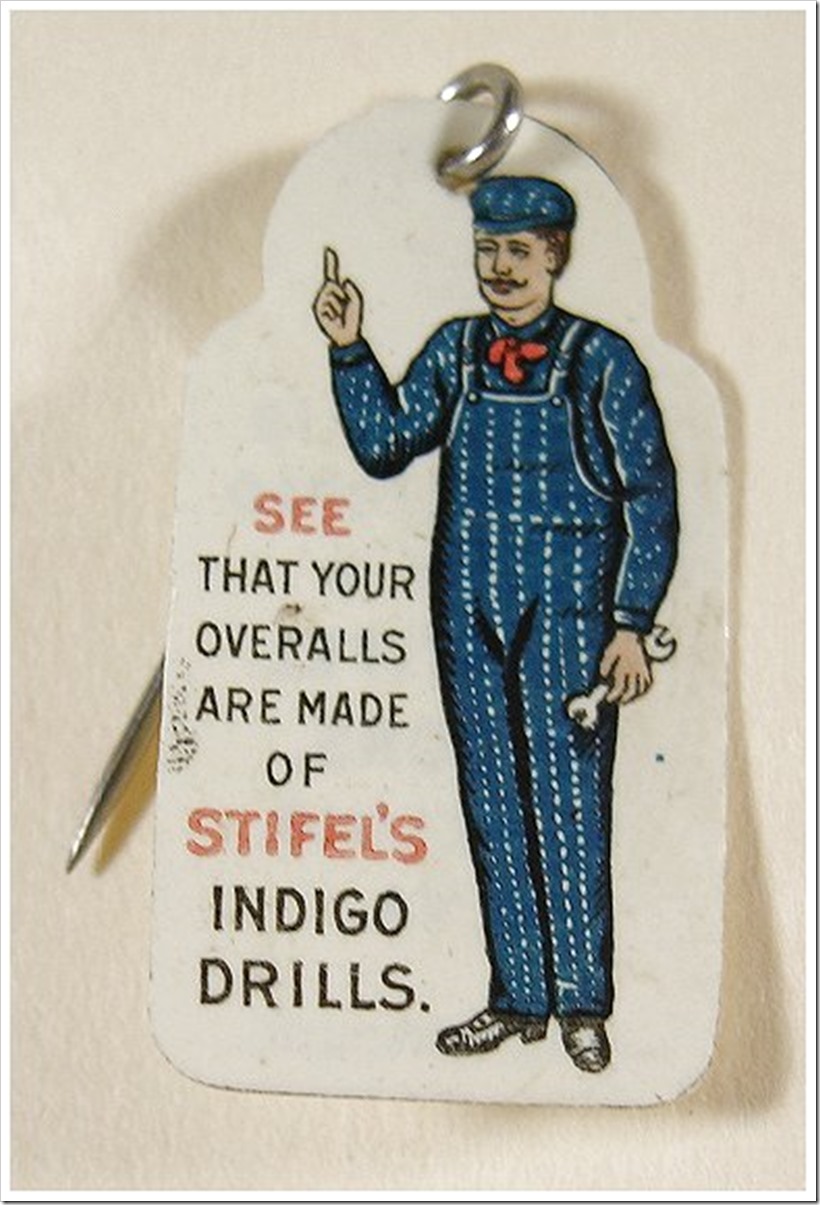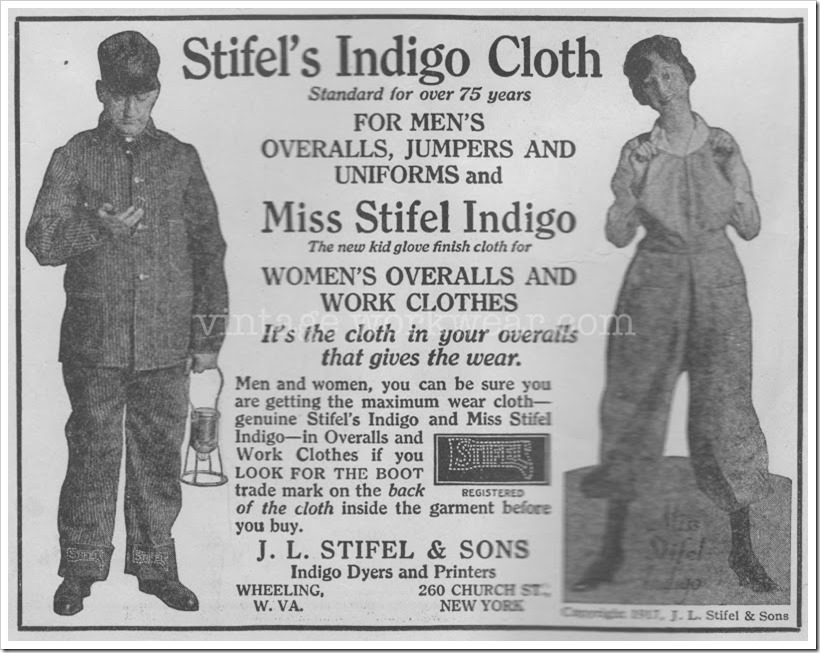 However, in recent years, it is the Japanese who have extensively used Wabash in their collections . Brands from Momotaro to Samurai to Iron Heart and many other small but niche brands have been using Wabash in their collections on a regular basis. The technique has been further developed using different woven and dyed bases for that increased contrasts and striking views . Even weaving techniques have been blended to create or accentuate such effects .We list some of the Wabash designs from few Japanese brands in the images below. The brands their own signature accessories and impacts to the collection differentiating them from other Wabash items in the market.
Momotaro Jeans – BG16902 Wabash Work Pants(One Washed)
Indigo Wabash Western Shirt
Separately rope dyed indigo warp and weft with bleached dots makes for a wonderful Wabash .
Will fade and age beautifully with wear .
3. Wabash by UES Denim
This 8 oz selvedge fabric woven by UES and discharge printed with the Wabash design. A classic and stylish piece of work wear.
-100% cotton 8 oz. selvedge
-Indigo rope-dyed
-Rinsed once/will not shrink
-Wabash design discharge printed
-Triple stitched seams
-Corozo buttons
-Crafted in Japan
4. Wabash by SugarCane
"Wabash stripe" selvedge 100% cotton indigo x indigo twill, discharge-printed with a dotted stripe pattern on the face. The reverse side of the fabric is mostly solid with no discharge bleed through but features a sparse Sugar Cane Co logo print, lifted from the classic Stifel-style boot logo. Fabric milled and printed in Japan exclusively for Sugar Cane Co.