This is the first of its kind of report on Indian denim brands. India has been seeing an upsurge in the organized market in recent years. The market in India was dominated by the
un organized market for almost all time and still does. About 15 years back, the market
was 95% driven by unorganised sector where the jeans made in small factories used to be
sold either as unbranded or unregistered brands.
This was the need of the market at that time but slowly things started to change and there
was a move towards the organized markets and brands.
The move was supported by the introduction of GST in 2016 which made it more difficult
to stay unorganised. However, the depth of organized market in India is so much that even
now we find that of the total more than 600 million denim garments sold in India, about
80% are still in the unorganized sector. But things are changing fast and we will see that
the % will change sharply in the coming years.

In this report we studied about 15 denim brands as below :

Lee Jeans
Louis Philippe
Mufti
Numero Uno
Levi Strauss and Co.
Peter England
Spykar
Roadster Brand Jeans
Wrangler
Pepe Jeans
Killer Jeans
Flying Machine
Jack and Jones
Being Human
Lee Cooper
The combined volume of jeans sale of these brands is over 30 million which is a very good percentage of the total jeans sold in organized retail in India.
We evaluated 1 month of their E-comm offerings in Sept'23 for all these brands. We evaluated them on the basis of PRICES, DISCOUNTS, GENDER RATIOS, FITS, MATERIALS/ OMPOSITIONS, DEFINITIONS etc
We studied about 8500 product styles sold online of all these brands included during September'23 to arrive at over 100 charts and graphs to give deeper insights into the brand consumer facing front in this 140+ page report done for the first time .
We make the analysis in two parts .

First we compare all these brands together on various parameters like no of styles offered, pricing – low , high , average and ranges , discounting etc. Besides we will also look at how Men Jeans dominate the stable of most brands . Some of the brands dont offer women jeans at all and others have a very small % .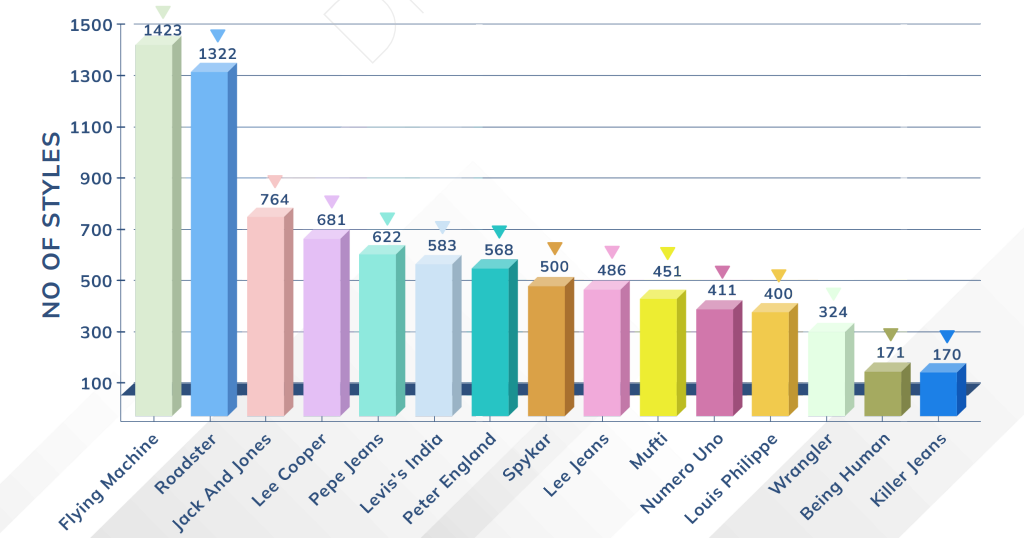 Secondly we cover each of these brands in detail on the following parameters.
Styles offered
Average prices
Price ranges : We analyse the price ranges in which brands are operating and how these
ranges change on discounts offered by the brands.
Approx FIT breakup of styles during each of these months. One FIT is predominant in the
Indian Men Jeans market in India. We analyzed how each of these brands stand in respect
of this fit compared to all their styles
Most popular compositions for each of these brands during Sept'23. We will list out the
major compositions used (and in how many styles) during each month to give an idea of
kind of fibers being used for the fabrics. Currently as it shows, Indian denim brands have
not started focusing on sustainable fibers in a big way.
RIGID vs STRETCH – we try to analyze how the styles pan out in regards to their stretchability in various months. Indian men jeans market, which was in the first decade of this
century was using almost 100% only rigid fabrics, is now consuming almost 100% stretch
fabrics. But some brands have started moving their styles towards rigid compositions. We
will analyse that.
Cotton % on an average from the whole stable of styles on offer. Is the overall cotton %
used in the products going up or down? We will try to analyse that. We will also look at the
polyester % approximately used by each brand in their styles.
The report is available to our annual SPECIAL REPORTS subscribers . Also those who want to buy this report, pl contact us at this email and we will send you the buy link .
Rest of the report is visible to our paid subscribers. In case you wish to contact us for more info at , send email at mktg@balajiinternational.com . To see all protected reports titles,visit this page http://www.denimsandjeans.com/subscriber-only-reports-3