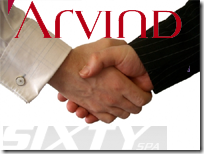 Arvind Ltd is entering into a deal with the Italian fashion denim maker – Sixty Group – to sell its products under various brands  in India. The Sixty group had previously entered into a pact with the Reliance Brands in 2007 , but which was later called off.  Reliance, however, entered into a 49:51 joint venture with Diesel to launch the Diesel brand in India.   Interestingly, Diesel had called off their pact with Arvind to enter into a deal with Reliance Brands. Arvind is entering into a deal with Sixty group when all is not well there . It has recently closed half of its 20 Miss Sixty  stores in the US  and is entering bankruptcy procedures in the UK after having lost Euro 19.5 million in 2008.
Sixty group is one of the most famous denim brands from Europe and of course Italy. It owns brands like Energie, Miss Sixty , Killah, Refrigiwear , Murphy & Nye, Richlu and Baracuta.  Out of these brands, Miss Sixty –the women's denim brand established in 1991 – and Energie – the men's lifestyle brand started in 1989 – are the most famous ones. It is expected that Arvind would first launch the Energie brand in India to  enter the men's  premium and super premium denim segments and with prices starting from Rs3,500 ($78 approx) . These prices would be above that of Levi's which operates in the price segment of Rs 1200 to Rs 3000 ($26 to $66) but way below that of Diesel which has prices starting from Rs 8000($177 approx.) .
Arvind owns denim brands like Flying Machine, Ruf & Tuf and New port – all of which cater to lower priced segments of the market. Arvind's JV with VF also enables it sell the Lee and Wrangler jeans in India and compete in the same price segment as that of Levi's. Hence, covering the lower and the middle segments of the market, Arvind was in need of a denim brand which could be positioned in the super-premium category. Hence the efforts to tie up with Diesel and now Sixty Group. Arvind has been trying hard  to gain a larger share of the continously growing organised denim market in India(currently estimated at around $450million) , but it still lags behind the market leader Levi's which is  already touching a turnover of $100 million.
Diesel Vs Sixty
Diesel has a very high brand recall value in India as compared to Sixty. Reliance Brands will not have to invest much in creating brand awareness for Diesel in India whereas Arvind will have to invest a sizeable amount of resources in developing the awareness for Energie or other Sixty brands. Even though priced much lower than Diesel , Arvind will have to work hard to prove the worth of the brand to Indian consumers. Though its experience of handling other international brands and its huge denim infrastructure back-up will come in good use to this end, it seems that  Arvind will be  able to reap the benefits of this association only after a couple of years .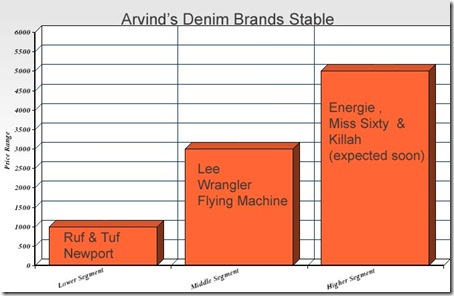 Source : ET and others