"No more, no less than what we truly need". Essentials in fashion are sort of fantasy: that of a piece of clothing that will stand the test of time and remain relevant outside the dimension of seasonal trends. Calvin Klein- New York fashion house announced the appointment of Heron Preston as the brand's new creative consultant. The designer, streetwear pioneer, former DSNY artist, current proprietor of a global retail pop-up store, DJ, and creative director who made a name for himself has added yet another big name to his list of collaborations. Preston defines his brand's identity with 3R's- Revolutionary, Relatable, and Relevant.
Calvin Klein is widely known for its minimalistic aesthetic and timeline essentials, now has a modern spirit that Preston has brought to the brand. The brand has always focused on widening expectations for essentials- denim, underwear, hoodies, and basic tees.  Preston has organized a collection of unisex basics resulting in " essential but not generic" and are season immune which makes this collaboration worth every penny.
Coming up with an essentials line has always struck me as a deceptively difficult task — how do you stand out from the fierce competition, putting a personal twist on pieces that should be nondescript by their very nature? It's a careful balancing act; design at a foundational level. "I didn't want to touch the product too much, I just wanted to elevate it," says Preston, using an example of how he adapts workwear to the Parisian runway for his eponymous label.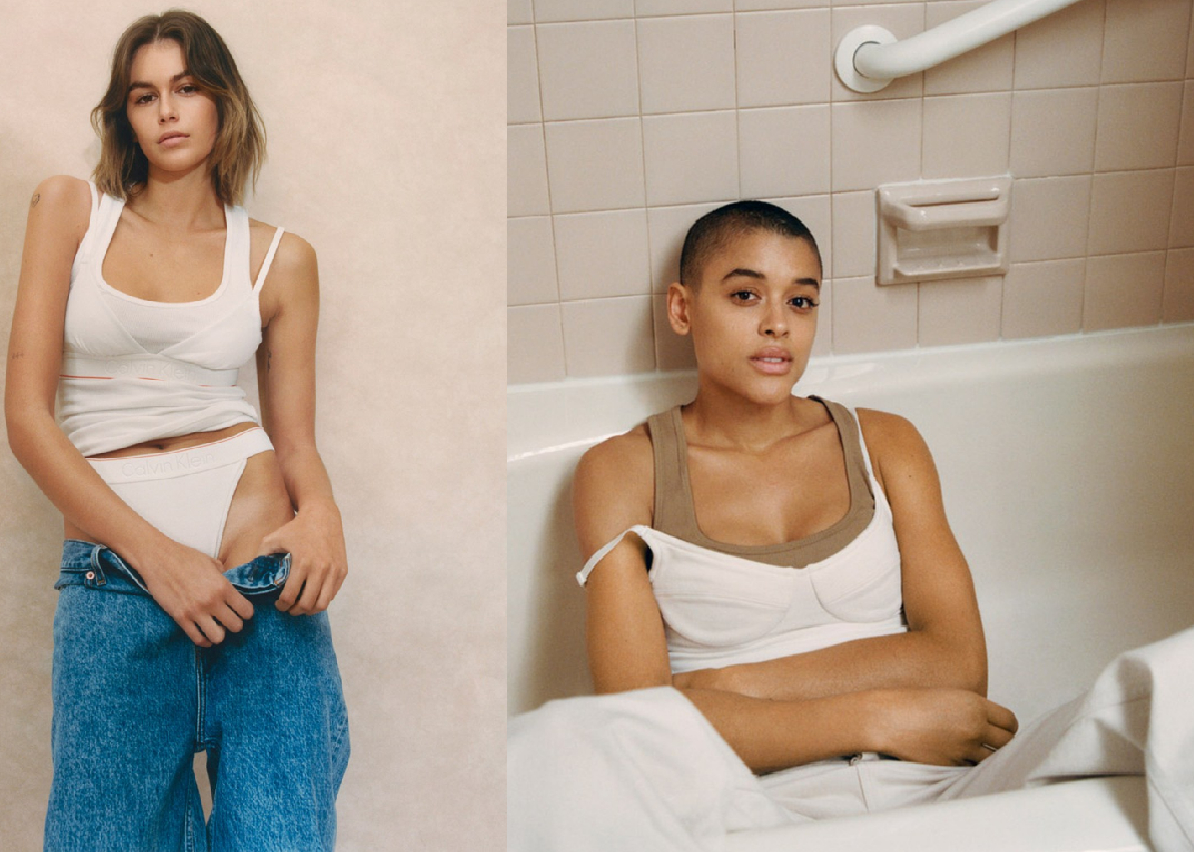 "We discovered this idea of underwear as outerwear," Preston said, pointing to a bralette on top of a tank top. "There was also this idea of playfulness," he said.
"The whole 'underwear as outerwear' idea came out of styling exercises; playful moments in the studio. We started discovering these themes naturally through layering experiments: bras on top of different pieces, etc. When we stumbled upon it, there were high-fives all around, then it became a real concept we designed into storytelling." You might call it a happy accident, but isn't that the entire point of collaboration? Jacob Jordan, Global Chief Merchant, Head of Product Strategy & New Product Ventures at Calvin Klein thinks so. "Heron's lens, that's his filter — looking at something really iconic to the brand. [It's about] two people looking at something they couldn't necessarily have done on their own. We've been making underwear for a long time; sometimes you get so close to it that you have a very specific approach. To have Heron come in and respect that while showcasing a very different way of working is super exciting."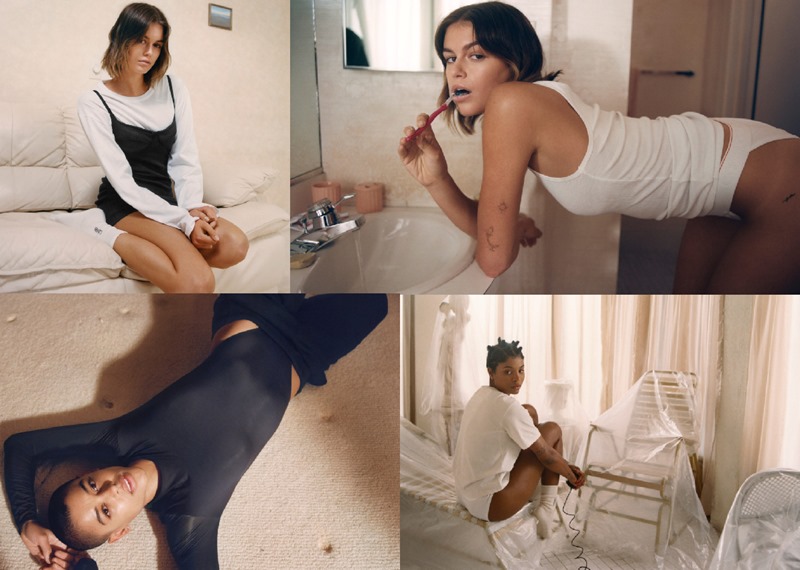 When Preston was assigned this project, he made sure to respect Calvin Klein as much as possible by going deep into the history of the brand. "I wanted to create a collection for real people. I saw this collection speaking to not only my specific friend group but the rest of the globe," said Preston. He focused on few points before coming out with the collection:
Understanding about brand's most iconic pieces like underwear and T-shirts
Understand the colors of the brand, Preston said "Understanding colors like chalk that I became obsessed with,"
Understand the consumer and what they're wearing from day to nighttime.
Making clothing line comfortable and sustainable
Tight-fitting, Klein said "Jeans are sex, The tighter they are, the better they sell.",
Season immune
Gender Neutral
Sustainably sourced
For Denim collection the results are:
Carpenter jeans
High-waist & regular fitting jeans
Natural canvas denim top
And Preston's favorite is Carpenter jeans as it speaks to him as a designer who's inspired by workwear. "I was really interested in a great fitting denim that everyone could fall in love with," Preston explains. "Aside from the fit that we spent countless hours on, I wanted to include little design details that aren't necessarily traditional, like the label on the opposite side, turned inside out. "People always associate Calvin Klein with being minimal, and I think you [Preston] embraced that and you built so much detail within each of the pieces. Denim is a place where that definitely shows up," said Jordan.
Preston wants to design a collection where pieces detail will be noticed. He said "I wanted to make a distinction between wearing clothes and then living in them. This is a collection that I really wanted people to live in."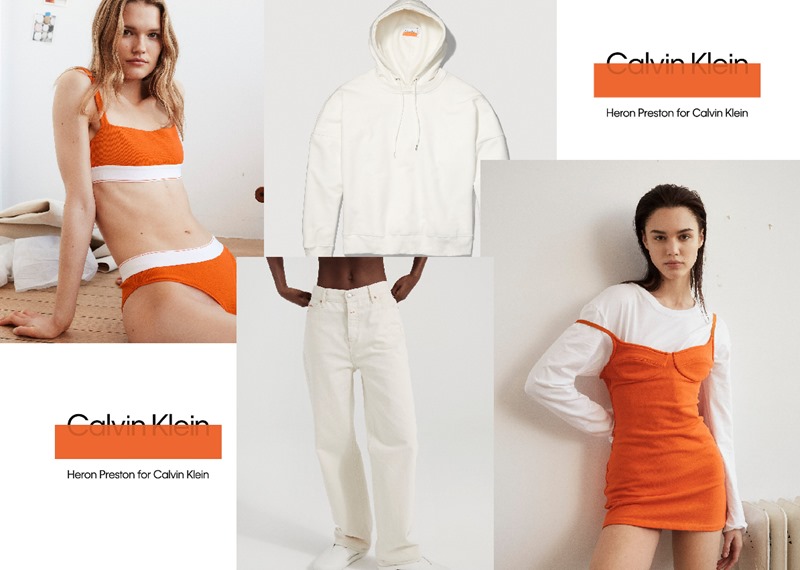 The collection plays off a composed cool New York aesthetic featuring Heron's vibrant and signature orange color-splashed signature, Preston commented that "Orange is my color".
There is a special interior and exterior branding element to this collection. Pieces are finished with raised ribbing and stitching giving a 3D appearance, adding a modern twist to the legendary Calvin Klein pieces, he revolutionizes the brand:
Simple silhouettes and made from heavier, more substantial fabrics
T-shirts come in lightweight organic cotton for the basic pack and heavy 8-ounce cotton for a single shirt with an orange box stitch on the back.
Long-sleeved T-shirt with a gender-neutral fit
Boxer briefs have a thin orange line around the waistline
Socks also have an orange trim
This collection also embodies a commitment for sustainability from both Preston and Calvin Klein by using organic & recycled cotton and plastic-free packaging; raw denim to save water.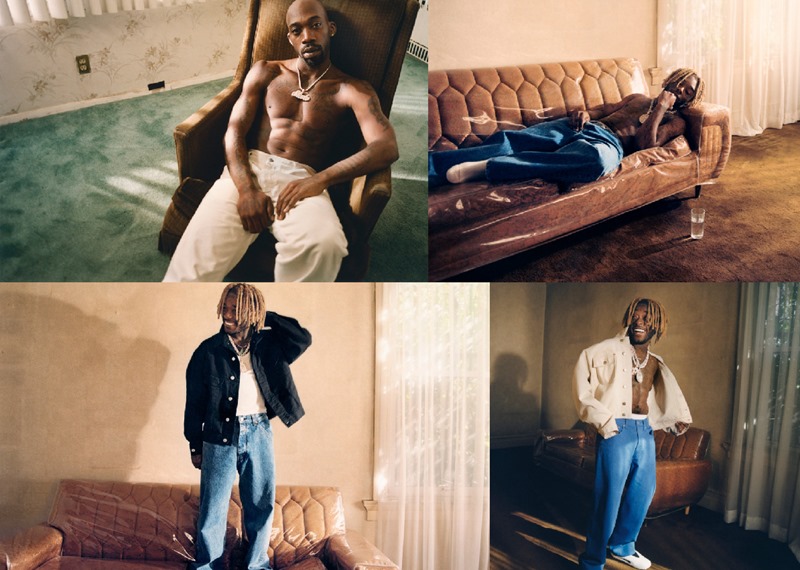 Preston says, "This goes beyond just a normal collaboration. I call it a collaboration 2.0., as the work we did, and how we did it, goes beyond just product design and placement. We tried to reshape and develop a new business language, while still fully embracing and respecting Calvin Klein's culture, experience, and history."
"Working with Heron was such a perfect place to start. He sits at the crossroads of culture, interconnecting various disciplines – threading ways between youth and creativity. His modern way of thinking and his approach to design and sustainability are very much aligned to the Calvin Klein brand. Heron brought a level of integrity to this collaboration, one that goes beyond the hype and actually wants to change from the inside out and influence the product," says Jordan.
Key Colors: Black, White, Chalk, Rinse Blue, Orange, Blue, Mud, Natural, Olive, Heather Grey
Sizing: XS to XXL
Price Point: $138 – $298 for sweatshirts and hoodies, $36 – $88 for underwear, $185 – $225 for denim