Wrangler is one of the most important denim brand and which has left its profound impact on the world denim industry. Having its origins in late 1890s, the brand grew from strength to strength as it spread from a small factory in North Carolina to a multi national corporation. We take a brief pictorial look at its history and see how it evolved over years. Its a trip down the denim memory lane !
1897
20-year-old C.C. Hudson leaves Spring Hill Farm in Williamson county, Tennessee, and makes his way to North Carolina, seeking his fortune in the emerging textile industry. He finds work in a factory making overalls, where he earns 25 cents a day sewing on buttons…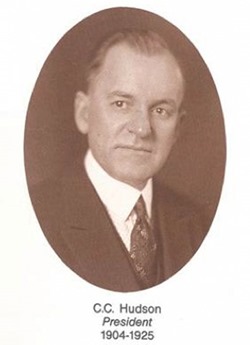 1904
Hudson's workplace closes. He and a few others buy several of the sewing machines, lease space above a downtown grocery store and incorporate as the Hudson Overall Company. Legend has it that a group of railroad workers who bought overalls at the Hudson store gave C.C. Hudson a bell, and after spending time in the factory, the bell – like everything else – became covered in blue denim dust, hence "Blue Bell".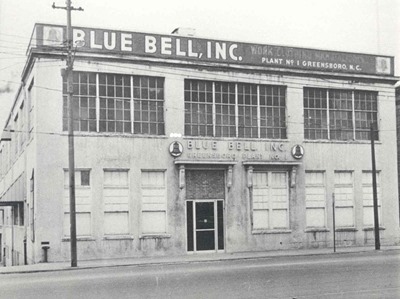 1910

Job advt. for Blue Bell seeks to align with First world war efforts .
1919
The business builds its first factory on the corner of South Elm Street and changes its name to Blue Bell Overall Company.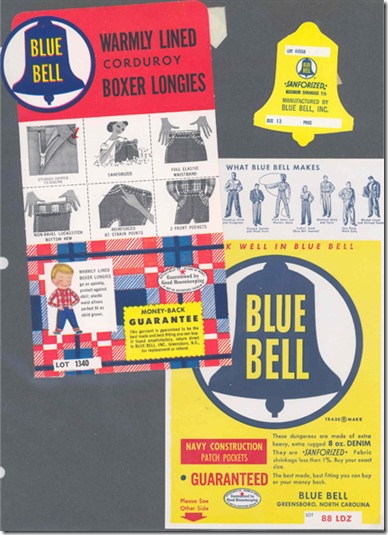 Note carefully – 8oz denim were sold during those times as 'heavy, extra rugged' .
1936
Blue Bell launches Super Big Ben Overalls, made out of 100% Sanforized Fabric that reduces shrinkage after washing to less than 1%. This sets a new standard for the industry.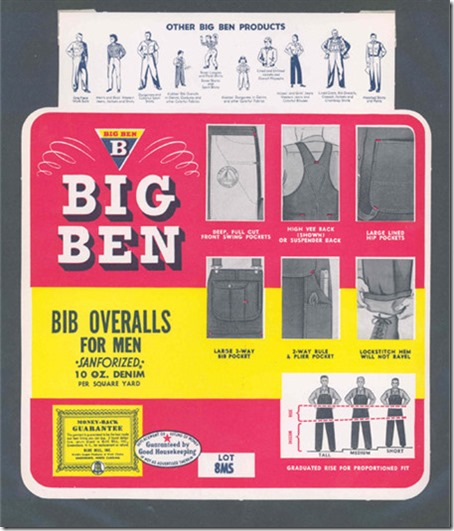 1943
Blue Bell acquires Casey Jones Company, a manufacturer of work-clothing, and, with it, the rights to Casey Jones' rarely used brand name – Wrangler. Thus , is born the ' Wrangler' jeans !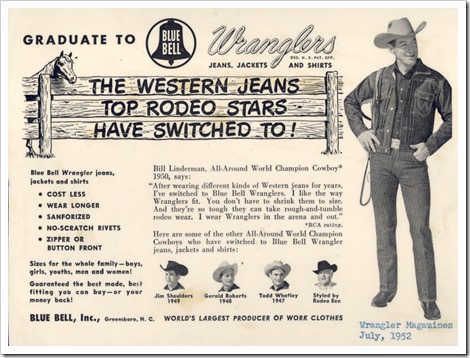 1947
Wrangler authentic western jeans, designed by celebrity tailor Rodeo Ben, are introduced to the American consumer. Professional rodeo cowboys Jim Shoulders, Bill Linderman and Freckles Brown wear-test the 13MWZ and endorse the Wrangler name for durability, quality and authenticity.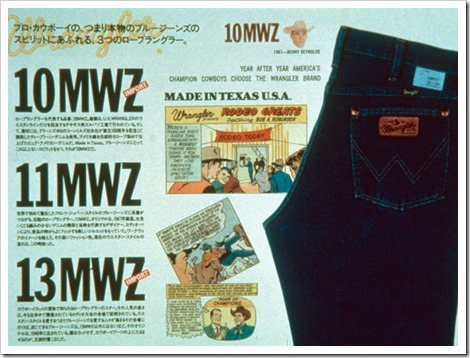 1948
Jim Shoulders, World Champion Cowboy, signs on as an official endorsee of Wrangler. He goes on to win a total of 16 world championships, including five All-Around, seven Bull Riding and four Bareback Riding World Titles.
Some advertisements from Wrangler during the '40s and '50s.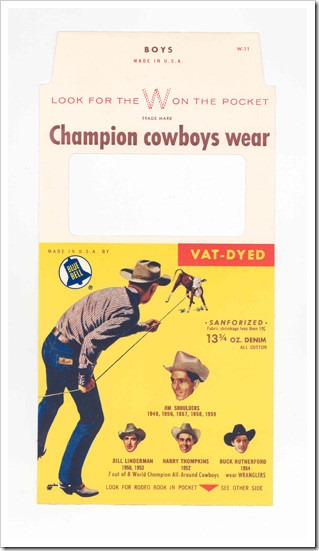 Surprisingly, still we can see the highest ounce being used as 13.75.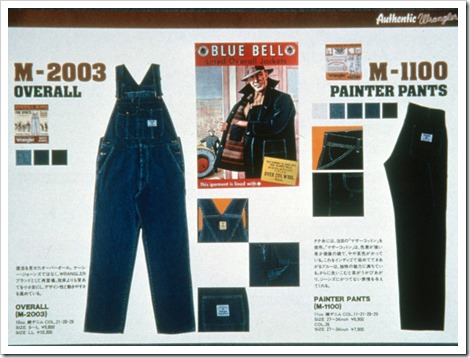 Overalls and Wool lined denim jackets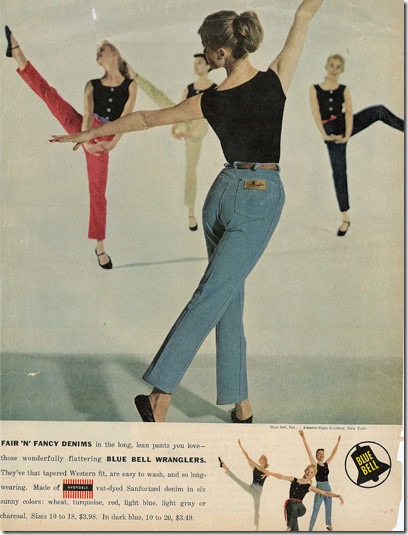 Precursor to super stretch jeans ?? Well, it seems the ladies in those times could be as comfortable in 100% cotton as they need 80% stretches to be in  today !
1962
Blue Bell opens a plant in Belgium and the Wrangler brand is successfully launched in Europe. This brings Wrangler to Europe which it conquers successfully.
1963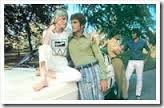 Newsweek magazine coins the word "teenager" and features a Wrangler–clad girl on the cover. This is quite interesting. It is believed by many that Newsweek coined the word 'teenager' in 1963 to describe the adolescents between 13 and 19 years of age. The image shown shows a girl in Wrangler on the cover.
Some advertisements from Wrangler (around the globe) the late 70s  .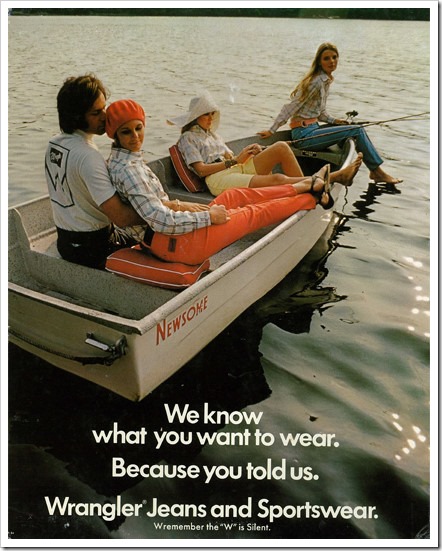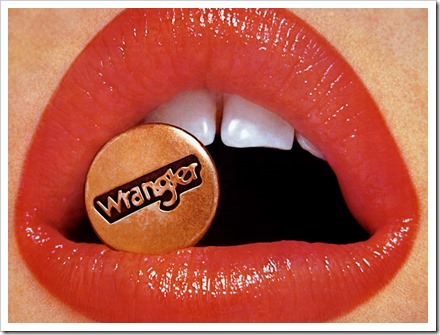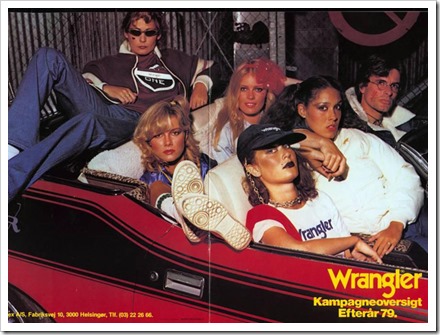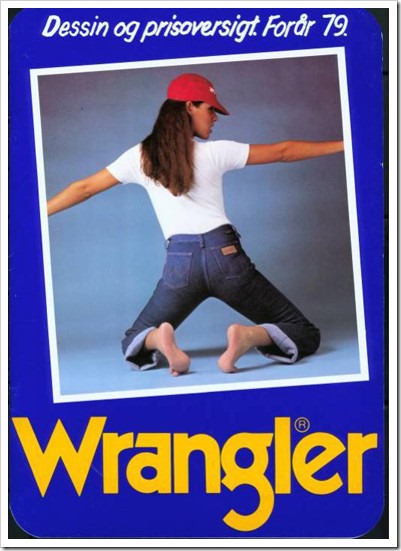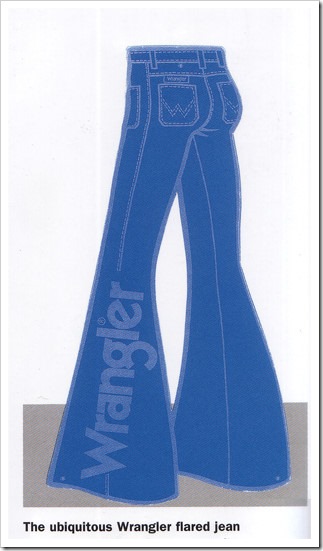 Flared jeans in 1979 !! Promising to be back again ??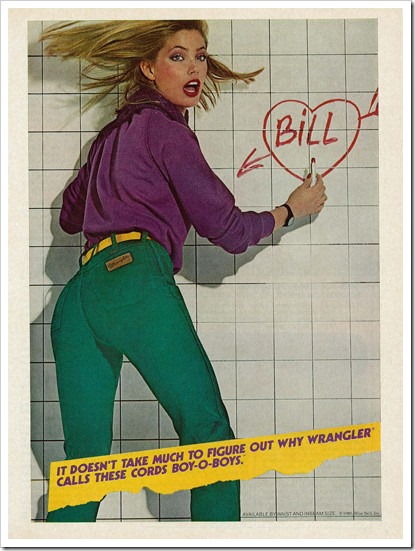 Cords from Wrangler in 1980s.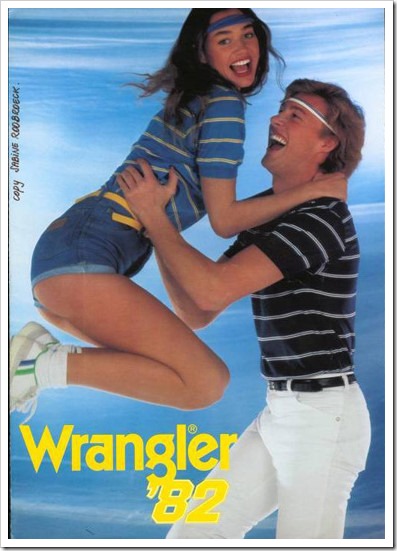 Ladies pinup shorts in early 80s .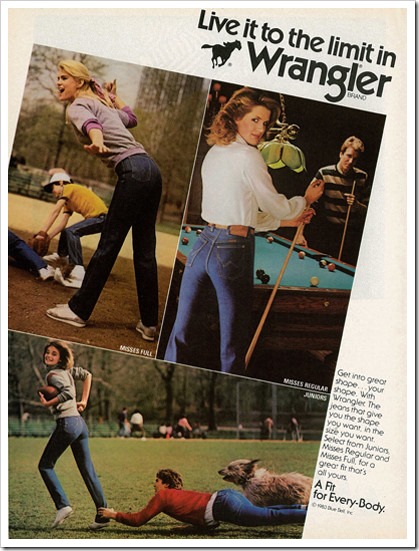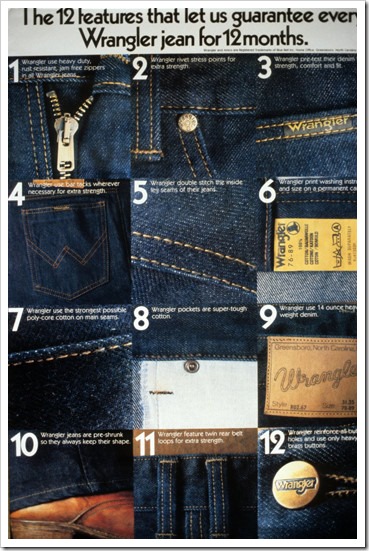 Wrangler gives 12 reasons why their jeans are super tough ! One of them – it being 14oz.
1986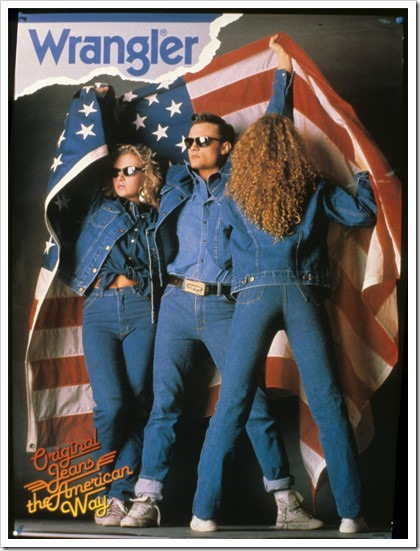 (Image credits – Wrangler.com and Wrangler.com.au)
Blue Bell mergers with VF Corporation of Pennsylvania, making VF one of the two largest jeans makers in the world, with 25% of the , then,  $6 billion market. The market has since grown more than 10 times with denim spreading its wings around the world and no brand in a position now to have such a large share of the market.
Notice the triple denim attire of the models ! Its denim hands full ! A trend that we lately see emerging – but of course with better combination of colors and styles.
Sponsored Link: