In this ever expanding world of Premium Denims ,with over 200 denim brands fighting for mindspace, some brands stand apart and one of them is Hudson Jeans  . Hudson Jeans collection was founded in Los Angeles in 2002 and is best known for unparalleled fit and craftsmanship, the iconic union jack logo and signature triangle flap back pocket. Created from the best premium denim from the finest mills in Europe and Japan, all Hudson products are hand finished and tailored to be truly one-of-a-kind pieces. The line 'Marries California Freedom with British Cool' and recently launched a hot new ad campaign featuring Georgia May Jagger, the 17 year old daughter of Mick Jagger and Jerry Hall.  With all the hype going on with this new ad campaign, I thought it was time to catch with the designer  BENJAMIN TAVERNITI (Ben) for a Q&A :
1) Why do you think jeans continue to remain so popular in spite of economy being in recession?
Denim is now the pillar of the outfit… Especially in a 'recession', it is much easier to accessorize what you already own around a new pair of jeans. Also, the utility and value that a premium pair of jeans offers is unbeatable. A $200 pair of jeans is not really expensive if you can wear them a lot.
2) How do Hudson Jeans stands out from hundreds of other brands of premium denim brands out there?
We are very confident in who we are and the denim we create. We stay true to the brand and provide both women and men with the ultimate premium denim that combines British cool with California freedom. We will never ride a trend for trend's sake and fans of our brand love that about Hudson Jeans.
3) What kind of denim fabrics do you use?
We only use the best fabrics from the best mills in Japan and Italy. We are very tedious in our research and we always look for the best of the best, which makes our denim like none other. We like to incorporate new fabrics to take Hudson Jeans to the next level, making the line even more high fashion. I love to enhance denim with materials like satin and jersey.
4) Who is your typical customer?
The Hudson girl/guy is effortlessly stylish, takes chances, irreverent, and creates their own destiny, always. Style is woven in to who they are and the way they live their life.
5) Which are your best selling jeans?
We offer a wide variety of fits and styles, so it is hard to lock in on just one. If I had to pick, I'd say the bootcut and skinny have always been popular styles for us and consistently continue to perform well.
6)What do you think are the latest trends in denim for Fall 2009 and Spring 2010?
Some upcoming trends to look forward to are the flare, distressed, babyboot (a mix of straight leg and boot cut that hits just right at the ankle), baggy skinny, high-waist skinny, vintage distressed patchwork … That's all I can say for now, I wouldn't want to give away all of my secrets!
7) What is the source of your inspiration for designing the jeans?
My design inspiration comes from my everyday surroundings and life experiences. I pull inspiration for everything I read, the places I go…it's usually a mix of travel, books, magazines, and my interactions with interesting people. If you are sensitive enough to your surroundings, you pick up on them and they are woven into who you are and what you love.
8) What is your favorite pair of jeans and why?
My favorite jean right now is the black distressed super skinny jean with 12" leg opening…repaired and patchwork…undoubtedly Hudson. We make them for women, too.
9) Is there any place you won't wear jeans to?
Swimming !
10) What do you think is the one single most important factor for jeans purchase  – brand name, fit, fabric, wash & finish or any other?
It's the combination of the fabric, fit, the wash, the design…it really depends on what you are looking for from your denim. A perfect brand needs to create jeans that combine all of these factors successfully into a jean.
11) Which celebrities are currently wearing Hudson Jeans?
Gisele Bundchen loves the Hudson Signature Bootcut. Jennifer Aniston, Leighton Meester, Sienna Miller, Sandra Bullock…there are so many!
12) What would be your dressing advice to denim lovers?
Don't be afraid to experiment with new styles, washes, colors or cuts. Denim is a fabric that encourages women to have fun and express their personal style.
13)We hear a lot about  the Denim Leggings – 'Jeggings' .Are they in fashion ? How do you style  'Jeggings'?
The jegging is a fashion essential this season because it provides the comfort of the legging and chic design of the jean. It's something that is very easy to wear and goes with anything in your closet. To dress up your new jeggings, wear them with Christian Louboutins or dress them down with a beat up pair of Converse tennis shoes. You can wear them with a tank top or a more dressy top, a canvas bag or a Balenciaga. The jegging gives your look an edge, no matter how you style them.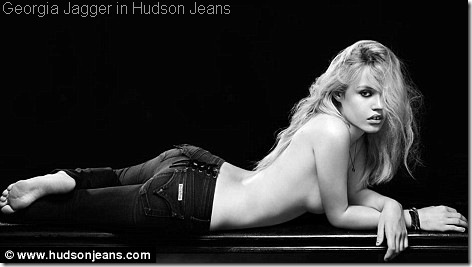 A brief bio of Benjamin Taverniti : Born in 1980, Ben is a very young and talented head designer of Hudson Jeans. In 2002, Ben became the head designer for Kristina Popovich in Paris for 2 years.  In 2004, Ben relocated to Los Angeles, California and lead the design team for Yanuk Denim.  In early 2007, Ben joined the Hudson Jeans' family.  Ben is currently the head designer and creative director at Hudson Jeans..