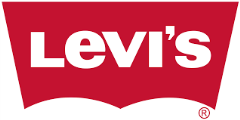 Levi's is the world's oldest and largest denim brand. The family-owned blue jeans pioneer — founded in 1853 and adopted by everyone from miners, cowboys and railroad workers to greasers, rockers and hippies — has long been linked to a potent blend of democratic, rebel-infused Americana. Bruce Springsteen wore a pair of classic Levi's 501s on the cover of his album "Born in the USA."
Levi's is the world's oldest and largest denim brand. But despite its powerful story, Levi's hit its commercial peak back in the 1990s. In 1996, annual sales at parent company Levi Strauss & Co.reached $7.1 billion. By 2003, however, revenues had fallen to $4.2 billion and, over the last decade it faced competition from a number of retailers, high street brands , fast fashion retailers and hardly experienced any growth in this period. Fast-fashion retailers and other value players, offering very low prices, took the bottom off the business, while new premium denim specialists targeted the top. Speaking to Business of Fashion  (excerpts taken from there)James Curleigh , global President for Levi's says
"There are more denim brands born this century than in the previous 104 years.All of a sudden, we get attacked by premium. All of a sudden, value and own-label and fast fashion come and try to take a piece of the business. Traditional competitors, like Wrangler and Lee, also wake up to a moment of denim growth," he continued. "So, you're getting attacked by premium, value, traditional and fast fashion..
"Because you're the leader, I think it's natural, at first, to not be reactive and say, 'We're the original. We're just going to stick with what we're doing.' Whereas everybody else is going, 'Ok, I'm going to do these funky new washes, I'm gonna try use super-stretch fabrics, I'm going to offer different cuts of denim,'" said Jonathan Cheung, senior vice president of design, who joined the brand in 2009. "It's been a big challenge for Levi's."
The company has regained some lost sales . In 2014, revenues touched $4.7 billion, growing for the second consecutive year. But Levi's needs to address host of other issues in the denim market , including softening demand.In August 2014, American market research company NPD Group reported a drop of 6 percent, year-on-year, in overall denim sales in the US.
The company recently launched a tapered version of the jeans, called Levi's 501 CT (which stands for customized and tapered). "501 CT started off as a conversation between myself and Karyn Hillman [Levi's chief product officer] and how we wore our 501s. We'd go to the store, bump into people and discover popular alterations," explained Cheung. "For years, people have taken the iconic 501 and customized them by getting on a sewing machine and giving the legs a little taper. With the 501 CT, we've done that work for you."
Levi's A Lifestyle Brand
Levi's is aiming to be not just a jeans maker but a true lifestyle brand. Currently about 80% of Levi's revenue comes from sales of denim pants. However, they realize that only 7-8% of a consumer closet is filled with jeans. More than 90% of the products are not denim. Hence the need to focus on the range of product categories which connect to its brand heritage. Eg Trucker jackets, T-shirts , belts etc. Levi's mentions that it is hardly known that they are the worldwide leader in branded belts and these kind of products they would like to focus on to increase their revenues.
Increasing Share Of Women's Denim
For Levi's Men's is about 75 percent to women's 25 percent of the total business and is highly skewed in favor of Men's . "There's opportunity in our gender balance and we're going to give a big surge on women's in the second half of the year" say Cureigh. Women's jeans is an underexploited opportunity for for Levi's and this is where they are going to focus on during this and the coming years . Their Curve ID and Revel had some great responses and the brand wants to extend that and take a complete relook at their women's business.
"One route could be through further targeted products, moving beyond figure-flattering styles. For example, VF Corp's Wrangler brand launched its Denim Spa collection in 2012, which incorporates moisturizing and cellulite-reducing treatments," she continued. "Alternatively, Levi's could align its ranges to fashion trends. Capitalizing on the on-going demand for colored, printed and textured denim could keep consumers engaged."
Strong focus on innovation
Company has opened a Eureka Innovation Lab, which opened at the base of Telegraph Hill, a few blocks from the company's main office, in 2013 and houses about 30 technicians, some of whose arms have turned blue from working with the indigo used to dye blue jeans. Levi's previous innovation center was located in Corlu, Turkey, thousands of miles away from the company's headquarters, making it slow and costly for the design team to develop prototypes. The Eureka lab is developing over 30 prototypes a week and include the successful Revel Jeans using the liquid shaping technology as well as the Commuter series with a metallic finish that looks normal during the day but lights up during the night enabling the biker to be easily seen at night. The new 501 CT was also a product of Eureka.
Levi's is looking ahead to continuous growth with the 2014 fourth quarter results growing 10% (however a large part of this was due to Black Friday sales week which was an additional week in the year). The brand is hopeful and looking for some great growth figures in the coming times as it expects the denim brand space to clean and creating more space for growth.