We had a page for linking the top denim brands worldwide . However, it was not sufficient as it provided only links to the sites of these brands. Hence we decided to create a separate section altogether for the brands worldwide.
We have just completed the phase I of the project and you can browse through the list of denim brands in some of the countries. We have mainly taken brands which have originated in a particular country. Eg. though Levi's is sold around the world, it will be listed under 'Denim Brands in USA' . You can easily browse through the brands in different countries and get details like :
1. Brief Description  of the brand.
2. Address
3. Email / Phone / Fax  Numbers – wherever availalable.
4.Website Address
5. Latest News : This is an innovative feature which enables you to see the latest news on the brand (wherever there is a news).
Let me explain stepwise :
Step 1 – Open the Top Denim Brands Page
Open the section  by clicking on this link , you will find the option to select the country for which you may see the denim brands for . Select a country or just click on the link on the countries that are given below to checkout the brands in that country.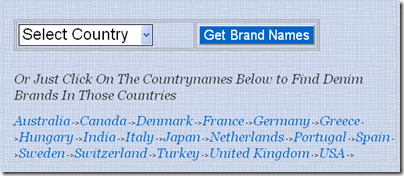 Step 2 – List of Brands In A Country
You will see the list of brands in a particular country . It would look something like this.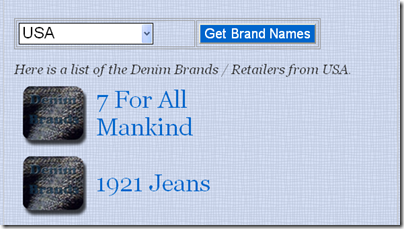 Step 3 – Get The Details Of A Brand
On the brand details page, you will find on the left panel , the details like Description , Address, Email , Website etc . See here
In many cases, you might also find the latest news related to the brand under the heading 'Related News'.  See below :
Since this is a beta launch, there could be some errors or misses . Please bear with us  and send us your comments if you find anything amiss.
Hope you like you our new initiative 🙂 .
Once again here is the  LINK TO THE TOP DENIM BRAND SECTION.