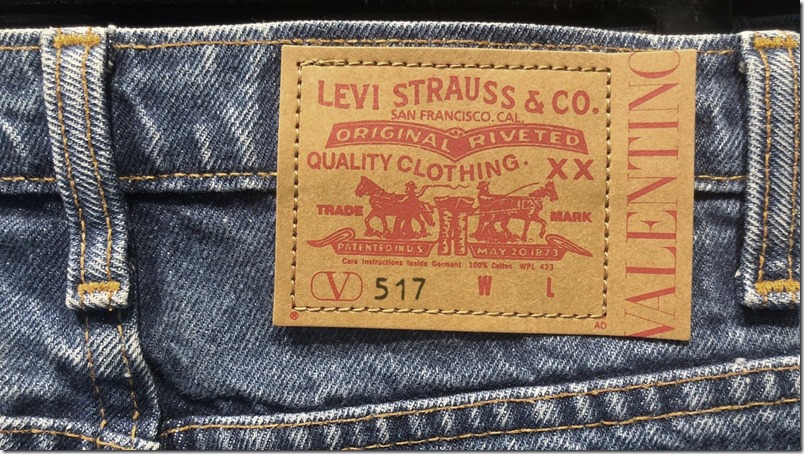 Now the reputed Italian luxurious fashion house Valentino and American Denim super brand Levi's comes under a single tag. The tag has been designed to celebrate the beginning of a new fashion exploration. The brand introduces up denim pants that re-conceptualized the retro Levi's® 1969 – 517 boot cut, jean model, to create something completely new. And the result is a classic jean cut with a nod to the Italian flair that Valentino champions. Voluminous chiffon blouses and tailored jackets are styles which go with these Levi's jeans .
The collection consists of two parts:
The runway pieces, being vintage pants from the '70s, designs have been limited worldwide to just 517 units. Every item bears a special label that shows its individual number.
The Levi's re-edition 517 jeans, a re-elaboration of the previously-worn variations
NET-A-PORTER Senior Market Editor, Libby Page, said: "The Levi's for Valentino collaboration is arguably the most covetable denim to own this season. We love how Pierpaolo Piccioli from Maison  has reimagined the timeless 517 styles to make them fresh and relevant for today. It's an immediate and clever response to what our customer wants right now and we are thrilled to be the exclusive global partner for the launch."
Daniel Todd, Buying Manager at MR PORTER, added: "As if the original styles weren't iconic enough, these new interpretations breathe life into a classic model, championing the craftsmanship and design we know our customers will respond to."
Made particularly for the Maison, it re-signifies an archival design it celebrates  the concept of contemporary romanticism .
In a statement, the team behind the collaboration said both brands embody the same values of "equality" and an "inclusive aesthetic". They continued: "'resignification' is a concept that Piccioli has been reflecting on for a long time. It consists of giving new value to symbols, ideas, places, and atmospheres that come from different moments in time, but are still relevant to the contemporary world."
Discussing the show in Milan, the team said "by remaining faithful to the 517 renowned styles, Piccioli has created a style that is familiar to all: Levi's® boot cut jeans that are juxtaposed with iconic elements of Valentino such as rouches and lace. They co-exist harmoniously, creating a new concept of romanticism for men and women."
A specialized co-branded again tag has additionally been designed for this collaboration. Every pair of denims will get a particular inside print of the logos and can then be packaged in a particular field to grow to be an especially private piece.
The Valentino and Levi's 517 collaboration is now available exclusively on Net-A- Porter and Mr Porter sites.