Arvind Limited is a USD-1.7 billion conglomerate with an interest in textiles, brands, retail, engineering, water treatment, and advanced material sectors, amongst others. They are also the largest fire protection fabric producer in the country. Garments are also an integral part of their verticalization strategy and they produced over 54 million garments in FY 2018-19.  From being just a textile company, Arvind has come a long way and striving every day to create opportunities. They are focused to drive social impacts by taking up CSR and sustainability initiatives that are surely changing lives and making a difference to thousands. Arvind owns 22 global patents for environmental solutions.
For Arvind, sustainability goes beyond the usage of environment-friendly products and processes. From farming of crops to finished garments, they are innovating in all aspects to create more synergies in sustainability actions . Arvind considers environmental, social, and economical sustainability as major pillars of its business model .  Their practices and processes are geared not only to optimize utilization of the resources but also to nurture their roots and bring out the best of their innovation and design.
" We understand that we cannot fight this alone, and collaboration is the best way forward. At Arvind, we have a two-pronged approach to deal with it. Being fundamentally right ourselves, as an organization, in the issues which are material to our stakeholders and collaborating with our allies to amplify our sustainability efforts. We continue to push our boundaries with our allies across all our six key inputs – Cotton, People, Money, Energy, Water and Chemicals." –avers  Chairman Sanjay Lalbhai
Arvind has just published its sustainability report 2019-2020.  The report articulates core ideas of 'Fundamentally Right' philosophy by making every stakeholder and input an ally towards achieving larger and long-term sustainability goals. It delves deeper into their sustainability performance and discloses in detail the contributions of their allies and the supply chain for raising the sustainability standards. Arvind has adapted the reporting parameters suggested by the Global Reporting Initiative (GRI) and thus, this report is in accordance with GRI standard guidelines.
At Arvind's Denim Business, in addition to driving all the initiatives mentioned in this report, they are focusing on three high-impact initiatives which are: Conservation of water, Recycling of materials, Farming Projects (Organic Cotton, BCI Cotton, and Natural Indigo). We bring some excerpts from their report with special focus on key areas of Cotton, Chemicals, Water and Energy.
COTTON
Cotton is the most widely used raw material in the global textile industry. Indian textile industry continues to be dominated by cotton, accounting for nearly 3/4th of the total fiber consumption in the country. So, the consumption of cotton is predicted to increase commensurably.
Challenges
In India, most farms are rainfed and monsoons are unpredictable. Crop failures and under-realization of investment lead to financial impoverishment, and sometimes, farmer suicides.
Adopting new agriculture techniques and improving yield are some of the challenges that cotton farmers with small landholdings face.
Traditional cotton farming, with its chemical fertilizers and pesticides, also takes a toll on the environment.
" Arvind Ltd. along with Better Cotton Initiative (BCI) led the implementation of the Better Cotton Standard, laying the foundation for more sustainable cotton production in the country in 2010-11. We are also ensuring zero child labor in cotton fields and the promotion of sustainable cotton farming"– says Chairman Sanjay  Lalbhai
Arvind's Initiatives
Sourcing sustainable cotton and reducing the negative impact of cotton farming is one of their top agenda. During the period, Arvind has started a new sustainable farming method, Regenerative Organic Farming, which is a more holistic way of encompassing organic practices, animal welfare, and social fairness. Their sustainable farm operations now extend to more than 100,000 acres and they are planning to  expand their farm operations to cover 400,000 acres of farmland and over 100,000 farmers by the year 2022-23. Around 26% of their cotton is sustainable and is being further being scaled up.
Arvind's supply chain consists of 3 types of cotton: BCI, Organic and Conventional
Better Cotton Initiative (BCI): Arvind is one of the largest implementation partners of BCI as well as the first textile major to partner with BCI in India. It seeks to grow responsible cotton through carefully controlled application of water and use of approved fertilizers and pesticides.
Organic cotton: Organic cotton farming is the process of growing cotton naturally. The seeds used are non-GMO, and the synthetic pesticides and chemical fertilizers are replaced by farm-made organic inputs like enriched compost and biopesticides made from on-farm available resources and cow urine. This protects the soil and groundwater and reduces the overall cost.
Arvind gives an interesting comparison of three types of cotton and their environmental impact. This clearly shows the advantage that Organic Cotton has over Conventional and even BCI cotton.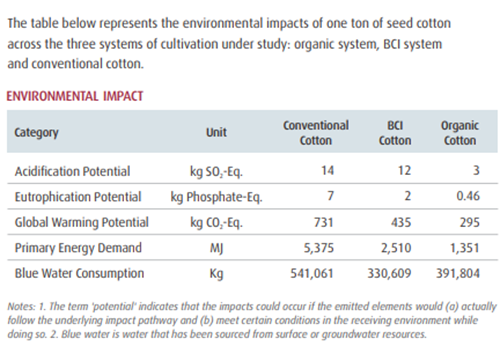 WATER
Right from the cultivation of cotton, to transforming it into a garment – water plays a key role at every stage in the industry. Arvind is focusing on recycling of water as far as possible. A recycling facility with a capacity of 8 million liters per day, is being constructed at their Denim mill in Ahmedabad. They use currently 65% recycled water and only 35% of water comes from freshwater sources. Several of their production units are operating on 100% recycled water.
"We are setting up an innovation center and a water treatment facility to eliminate the use of freshwater in making denim with our ally Gap Inc. For the textile industry, wastewater is a major challenge. With Levi's and the Zero Discharge of Hazardous Chemicals (ZDHC) program, we are eliminating hazardous chemicals from the value chain. This has helped us in eliminating harmful chemicals from our processes, reduce chemical consumption, substitute hazardous with greener chemicals, and recover salts from wastewater to keep the environment clean"– says Chairman Sanjay  Lalbhai
Arvind's conservation journey started with setting up the first Zero Liquid Discharge (ZLD) plant and an Effluent Treatment Plant, way back in 1998.  They advanced their efforts by setting up a wastewater treatment plant that recycles up to 98% of their effluent, limiting the net withdrawal of water from bore wells.
"As water becomes increasingly scarce due to climate change and growing human needs, the apparel industry is facing pressure to reduce its freshwater demand. In India, 54% of the population faces high to extremely high water risk" according to Gap
Initiatives taken up to optimize water use include:
Arvind has joined hands with Gap Inc. to set up an innovation center and a water treatment facility to eliminate the use of freshwater in making denim.
Freshwater consumption has gone down in the Denim business by 37% over 5 years due to various water conservation initiatives and efficient machinery.
The facility will use membrane bioreactor (MBR) technology to treat domestic wastewater drawn from the surrounding community, without the use of chemicals in the treatment process. The facility will replace 100% of the mill's freshwater use with reclaimed water.
By the end of FY 2020-21,3 billion liters of fresh water will be saved and will preserve the local community's vital freshwater resources.
Corrected the countercurrent system with optimum water flow rate in the AE Desizing machine. The initiative led to resource-saving of 5.5 liters/meter to 5.0 liters/meter of water.
Set up new connecting valves within the wash tanks for establishing a countercurrent system. The flow of water reduced from 8 liters/meter to 6 liters/meter
Santej unit is equipped with a Wastewater Treatment Plant which recycles up to 98% of effluent.

USING GREENHOUSE FOR SLUDGE DRYING

The greenhouse uses sun radiance to heat the surface of the sludge bed and aeration to evaporate the water contained in the sludge. The evaporated water is then evacuated through natural convection, assisted by the ventilation system. Santej unit set up the greenhouse with the capacity to treat up to 10 tons of ETP wet sludge.

FOAM DYEING Arvind has invested in advanced technologies such as foam dyeing for denim which uses 90% less water compared to conventional dyeing technologies. The main dyeing element in this process is foam, using air instead of water.
REUSING THE PRE-WETTING BATH WATER Water is picked up from the pre-wetting bath when the machine has a non-Sulphur dyeing load. The water is recovered and carried through pumps and a piping system to where the dyed yarn is washed. This water is utilized for washing purposes.
RECOVERING AND REUSING WATER ON MONFORTE MACHINES In the zero-zero finish, a huge amount of water is sprayed onto the rubbers of the machine to simply cool them down. This water is clear and it's quality equal to the raw water. The project aimed at reusing this water for the finishing of fabric at Arvind Mills.
HARVESTING WATER FOR WASHING A total of three rooftop harvesting systems with a rooftop area of 65,800 sq. feet and tanks with cumulative water storage capacities of 615 KL of water have been installed at various places for washing purposes. The harvested water is then used in the washing process.
JOINING FORCES TO REDUCE FRESHWATER USE Arvind Envisol has designed the state-of-the-art Sewage Treatment Plant (STP) plant based on analysis of composite samplings at pumping stations. The water is treated and further polished at their STP through various technologies such as bar screening, pH correction, flash mixer, primary clarifier, and sand filter. Later, this treated water is disinfected with Hypochlorite to remove the bacterial colony. Once water quality is checked thoroughly for use in domestic usage, the stream is released in H-plant, boilers, and domestic usage.

WATER CONSERVATION AT BOMMASANDRA UNIT

Rainforest Machine- The machine is designed with 3mm+ 3mm double layered drum structure which runs with pump-free water circulation technology. When the distance between the inner and outer drum of the machine reduces, 50% of water consumption is reduced for stone and enzyme wash, which results in chemical savings as well.
Reverse Osmosis System It is installed to treat wastewater and reuse the same. This initiative led to using 60% of the treated water for the process.
Nano Spray Technology The machines use MSIT as a medium to hold the chemicals instead of water which reduces the amount of wastewater substantially as only the amount needed for garment absorption is sprayed and there is no discharge in this step.
ENERGY
Arvind is taking up multiple initiatives across their units and offices for reducing their energy consumption.
" In the last five years, we have been able to cut down our total direct and indirect emission by around 15%. Our Ethiopia operations are fully powered by renewable energy. Our ally Cleantech Solar has helped us install 16.2-MW rooftop solar at our Santej facility in Gujarat, which is India's largest rooftop solar installation at a single location. We are also working with farmers to use residues of cotton crop in boilers instead of coal to generate steam from Biomass"– mentions Chairman Sanjay S. Lalbhai
INITIATIVES
They have implemented ISO 50001 energy management system at all their large energy-consuming sites and are also increasing their alternative energy in the total energy mix.
Biomass Energy Farmers usually dump or burn the bulk of the cotton stalk in the fields after harvesting the cotton crop, leading to pollution and an increase in emissions. . Arvind undertook a pilot program to check if the cotton crop residues can also be harvested and used in the boilers instead of coal to generate steam from biomass. Based on the results of this pilot, they plan to increase the coverage and quantity of biomass coming from this source further. 
Renewable Energy Cleantech Solar is their ally in reducing greenhouse gas emissions. Their Santej Plant takes their total solar capacity across various sites to 22MW. Arvind  wants to further take their captive solar generation capacity to 40 MW. Once that capacity is reached, overall generation will exceed 55 million units per year and will reduce carbon emissions by 50,000 tons per annum.
Developed an energy strategy 'Less Watt Per Meter' to flatten their energy demand curve and reduce their environmental footprint.
Introduced daylight harvesting systems and also reused heat and water in processing machines from condensate recovery
Ethiopia's operations are completely powered by solar energy.
All their units undergo periodic energy audits to find out newer opportunities to reduce energy consumption
POLLUTION
Arvind is reducing GHG and air pollution through various initiatives. They have switched from coal to renewable biomass to the extent of 40%. They have achieved a 13.88% reduction in direct GHG & a 15% drop in indirect GHG emissions in the last five years, considerably reducing their overall carbon footprint.
To utilize biodegradable waste and obtain smoke-free fuel which can be utilized for cooking, Arvind installed a biogas plant that transforms the biodegradable waste from kitchen to biogas and in the process creates manure as a by-product.
SHIFTING FROM HIGH EXHAUSTIVE (HE) TO MILD EXHAUSTIVE (ME) IN YARN-DYEING MCT (Monochlorotriazine) dyes most commonly called HE dyes are PMF fast which are generally used for dyeing of yarn. The major drawback of this system is less fixation, high temperature of exhaustion and fixation, more salt requirement in dark shades, and limitations in depth. After studying, they shifted towards a bifunctional system, which is more robust, sustainable, generates lesser effluent load due to high fixation, and reduces dyeing temperature by 20°C thereby reducing steam consumption. It maintains the same fabric quality and increases throughput because of high RFT levels
CHEMICALS
Arvind is intent at replacing conventional chemistry with green chemistry . Their key allies when it comes to chemicals are Levi Strauss & Co. and the Zero Discharge of Hazardous Chemicals (ZDHC) program. Arvind became the first textile manufacturer as well as the first company headquartered in India to join the Zero Discharge of Hazardous Chemicals (ZDHC) program in FY 2016-17.
INITIATIVES TAKEN
REDUCING WATER FOOTPRINT IN PRINTING They use plastic containers for their printing process as chemical stores for paste preparation and prolonged storage. The container is reused for the same operation after a thorough washing. On the other hand, printed fabrics are washed in a long soaper where the last two chambers contain minimum impurities. The water in these chambers was usually drained. However, the Printing Team devised a novel method to collect water from the last two chambers of the soaper and connect the same to drum washing. After collecting the washed water and filtering it, they utilized it for washing the plastic containers.
ONLINE REPOSITORY OF CHEMICAL MANAGEMENT – Through a special drive, they store all related documents in a soft copy format and run the entire system on a paperless process.
CONDUCTING LIFE CYCLE ANALYSIS Arvind has procured a specialized software, GABI, which will be used to conduct Cradle to Grave, Cradle to Gate, or Gate to Gate Life Cycle Analysis of their products.
CHEMICAL-FREE STRIPPING OF SCREENS The photosensitized cured film is removed normally with means of chemicals. Their printing division is equipped with an advanced high-pressure waterjet system that uses only water jets to remove the cured film without damaging the pores of the mesh.
These were just some excerpts from their long sustainability report which also speaks about various other initiatives that Arvind is working on. Download the full report here .