Gap's 1969: LA and Beyond fall 2011 campaign has cast real people, and will be based primarily online, with national magazines and point-of-sale media as supporting media, says the company. The new campagin will be rolling out on the brand's Facebook page and other online destinations magazines including Glamour, GQ, InStyle, People StyleWatch and Vogue.
Developed by Gap's Global Creative Centeri n NY together with Ogilvy and Cool Hunting Gap's 1969 studio, creating the company's denim line, is the first to get a treatment by the company's marketing department to highlight 'what's different and inventive at Gap,' says chief marketing officer Seth Farbman.
'We want our customers to see who's behind the product and how their individual personalities and lifestyles influence what we offer in our stores around the globe.'
To show that Gap is not just another denim retailer but ,Gap's new global marketing campaign tells the story of its 1969 fall collection from the inside out. Starting with the personalities behind the denim, 1969: L.A. and Beyond gives a transparent look at the designers and how they come together each day to create the latest in denim fits, fabrics and washes. Taking it from the studio to the real world, the campaign also shows how the denim comes to life in various cities by the people who wear it. All this is perhaps to give a more human and individualistic touch to their 1969 jeans .
Led by creative director Rosella Giuliani (formerly vice president of design and merchandising at Seven For All Mankind),  the 1969 design team is a collective of artists, musicians, action sports junkies and trendsetters. Women's design director, Nicole King-Burroughs, turns to art for style inspiration, while women's merchant, Masako Konishi, views fashion as more instinct than intellect, applying emotion as opposed to regulated rules to make her fashion choices. Men's design director, Jason Ferro, brings his background as a rebel skater, surfer and musician to the design table, while men's merchant, Cale Margol, uses denim as a canvas to tell a modern and progressive story. Wash specialist, Rob Crews, started in the industry when he was just 16 years-old and fell in love with the creative process of taking raw denim into a washed state through different hand treatments. A series of over 30 videos gives a sneak peek into how the collection is made. Here is one of the videos :
Providing further inspiration to the design team, the 1969 studio feels like the personal atelier of a denim architect, not the headquarters of a global brand. Once a cigar factory, the vast and open loft studio is based in the heart of the garment district on West Pico Boulevard in downtown Los Angeles. This Gap denim epicenter is an ever-changing canvas for ideas, featuring art books, mood boards, vintage buttons, Japanese work wear catalogues and back issues of surfer magazines, set against a backdrop of sun-filled floor-to-ceiling bay windows.
"When I first joined Gap, I was surprised by the unexpected, untold stories across the brand—particularly about our people and the real-life experiences and situations they're inspired by," said Seth Farbman, Gap's Chief Marketing Officer. "Fall is our first step in sharing what's different and inventive at Gap, and we're starting with our 1969 studio. We want our customers to see who's behind the product and how their individual personalities and lifestyles influence what we offer in our stores around the globe."
Aligned with how people want to discover and share information, 1969: L.A. and Beyond will live primarily in the digital world via a series of video vignettes and sponsored editorial on Gap's Facebook page  and on outlets such as DailyCandy, FabSugar, Glam, Hulu, LookBook, Pandora, Refinery29, RollingStone and TrendCentral. The campaign was developed in Gap's Global Creative Center in New York, and is designed to be global with different parts of the campaign allowing international markets to balance according to their needs.
To make the campaign more lively , Gap has also launched the Pico Trucks  in some cities of US where Tacos (a mexican food) and other items will be served to people who are wearing a Gap product – FREE !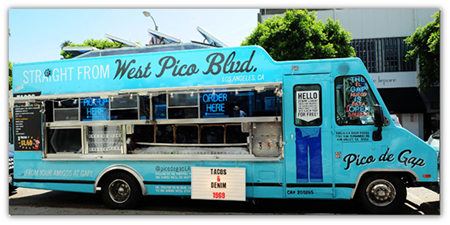 1969 Fall Collection
Gap's 1969 fall collection continues to demonstrate Gap's commitment to bringing the same premium fabrics and fits as other premium denim brands at a much more accessible price point. Taking denim beyond the five-pocket blue jean, the fall collection explores the idea of "jeanswear meets sportswear." It evolves the line from jeans to stretch leggings, cords, tailored dress shirts and jackets. With an emphasis on sophisticated fabrics, the collection feels modern and sexy while maintaining a denim lifestyle vibe.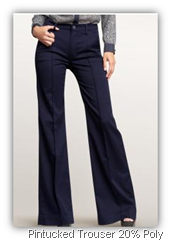 The women's signature Legging Jean is fresh for fall in a variety of new  fabrics and colors, including the Ponte Knit Legging in black and olive, the Gummy Legging in black and khaki, and the Legging Cord in both neutral and pop colors. Also big for fall is the High Rise Pintuck Trouser in a non-traditional indigo denim, the Skinny Boot in black, and the fashion crop in fits such as the Cropped Slim, the High Rise Cropped Straight and the Cropped Boot.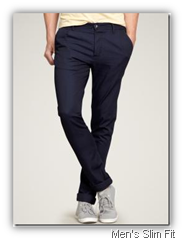 The menswear collection is also focused on signature fits in new fabrics and colors. Highlights include the Drop Crotch Skinny in charcoal, the Slim Trouser in dolphin grey, the Super Skinny Clean in grey and the Slouchy Slim Rocker in black. The collection also features pieces that are either a natural extension of denim or that pair nicely with jeans, including the lightweight chambray jacket, a lightweight denim blazer and tailored dress shirts.
"Fabric and fit are the keys to the fall collection— focal points of every piece. We've taken beautiful and interesting fabrics and then tested their reaction to different cuts, washes and dyes. The result is a range of new styles and fits that stretch beyond denim into a broader collection," said Rosella Giuliani, Gap's 1969 Creative Director.
Denim prices range from $59.50-$69.50 for more basic styles and $59.95-$89.95 for more fashion-forward styles and higher-end fabrics.
About Gap Inc.
Gap Inc. is a leading global specialty retailer offering clothing, accessories, and personal care products for men, women, children, and babies under the Gap, Banana Republic, Old Navy, Piperlime, and Athleta brands. Fiscal year 2010 net sales were $14.7 billion. Gap Inc. products are available for purchase in over 90 countries worldwide through about 3,100 company-operated stores, about 175 franchise stores, and e-commerce sites.