"Denim is expanding far into foreign territory to the extent that the line between denim and other products is blurring…  "  said one of the denim geeks that we interviewed recently.
He is quite right . When we look at the new creations from denim , it is difficult to believe how the originality of denim in its vintage form is created and replicated in products not generally associated with denim.
A number of denim related products have been seen but the challenge is to recreate the originality of denim into other products so that denim does not lose its character .
One such example came to our notice recently – the Jeret –J Diamandis Denim Geek shoe.  Created by J Diamandis– ex International Creative Director  Evisu   – in collaboration with CAT footwear  (see his previous interview at our site)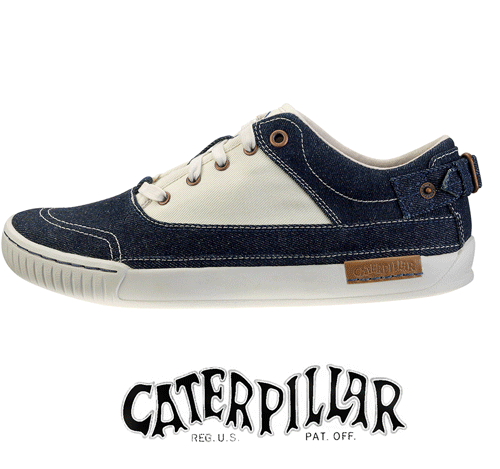 Following an approach from Cat Footwear, Diamandis (UK-born, NYC-based alumnus of Evisu, Burberry and others) figured that the workers who used Caterpillar's heavy machinery to build the pre- and postwar USA would likely have been denim-clad as they toiled. He realized too that just as Caterpillar was growing into the industrial giant it is today, denim was in the process of evolving as a truly American product. 'There's a real parallel there,' he observes. Out of this grew the idea of applying to a shoe (Diamandis' very first) the denim expertise he'd been schooled in at Evisu, along with elements from a '40s deadstock denim pant he'd uncovered in Tokyo and become somewhat obsessed with. 'I attempted to morph those beautiful old jeans into a shoe,' is his succinct explanation.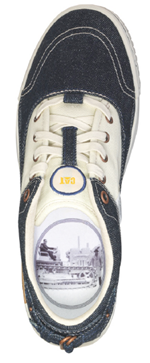 The resulting 'Denim Geek', in both mid and lo-top versions, features a two-tone upper crafted out of indigo and bull denims, both 11oz in weight. The former was sourced by Diamandis for its subtle greenish hue, which marks it out from the reddish tint inherent to much mass-produced denim. To the rear is added the cinch that was prominent on denim pants from the 1870s through to World War 2, planted firmly in place with metal rivets, while laces thread through a central 'belt loop'. A removable tag details the shoe's specs, placed externally as was once the norm with jeans.  In an unusual touch for a sneaker, it appears screen-printed on the insole.  Ultimately, Diamandis wished to create a shoe that will age and wear according to how the wearer lives, just as his beloved raw denim jeans do:
"Denim is unrivaled in its ability to age in such a way, and so it had to be denim that we used. Half the enjoyment of this project has been anticipating how the shoes are going to look after people have really lived in them…." said Johnny Diamandis .