Diesel Spring Fall Winter 2012 menswear collection  is a continuation of the preview collection and its themes of  portworker and  "The thin line between old and new."
Here are some excerpts on what Diesel has to say for their Fall Men's Collection :
"Early Fall sees tobacco and different shades of indigo predominate. Indigo is used for denim, as well as treated corduroy pants and jackets, while tobacco sits pretty on a number of different jackets. It all has a touch of the great outdoors, particularly in hybrid boots and light bodywarmers. Not to mention  the patterned jacquard knits that create warm, unified style across sweaters, gloves, scarves and hats."
Burgundy is the new colour of the season. It is used in a variety of knitwear styles, as well as becoming a new Color Exposure shade for denim: the reverse sides of jeans match the new knitwear. Workwear remains firmly embedded in Diesel's DNA and naturally denim workwear is key to this collection. Whether treated and untreated, plain or striped, textured or smooth, jeans, utility jackets and overalls treat workwear with the respect it deserves.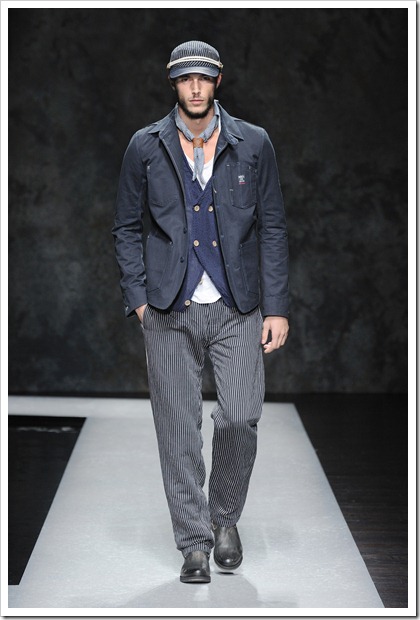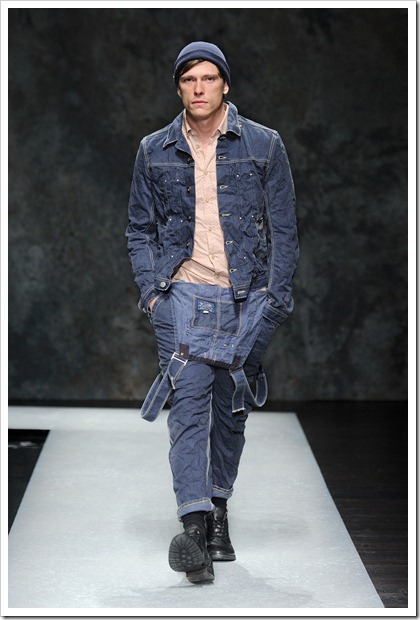 For early Winter, indigo is joined by gray and green. A bright, eye-popping green is featured on the delivery's key piece: unique knickerbockers training pants in patterned knitwear. This idea of making a classic an original – hi-tech performance vintage – is also seen in denim, where grandpa-stripe denim is coated to produce a technical, contemporary workwear look. Outerwear is quite simply premium thanks to a fascinating mix of fabrics, as seen in the hybrid jacket that combines knitwear and fake fur. Winter work apparel is also lined to feel soft and cozy while keeping you warm in the cold.
The final part of the collection takes black and redefines it in a variety of different fabrics: leather, denim, shearling and hi-tech nylon. Add a few touches of gray and white to spice things up and you have clothes that are chic and relaxed. For a Winter rock ook, there is leather in tight jackets and slinky pants, for clothes
in which you'll want to strut your stuff. Diesel's redefinition of what denim can be continues with its Color Exposure D.N.A. denim. Featuring delicate handmade treatments that impregnate deep into the heart of the fabric, the insides of jeans become bright features in themselves – using yarn dyed wefts or simply overdyes. Just slip them on, turn up the leg and you've got a whole new world of color in your denim life.
Textured Denim:
A new approach – and one that will continue in the future – is the use of textured denim, with herringbone, salt&pepper and grandpa stripes, in treated and untreated versions.   In the accessory collection is recognizable the strong and vintage Diesel DNA.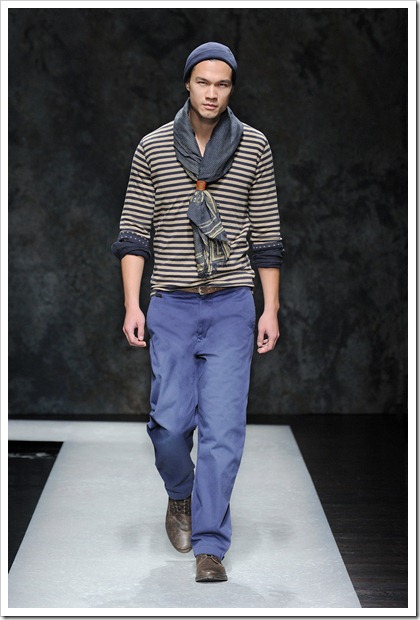 Check out the presentation on Diesel Men' Denim Looks for 2012 – click here . (Note: You can click on play button towatch  the presentation with music  !!)