The word 'Heritage denim' has been in vogue for a couple of seasons now. This report by Stylesight checks out  the different brands who are exploring their heritage seriously and reviving it the form of reproduced lines .
Key denim brands have been undergoing a change over the last few seasons.
First noticed at trade shows in early 2008 (as probably a knee-jerk reaction to the credit crunch and consumers refocusing on durability and quality), brands began looking into their archives and going back to their workwear roots for inspiration. No-nonsense vintage styling, tried and tested "can!t bust "em" craftsmanship and authentic branding reemerged in the denim market. Today, labels like Levi!s (for its LVC range) delve into extensive archives, while others are being more loose and conceptual with simple takes on what!s traditional and authentic. Either way, "heritage" remains the key denim buzzword.
Levi's Vintage Clothing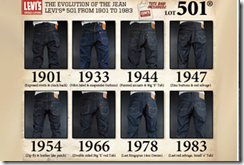 Established in 1853 and making denim overalls since the 1870s, Levi's® has a vast denim history. The jeans brand giant was one of the first to explore its heritage with its Levi!s Vintage Clothing (LVC) line in 1999, and has gone on to re-release many pieces from its expansive San Francisco archive. With 13 different evolutions from 1890 to today, the 501 range stands out as the core of the Levi's® brand. Levi!s® meticulously reproduces hardware, trim, details, branding and packaging for this collection, and also uses its archive to provide heritage inspiration for the rest of the company's  lines.
Lee Jeans – Lee the Archives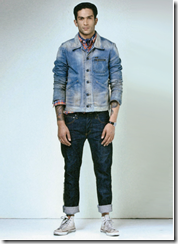 Formed in 1889 by Henry David Lee as the Lee Mercantile Company at Salina, Kansas, Lee originally produced denim dungarees and jackets. In February 2009, after 120 years in business, Lee decided to explore its back catalog with the introduction of Lee, The Archives. Unique pieces like the mechanic!s "Union-All", invented by H.D. Lee in 1913, and the Original Lee House Mark Jelt Denim Work Jacket from the 40s comprise this range.
The company has also introduced Lee 101, a more accessible range that focuses on trademark cuts, top-end fabrics and modernized historical details. The range repackages Lee!s rich heritage for the modern denim lover and has proved highly successful.
Wrangler – Blue Bell
In 1904, after buying several sewing machines, CC Hudson founded the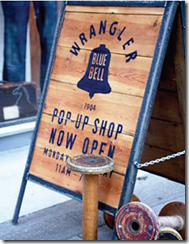 Hudson Overall Company, which became a pioneer during the early years of workwear and later led to the Wrangler brand. In 1919, the name changed to Blue Bell Overall Company, after a railroad bell in the factory turned blue from indigo dust. In 1943, Hudson acquired the Casey Jones Work-Clothes Company and the rights to its barely used brand name, Wrangler. Over the years, Wrangler has revisited the "Blue Bell" name and logo for select lines. To celebrate the company!s history and archive, Wrangler launched a premium casualwear collection under the iconic name for Fall 09. The bell logo, branded buttons and classic details such as saw-tooth panels on shirts are key aspects of  this high-end capsule.
Closed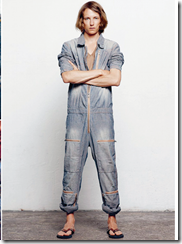 Closed dates back to late seventies Italy, when it quickly captured the market with its now iconic pedal pusher jeans, which offered a significantly new idea at the time. Now a German-based jeanswear brand, the company
has celebrated its rich heritage in recent years, re-featuring the iconic details and branding of its original success story. Closed!s discreetly angled (at 33º) "X Pocket" and its woven label flies are uniquely recognizable. Proud of its heritage, Closed remains a family-oriented enterprise with strong core values.
Stronghold
Stronghold jeans, the first denim workwear from Los Angeles and once main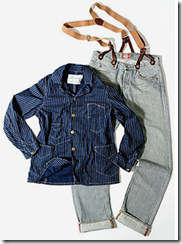 competitors of Levi!s, were originally produced by Brownstein, Newmark and Louis in the early 1900s. In 2004, Von Dutch veteran Michael Cassell and former North Beach Leather director Michael Paradise resurrected the 1895 Stronghold Jean Company, bringing back authentic, handmade denim. "Our reproduction of this classic brand celebrates old world workmanship, selvedge fabrics and original details, achieving a timeless style, fit and finish." Pieces come in authentic workwear fabrics like duck canvas and railroad stripes, and focus on 100% authentic details and constructions.
Rising Sun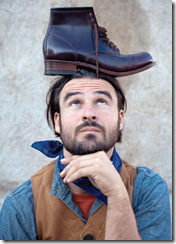 We often think of ourselves as actually working in the early 1900s with our 21st century minds intact." In its own words, Rising Sun & Co."handcrafts indigo clothing that captures the optimistic spirit of America". Founded by Lucky Brand owner and former designer Mike Hodis, the Pasadena-based denim brand is all about craftsmanship, the rebirth of workwear, period-correct jeans and time-proven techniques. Expert craftsmen create
selvedge organic and raw denim in-store on antique shuttle looms from the U.S.'s oldest denim mill, which is then sewn into garments on turn-of-the-century sewing machines.
Warehouse Jeans – Lot 484
With its high-quality, handcrafted reproduction jeans, Warehouse is a very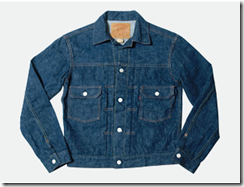 popular niche denim brand in Japan that heralds the authenticity and heritage of vintage jeans cuts like Levis 501!s and Lee jeans from 1934. Having collaborated with J.Crew, the label is also well known for its work with vintage store Hellers Café. Their limited edition "Lot 484" jeans utilize Warehouse!s 14-ounce Memphis cotton selvedge denim that was woven and dyed in Japan. Details include rusted steel rivets and fly buttons. The Japanese are known for their dedication to perfecting denim, and Warehouse is at the top of its game.
Earnest Sewn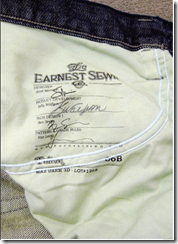 Founded by denim genius Scott Morrison in 2004, Earnest Sewn was an early adopter of Japan!s purist attitude towards denim, integrating the wabi-sabi aesthetic (which translates to "the beauty of things imperfect, modest, and unconventional") with denim's Americana past. The label!s "product sewn in earnest" ideology is dedicated to maintaining pride in its workmanship and commitment to authenticity. Overseen by three people from start to finish, each garment is designed, sewn and washed with a commitment to the way jeans were made in the Old West.