"Rather than doing the conventional trend spotting , we find inspiration in other cultural fields such as movies and music. We also find it in the inexhaustible history of denim , and we get it from all the dedicated users wearing our dry jeans until they fall apart . The Swedish work culture and the melting pot of modern Scandinavia culture also meet and merge in the collections."
This is what the Swedish denim brand Nudie Jeans have to say about their collections. They do not go for any trend spottings and follow their own instincts and derive inspiration from culture and history to make the new collections.
The Spring Summer 2012 denim range is divided into Dry, Worn and Worn Authentic – simply after the amount of washing treatments given at the laundry.
The Nudie Jeans Indigo tops range is a selection of indigo dyed knitwear , shirts, T-shirts and washed denim jackets – a range where indigo shows its diversity in shades and intensity.
1. DRY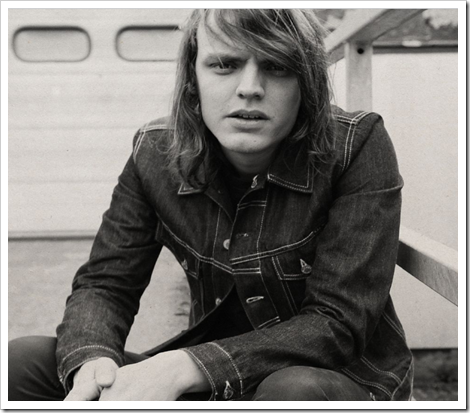 Dry Flat Selvedge : Dry Italian 13.25oz selvedge denim with a little red cast. Its compact and regular with a smooth flat surface.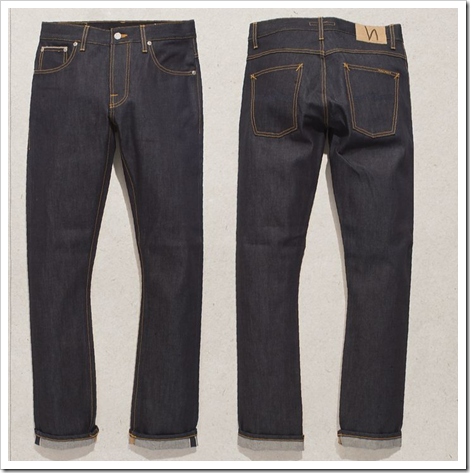 12oz Dry Selvedge Italian denim . It has a very open construction allowing weft to shine through. The surface is dry  and flat, shiny with a little bit of streakiness.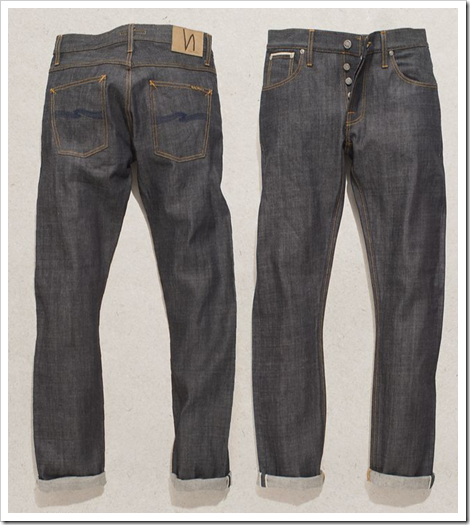 Dry Orange Selvedge :
Made of 13.5oz japanese denim , the warp has been dipped in 13 indigo baths on top of sulphur to create a green cast . The fabric is slubby and with a tight weaving. For an authentic look, the weft has a beige shade. And by the way , buttons and rivets are made of silver !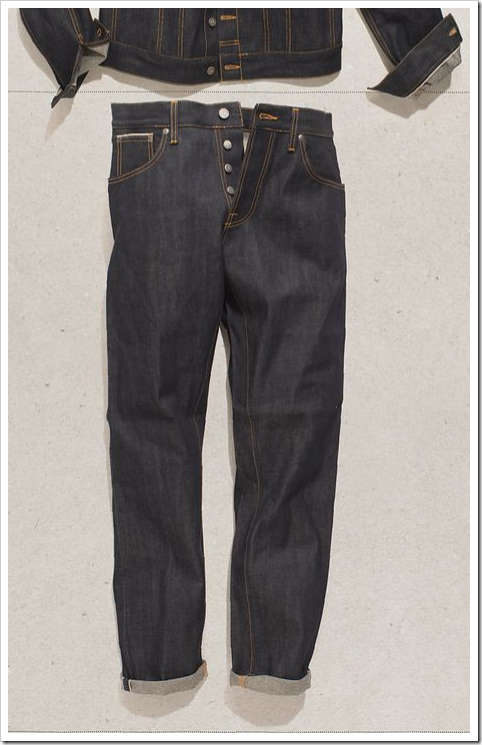 Organic Dry Twill : 11.5oz organic Turkish power stretch. Clean flat surface and dry hand feel and  low red cast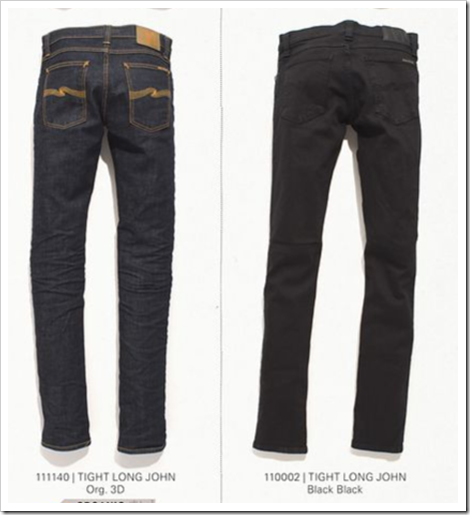 Recycle Dry Navy : 11.5oz power stretch denim from Turkey made with both organic cotton and recycled cotton. It's a red cast with tight construction , smooth shiny surface and is neppy. 68% Organic cotton, 29% recycled cotton and 3% elastane.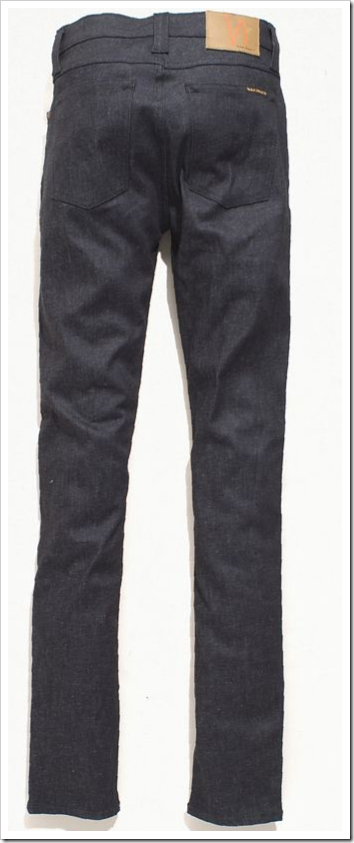 Black Black :
12oz Turkish power stretch with super blue indigo overdyed with black .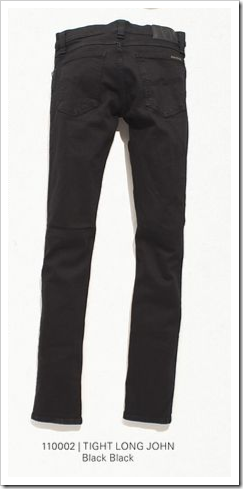 Dry Black Coated:
The core Nudie jeans denim jacket in a dry black coated denim. Black back pocket stitching at back yoke. Twin needle stitches in black all over and customized copper buttons. 98% cotton , 2% Elastane.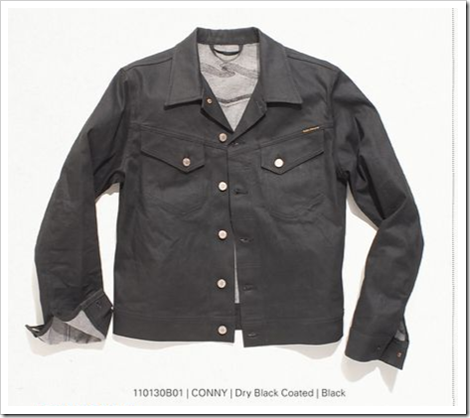 2.Worn:
The worn concept emulates the qualities of worn in dry jeans in many aspects. A shortcut to breaking in own jeans !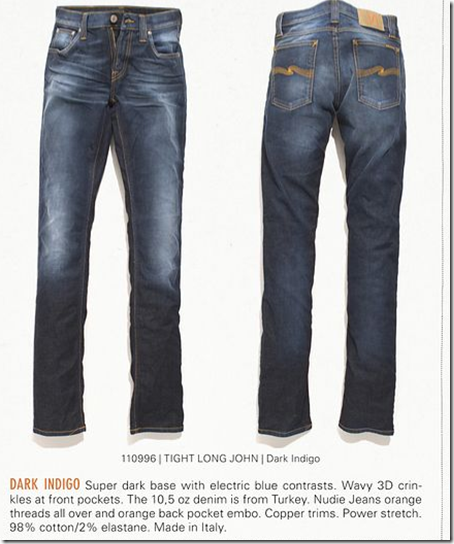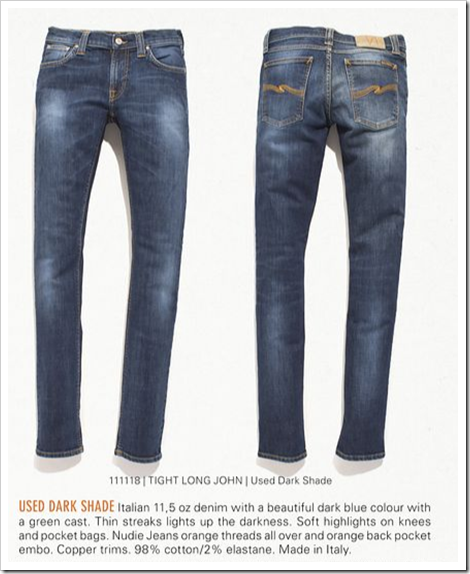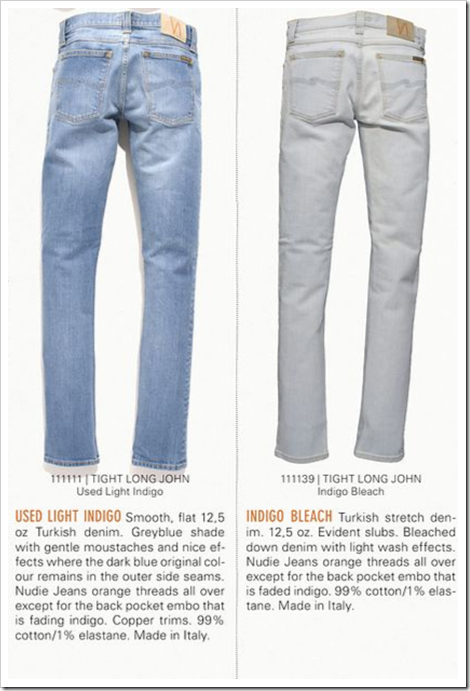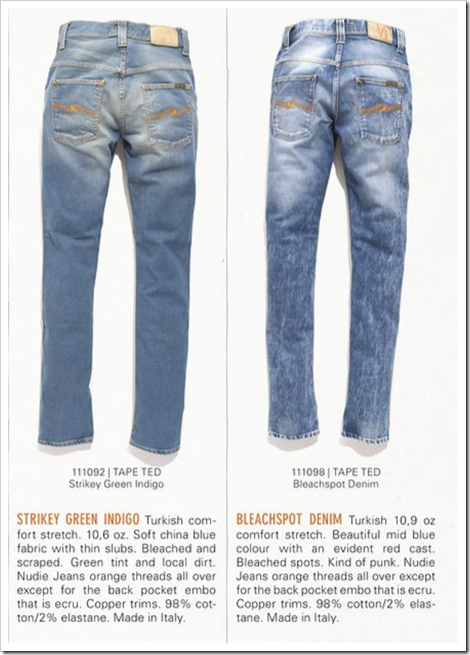 3.Worn Authentic
Giving a pair of jeans looks of at least having been worn for one year. The creases on the thighs and the back of knees have to be exactly in the same places. Folded sandpaper with the right grit is used to create streaks on denim . Rasps are used to carefully create holes, which are patched after washing.
Madde Replica: 12oz denim from Italy . The original was broken into to create this look . The jeans has very natural worn in look , mending, great honey combs  and moustaches.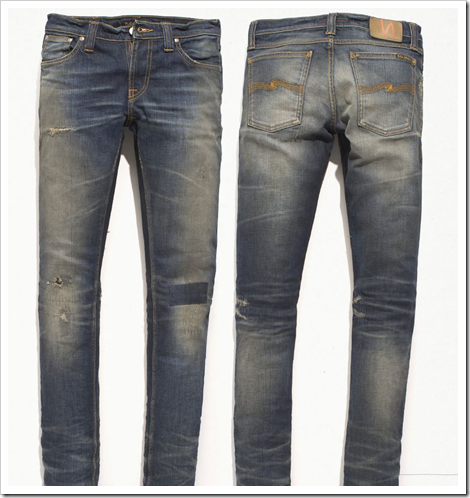 Lab 32
A pair of well worn jeans by a photographer in Stockholm inspires this great looking jeans in a 13.25 oz Italian denim.