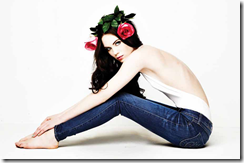 Siwy premium denim launched their Autumn/Winter 2010/2011 range experimenting with a number of flambuoyant washes and new fabrics . Siwy denim is only about 5 years old and was launched in 2005 .The female only brand infuses the LA-dominated denim category with a heavy dose of New York attitude and has been adorned by denim heads including Kate Moss, Sienna Miller , Nicole Richie and more .
Siwy's Fall / Winter 2010 collection provides
Power trend cuts.
A wash spectrum that ranges from archival vintage to classic indigo
Usage of American and Italian power stretch denim.
From oversized fl are cut jeans (Anita) to signature acid 'two tone' bleached skinny's .
The signature Siwy silhouette remains in the super skinny 'Hannah' jean, debuting a number of new fabrics and washes for AW10, including Vegetarian crushed leather and metallic print.