Vicunha, the famous denim group from Brazil  with production  distributed among five manufacturing facilities in Brazil, Ecuador and Argentina , brings out their AW15/16 denim collection. The collection has some interesting concepts including brilliant coatings (Carbolumen), denim for athletic purposes and super power stretches. We bring here a summary of their main concepts.
SUPER POWER STRETCH
Shirt weights, satin weaves, chambrays as well as 4×1, 3×1 and 2×1 weaves are part of the SUPER POWER STRETCH program that became one of the basis segments with a fabric elasticity of up to 67%.  The weights are mainly   between 7 and 10 oz. Alongside colors and washes, optics and structure play the leading role: "high density denims" with a clean look and a soft and comfortable feeling prevail which, according to Vicunha, are important menswear as well. Consequently, the highlights include light denim qualities produced from cotton or mixtures of Tencel for blue denim shirts, as well as in women's fashion for jumpsuits, overalls and skirts. Thomas Dislich , marketing Director says :
"In general, there is a strong trend towards fine, combed yarns, comfort yarns and polyamide: a soft, casual feeling is the most important issue.Thus, the SUPER POWER STRETCH remains a front-runner, not only for slim shapes, but also to guarantee the authenticity of form and best wearing comfort."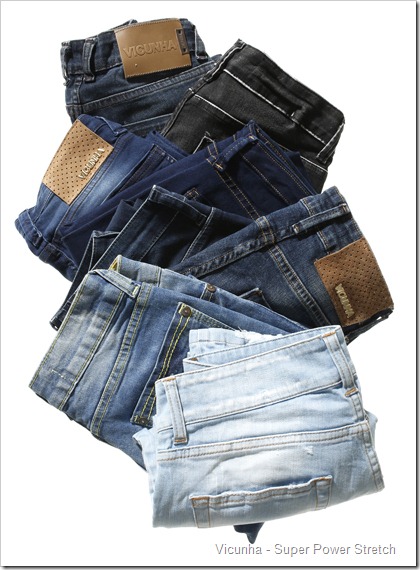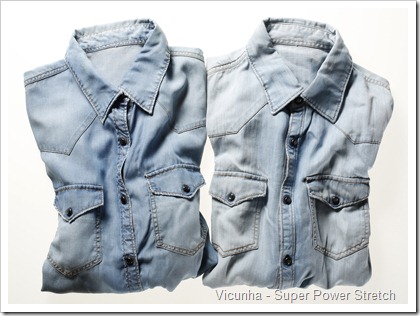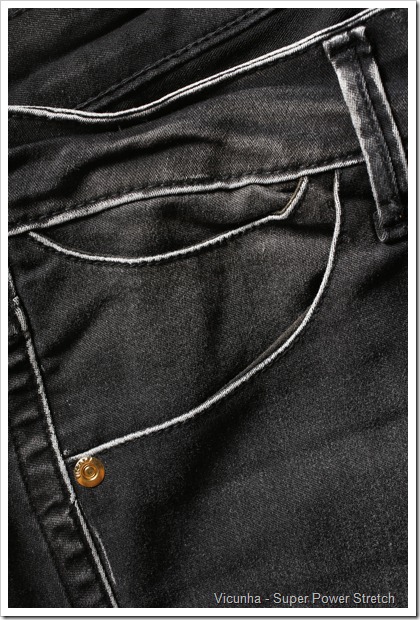 ATHLETIC DENIM
VICUNHA presents its ATHLETIC DENIM for the autumn/winter 2015/16  with an elastic stretch content of 76% for maximum comfort, elasticity and fit. It is a mixture of urban denim look on the outside and workout outfit feeling on the inside.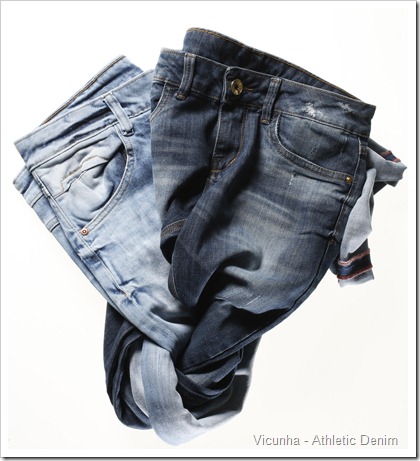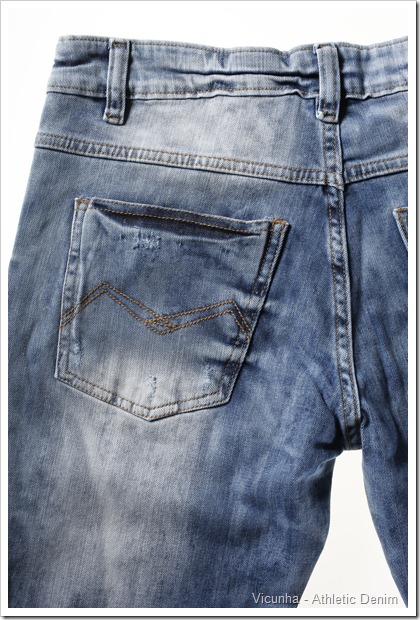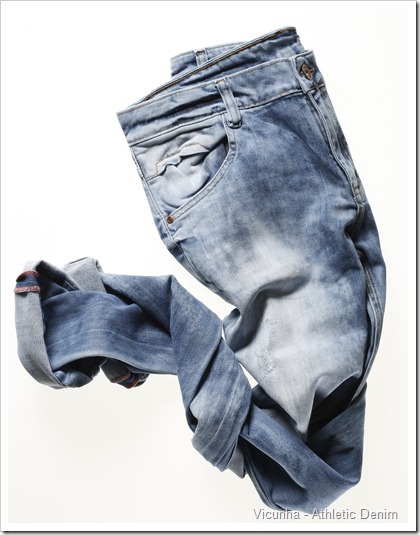 CARBOLUMEN
Carbolumen is a finishing highlight which presents highly brilliant coatings, natural leather looks and qualities with a cool touch and recognizable denim identity thanks to progressive technologies. Besides brilliance, structure and high quality, the primary focus is on comfort,  fit and breathability. A sophisticated softening treatment ensures succinct effects and a  contrast of glossy and matt surfaces.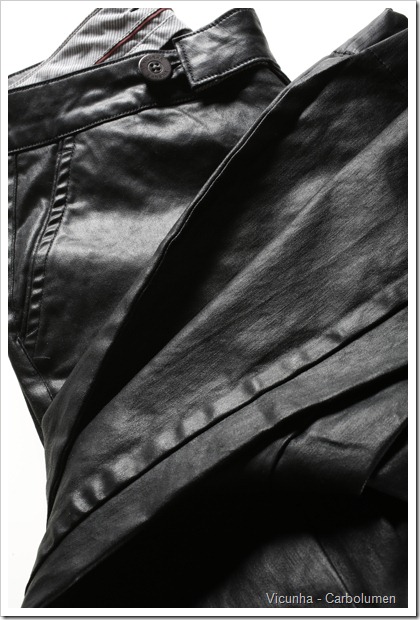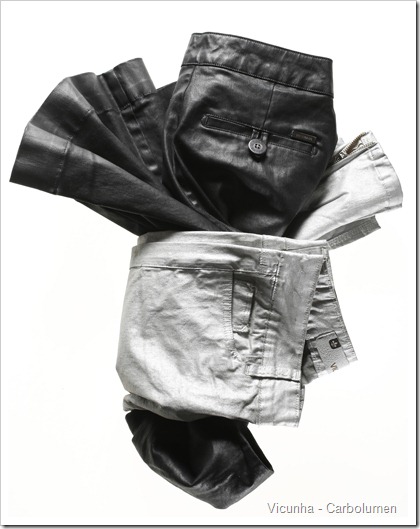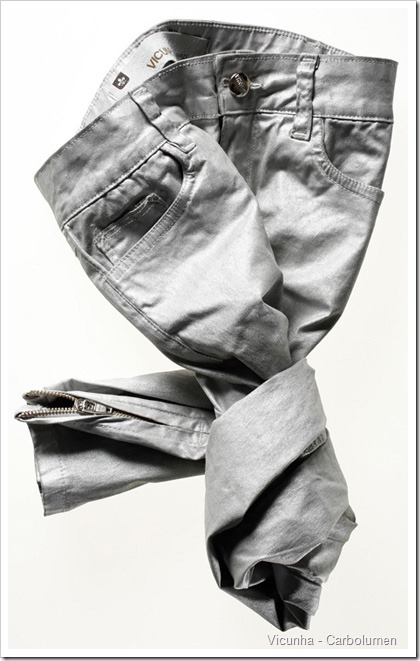 ECO-D
ECO D are authentic colored jeans line made of warp dyed yarn and the fabric consists of 100% recycled polyester obtained from recycled PET bottles and 100% BCI (Better Cotton Initiative) cotton.Each meter of fabric uses about 3 plastic bottles . Even for the dyeing process the normal water consumption is  reduced by approximately 80%, as claimed by the company- besides reusing about 70% of the remaining small amount of water.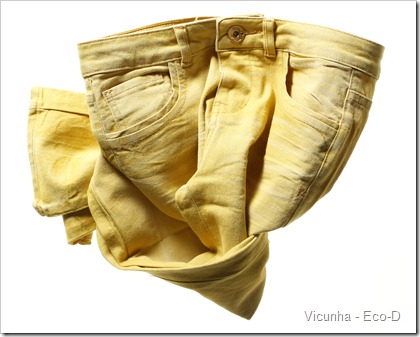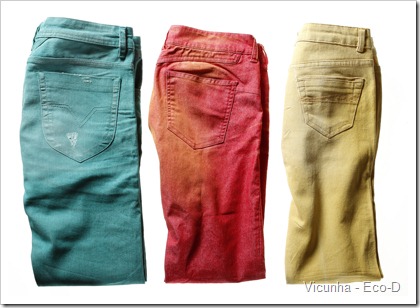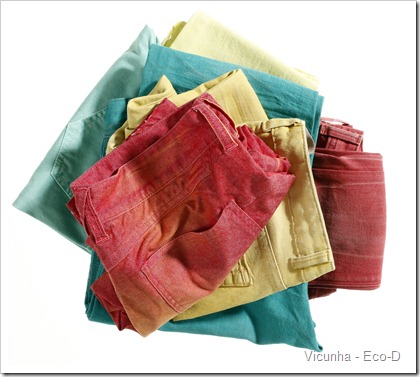 PRINTED DENIM
Animal prints , polka dots, baroque or tropical patterns for part of the printed collection.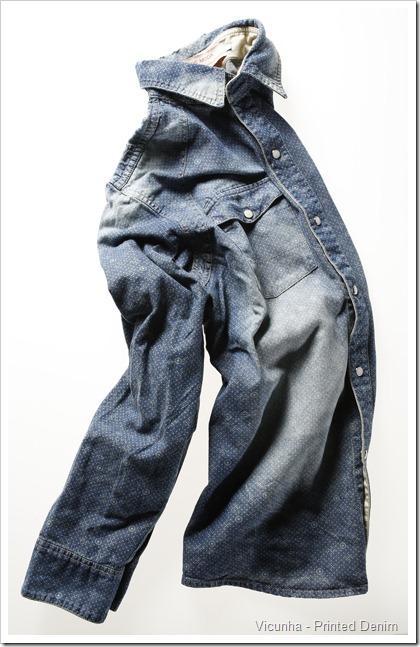 METALLIC GLAM
Glamour stays! Shine and glitter effects created through micro-particles applied on the fabric surface ensure exciting metallic looks. In addition to the characteristic black and silver, this season Metallic also strikes with strong colors such as royal blue and grass green. About 100 washes are guaranteed by the company for the high resistance and durability of the product.
TRANSFORMING DENIM
TRANSFORMING DENIM "turns" blue denim into a  piece of art, which is mixed up with bright colors. The shades of color depend on the grade of chemical treatment, for instance, by the use of permanganate spray during the washing process. The creative diversity due to the various color shadings – from soft to vivid – allows a wide range of options for the production of unique, exclusive pieces.