Continuing with the sustainable progress of denim brands, we provide you with some more brands that design jeans with eco-wise and sustainable efforts to aid you with the best possible buy this year.
1. BOYISH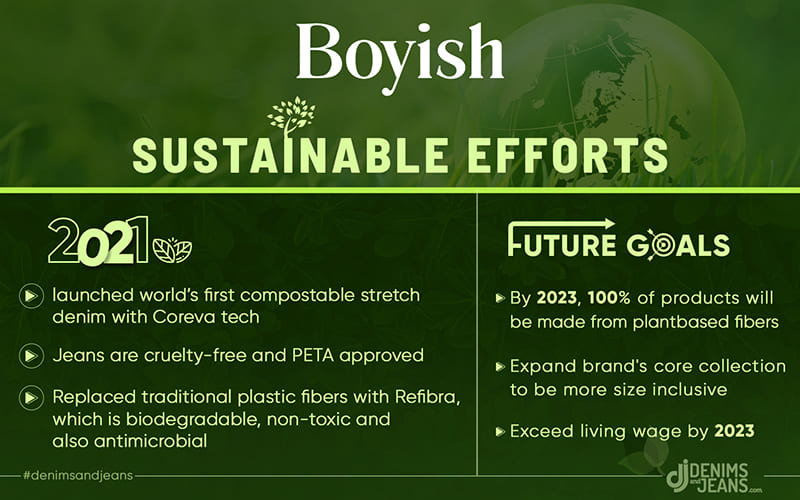 LA brand Boyish is a member of The Jeans Redesign project from the Ellen MacArthur Foundation, which outlines circular economy guidelines including making durable products. It also uses an ozone wash instead of chlorine bleach, a natural enzyme instead of polluting potassium permanganate, and REFIBRA, a fabric made using upcycled clothing and fabric scraps with Tencel. The brand also uses organic cotton certified by the Organic Content Standard (OCS Certified) and recycled cotton, which is the most sustainable cotton fiber source according to the Sustainable Apparel Coalition's Higg Index. Its denim is cruelty-free and PETA approved. By 2023, 100% of the brand's products will be made from plant-based fibers. It also plans to expand brand's core collection to be more size inclusive and exceed living wage by 2023.
2. OUTERKNOWN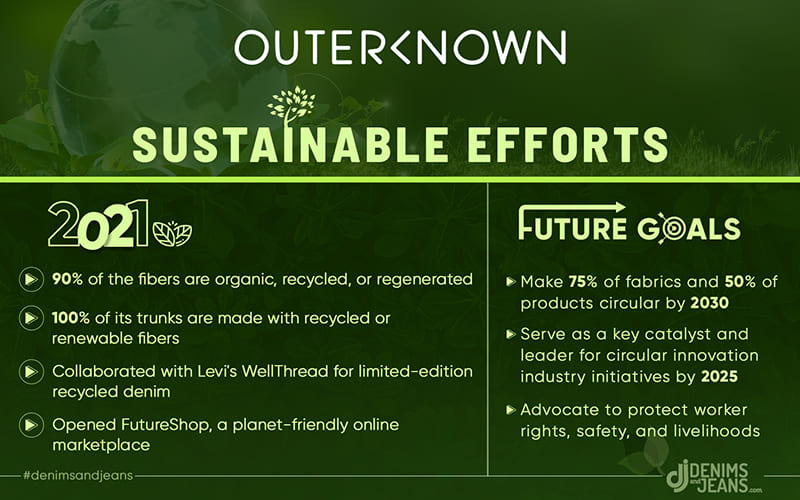 A brand established from an understated approach to design and an overstated approach to quality, material and consciousness, Outerknown launched its New Denim Project with Madewell on a capsule collection that featured coats, skirts and tops. Brought in WellThread X Outerknown collection made with single fiber polyester and cotton is fully recyclable down to the labels and snaps. The brand also launched Women's stretch jeans with Coreva Stretch Technology from Milan's Candiani mill. Ninety percent of the fibers the brand sources are organic, recycled or regenerated, and 100% of its trunks are made with recycled or renewable fibers. It also opened FutureShop, a planet-friendly online marketplace. Its goals comprise of: Making 75% of fabrics and 50% of products circular by 2030. To serve as a key catalyst and leader for circular innovation industry initiatives by 2025 and advocate to protect worker rights, safety, and livelihoods.
3. UNSPUN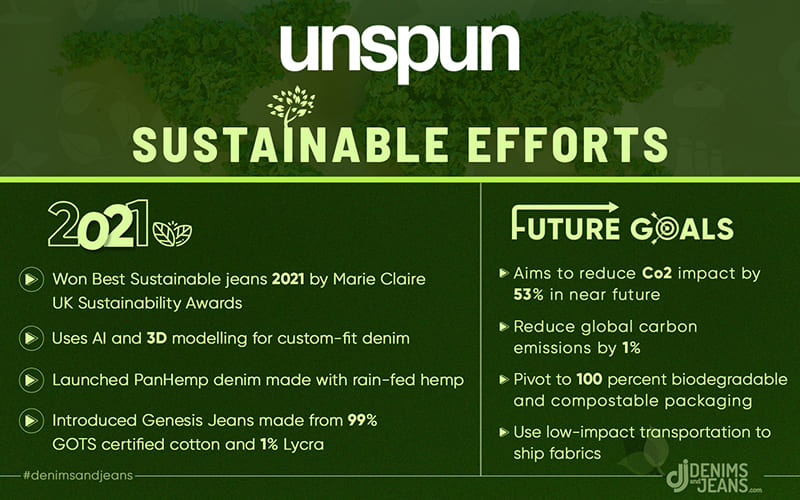 Unspun won Marie Claire UK Sustainability Award for Best Sustainable Jeans 2021. It used AI and 3D modelling to create custom and on-demand jeans that are unique to every customer. This first-of-its-kind custom-fit denim collection was a big leap in the fashion industry as each pair of jeans is made-to-measure, cutting out excess waste. The brand is reducing the industry's emissions by 30%. It also launched PanHemp, a new denim fabric in collaboration with Pangaia.
It also launched its Genesis Jeans which comprises of the fabric made with 99 percent GOTS certified organic cotton denim and 1 percent Lycra, and is washed using 100 percent recycled water and Greenscreen-approved chemicals. Unspun also ensures transparency element to its Genesis Jeans collection by including fashion tech firm Eon Group's scannable CircularIDs to the jeans. Unspun's 2021 sustainability goals include phasing out all cotton that is not recycled, organic or BCI and to eliminate all virgin poly from its fabrics. Other goals are reduce Co2 impact by 53% in near future and reduce global carbon emissions by 1%. The brand aims to 100 percent biodegradable and compostable packaging and use low-impact transportation to ship fabrics.
4. CLOSED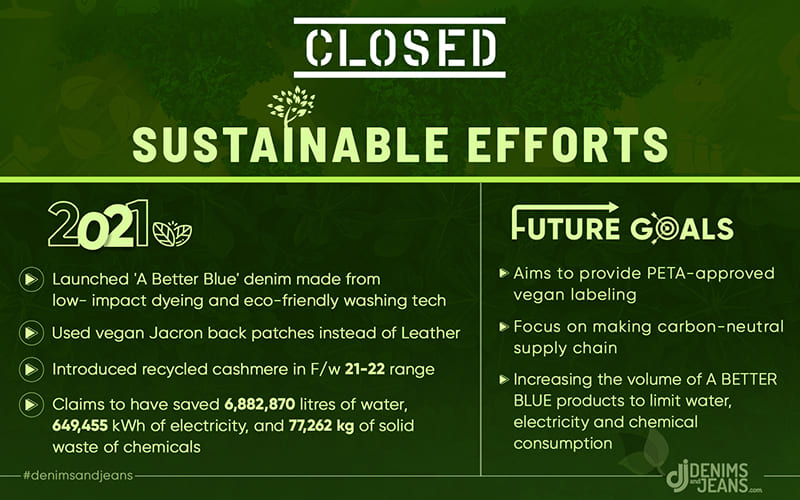 Closed's sustainable gains include the launch of the world's first 100 percent degradable stretch denim made with the biodegradable stretch yarn Coreva. The innovative jeans are part of Closed's "A Better Blue" denim line, which is manufactured with sustainable materials, low-impact dyeing processes and environmentally friendly washing techniques in Italy to save resources. Closed also introduced Jacron back patches for its jeans as a sustainable vegan-alternative to leather.
Half of the men's jeans, and 41 percent of the women's denim in Closed's Winter '21 collection are a part of the A Better Blue line. The company followed the addition of organic cashmere in the F/W 21-22 range. It claims that it has saved 6,882,870 litres of water, 649,455 kWh of electricity, and 77,262 kg of solid waste of chemicals. Its future plans include: to provide PETA-approved vegan labeling, focus on making carbon-neutral supply chain and increasing the volume of A BETTER BLUE products to limit water, electricity and chemical consumption.
5. WARP+WEFT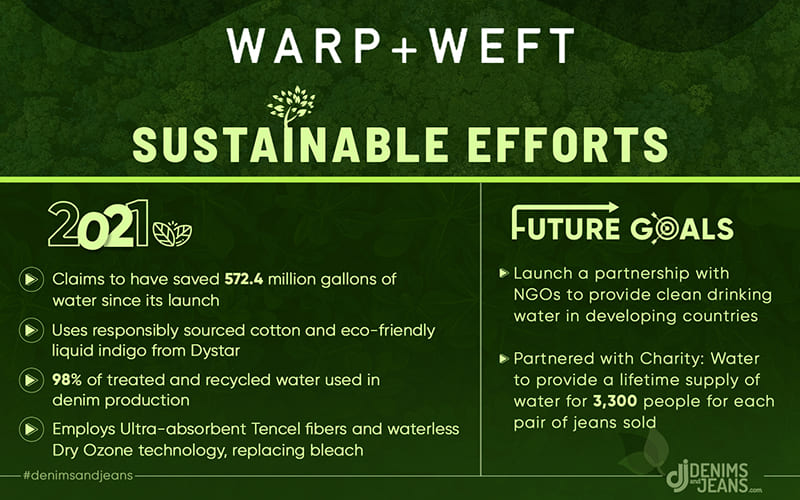 The brand is on a mission to create the best sustainable denim in the world. Since the brand's launch in 2017, they've sold more than 477,000 pairs of jeans and saved more than 572.4 million gallons of water. 98% of the water that goes into its denim is treated and recycled for additional use. To be completely transparent about its manufacturing process, Warp + Weft highlights elements like responsibly sourced cotton, eco-friendly dye from Dystar, water-saving techniques, and solar power. The brand also employs Ultra-absorbent Tencel fibers and waterless Dry Ozone technology, replacing bleach. It aims to launch a partnership with NGOs to provide clean drinking water in developing countries. For this it partnered with Charity: Water to provide a lifetime supply of water for 3,300 people for each pair of jeans sold.
6. PRIMARK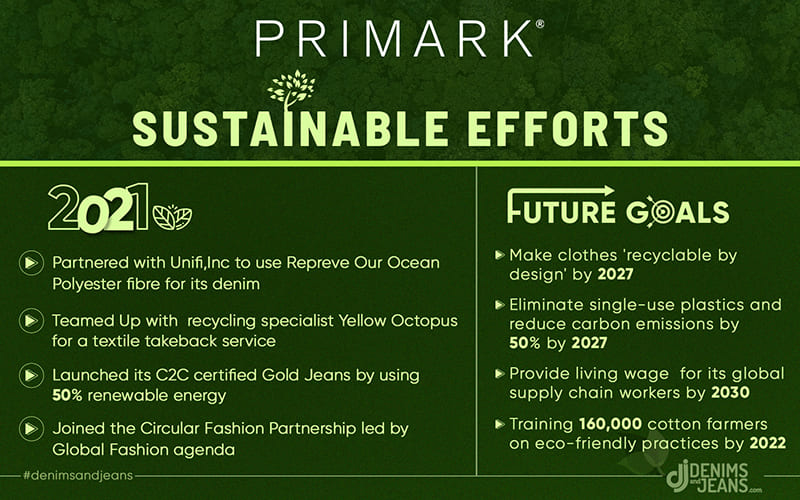 Leading retailer Primark has pledged to make clothes that can be "recyclable by design" by 2027. In addition, it plans to work with suppliers to halve carbon emissions throughout its supply chain while eliminating single-use plastics from its operations by 2027. Primark has also committed to pursuing a living wage for workers in its global supply chain by 2030 and has partnered with material innovators Unifi, Inc to bring their REPREVE Our Ocean fibre to its newest denim style.
The brand also partnered with Yellow Octopus, for a textile takeback service to divert garments from landfills in reusable pieces. It uses Sustainable Cotton Programme to trace the source of its sustainable cotton and is committed to training and educating 160,000 cotton farmers on more environmentally friendly farming practices by 2022. The brand launched its C2C Certified Gold Jeans which comes in a mom-fit and is made using a minimum of 50% renewable energy and 100% organic cotton. It has become a participant in the Circular Fashion Partnership, led by the Global Fashion Agenda that supports the development of the textile recycling industry in Bangladesh. The brand plans to provide living wage for its global supply chain workers by 2030.
7. KINGS OF INDIGO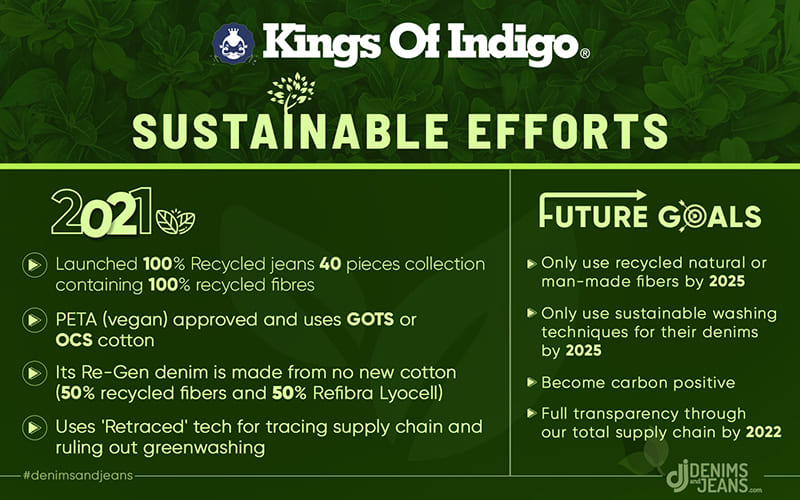 Since 2012, Kings of Indigo has curated sustainable denim collections, making itself known as a leader in sustainable fashion. Fully PETA (vegan) approved since 2020, the brand uses 100% certified organic cotton; GOTS or OCS and EIM scored denim washes. It launched 100% Recycled jeans 40 pieces collection that contain 100% recycled fibres and uses TENCEL Lyocel fibres for denim production. The brand uses fully recycled and sustainable trims – metals, pocketing, paper. It launched Re-Gen: a capsule denim collection made from NO new cotton (50% recycled fibers and 50% Refibra Lyocell). 6. Ensures elimination of PP spray on denims.
KOI also uses 'Retraced', a new technology that maps out a brand's full supply-chain, ruling out any and all greenwashing. The brand incorporates 100% carbon neutral Transport. Its plans to only use recycled natural or man-made fibers by 2025. KOI aims to use sustainable washing techniques for their denims by 2025 and also become carbon positive. It also strives to have full transparency through total supply chain by 2022.
8. KUYICHI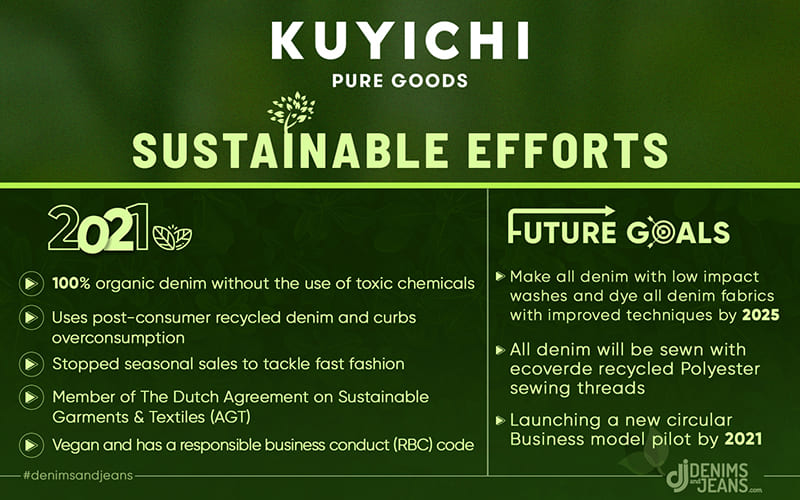 All denim produced by Kuyichi is made with one hundred percent organic cotton which reduces carbon emissions by up to sixty percent and some pairs incorporate post-consumer recycled denim. The boldest commitment Kuyichi made is its limit on the jeans it makes. To curb overconsumption and focus on jeans a customer will always wear, Kuyichi only sells a few timeless styles. All of their pure goods are produced in a conscious and innovative way, with a focus on quality denim with a perfect fit.
Kuyichi stopped making seasonal collections and doing sales to make a statement against fast fashion. It is a member of The Dutch Agreement on Sustainable Garments & Textiles (AGT). The brand is vegan and has a responsible business conduct (RBC) code. Some of its goals include: Make all denim with low impact washes and dye all denim fabrics with improved techniques by 2025; All denim will be sewn with ecoverde recycled Polyester sewing threads; Launching a new circular Business model pilot by 2021.
9. PATAGONIA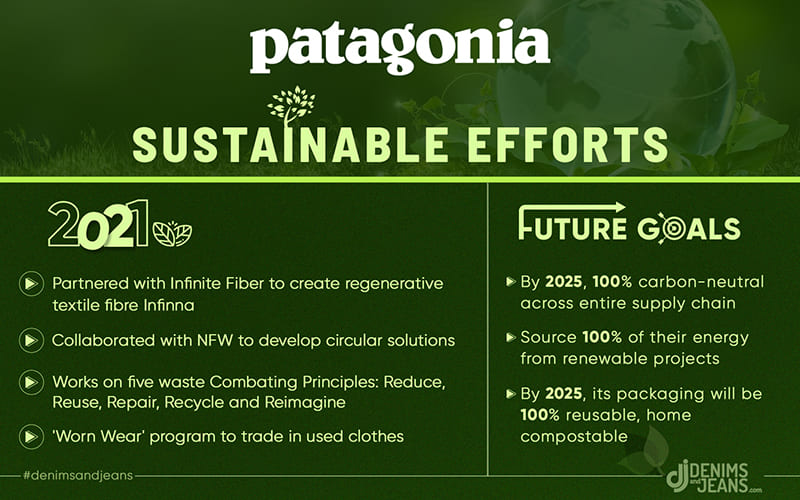 American clothing brand Patagonia has partnered with Finnish circular fashion and textile technology group Infinited Fiber Company for its regenerated textile fibre Infinna created out of textile waste. Additionally, Patagonia has collaborated with Natural Fiber Welding (NFW), a US-based material science company in a joint commitment to develop and scale circular solutions in textiles. Through its collaboration with NFW, it reaffirms its commitment to its customers to never compromise – on performance, on aesthetic, on responsibility for the planet.
The brand works hard to keep their products out of landfills. They collect and refurbish their old gear as part of five waste combating principles: Reduce, Reuse, Repair, Recycle and Reimagine. A program called "Worn Wear" allows consumers to buy used, as well as trade-in and fix their gear. The brand aims to be 100% carbon-neutral across entire supply chain by 2025 and source 100% of their energy from renewable projects. By 2025, the brand's packaging will be 100% reusable, home compostable.
10. ÉTICA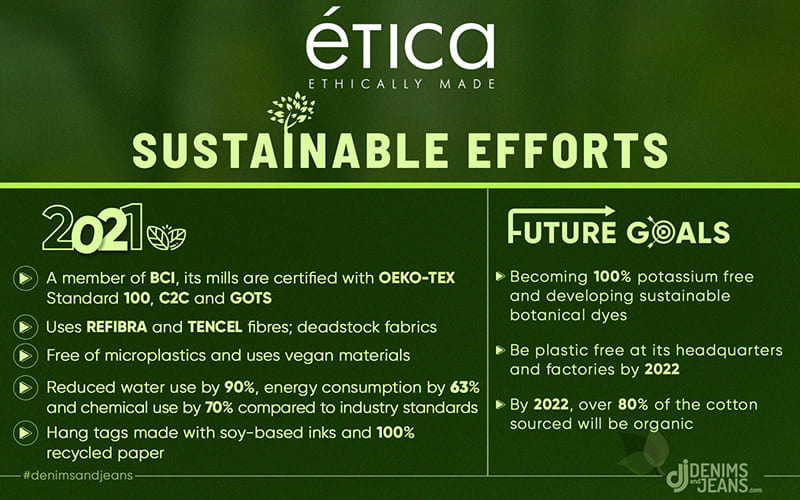 ÉTICA is a sustainable lifestyle brand focused on premium denim and knits. It claims to have reduced water use by 90%, energy consumption by 63% and chemical use by 70% compared to industry standards. The company is a member of the Better Cotton Initiative, and some of its mills are also certified to OEKO-TEX Standard 100, Cradle to Cradle and GOTS. It also uses recycled cotton, REFIBRA, and Tencel in its denim lines and seasonal collections are made with deadstock and upcycled fabrics too.
As of 2021, the company's fabrics are all free of microplastics, and all products are vegan-friendly as they are 100% free of animal materials (including fur and hide, with no trims, softeners, dyes, or other additives used that are derived from animals). ÉTICA's Hang tags are made with soy-based inks and 100% recycled paper. The company aims to be plastic free at its headquarters and factories by 2022, become 100% potassium free and develop sustainable botanical dyes.. The brand owns Re/Make Seal of Approval for Environment, Transparency, Labor Rights certification.
11. GAP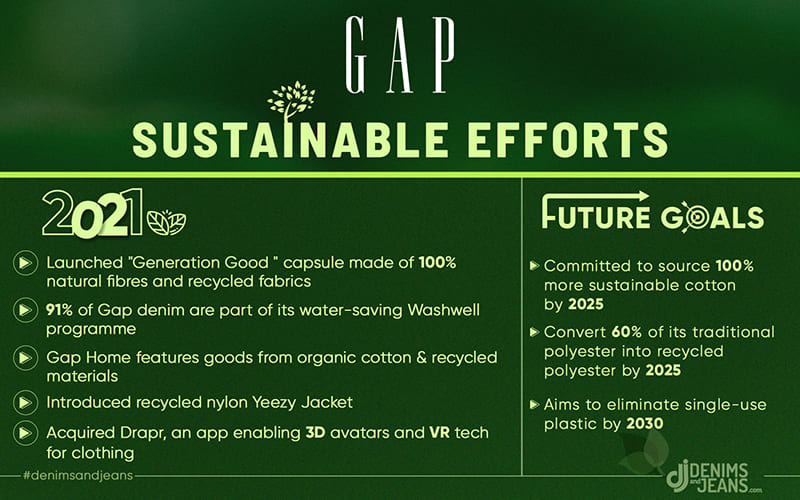 Global retailer Gap has launched " Generation Good" capsule made of 100% natural fibres and recycled fabrics. It has also launched five exclusive sustainable denim styles as part of the Ellen MacArthur Foundation's Jeans Redesign Project. Currently, 91 percent of Gap denim is part of its water-saving Washwell programme, which it notes is better than its original 2021 goal of 75 percent. The brand also announced its first-ever brand of home essentials – Gap Home which features sustainable items that are made from organic cotton and recycled materials.
Gap collaborated with Kanye West for its Yeezy Jacket that is made up of recycled nylon and also acquired Drapr, an ecommerce startup and online application based on technology that enables customers to create 3D avatars and virtually try on clothing. The brand has committed to source 100 percent more sustainable cotton and is committed to converting 60 percent of its traditional polyester into recycled polyester by 2025. It also aims to eliminate plastic shopping bags by 2023.
12. WRANGLER & LEE (KONTOOR BRANDS)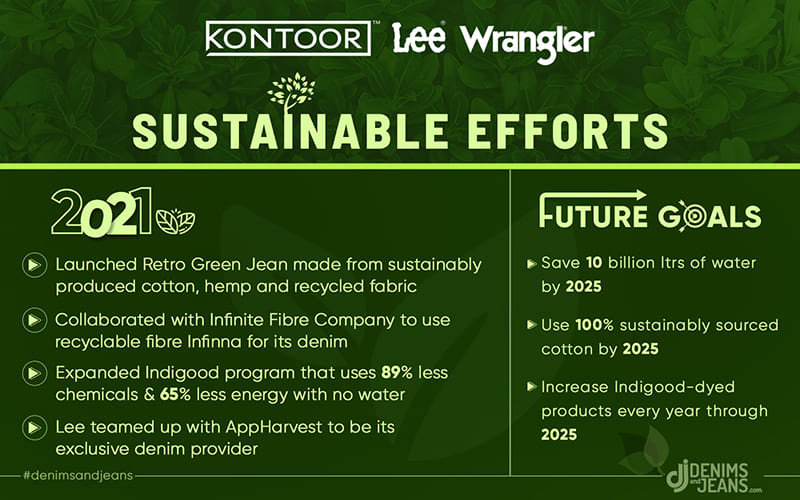 Kontoor-brand Wrangler has been working on making jeans from regeneratively grown cotton. It also launched the Retro Green Jean collection made from sustainably produced cotton, hemp, or recycled fabric. Wrangler opened its new platform WeCare Wrangler to inform consumers of its sustainability goals, current measures, and partnerships centered around three core themes: planet, product, and people. The brand collaborated with Infinited Fibre Company, to use regenerated, recyclable fibre Infinna in its Autumn2021 denim collection.
Kontoor Brands also expanded its Indigood program in which its denim uses a foam dyeing process with no water, 89 percent fewer chemicals and 65 percent less energy with no discharge water. Lee teamed up with AppHarvest to be the exclusive denim provider for the company's employees at its greenhouse. Kontoor brands sustainability goals include: save 10 billion litres of water by 2025, use 100 percent sustainably sourced cotton by 2025, increase Indigood-dyed products every year through 2025.