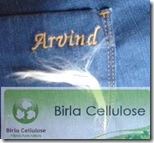 A partnership between Arvind denim and Birla  Cellulose has resulted  in the creation of a great denim product – the Excel Denim. Excel  fiber which is a third generation cellulosic fiber has been developed by Birla Cellulose  in collaboration with Arvind mills and the result is a cool denim product. Both the companies worked together  for over 2 and half years to bring out the right product.
At a grand launch at Bangalore Palace, the collection created by the famous Indian designer Rajesh Pratap Singh was showcased to the creme de la creme of the denim world . This was perhaps the best launch of a denim collection ever in India . The fashion show had it all –  style, denim in various avatars  on  beautiful models who were walking down the Golden Walkway – strewn with  dried leaves – to give it a perfect blend of vintage with modern, innovation with style and eastern looks  with western touch. The collection was primarily aimed at women's denim since the fabric has that ultra soft touch , a great drape and a sheen which can be enhanced or subdued  depending on the garment style.
Birla Excel is a third generation fiber which has certain properties which are superior to viscose staple fibers and have some qualities which are also better than that of cotton.
Birla claims that it is the STRONGEST CELLULOSE FIBRE and this translates into the high durability of Excel Denim.  The moisture regain of Birla Excel is 13% and it transports mositure effectively. Here is a comparison:
| | | | | |
| --- | --- | --- | --- | --- |
| Property | Birla Excel | Viscose | Cotton | Polyester |
| Fibre Strength (cN/tex) | >37 | 24-26 | 21-35 | 46-54 |
| Elongation % | 12-15 | 19-21 | 7-9 | 22-24 |
| Wet-Dry Tenacity ratio % | 82-84 | 50-52 | 108-112 | 100 |
As per Mr. K.K Maheshwari , Director Birla Excel
"As a world leader in cellulose fibers, Birla Cellulose is always seeking avenues to provide end consumers and value chain partners with innovative products. The collaboration with Arvind is an important step in this direction which will take our third generation fiber in the denim category, Birla Excel, to consumers across the globe. … It is as green product as any textile product can get. It is made of wood pulp and many of you would be surprised to know that for every tree used , we have to plant 1 to 3 trees and every by product is used for generating steam and power in the mill…….."
The green part of the product was also emphasized by Mr. Puneet Lalbhai (from the Lalbhai family).Here is a small video of the chat that I had with him and Mr. Aamir Akhtar (CEO Arvind Denim) where they describe the various aspects of this product.
And this launch was not a prelude to a new product just being commercialized . Arvind is already selling the product to a number of important international brands and is already nearing a turnover of $ 10 million on this product alone !!.
Says Mr. Subir Mukerjee , Marketing head Arvind
"It is an out of the world product and given its qualities of sheen, drape and touch , it is perfectly suitable for women's denim . However, the usage in the men's category is entirely possible .This is not a boutique product which will be sold in small quantities. However, the main challenge would be to create heavy ounce denim without being too expensive. ".
Rajesh Pratap Singh , the internationally acclaimed designer was humble on being congratulated on creating a great collection . He said
"I have used many other denim fabrics in the past , but the soft touch , drape and sheen of this fabric is exceptional.  There are other more important designers, brands etc who will definitely take this product ahead to the next level".
Mr. Aamir Akhtar threw  a challenge to the ladies in the crowd to take the jeans made out of the Excel Denim and wear them. He said that the challenge was that they would not really feel to come out of it.  The crowd rushed to grab the beautiful jeans and even I had to lay my hands on one of them! . I gave it one of my family member and she loved the softness, feel and sheen of the jeans so much that she actually did not want to let go of them.   I think Mr. Akhtar, you won the challenge !!
For more info. on the Excel denim , contact Rajesh Gupta from Arvind .
Here is a small presentation of the show for those who want to see more photographs from the show.
And here is a video of the show for those who want to have a real feel of the show. If you ignore the odd angles, poor shooting, shaking camera etc , you are going to enjoy it 🙂