Denim is wihout doubt the most worn fabric worldwide . A number of books try to chronicle the journey of denim through over a century of development. In this report , we bring out the details of some of the coolest and most interesting denim books that are found around the world. Each of them explores different aspects of the high fashion denim industry – whether it is the indigo dyeing, manufacturing and styling, effect of and on fashion and much more   . Check out the list below and get denimified !
Indigo: The Color that Changed the World
By Catherine Legrand (Author) |

Price : $41.38
The book explores varying dying methods and the human story behind the colour, taking the reader on a journey through Japan, China, India, Africa, Central America, Laos and Vietnam to offer a fascinating study of old world practices and the history of this color. Hundreds of beautiful photographs show items, ranging from doors to quilts to turbans and the stained hands and many faces of the makers behind them, to exemplify why Indigo has continued inspiring us throughout the ages. Legrand features Austrian dyer Josef Foo's stunning art of wood-block printing Indigo, which show cases the colour's vitality when contrasted with white and even shows us how to make the dye ourselves at home using lead sugar, powdered gold and blue vitriol.
The book explores the production of indigo textiles throughout America, China, India, Africa, Central Asia, Japan, Laos, and Vietnam. It features more than 500 color photographs and is completed by specially commissioned drawings that provide close-ups of patterns and cloths.In each of the areas explored by Legrand, the author finds similar methods for cultivation, pigment extraction and dying methods, although the final products range from turbans to quilts depending of the textile needs of the area. Hundreds of color photographs serve to illustrate the process as well as the variety of indigo application. More at…..
---
DETAILS – A LIFE WITH DENIM
By Piero Turk | Price $31.89
This one is for all the denimheads out there. Piero Turk dedicated a significant part of his life to denim, having worked in the denim industry for quite some years. With that experience he decided to start a new brand titled Manic Monkey. He also is the author of this awesome book titled: "Details: A Life With Denim". This new book offers around 300 images of denim, jeans and more stuff related to the blue gold.
Then after working many years together with Adriano Goldschmied for many of the most jeans and fashion brands around the world, in year 2000 I opened my own design studio. During the last 15 years I did work for many top level denim brands. EDWIN, BIG STAR, MUSTANG, AG, SEVEN, GUESSamong others and for fashion brands like SPORTMAX, SEE by CHLOE and others helping them to develop their jeans line. More at…
Denim Dudes: Street Style . Vintage . Workwear .Obsession
By Amy Leverton | Price : £14.86
Denim Dudes is a street style book with a difference. This richly illustrated title showcases over 80 metalheads punks, indie kids, rockabillies, bikers, hipsters, geeks, and other enthusiasts who are obsessed with denim. Written by Amy Leverton (ex-denim editor WGSN) The book is split into three parts: US, Europe and Japan & Australia. How would you broadly describe the differences in denim styles between these place.
---
Indigo: Egyptian Mummies to Blue Jeans
by Jenny Balfour-Paul | £18.94
Indigo tells the compelling and comprehensive story of the world's oldest, most magical, and best-loved dye.
"All those working with indigo or merely interested in the cultural history of that dye must read this book."—Textile Forum.
The book covers: Indigo's history, dating to ancient times The botanical sources of indigo, including woad , Uses of indigo in traditional medicine and religious practices The chemistry of indigo and the technology used to extract it Production and dyeing methods The commercial indigo industry, past and present The health consequences of making indigo Modern and future applications of indigo Indigo's continuing appeal and the iconic blue jean.Produced from plants by a process akin to alchemy, indigo has a unique chemistry that renders it compatible with all natural fibres. From the time of the ancient Egyptians it made an incredible impact worldwide as the world's only source of blue of every hue, and was also indispensable for creating a glorious range of colors when combined with other natural dyes. More at….
---
Denim: An American Story (Schiffer Book)
By David Little | Price : $24.58
Journey through the history of jeans, from their invention during the Gold Rush through the turbulent eras that preceded the 21st Century. Watch as denim slacks help Americans define themselves, whether that definition is strong, unpretentious, pretentious, informal, comfortable, classless, haute couture, hard-working, or reliable.


Also, revisit the craze for vintage blue jeans, when faded and worn fueled a frenzy of global buying. Artful photography of denim as seen on bodies, in retail stores, and in the flea markets of America, add to the thoughtful essays, making this a iconic book certain to be treasured in fashion circles for decades.In this book many denim stories are written and there are many pictures about denim, Levi's vintage jeans, advertisement of Levi's, Lee, Blue Bell(Wrangler),cow boy jeans, biker jeans, worker jeans, etc.. More at
---
True Fit – A Collected History of Denim
By

Viktor Fredbäck and Rickard Eklund | Price – $70

True Fit A Collected History of Denim by Viktor Fredback. This is an incredible book that shows various historical pieces of denim throughout the years. The book is incredible photographed by photographer Fredrik Ottosson.

The book, True Fit – A Collected History of Denim, is the story of jeans' genesis and evolution. They  present at the birth of the garment in the mid-1870s and follow its evolution a hundred years forward in time. The account of the history of jeans also reveals that the garment makes up an integral part of American heritage. Viktor Fredbäck is a Swedish denim collector who travels to old silver mines in the Nevada desert in hopes of digging up historic jeans from the 1800's . More at…
---
Levi Strauss & Co. -Images of America
By

Lynn Downey | Price – $17.93

Detailing a story of Levi's Strauss , the book explains how Levi Strauss & Co. started with imported clothing, bedding, and notions to supply the many small stores serving the Gold Rush and the expanding American West. By 1873, he and partner Jacob Davis invented the very first blue jeans, which were soon worn by working men from Los Angeles to Laramie.

Strauss parlayed his business acumen into social progress by giving back to his community and embedding a company culture committed to positively impacting society. In this spirit, the Levi Strauss Foundation was created after World War II, formalizing the philanthropic work started by Strauss himself a century earlier. All the while, the company has evolved with successive generations of family owners, expanding product lines to meet the ever-changing needs of consumers around the world. More at…..
---
Fades of Indigo – Denimbook Vol. II
By Livid Jeans and Ole A. Ekker
Norwegian-based jeans brand Livid Jeans and Norwegian photographer Ole A. Ekker collaborate once again on the second edition of their ongoing project, Denim book.
This is the second issue of Fades Of Indigo. A collaborative piece between Norwegian photograper Ole A. Ekker and the Norwegian based jeansbrand Livid Jeans. Made to capture the strong bonds between people and denim and tell their stories through a variety of pictures. One single craft is often used only as a supplement to the other. Similarities between crafts are common, but the connection not always seen. There is great beauty in combining crafts because they're able to bring forth what may be left unsaid when standing alone. Through authentic, honest and passionate work our cooperation aims to focus on artisanal aspects in both their crafts.
---
We Love: "My Rugged 211″
By Minoru Onozato
The book was  put together by editor in chief of Rugged Magazine, Minoru Onozato. He describes in the bi-lingual introduction:
The book lovingly describes each item and points out its special highlights and features. It's an amazing insight into the eye of a knowledgeable collector who knows classic menswear apparel inside and out. So if you want to learn, he is the master to teach you! Classical rugged fashion is somewhat timeless yet it can be enriched with the essence of military wear, sport fashion, outdoor fashion, workwear, native fashion, etc. For their the pursuit of rugged fashion, or pursuit of "unfashionable fashion" has flourished their  life and sometimes given them great ideas and thoughts in their publishing and film making career. More at…..
---
Denim Book: The 501XXA-Collection Of Vintage Jeans
By Yutaka Fujihara
A collection of vintage jeans. The book is a homage to Levi's Jeans from 1890 till 1966. The book highlights 51 unique and rare pair of jeans. Made by Levi's expert @yuttan1977 from Japan. Bravo Yutaka for this great document!The book contains 200 pages with full colour pictures and text in Japanese and English language.
The book contains 200 pages with full colour pictures and text in Japanese and English language.The 501XX – A collection of vintage jeans. The book is a sort of homage to Levi's Jeans as it captures vintage Big E jeans from 1890 till 1966. The book shows 51 unique and rare examples which are in hands of Japanese Levi's Jeans collectors. It's a beautiful book and a great learning tool of the 501XX; it's so lovely to see some of the best examples the world has to offer to learn first-hand about this amazing piece of denim history. More at…..
---
Bluemasters, Innovation in Denim – The Book
By Fabiana Giacomotti | Price : €60.00
The story of both the past and, above all,    the future of denim, through the innovations and the voices of those who "do" denim. This book is published by ISKO Denim of Turkey.
Just call them the "Bluemasters". These are the men and women who have brought innova­tion to denim, be it in production and manufacture, creativity, retailing or communications, rendering the pair of jeans the most iconic, sought-after garment on the planet. From the cotton boll to the catwalk, from dyeing to washing, from the shop window to the mass media, behind all the most high-fashion jeans there usually lurks one of these people.
These are the people, each in their own special way a true master of denim, to whom this book Bluemasters, Innovation in Denim, is dedicated, weaving together some of today's most fascinating stories all of them inspired by the most famous blue fabric on the planet.
Written by Fabiana Giacomotti, fashion guru and head of Fashion and Costume Studies at Rome's Sapienza University, published by the Menabò Group, this volume fulfills the dream of Isko™, shared by Archroma, to create a space in which to delve into the cultural currents, the ebbs and flows that move the world of denim, and this book is that space. Naturally this no encyclopedia, since it would be impossible for a single volume to cover every last detail of such a tumultuous sector, it should rather been seen as a catalyst.
The book's two hundred large-format pages are divided into two parts. The first is a series of interviews profiling the Bluemasters, presented in alphabetical order, photographed at work in their office, at the work bench, in the laundry or in the laboratory.
The second, more technical part, traces the landmarks in the evolution of denim production, with a special focus on eco-friendly cotton growing and such processes as dyeing, washing and finishing, providing a wealth of useful information and insight into all the backstage work that goes into a pair of jeans. More at…..
---
Denim Style by Horst A. Friedrichs
By Horst A. Friedrichs | Price : £18.94
Renowned photographer Horst. A Friedrichs took to the streets of London to snap the aficionados, retailers and makers of the contemporary denim scene. In an introduction written by Kelly Dawson of Dawson Denim, she heralds this pictorial work as "the rite of passage for the Denimhead." The beautifully curated collection of photographs is complete with a mini dictionary at the back, making it a perfect gift for the denim-fan in your life.
This book takes in all aspects of the thriving denim culture, whose followers can be obsessive about how the denim is woven, the old shuttle looms that weave it, the people who weave it, and the skills and techniques they have and use. Pages of gorgeous photographs of denim wear will inspire today's style conscious and trendspotters alike. More at…..
---
Global Denim
By Daniel Miller (Editor), Sophie Woodward (Editor) | Price : £21.99
On any given day nearly half the world's population is wearing blue jeans. This is entirely extraordinary. Yet there has never been a serious attempt to understand the causes, nature and consequences of denim as 'the' global garment of our world. This book takes up that challenge with gusto. It gives clear, if surprising, explanations for why this is the case, challenging the accepted history of jeans and showing why the reasons cannot be commercial. While discussing the consequences of denim at the global level, the book consists of some exemplary studies by anthropologists of what blue jeans mean in a variety of local situations. These range from the discussion of hip-hop jeans in Germany, denim and sex in Milan through to the connection between denim and recycling in the US. But through all these intensively researched ethnographies of local denim we build our understanding of the most curious of all features of blue jeans – the rise of global denim.
---
A Denim Story: Inspirations from Bellbottoms to Boyfriends
By Emily Current, Meritt Elliott and Hilary Walsh | US Price: $32.50
Emily Current and Meritt Elliott have been styling together for more than a decade and are known for the popular denim brand Current/Elliott. Hilary Walsh is a fashion and portrait photographer who has been featured in many advertisements and publications such as Vogue, Interview, and Elle.
Emily Current and Meritt Elliott, the original creators of Current/Elliott, enter the next chapter of their denim career with the release of their book, A Denim Story: Inspirations from Bellbottoms to Boyfriends.
This style bible is a chic and sexy look at the myriad possibilities of blue jeans, the classic and ever-evolving fashion essential. Blue jeans are an iconic part of American culture. And, like the American dream, denim is constantly reinventing itself. A Denim Storyshowcases timeless images of blue jean style. Featuring such icons as Marilyn Monroe, Patti Smith, Jane Birkin, and Kate Moss, as well as dreamy inspiration boards from the authors' own work, this volume is full of ideas and inspirations. A pair of jeans always makes a statement, whether they are tight and purposeful or loose and frayed. Blue jeans can embody dreamy, girlish innocence or the best of boyishness, as when worn two sizes too big, low on the hips, and rolled up at the ankle.
---
Mottainai: The Fabric of Life Lessons in Frugality from Traditional Japan
By Rabin Wallinter ,Sasha | Price : $30.00 USD
Catalog to the exhibition Mottainai: The Fabric of Life, Lessons in Frugality from Traditional Japan at the Portland Japanese Garden, November 4 – 27, 2011
This exhibition of antique Japanese folk textiles from the Meiji period (1868-1912) is comprised of selections from the private collections of Stephen Szczepanek (suh-PAN-ecks) of Sri in Brooklyn and Kei Kawasaki of Gallery Kei in Kyoto. The exhibition demonstrates the remarkable ability of the Japanese to not only make do with the very little they had, but to make art with it.For generations before the "Economic Miracle" took place in the decades following World War II, Japan was a poor country. People recycled everything. Nothing was wasted, and the word "mottainai" (waste nothing!) was a ubiquitous exclamation used by every frugal parent to warn children about wasting a bite of food or a scrap of cloth or paper.
The exhibition represents a wide variety of traditional textile making and decorating techniques, including sashiko stitching, bast fiber weaving and dyeing, and patchwork quilting, the latter referred to as boro.
"Boro is a term now widely recognized that describes these patched and mended fabrics," said Stephen, who is clearly awed by the ingenuity and beauty of these pieces and has written articles for Selvedge, Hali, and Cover magazine about them. Hanging like abstract art on the walls of his Brooklyn loft are a boro indigo futon cover and a boro yogi, or sleeping kimono. He contends that these were never intended as works of art, though collectors from New York to Paris now seek out these modest garments for the remnants of the spirit of rural Japan they see in them. "What I love," Stephen says, "is that there is so much history in every piece."
His small Brooklyn loft is both show room and home to Stephen, whose Sri has been featured in the New York Times as a fascinating destination for those who love the real thing. According to one New York Times article (2007): "A resident of Brooklyn for the past 22 years, Stephen finds sanctuary in the cloth of another culture, which allows him to travel to a faraway time and place without having to leave home (although he does go to Japan on buying trips twice a year, visiting dealers and temple markets in Kyoto)." More at…..
---
Denim: From Cowboys to Catwalks: A Visual History of the World's Most Legendary Fabric
By Graham Marsh (Author), Paul Trynka (Author), June Marsh (Editor)| Price : £29.98
It tells how the first pair of jeans came about and documents the material's rise from humble beginnings as workwear in 19th-century America, through its love affair with 1940s Hollywood and its adoption by a rebellious generation of teenagers in the 1950s, right up to its emergence as a high-fashion fabric in the 1990s. The authors have dug deep into the archives to unearth many rare, previously unpublished pictures ranging from archive photographs from the early days when brands such as Levi's Lee and Wrangler were first establishing themselves to portraits displaying the gritty glamour of denim-clad icons such as Robert Mitchum, Marilyn Monroe and Chet Baker.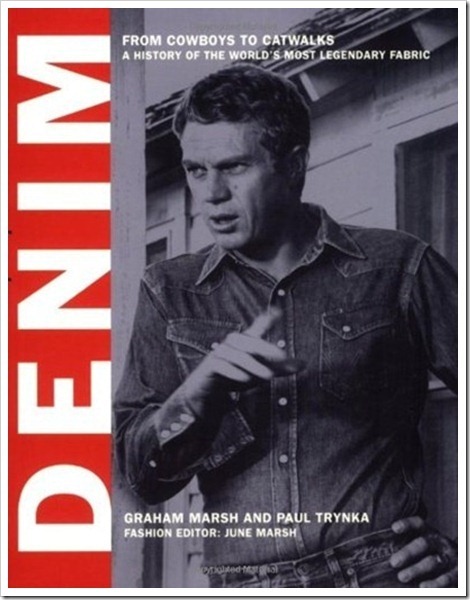 It features rare pictures of icons wearing denim, like Marilyn Monroe and Steve McQueen, plus specially commissioned photos of rare and classic garments from the 1880s to the present day. It is complete with a glossary and a guide to valuable vintage items. More at…..
---
Indigo: In Search of the Colour that Seduced the World
By Catherine E. McKinley (Author) | Price : £7.19
For almost five millennia, indigo – a blue pigment obtained from the small green leaf of a parasitic shrub – has been at the centre of turbulent human encounters, prized by slave traders, religious figures and the fashion world. "Indigo" is the story of this precious dye and its ancient heritage: its relationship to slavery as the 'hidden half' of the transatlantic slave trade, its profound influence on fashion, and its spiritual significance. It is a story brimming with electrifying tales of those who shaped the course of colonial history and world economy.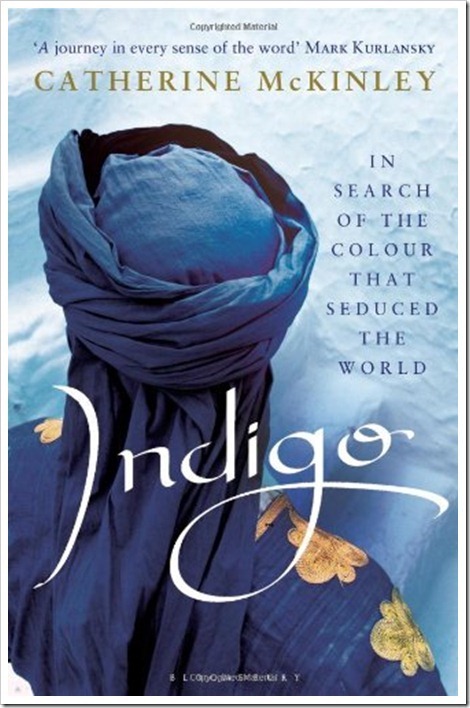 But this is also the story of a personal quest: McKinley's ancestors include a clan of Scots who wore indigo tartan, several generations of Jewish 'rag traders' and Massachusetts textile factory owners, and African slaves who were traded along the same Saharan routes. Her journey takes her to nine West African countries and is resplendent with powerful lessons of heritage and history. More at…..
---
Shibori : For Textile Artists
By  Janice Ganner (Author) | Price : £18.99
Shibori-dyed fabrics continue to be popular and used in clothes, home furnishings, etc.

Will appeal to quilters, embroiderers, and textile artists.

Clear, step-by-step instructions and diagrams.

Covers many different techniques.

Shows finished shibori pieces and gives advice on incorporating shibori textiles into quilted and embroidered work
Commonly associated with Japan, it is also used in Africa, India and South America. Shibori is the Japanese term (from the word 'to squeeze or wring'), for the dye-resist technique of binding, clamping or gathering the cloth so that the dye cannot reach certain parts. Author Janice Gunner's book is aimed at quilters, embroiderers and textile artists who not only want to master the techniques of shibori but also find ways of using the fabric once created for a range of textile techniques including quilting and embroidery. More at…..
---
A Handbook of Indigo Dyeing
By Vivien Prideaux | Price : £13.48
Beautiful pictures of wonderful dyed fabrics used in a variety of designs accompany detailed advice on the materials required, preparing the fabric and the dyeing methods. Using Shibori techniques – folding, pleating, clamping, stitching and pole wrapping, the author illustrates all the different stages, using clear step-by-step photographs and easy-to-follow text. A stunning sequence of inspirational projects have been specially chosen to develop skills and build confidence, with instructions on how to make a tea cosy, a jacket, a silk scarf and more.