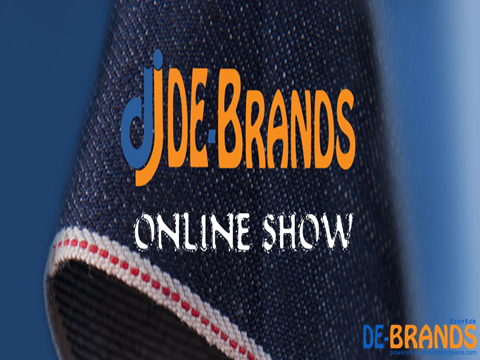 We are pleased to announce the creation and beta launch of a new digital tool for the denim industry. Continuing our tradition of trying to add value to the industry through various online and offline tools, we are pleased to inform the BETA  launch of the DE-BRANDS – the first Online Denim show worldwide.
Deep insight into the working of the industry enables one to comprehend  complexities involved in the process of new fabric developments and their marketing to buyers.  Companies develop many fabrics  and the time taken thereafter in arranging them to be sent to right customers in desired number of washes and looks is not very short. It is often felt that it is not practical to do sampling of all new developed products to most of the customers – for the reason of time and costs involved . Often , a customer may not end up looking at a fabric which a mill developed and which he may have wanted , for the simple reason that the product was either not sent to him or the right washes or styles could not be sent due to physical limitations.
Often,  we have seen that the mills have beautiful fabrics which are lying down deep in the heap of  R&D department because the marketing department and the buyers are overwhelmed by many other latest developments and often they themselves lose track of all developments that the company has done before.
On the other hand , the buyers are looking for new and varied fabrics from mills around the world. However, given time, cost and physical limitations , it is not possible to see all the products which would fall in their realm of acceptability. Also it is not possible for the buyers to explore too many suppliers at one time. We aim to provide solutions to some of the predicament which both buyers and suppliers face.
We think it could be interesting for a sourcing manager from a retailer if he/she is able to browse through denim products of 5 or more denim mills in over an hour and make a shortlist of the products that interest him/her so that in the upcoming meetings those products could be focused on.
It might also be interesting for the buyers to see all major specs of a particular product and also to see its different washed looks and styles !
This ' DE-BRANDS' has been developed over a long period of time keeping in mind the considerations and concerns of the people working in the industry specially the mills and buyers of fabrics. The features of this show are listed below :
What Exhibitors / Mills Can Expect ?
a) Detailed Digital Showroom : The mills can create a digital showroom for their company  . Each product can be displayed in a number of ways e.g. in pure fabric form , different washed looks , different styles e.g. jeans/jackets etc. . So each product can be displayed in 1-5 or more different ways. This enables a buyer to have a very good idea about that product .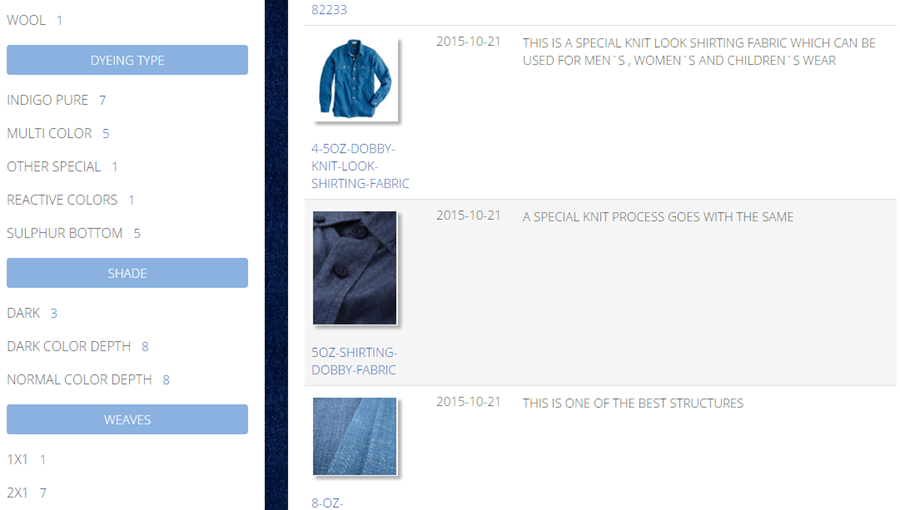 b)Categorization of products : Strictly denim specific categorization of products helps the buyers to understand products under one category. The exhibitors can create their own categories for products besides using the standard ones  that we provide ..
c)Close Physical View: If the  photographs are taken as per our guidance, then we can surely say that the buyers would get the intricate looks of the fabrics/garments due to the software used by us. The product will be visible as it may be at different physical distances .
d) Buyers from around the world : The exhibitors can  look forward to their products being visited and appreciated by buyers from around the world as there are no physical limitations ! .
e) Privacy concerns : Suppliers do have their genuine privacy concerns as they would not like their products to be visible to all . We have taken adequate care of these concerns ensuring that the suppliers can limit the view of ALL or SOME of their products and thus create a Private Showroom besides some public products .  At another level, they will also be able to chose which of the registered buyers would be able to visit their showrooms . Hence it would be totally under the control of the exhibitors to define who sees their products. They can decide which is a PUBLIC and which is PRIVATE product.
f) Pre whetted buyers  : We have kept two stages of checking and filtration to ensure only the really genuine buyers/agents/sourcing guys etc. can enter our show and only those whom the company wants to show its products to. This show is ONLY FOR GENUINE DENIM PEOPLE. .
f) Communication on each product : If the buyer and exhibitor want, they can initiate communication on our site related to Each Single Product. They can , of course, continue this communication off our site too.
g) Site Reports and Data :  The exhibitors would come to know which of their products  are more popular with registered buyers and who is visiting them more and liking them and also check out their comments. This would help them to get speedy feedbacks on their products. Thus they can generate database on the kind of responses they are getting on different products and take their development accordingly.
h)Continuous Evolvement : The show shall receive feedbacks from the exhibitors and buyers and continuously develop new features to make the interaction as close to real as possible . Having our own development team gives us that strength to develop features in shorter time and with more flexibility.
j) Homepage: We shall  provide options for the exhibitors to create a homepage for themselves. This would ensure visitors to know more about the strengths of the company – their infrastructure, management, capacities and much more.
g) Buyers updated with new products : Registered buyers will be regularly updated with the new products uploaded by the exhibitors. This will ensure regular updates to buyers in a non-intrusive way.
h) Company News : Companies shall be able to upload their latest company news on the site and the same will be visible on the site and shall also be sent in weekly newsletters to the registered buyers helping them to know about latest developments done by different companies.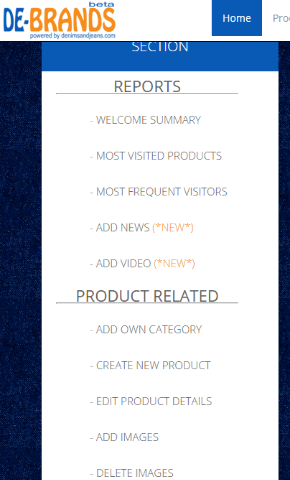 What Buyers/Visitors Can Expect?
a) A collection of fabrics different mills : It would be interesting for the visiting buyers to check out the products showcased by reputed mills from around the world. The buyers can easily register FREE on our site very shortly.  It is imperative that  those registering on our site as buyers should be genuine professionals involved in denim buying activity and belong to reputed  denim brands/ retailers/ trading houses etc. They could be designers, sourcing guys, buyers, account managers ,agents etc. We shall individually verify each registrant to ensure that we are getting genuine professionals  in.  While this may cause a little inconvenience , it will make the further process of visiting showrooms and interacting with exhibitors seamless.
b) Regular updates on new products added : Directly into their inbox. ! Just need to check the interesting product and contact the supplier.
c) Add own requirements : Buyers will also be able to post their requirements for new products online . They can also post pics showing the kind of products they need with details. This will enable the suppliers to revert to them with their offerings.
d) Filtered Search : Looking for a knit denim in 10oz  in sulphur black , 2×1 from a particular country  Turkey or Indian or Pakistani mill ? In short time , once the exhibitor showrooms are set, you will be able to do the same. Filtered search will enable to zero in on the product required.
e) Save time ! : Scanning through a number of collections as soon as they are uploaded will enable the buyers to have a decent idea of the products and help in save time sampling and interacting with the suppliers.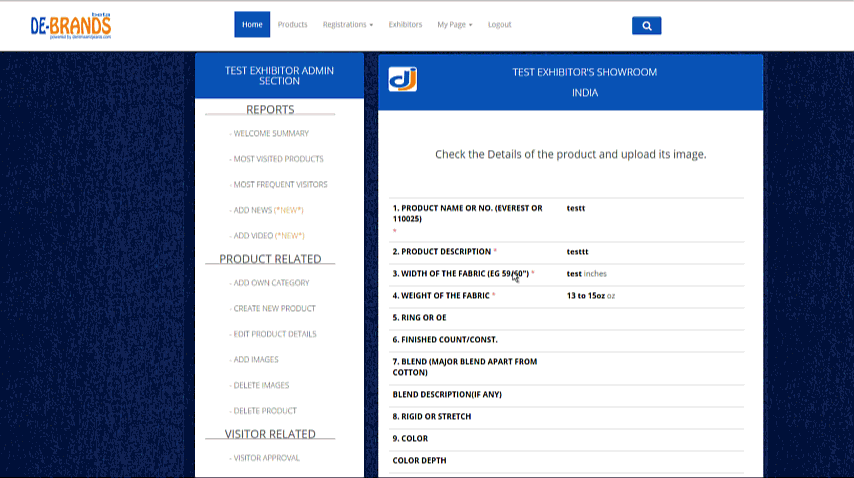 The whole Idea behind the DE-BRANDS online show is to address the issue of shortage of TIME and MONEY and help in quicker decision making. The platform is not a replacement of offline and personal business interactions but a tool  to add value to them . Its very difficult to replace the understanding from the touch of holding a fabric/garment in hands and to feel  its texture , stretch ability or compactness. However, the process of reaching  that stage can surely be expedited through DE-BRANDS with minimum cost ! Imagine checking out collection of suppliers before they visit or you visit them . It would definitely give a very decent headway for decision making.
We are making the BETA launch of this platform . We shall be inviting few selected mills to set up their showrooms on the site with their product ranges and other details.  The buyer registrations are not yet open and shall be open soon when they can register on the site and look at different collections. The show shall initially have denim mills as exhibitors and in due course we shall also create facilities for suppliers of other sportswear fabrics and then apparel to be a part of this show enabling the buyers to source complete package from fabrics to apparel from DE-BRANDS !
The show shall be continuously updated with new features keeping in view requirements of the buyers and suppliers and we hope that this initiative will help in adding value to the business in our industry !
Sample Links
A few sample links to understand different facilities at DE-BRANDS !
1.  Homepage
3. Public and Private Products
4. Search Page