Continuing our previous report on Project Jacquard by Google and Levis , its heartening to know that Levi's is taking its collaboration with Google ATAP to the next level by introducing a commuter denim jacket. The collaboration, which comes under Project Jacquard, works toward establishing a new, scalable system which weaves technology components into standard fabrics and textiles.
The jacket was announced on 20th May, 2016 at Google I/O, the result of a year-long effort between the Levi's® Innovation team and Google's Advanced Technology and Projects (ATAP) group under the banner of Project Jacquard.
The discreetly placed Jacquard technology is literally woven into the jacket, allowing for simple gestures like tapping or swiping on a sleeve to activate functionality. Of course you can wash it, just like you do with any other jacket. This perfect pairing showcases the knowledge and know-how of Google ATAP's Jacquard team with the performance power of the Levi's® Commuter line, which is designed to perform as great as it looks. The Jacquard team then adds a smart tag — which looks like a normal jean jacket button — to provide feedback to the user. The smart tag would be the equivalent to a smart watch; it's packed with LEDs and haptic sensors to alert of phone notifications and such. Levi's mainly advertised the jacket for urban bike commuters, but it seems ideal for anyone, since it looks like any other Levi's Commuter jacket.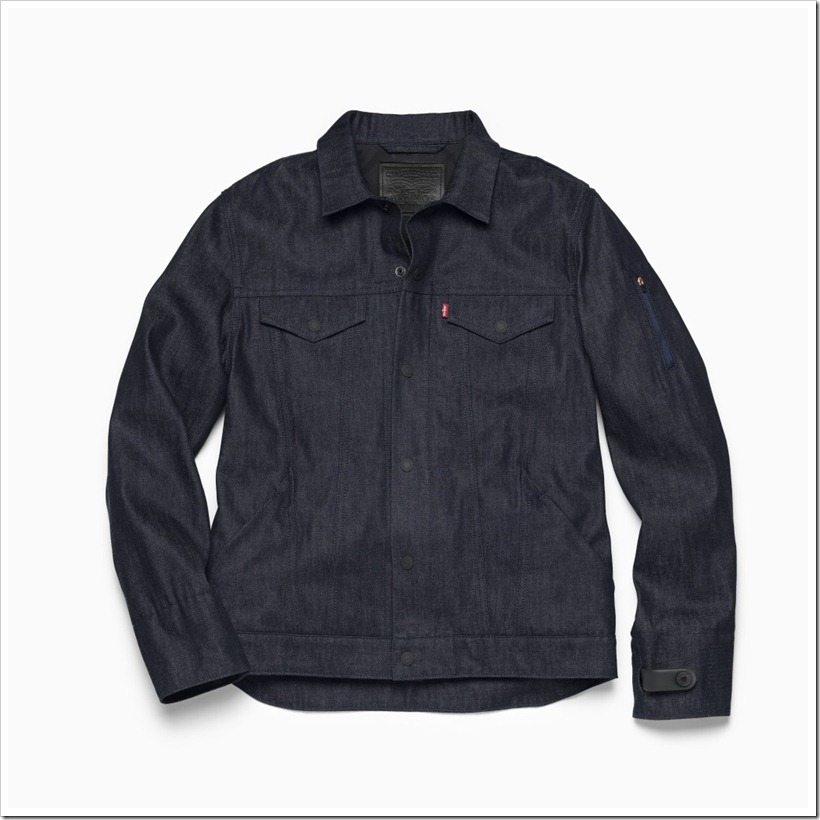 "Anyone on a bike knows that navigating your screen while navigating busy city streets isn't easy – or a particularly good idea," said Paul Dillinger, head of global product innovation for Levi Strauss & Co. "This jacket helps to resolve that real-world challenge by becoming the co-pilot for your life, on and off your bike."
During last year's Google I/O conference, the Levi's brand became Google ATAP's first partner on Project Jacquard, which credited the brand for being authentic, innovative and fashionable.
Our innovation story began with the invention of the blue jean, which turns 143 years old today, but that was merely the first chapter. From the debut of the first jeans for women in 1934 to the revolutionary work that goes on in our Eureka Innovation Lab today, Levi Strauss & Co. brands are constantly innovating to solve the needs of our consumers.
The Levi's® Commuter™ Trucker jacket is expected to be available beginning spring 2017 in select Levi's® stores and on Levi.com.