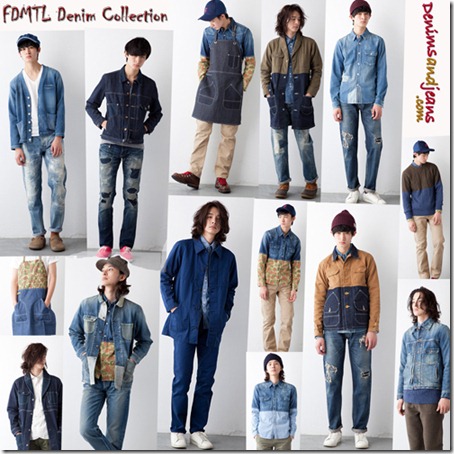 FDMTL – with a long complete name of  Full Agreement Luxury-
is a denim label from Tokyo, Japan which aims to be differentiate itself from other brands in Japan. While most brands in Japan focus on Raw denim, FDMIL's main emphasis is on distressed denims. They also work out interesting and not so regular looks  with their denims. We spoke to the founder and creative designer Tsuyoshi Gaku  to know more about the label.
When we asked him about the concept behind his label and its long name, he described :
"FUNDAMENTAL AGREEMENT LUXURY" produces mainly denim garments which are made in the world-wide manufacturing capital for denim  Okayama, Japan Their uncompromising products are carefully made with such incredible detail that is difficult to obtain by mass production means.The brand name is derived from the literal interpretation of its words. FUNDAMENTAL AGREEMENT = having a basic agreement with our customers to provide them with quality product. Our promise. LUXURY = suggests that our product is a cut above the rest in every way"
To stress further the make of the brand , he further said :
"FUNDAMENTAL AGREEMENT LUXURY denim is "JAPAN MADE". This includes the fabric, sewing and manufacturing. The vast knowledge and experience from skilled workmen is put into each product, resulting in detailed special product that you can ' t achieve through mass production.
Check out their video on jeans manufacturing here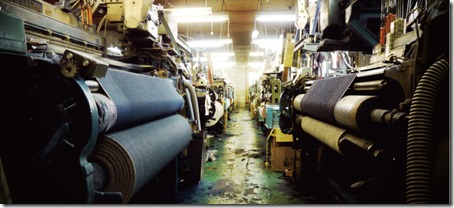 When we wanted to clarify with him the reason for focusing on distressed denim  while most Japanese brands tend to be oriented towards raw denim, he said:
"I like jeans because i think jeans is an industrial product just like TV, iPod etc ,but at the same time, jeans are more like creatures ,because they change…depending on the shape of the person who wears etc…i like the distressing process, and this is why i'm making distress jeans, but i would say it's an aging jeans jeans in which you can feel the background. And our customers are quite comfortable in distressed jeans. …..All our jeans are hand made, we use small machines too, but work with  hands too. For the sewing process, we use vintage sewing machines too – Union Special machines.  And the distressing is done by hands and not large laundries.
For its  FW'13 collection, FDMTL follows two concepts –
Putting 2 or more kinds of fabric together and trying to show new feeling of fabrics is what is the focus for this collection as per Tsuyoshi Gaku . He further says
"i like making clothing only with denim fabric, but for the current season most items are made with the combination of some kinds of fabrics…".
Looks from part of his collection follow . The bi-color and bi-fabric  combinations are particularly interesting in some of them especially where military fabrics have been conjoined with the denim fabrics. Distressing on some of the jeans is quite intricate and the hard work appreciable. The retail price point of  FDML  range from $150-$350 .