Ian Berry, a British born denim artist who creates artwork solely from denim; re-using jeans, jackets, and other denim clothing to create portraits, urbanscapes and other unique works spoke to Denimsandjeans.com exclusively about his new book and his journey so far. In 2013, Ian Berry was named as one of Art Business News "30 under 30" influential artists in the world.
We have featured you a few times on Denimsandjeans.com but still our readers want to know more about your wonderful art. Please give us some background of how you got into this unique art.
It all began at the end of university I had done a collage out of newspaper and I went home to my childhood home where my mum knew I would never come back permanently. She had already started to clear some things out of my bedroom. There were many piles of things, but one was all my old jeans. I was looking and pondering – do I want to send them out and then it came to me, I didn't want to get rid of them, I thought of all the memories wearing them (and being slimmer) and saw the link in shades of indigo to the shades in what I did out of newspaper so started cutting.
It was then I thought about my own connection to denim. I wasn't as a denim expert, just someone who felt comfortable wearing denim – and when a few people saw the first pieces and I realised other people's connection with denim. Not as experts but people who felt comfortable about this everyday material that you didn't need to be a connoisseur to enjoy, wear and understand. I had no 'how to' book, I had no one to look up to, I had no one ask me to work in denim to fill a gap in a trade fair. I had to work out techniques and trial and error at the beginning and I had to make my own technique which I have worked on throughout the 13 years since I started. To the outside it may look very successful and to live and work as an artist for many years, yes, that's success but it is hard work and commitment.
Thankfully this led me to very good things with the art and it's been an honor that through that hard work I get to meet and be even friends with the people that I was so wowed about as a child and student. The greatest honor has been seeing people's reactions in art galleries around the world and having a connection with people.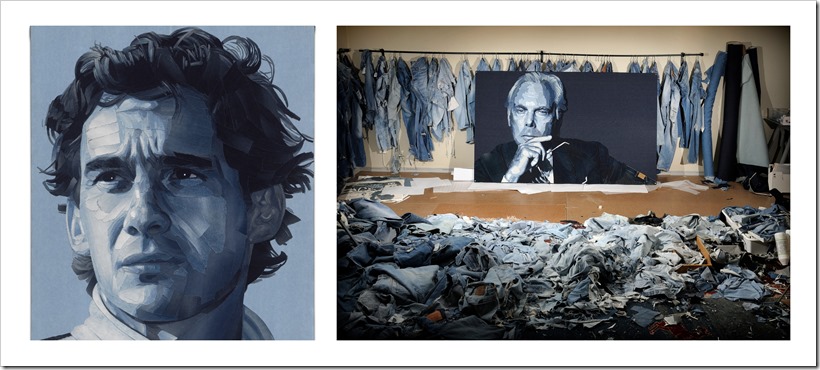 We have got a copy of your book,

Ian Berry, Denim on Denim

. We really enjoyed it and it shows your long history with the material and the depth of work you have. What you do with denim is very special. How was the feedback and where can our readers get the same ?
It went really well thank you and has been a great way to get the work out there. My work doesn't come across that well on small images like on the iphone and has to be seen in real life really. But the book bridges that gap a bit and has been a good way for people to see a bigger collection of my work. The BBC helped me launch it – which – I guess never harms. Actually, a nice side effect of that was I got a lot more people ask to come and work with me and I got a couple of new assistants out of it!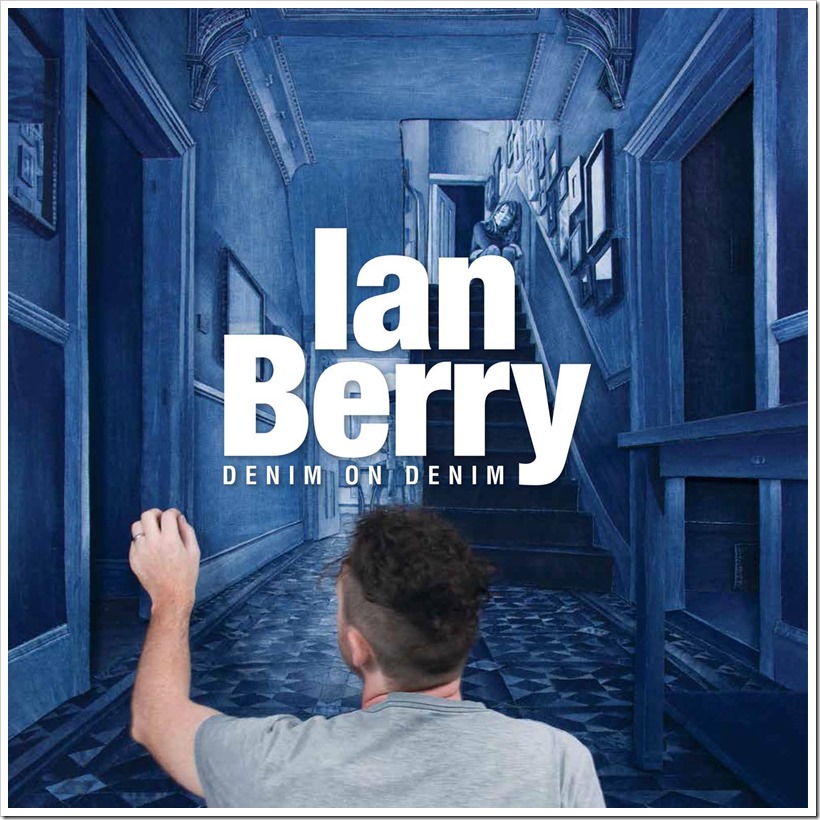 The book actually sold out and got a great response – we have just had some more printed. The hardbacks went faster than the paperbacks even I'm told. A good thing and a bad thing is that I cross over into many worlds, some just on the fringes, like denim, but it leads to a wider audience and interest. For me it was a great thing to do after all this time, and to decide what should be in, and out but to stand back and make sense of it all, and I guess be happy with where it came from and what it all became. What's now more important – is to drive forward into the next body of work and focus on the future.
By putting the book together, it was easier to help to curate the flow of the book and show the overlying theme to me work – Community. Or the lack of it and the changing world we live. The fading fabric of our urban environment. The work is a lot more than it being about denim, it is simply my medium.The book can be found at www.ianberry.art under 'book' and if your readers put in the promo code D&J at the check out they can get free postage.
What was your first piece and how much time you spent to create it 
I started with denim first by doing portraits. I have since noticed that many artists who started using new and unusual materials often begin with portraits, and of famous people. I did the same, but had my reasons other than it being just iconic faces. I never expected it to end the way it has to be honest, I was to be an art director at that stage!
That said, as I was going in to advertising I was fascinating in things that changed people's minds. And I knew how Marilyn Monroe, Brando, Dean had worn denim on screen and then everyone wanted to wear it. Those, along with Debbie Harry were my first ones I made. Debbie Harry was one of the first to really make double denim cool and it was nice several years later to actually get to do her portrait and to meet her. With that I became friends with some of the guys from Blondie, and I did Tommy Kessler's denim jacket for him – he's still wearing it on stage – five years on. . . he's been unable to wash it!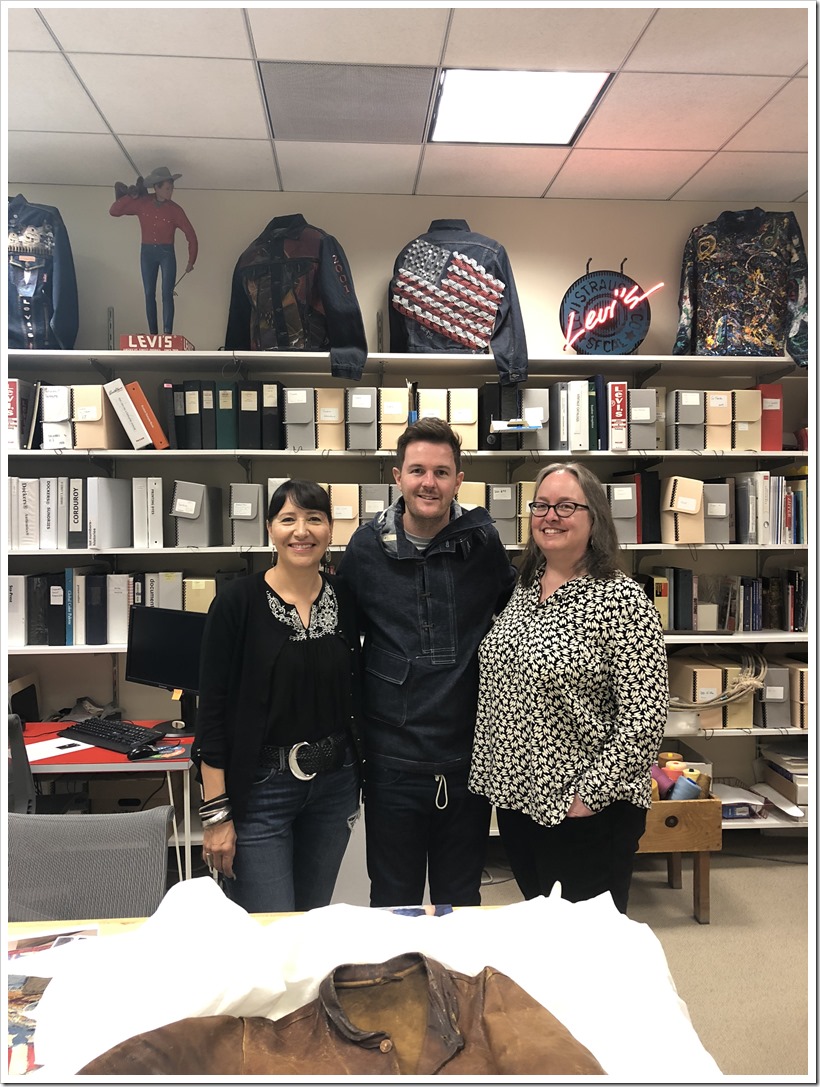 I also did a piece for the James Dean Museum in Fairmount, Indiana, in 2010. It was his hometown. Both were such an honor and took me back to that time when I was making pieces on my bedroom floor. What's interesting is you would think I would get faster making them, but because I have got a lot more detailed they do take a long time – and as the portraits now are official, there is a lot of work around it too. That first weekend I made 6 – in a much simpler style than today. It would take me that long to do only an eye now.
Ian has gone on to do portraits for Giorgio Armani, Lapo Elkann, Jenifer Saunders, Eunice Olumbide OBE and the family of Ayrton Senna to name a few.
How difficult is it to find pieces of differently shaded denim washes to help you create the correct shadings in your paintings.
It is a very labour intensive process. You know you can bang things in Photoshop and let a computer dictate where you place things. This isn't really art and loses an edge to the work. I have to find each piece to really match where it should be and I can spend hours just looking for that one. Having 2000 pairs of jeans also leads to issues as well as solutions – as you think you will have always have something better and keep looking. On the other side, I may find something perfect, but it is so good that you want to use it on another piece – in a bolder way. So, you carry on looking for something else.
I'm lucky that I have had many supporters over the world send me the jeans, from friends and neighbours as well as denim brands and denim mills to packages sent from people who want to see their jeans turned into art.
Secret Garden at NY is one of your masterpieces. It must have been a tremendous effort  How did you feel to be there and showcasing a complete garden of denim ? Must be really tough maintaining this garden !
It was probably one of the most challenging things I have done with denim to be honest as it was working rather differently to how I had before – especially with lots of help for one and sometimes it was like project managing. The feeling there was pretty special, I got a moment just before the people arrived at the opening (I was actually using every moment before to get it ready) and just to look up at it all was just an incredible feeling and then seeing other people's reactions. I was so lucky to have Lucinda Grange come and take photos of it as she really captured it, but nothing really is like being there in real life.
I actually left the day after the opening back to London so I had little time in there and it was up for several months. Christine Rucci had helped me install it in New York and she went in often and would just make sure everything was ok as well as staff at the museum. The impact it had was great and was worth all the hard work – and since it has shown in different forms in Kentucky, then France, and now – at a soon to be announced location in San Francisco – All 20 meters of it.
Was there a sustainable message in the garden?
I talked in the museum a lot about sustainability and with it using sustainable technology, like with Tonello with washing and lasering. What better way to portray sustainability than show it as living breathing plants and freshness, although that wasn't made for this message, denim is just my medium as the material of our time. It was more of a message on community, and community gardens in New York – and how many children are not in the garden, but on their ipads.
That said, in the items for children we educated them on how it was from plants, to pants to plants again (sorry) and also showed a cotton plant. It was amazing how few knew this was the way denim was made – including some of the parents. It was a big success in New York and in the end, another installation for me. I like to do them as they are a new challenge and it also means that they can travel more. When I do my other works, if I show them, they sell, meaning not so many people get to see them. A strange problem for an artist.
It's been great to show it again since in the states, In Kentucky and then in France, in a former denim heartland. All had variations on it. What's been amazing is I did it in New York, and there I was in the garment district a lot making things. I'd also been going to Italy to work with Tonello who have been so good with me. This last month I was in Genoa (jeans) and in the denim valleys so the historic denim and then the heartlands of the 90's denim. I was then in Nimes, (denim) as well as Mazamet in France so it was fitting that I went to these areas then on to San Francisco – to make the installation there – I will be excited to show you that soon!
It was like a big part of the denim history timeline, what is told. Although the fast part. I do think the denim story often misses of my home area in the north of England as without the industrial revolution we would never have had Levi's and the ability to make more mass-produced jeans – besides, it was us who didn't want 'a French sounding cloth' so changed serge de Nimes to Denim!
What was it like to be in Nimes ?
It's a beautiful city, but it celebrates its Roman history, not really its denim. There is a small part of a museum that does show a bit though. The cloth that was made then was a bit different to what we know to be denim today however. I think they will soon start to celebrate the denim history though, and perhaps thanks to ones guys efforts.
It was so special to spend a day with Guillaume Sagot who has brought denim back to Nimes and set up Ateliers de Nimes. I got a pair and love to wear them and tell the story. It's not only a good brand and great story to bring denim production pack to this historic denim hub for the first time in hundreds of years, but Guillaume, is a great guy. It was great to see his studio, his work, his plans and the city. He is certainly a great denim friend of mine.
Do you think your art can show some way where the industry can be stronger on the path of sustainability.
I don't know really, I pick up a lot about the industry but really I am on the outside and don't pretend to know everything. I have listened to those who say it's often just 'marketing' but I also notice that everyone is now in on the game and perhaps that competition will push through some good results and answers – and I keep seeing a few interesting developments.
My art isn't about sustainability however, well, not at its core. But I guess that is also true also about many in the industry. I don't use denim for a sustainable message but more so that I am portraying contemporary life and see denim as the material of our time, both the good and the bad. I don't market it as sustainable, however others write about me that way and about recycled and upcycled and so on. Of course, it is nice that some can take that message away and think of the impact on the world denim has, or, their own impact. It's also good if they think what materials they can use and reuse and not just throw away.
If you think of reusing worn denim or sampled denim, like I do, you do look toward people like Maurizio Donadi, at Atiliers and Repairs, E.L.V here in East London and Denimcratic to name just a few are making great things reusing denim. I was at the Levis Archives a few weeks ago in San Fran and seeing the jeans that showed evidence of four different owners was quite a statement on sustainability. The industry can strive for the most sustainable denim, but if the consumer doesn't demand it, then it is going to be hard to do as there will always be others who will make it as cheap as possible and there will always be the people that will often just go for the cheapest. I guess there is also something in how many pairs of jeans, as one of the issues will always be the mass of it. I love something that Blackhorse Lane do where they discourage people from buying more than two pairs of denim from them and they also offer the repair service, they look after their staff well too.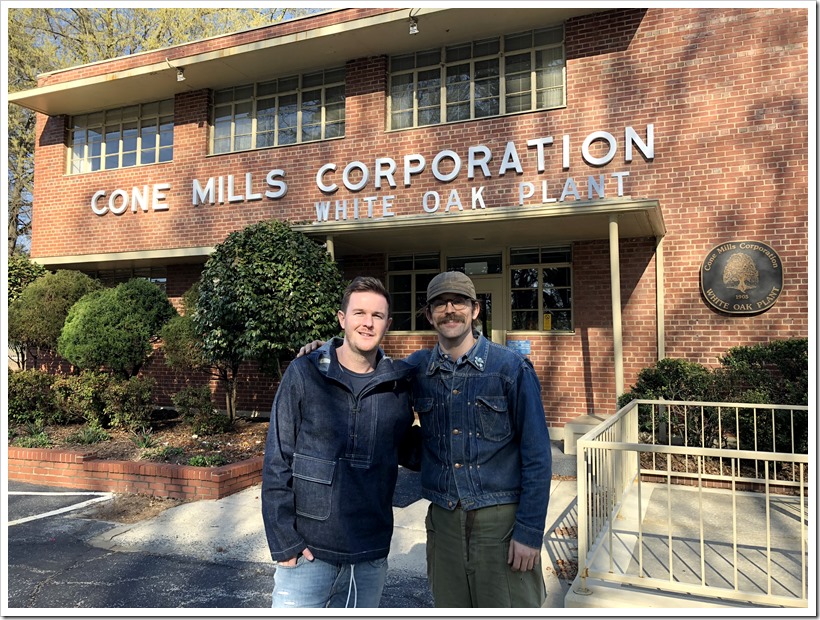 As someone who just wore jeans and knew little about them when starting my journey with the art, I have grown to appreciate and embrace the craft of denim. I'll now buy or dare I say, get given a lot of jeans and I'm always proud to wear them and see the evolution of them and see that denim should be seen more this way – and have them for a long time.
Let's face it, denim is global, worldwide, mass. I love the whole denim head community but if that is 1 per cent of the global denim I think that number is overestimated. If more and more people can appreciate a good pair of jeans, and appreciate the costs a bit more (sustainable for more than just the environment) then I think the consumer could start to appreciate a sustainable message – and I think people are now wanting things more individual and with a story – not the mass high street. In a time when sometimes you fear for the young, many are more aware and demand things, so the future could be a brighter blue. When I worked in advertising a criticism used to be that many in adland would think of other people in advertising when making the ads, they had a certain language. Of course there is many different sectors in denim, the brands behind the brands, the mills and then the more sexy consumer facings brands and I guess many have to decide who their target audience is to be able to speak to and communicate.
As for my own art I know it speaks to many and communicates a lot to many – it is also much, much more than it being 'look it's made in denim'. I get great reactions in gallery shows and art fairs around the world, I dare say not normal reactions even, to see people cry when looking at your work is quite surreal. But in denim, in the very few times I have shown within denim I don't know, it's never as strong. Perhaps they see the fabric more or something or perhaps the places it's been shown is not the right context for art. It's just an observation.
Would you like to share with us any upcoming projects which you feel excited about?
There's lots coming up actually over the next month's even, but I rarely tell anyone what is going on til it's happening, or even happened. I'm lucky to have a very heavy workload with lots of commissions, art fairs and a big solo exhibition to work toward for London next year. Trying to juggle it all is not easy as the work is very labor intensive.
I may or may not be in your side of the world soon too!
My next showing will be here in London however at the Smallest Gallery in Soho, a great little space curated by my friend Phil Levine and will give an opportunity for a new audience to see my work. It's an interesting thing the trade fairs, I have my own industry trade fair – the Art Fair, like in Miami and many other cities. I have recently seen it as that and not really dissimilar, but it's there that my work is seen by the collectors. I have said no to a lot of mills and brands to do things at fairs, not through lack of gratitude, just that my work takes a long time and I am turning down gallery shows and art fairs and there is only so much I can do in a year. I have also thought if I work with them, X Y Z wouldn't work with me in future if I'm so linked with someone. I have a long term plan.
In one line, what do you think is the future of denim ?
The future I'd like to see with denim will be in the sustainability of people as well as the environment, clean ethics and morals as well as methods of production.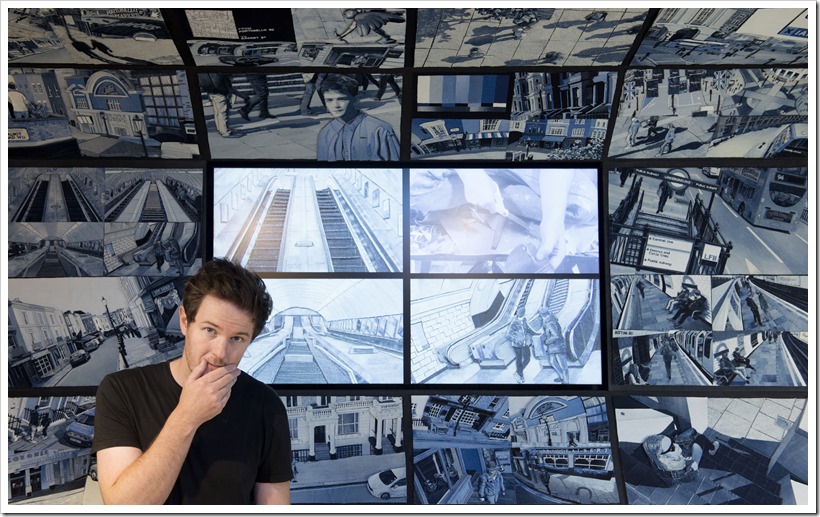 Thank you Ian !