Indigo is among the oldest dyes to be used for textile dyeing and printing. Many Asian countries, such as India, China, and Japan, have used indigo as a dye for centuries. The application of Indigo has been mainly targeted towards textiles and apparel and related products in all these centuries. It has never been tried to give a very broad , cross industry perspective to this wonderful , most  unique dye in this world. However, the Indigo Museum conceptualized by CMD of Arvind Group Mr Sanjay Lalbhai changes all that. His vision of extending the vocabulary of indigo to diverse materials including but not limited to cement, brick, steel to wood, sandstone, black ash, VHS tapes and much more has been successfully executed by creative head Vipul Mahadevia in a very short period of about an year . Eminent artists and artisans from across the world have collaborated with Mr. Lalbhai and his team to co-create stunning installations and contemporary art works . Also check out his interview with us here.
Indigo Museum – Artistic Alchemy
This exhibition, currently installed at the spacious and old world Kasturbhai Lalbhai museum, encompasses stellar examples of the magic that can emerge out of a creative confluence of minds. On view are weaves, furniture, paintings, sculptures and installations, all of which use Indigo to fascinating effect. The sheer range of mediums – wood, steel, aluminum, marble, stone, ceramics, rubber, canvas, and paper – that further the transformative qualities of Indigo is fascinating.
Internationally recognized contemporary Indian artists such as Nalini Malani, Alwar Balasubramaniam, Manish Nai, Umang Hutheesing, Meesha Holey, Vyom Mehta, Gregor Hilderbrandt , multidisciplinary artist and designer Aboubakar Fofana from Mali, are among several artists who have been commissioned to explore Indigo as a medium. Beautiful craft by artisans from Gujarat, the minimalist explorations of young artists who work with paper, and stunning fabrics by skilled dyers, are all displayed side by side in the many rooms of the family's erstwhile home, which is now a museum.
Commenting on the selection of artists and artisans, Mr. Lalbhai says,
"Our intention is to highlight the immense potential of Indigo and display a range of possibilities for an Indigo lifestyle. This precursor exhibition offers an immersive experience. I feel privileged to have co-created these works along with the creators themselves. Some of the artists have never worked with Indigo before, and, I believe, this will create an ecosystem that promotes creativity, art and put India on the global map."
Creative head Vipul Mahadevia says,
We brought together a vast array of artists from diverse fields to enable them experiment and give their own interpretation to natural indigo. It has been a wonderful experience to how see how each artist translated their understanding of the dye into a unique art piece in a very short period of time.
We list here some of the artists who created art pieces for the Indigo Museum. Some of the artists are covered in this article and others will be in the following articles. 
ABOUBAKAR FOFANA
BIOGRAPHY
Born in 1967, Aboubakar Fofana was born in West Africa but spent many years living and working in France. His atelier is in Bamako, Mali, where he and his small team of trained artisans produce unique modern textiles using 100% natural processes and ancient indigenous techniques. As a child in West Africa, Aboubakar Fofana was told about green leaves that made blue colours. Years later, already a successful calligrapher, artist and graphic designer living in France, he remembered this story, and started on a long journey to understand indigo and his African heritage. The technique of fermented indigo dyeing using whole indigo leaves had already disappeared from West Africa and was replaced by synthetic dyes by the time Fofana first heard about it. He pieced together the technique by reading and asking, and by trial and error. It took many years to understand the process and even more time to master this difficult but unmatchable method of dyeing, and he is still learning. His work reflects the living materials he uses, harnessing their cycles of birth, life and decay, and the seasonal rhythms of nature.  He uses fine natural fabrics to take up these colours, with a preference for the luxurious organic Malian cotton, hand spun and hand-woven, that many of his pieces are made from. Fofana is dedicated to preserving this tradition of fermented indigo dyeing, along with other West African textile techniques and indigenous materials.
https://www.youtube.com/watch?v=YYrIVWeHTwM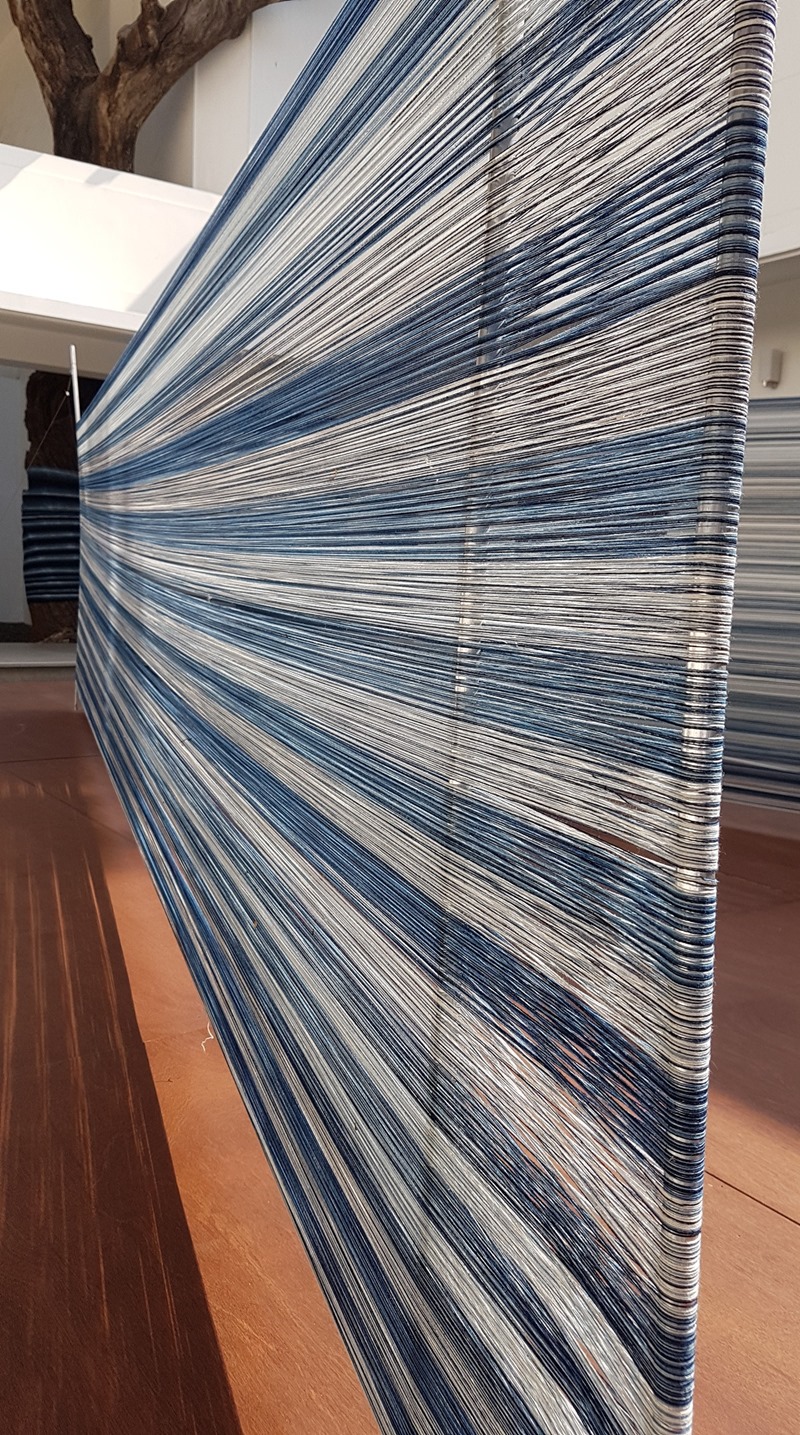 BHAGYASHREE SUTHAR
BIOGRAPHY
Born in 1991, Bhagyashree Suthar was brought up in Jodhpur, Rajasthan in a family of furniture makers. She moved to Vadodara, Gujarat to attain her bachelor's and master's degree in Fine Art from the reputed Maharaja Sayajirao University. She won a gold for master's in visual arts in 2016. Her first solo exhibition was 'Fractal Future' at Akara Art Gallery. She has showcased her work at India Art Fair 2017 & 2018 and will showcasing in 2019 as well with a solo focus booth. She currently lives and works in Vadodara and is represented by Akara Art, Mumbai.
ABOUT THE WORK
Informed by the Roman and Gothic construction, my practice is heavily influenced by architecture and geometric patterns in nature which pose as a reflection of myself. Through my works, I lay out a Utopian fantastical world. I take reference from British Iraqi architect, Zaha Hadid's fluid designs as well as fractal geometry based on symmetrical patterns found in nature and Fibonacci geometry (a ratio that is aesthetically pleasing, found in the spiral patterns of plants). My practice so far, has revolved around using beeswax as a medium to create sculptures and wax painting. Along with this, I create pen & ink drawings on Rajasthani Paper. I attempt to portray futuristic architecture by incising the surface with a variety of tools and making designs by adding or removing certain forms of wax.
https://www.youtube.com/watch?v=YwaBCwe8VeI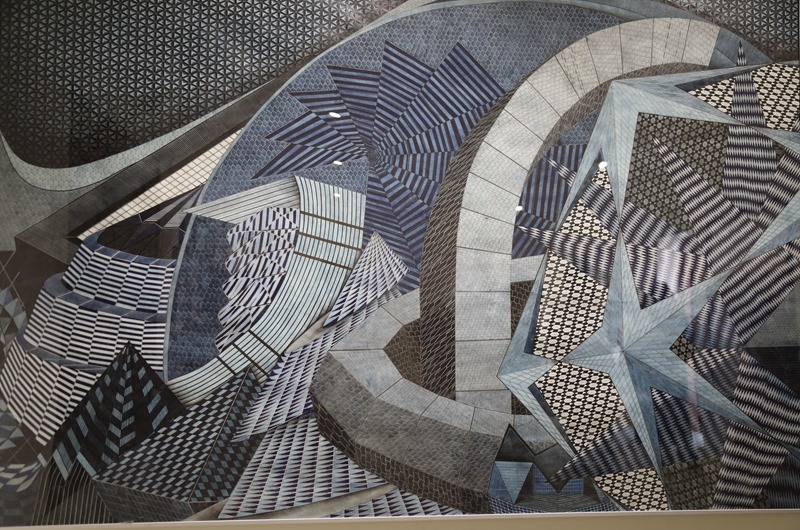 MANISHA PAREKH
BIOGRAPHY
Born in 1964, in Gujarat, India, she holds a M.A. in painting from both the Royal College of Art in London (1991-93) and the M.S. University in Baroda (1983-1990). She was one of the founding members of Khoj International Artists Workshop. Parekh is one of the few artists working in India today who continues to explore an exclusively abstract language. It could be said that her works are indebted to the ethereal abstractions of Gaitonde and the geometric craftsman ship of Nasreen Mohammedi (who was one of her teachers in Baroda), as well as the more gestural ink drawings of Jeram Patel. She has developed an artistic practice which also pays reference to the craft and textiles traditions of her native land. The artist straddles painting, collage and drawing to create works that incorporate both the geometric and the organic. Her most recognized works are created by layering shapes cut from handmade papers into dense fields of pattern and energy, sometimes perforating the surface and adding other materials.
ABOUT THE WORK
Portrait of 'the blue' – My first experience of working with Indigo dye was in Japan in 2013. I was in a residency at ACAC in Aomori. The area around grew Indigo and the ancient town of Hirosaki had an old indigo dying unit from Edo period. I did visit this old workshop to see the process of preparing natural Indigo and the different techniques of tie & dye. In the pursuit of using local material in my practice, I made a work with Kanji script and Indigo dye on 5 large sheets of paper. It was fascinating to get to know the manner in which the dye would respond to paper. It took some amount of playing around to familiarize with the way the dye would get fixed and add density to the hue as I soak the paper more and more. It was also magical to see the hue of this blue once it dried. The title of that work was 'Gratitute'.It felt really rewarding to make this work with this amazing pigment. Ever since I have been looking for another opportunity to work with Indigo. I dipped a fat round brush in the jar of SIL. Out came the brush loaded with thick dark pigment coated with dense blue-black velvety deposit. When I brought that brush in contact with a thick cotton rag paper, it allowed me to move and slide the brush making amazing bold marks. Another jar of BIP contained a sticky and slimy dark blue. It responded well when I sprayed water after painting with it. The jar with LIP gave me a tone of lighter blue and was easy to let it flow with water. NIP gave a textured surface and CIP was grainy and dark.The work started with big heavy notes and soon started getting small movements and variations. The surface was built with shades of the pigment with surprises as it bleeds with the water. It is active with the web of patterns in places and also silent in parts. Each of the 5 pieces speaks about 'this amazing blue'.
https://www.youtube.com/watch?v=Q8PQ_iZtv-A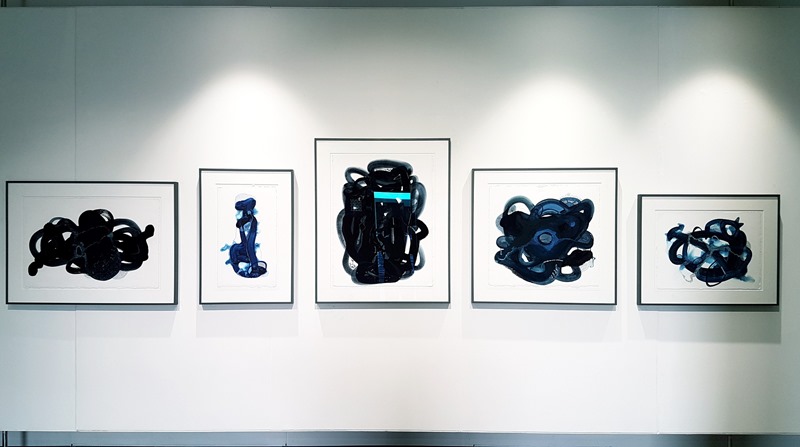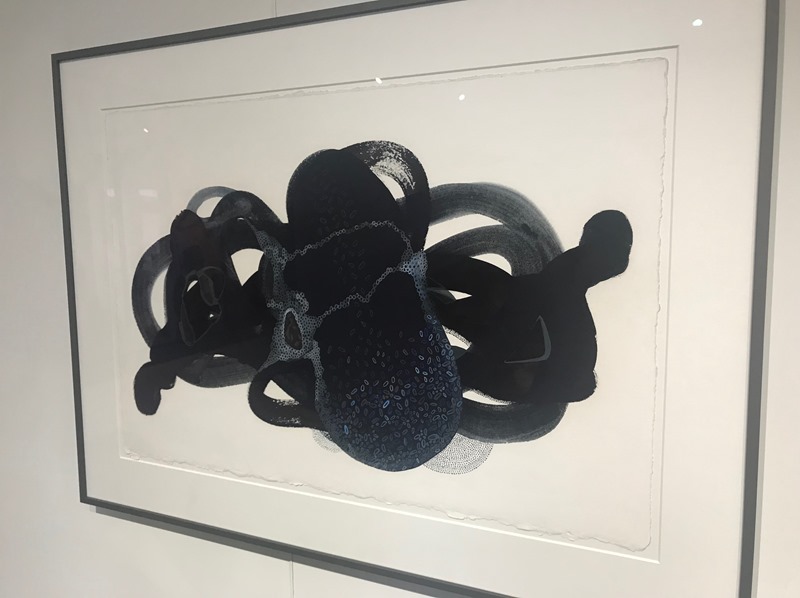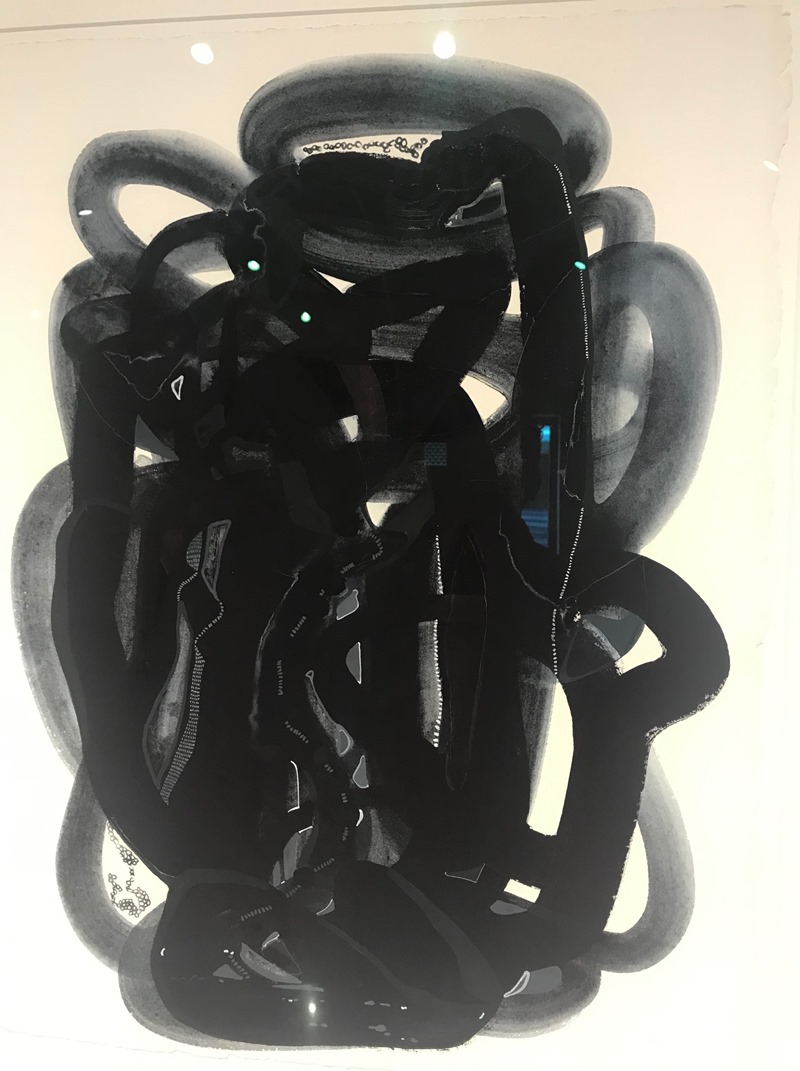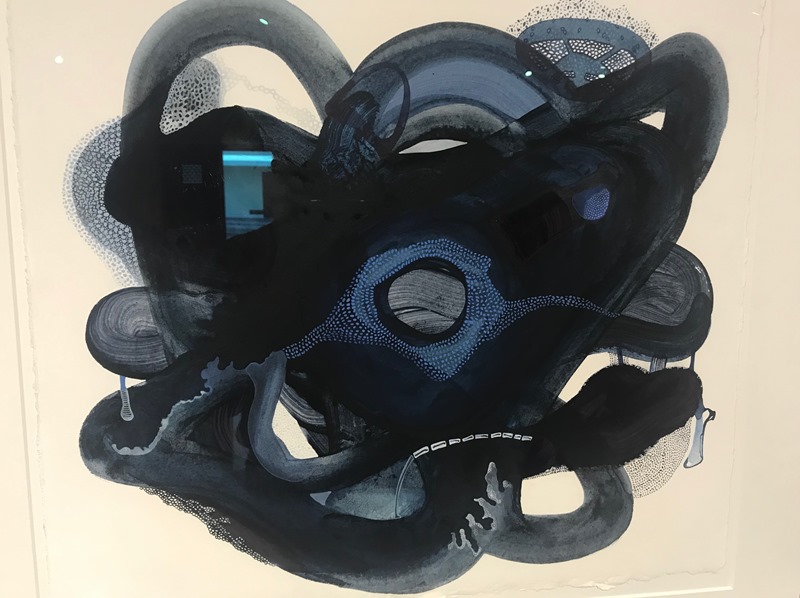 NALINI MALANI
BIOGRAPHY
Nalini Malani was born in 1946 in Karachi, Pakistan (Undivided India), as the only child of lawyer Jairam Malani and gymnastics teacher Satni Advani. A few months later the Partition of India occurred, which saw her family find refuge in Calcutta before moving to Bombay. A forced exile that would mark her family and later her practice as an artist. Over her lifetime Malani has received various awards, including an Honorary Doctorate in Fine Arts from the San Francisco Art Institute (2010), the Fukuoka Arts and Culture Prize (2013), the St Moritz Art Masters Lifetime Achievement Award (2014), and the Asian Art Game Changers Award (2016). Malani still speaks about Bombay and not Mumbai, for various cultural reasons. This is why the old name is still being used in her publications.
ABOUT THE WORK
"The triptych, The Teller of Tales ……the fragility of life. For this I placed the female protagonist, the storyteller, in the lower part of the right panel, from where words spark from her hands all over the painting in different shapes and forms. This is a narrative that works on three levels – from the 19th century Bengal peasant liberation movement, to the quote from the German female philosopher and political theorist Hanna Arendt who speaks of the continuation of life. And finally, to the philosophical note of the Polish female poet Wislawa Szymborska, where in our improvised faulty ways we are still able to live on.
On a historical level ,The Indigo Rebellion (Neel Bidroho) starting out in the Nadia districts in Bengal in 1859; the workers attacked the Indigo factories with whatever weapons they had, joined by their women who fought with pots and pans. From there it spread in 1860 to other districts where the farmers revolted successfully, overthrowing the brutal suppression of the European Indigo planters, supported by the British Government for almost a century.
On a sociological level , Hannah Arendt's quote:
"To be alive means to live in a world that preceded one's own arrival and will survive one's own departure."
On a philosophical / existential level , Wislawa Szymborska quotes from her poem Nothing Twice:
"…we arrive here improvised and leave without the chance to practice.""Why do we treat the fleeting day?with so much needless fear and sorrow? It's in its nature not to stay:Today is always gone tomorrow."and leave without the chance to practice."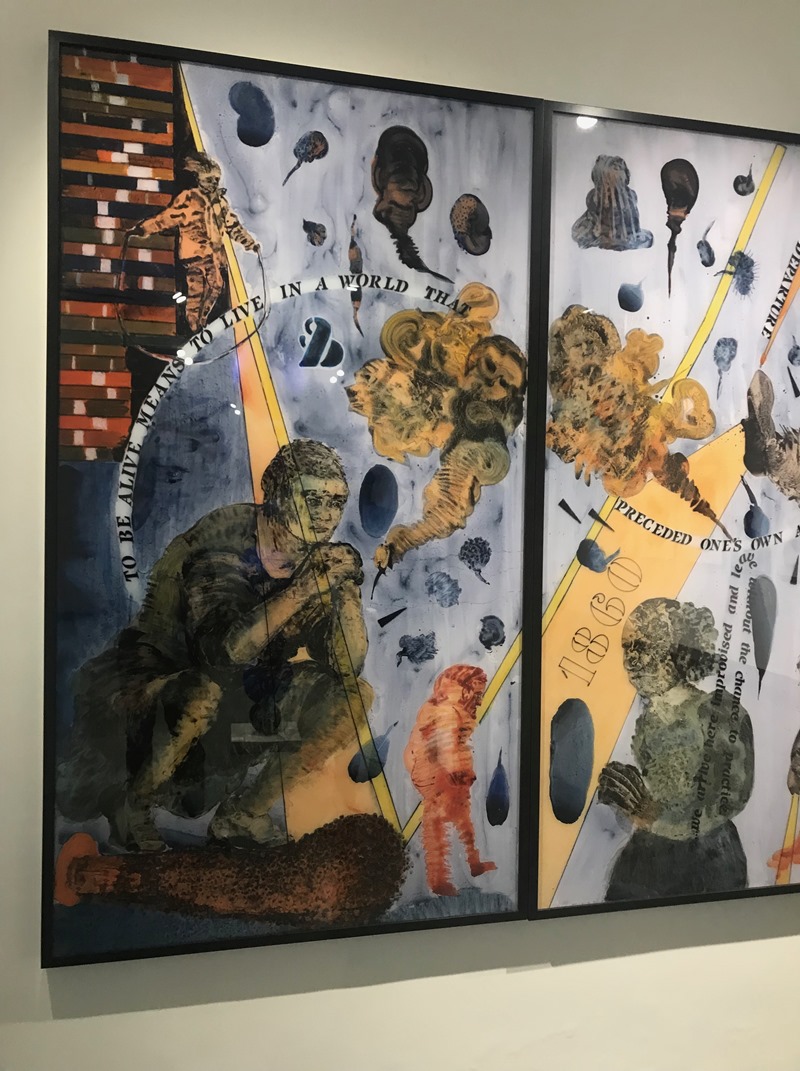 NIBHA SIKANDER
BIOGRAPHY
Born 1983 in Mumbai, India, Nibha Sikander studied painting at the Maharaja Sayajirao University in Baroda and has been exhibiting actively since her graduation in 2008. While at university she received the Nasreen Mohamedi Scholarship in 2004-2005.  She now lives between Bombay and Murud (Janjira), Maharashtra.
ABOUT THE WORK
My work titled "Nature construct -deconstruct", is set of 36 works. It is part of my ongoing series of work, which reflects the current environment that I am surrounded by. It talks about my relationship with nature in respect to birds, moths and insects, which I have been studying in detail for the last few years.Paper as a medium has many qualities -but what I love the most about it is that it can be stiff when required and flexible when needed. This particular project fascinated me because I got to use indigo dyed paper which challenged me to find depth within this singular palette. One colour which gives you so many shades as opposed to using different colours.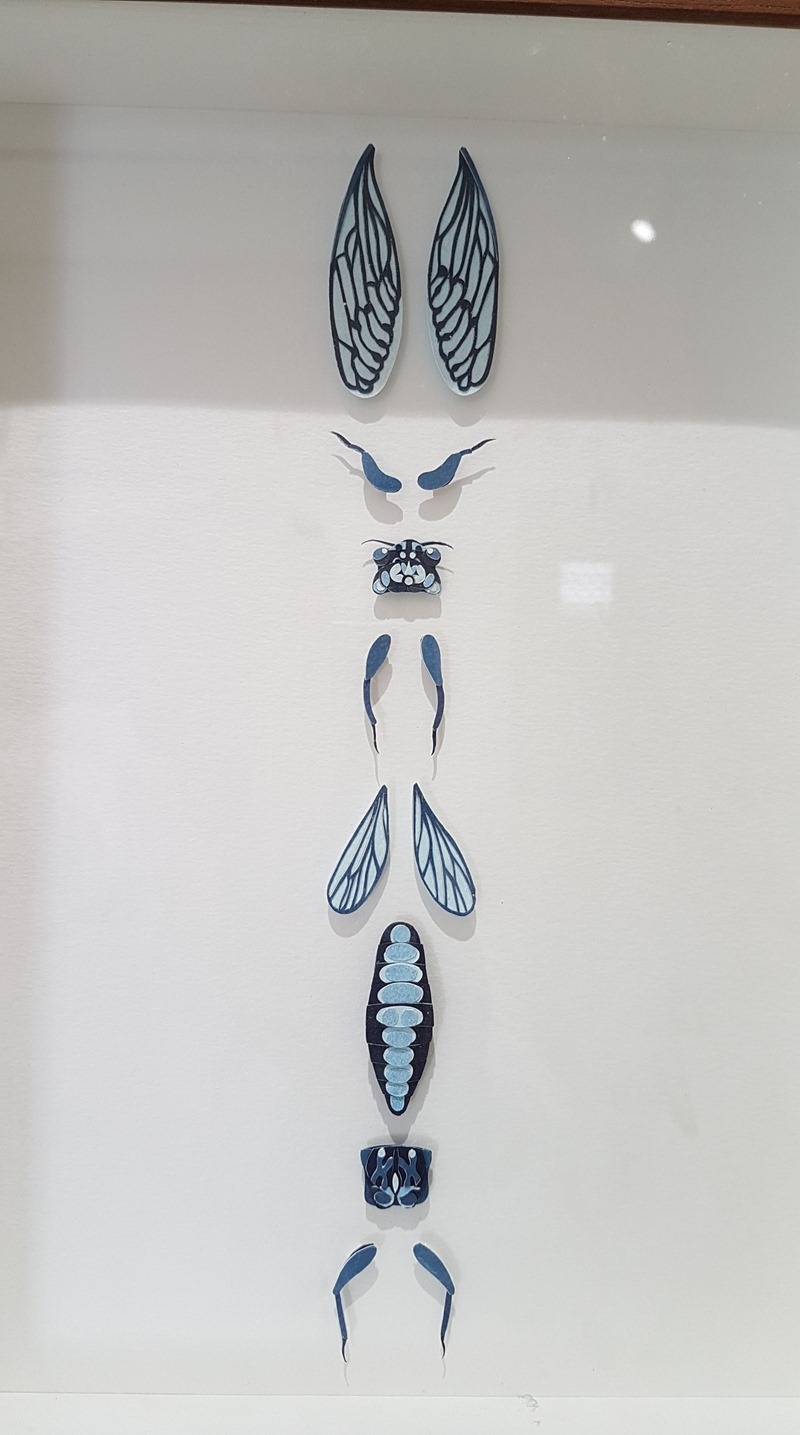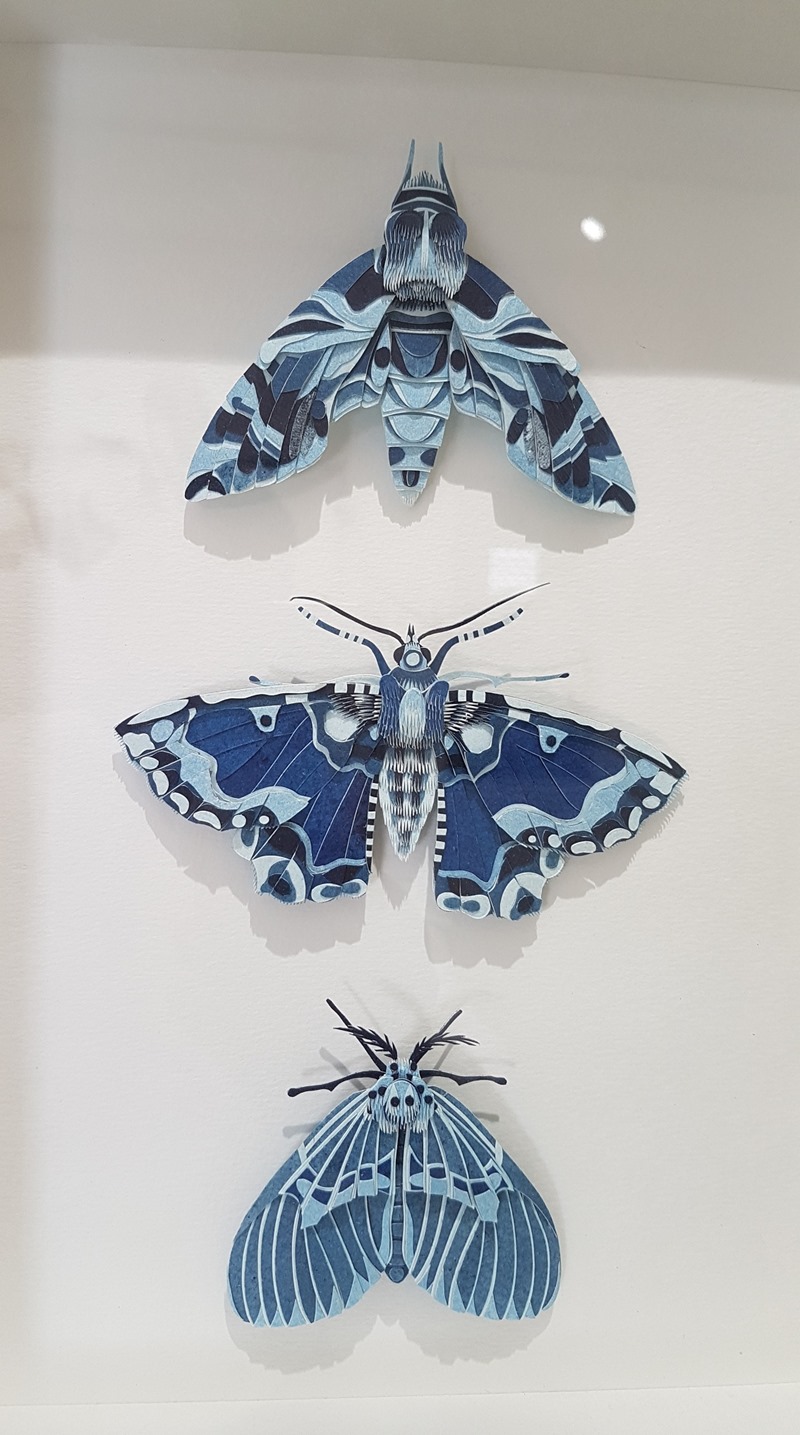 KAVIN MEHTA
BIOGRAPHY
Born in 1994, in Ahmedabad, India, Kavin studied Industrial Design at University of Hertfordshire, Class of 2015. He is an Industrial Designer who practices in various fields of Design, Art and Material exploration. He works with a variety of Natural materials, interdisciplinary techniques and unique methodology at his studio and workshop based in Ahmedabad, Gujarat.
ABOUT THE WORK
The concept behind his works revolves around the nature of indigo and the possibilities it possesses in amalgamation with other natural materials like stones.
https://www.youtube.com/watch?v=z960AkDl8EE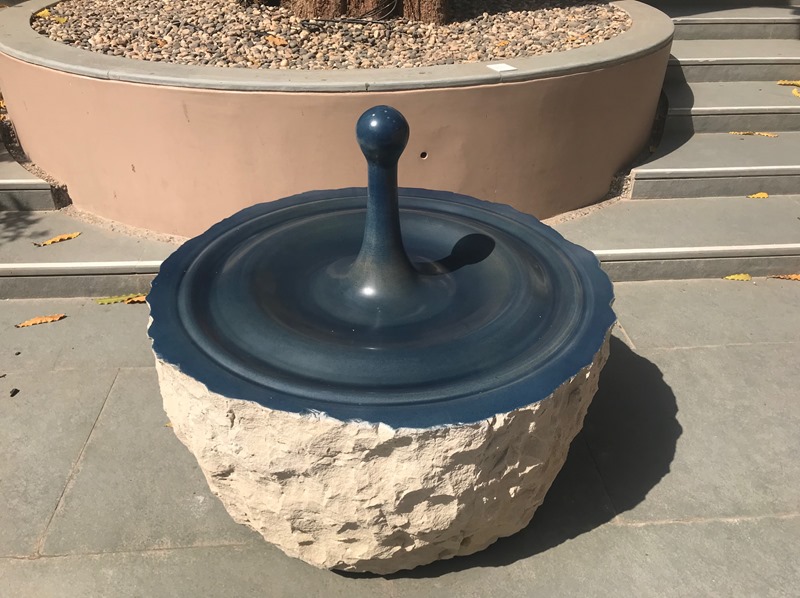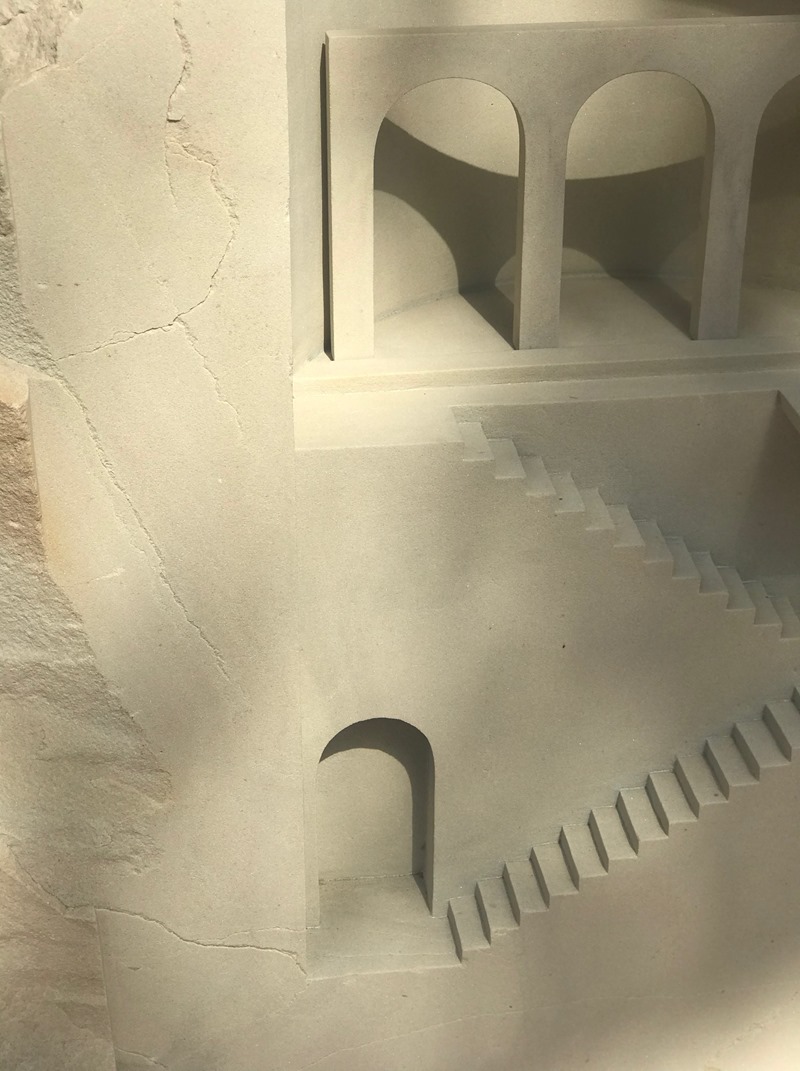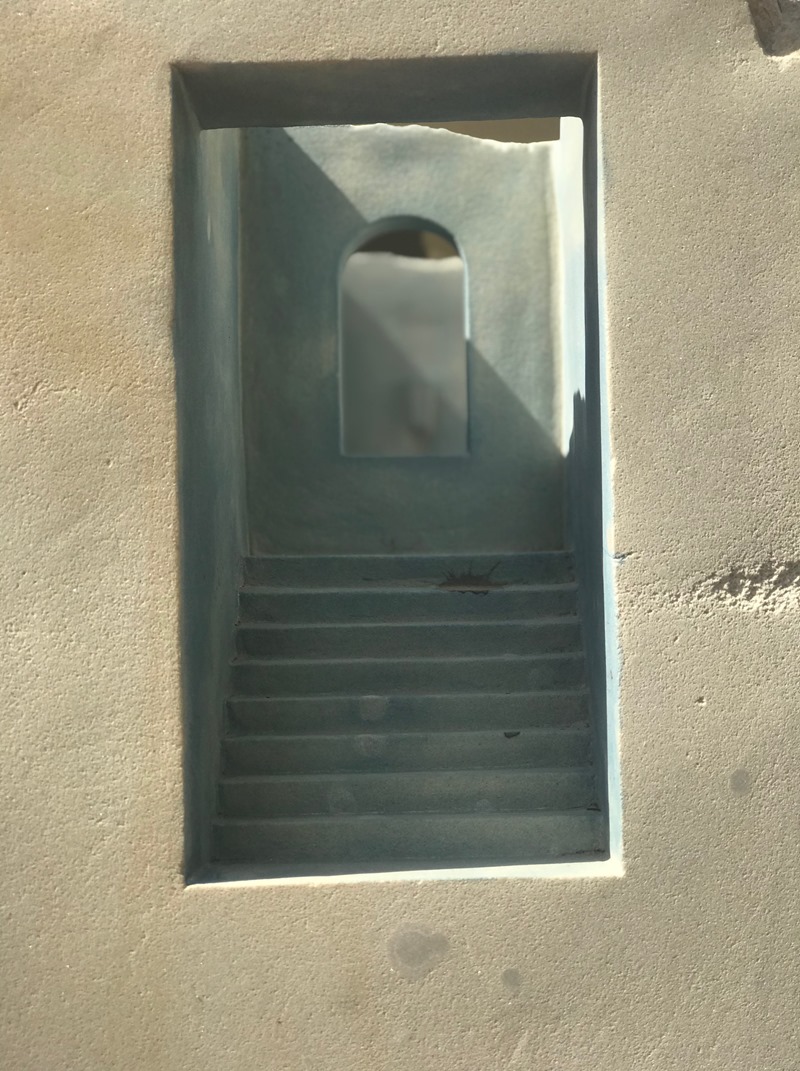 We shall be covering other artists in the following series of articles. Keep watching !