Arvind had recently come up with a most unique INDIGO MUSEUM that aims to extend the vocabulary of Indigo into spaces and possibilities never explored earlier.This museum seeks to revive and nurture traditional art forms and bring a contemporary interpretation of these with indigo, thereby benefiting the artisans and an entire ecosystem. With know-how to impart indigo on a variety of surfaces like metal, stone, wood and many more, Arvind Indigo Museum seeks to push the boundaries of innovation with Indigo into newer areas and disciplines but also deliver social impact, in line with the core philosophy Arvind stands for. The coverage of materials with Indigo is so profound that we will need to publish a few articles to do justice to the work done in this museum by craftsmen all over the world and we will be doing this over next few days.
Indigo museum has been the pet project of Sh Sanjay Lalbhai – CMD Arvind . He has been personally driving this project with a passion that is rare to seek. We spoke to him to find out more about his vision and achievements in this direction and would like to bring the same  to our readers.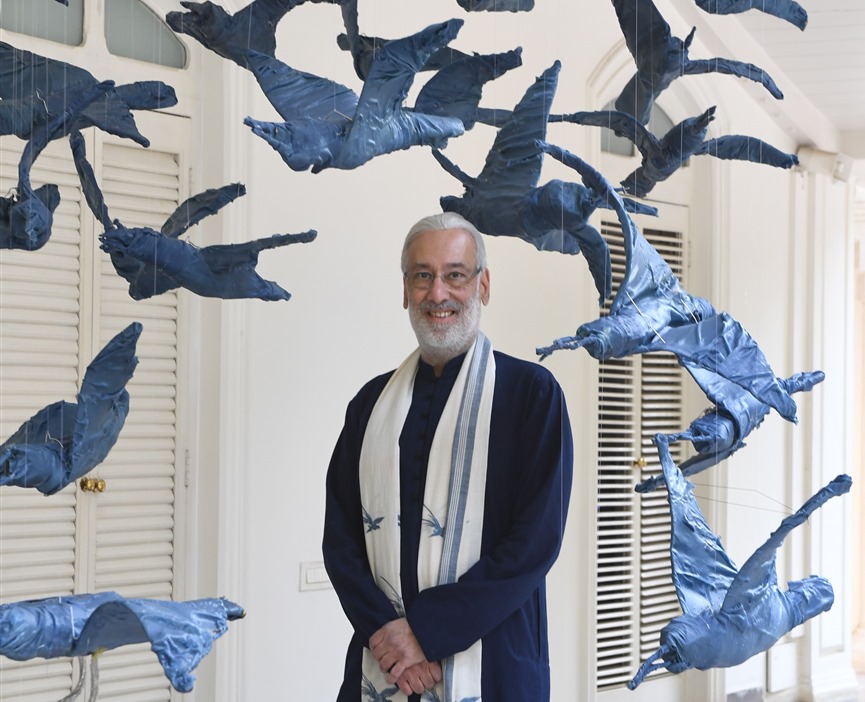 How did the concept of applying Indigo in so many diverse applications come to your mind?
It is just because of our history as we were responsible for bringing denim to this country. I have been associated since a long-time way back in 1988. It almost reinvented ARVIND and my carrier also took an upturn because of denims; I have been associated with this product and denim is what it is because of this wonderful dyed indigo. We had opened the Kasturibhai Lalbhai Museum and my grand father had also opened the Lalbhai Dalpatbhai museum,so we have a tradition of sharing whatever is valuable as collection to public.
The idea came to me that, if I can create a platform using indigo and that too national indigo, then it would be a unique thing that allows artisans and artists to express their creativity through various mediums . And now that when thought came , one of the limiting factors was that the indigo has being imparted mainly on fabrics. So I further thought that if we can extend it to many other substrates then the ability of artists to express themselves through more mediums would become possible and that would be unique in a way and will attract more people to come and visit this museum because it is something unique.
It's an innovation which has not been done before and it is also exciting for artists and artisans because it is co-creation, when you start you don't know what you will get and what will be the outcome because no one has done it before So there is that excitement of trying to do something which is never been done before and express your creativity through a new medium. So, in that way it has been a very interesting experiment and we have showcased that in a years' time we have been able to use so many different materials.
So, we'll keep on extending this,from lifestyle to various mediums and we would really like to engage with artisans as there are so many brilliant crafts which exist in this country and there are so many brilliant artisans also.The objective is also to give them livelihood so that their next generation will also come into this and extend this tradition.
However, I feel that, we have to make the Indian crafts more contemporary which can cater to the global audience and Indigo enables that. We see this as on going exercise to create the whole ecosystem where underlying theme is INDIGO. So that's the vision and whoever has worked on it has loved the medium.
We have also been surprised at how such beautiful things can come out of it. Its a very rewarding exercise and just a beginning-lots of things have to be done in the future.
Considering all the technical difficulties, especially applying indigo to metal, glass, acrylic, stone and so many other mediums, it's a huge achievement in a short period of one year. How do you see it?
Yes, it is!
Now the glass ceramic, I will show you, these are all absolutely new technologies we are using. We have failed many times. However, we keep on trying new recipes and new ways of imparting it,new way to impregnate various surfaces with indigo .
But when you attempt it you also don't know how we are going to succeed. But you have to keep on trying hard to understand why it's not working and then you have to try hard to see that how do we make it possible. So, yeah  it's a journey.
In this whole journey of applying indigo on diverse applications, how did you see the nature of natural indigo evolve and change?
Yes, it does change,because with oxygen it will fade and oxidize. So,it is a natural living dye that it is constantly changing unlike any other dye. One thing is that it is natural,when it comes from an agriculture crop, so you ferment the leaves, you take out the natural indigo.
Green becomes blue and we are now trying that how do we extend the vocabulary even of the blue by mixing other natural dyes and creating a whole new palette but the underlying base would be only indigo. So, the possibilities are endless, it reacts differently with different mediums when it gets exposed to sun, when it gets exposed to air, it reacts differently. So yes ,it is all the time changing evolving ,living dye which is very exciting and it gives different hues which no other blue can give neither can any other color give.
Would be you be adding any more mediums?
Yes,and this will be an endless exercise and we are not restricting it, because you must have seen that we have 5 foreign artists who have worked on different mediums and created masterpieces. So,we will get artists and artisans from all over the world, and this museum will become a unique thing that these people will be contributing to with an underlying theme of indigo.
All these experiments which have been happening here, do you think this will also create a lot of opportunities in industrial applications?
Yes, because we will be able to extend this to every lifestyle.What we have done with clothes can be done with accessories,home textile, sanitary wear or the buildings etc, and to make it look good it has to be affordable and if it is too pricey and elite,then it will remain restricted.
Further, it can be also used for luxury brands which will really get used to it. But we also want that it remains affordable and can be used by everybody. For example- a pair of jeans-it's very affordable,very user-friendly product,it is very light and very low on weight.
Similarly,we would like to bring that practical aspect where,whenever we impart indigo and when we extend the product's life cycle or use indigo in different lifestyles,it has to be usable, affordable, unique and pleasing.
What is the sustainable angle in this project?
It's very sustainable because there is no other dye which is so therapeutic. This is anti-bacteria ; you can consume it.It is US FDA approved. Mr. Abu Bakar who has done those installation-he's been practicing all his life ; he's worked on within indigo. So, he told me that in Mali (he's from Mali-in Africa) that when a newborn baby arrives in this world,he/she is wrapped in such indigo cloths  because it is anti-bacteria and when a person dies then also he/she is also wrapped in an indigo cloth because it is considered a spiritual thing.So, it is such a brilliant thing : here is a dye which is good, otherwise all chemicals are harmful.It is a natural dye and it is completely sustainable which is good to consume in any way. It's really unique.
It is absolutely sustainable like khadi we have made (which is hand spun and hand dyed and is natural indigo,no fossil fuel is used,hand-woven. It is the oldest denim designed in memory of Gandhiji).So, we have produced this khadi denim which is now globally available- Levi's has sold it globally and it is absolutely sustainable. It does not use any kind of fossil fuel in manufacturing, everything is natural.
One of the things about natural indigo which restricts its increased usage is the cost .Do you think that over a period of time we can have improvements in this area to make it more cost effective?
We are working on it. We are going to the farmers – understand where the costs are and how can we improve the crop yield. How can we improve the concentration of indigo. Because when we use natural indigo,it has 40% concentration.So, the cost almost doubles. But we have not really worked on it. Now that we have started working , we will go to the farmers and really get some different varieties grown.
We are trying and ensure that we get highest yield. And then we can figure out whether we can bridge this cost between synthetic and natural. Even if we are not able to bridge it- we really want to make it more rewarding for the farmers. And we really want to produce authentic natural indigo which ARVIND can sign so there is no mixing of any kind of synthetic Indigo in that. So at least we can ,with assurance, sell indigo which is hundred percent natural because we will want to be personally selling it after procuring from the farm where the entire supply chain is controlled by us to ensure purity .Otherwise something cheap can easily get mixed up with something which is expensive.
And then the synthetic Indigo is not good for the body and it is not like natural indigo. It is harmful. So of course, when Indigo is used in many other different mediums. I'm sure that such projects will create a bigger demand for indigo.As a result of which, it will be a reward for farmers. It is a socially responsible project.
The application of natural indigo has been in certain way as used in denim .Will that be enhanced due to your experiments?
We were the first company to use natural indigo and market khadi denim. We will be the first people to use it on room furnishings ,drapes and carpets etc . We have already extended it into these broader categories.
In terms of application – lets s
ay can technical application be improved so that it can be applied faster.
We have mainly used various techniques for our project. Our emphasis has been non-profit and creating the unique museum. But now we find that it is a very appealing product and it can be commercialized. So we will explore that possibility .Unless something can be commercially produced- nothing will become affordable. It will remain boutique. If it is really boutique it will remain a craft. So in some ways we will succeed and in some ways we may not but home furnishing definitely will see success. And we have tried it now on everything steel, wool, synthetic, linen, all blends. So everything is possible.
I think you're coming up with the bigger museum out here as per the model out there.So that is going to be big one with over 25,000 sq feet of space ?
Yes. We will set up a large museum as we are saying that this should be an on going project which would not have an end because this is constantly working with some of the best creative minds all over the world and has infinite possibilities.
Would you like to take this museum globally?
Yes,We would like to show it in various countries so that more people will come to know more about it. We also like to raise resources for this museum. So we require patronage, we also require people who really believe in it and want to contribute to it because its a public museum.
So anyone who's committed to this ecosystem we can give them certain naming rights and other things. They can also contribute.
Any message for indigo lovers all around the world?
I think it is one passion which one should pursue because it's one fabric which is globally accepted.It cuts across all castes, creeds, and genders. And it is a very universally accepted product. So liking something like this is very natural and which is good for every one and it is affordable. It gives us so much joy. Everything is good about this.