H&M, the second biggest apparel retailer in the world with 4200 stores around the globe with its revolutionary idea has been bringing a change through its dedicated efforts in the area of sustainability and recycling .
Its all started in the year 2005 when the company had first introduced some organic cotton as its first effort towards sustainability and in 2013 , the company launched their 'In-Store Garment Collection Initiative'  in which one can leave his/her old clothing at any H&M store in the world. Under this scheme, Customers who drop off clothes receive incentives, in the form of discounts or vouchers per bag of clothing. This was done to promote the consumer to donate the  clothing that would otherwise be trashed. Currently H&M is offering about 15% discount on next purchase to customers who are putting up any used clothes in their collection bins in the stores.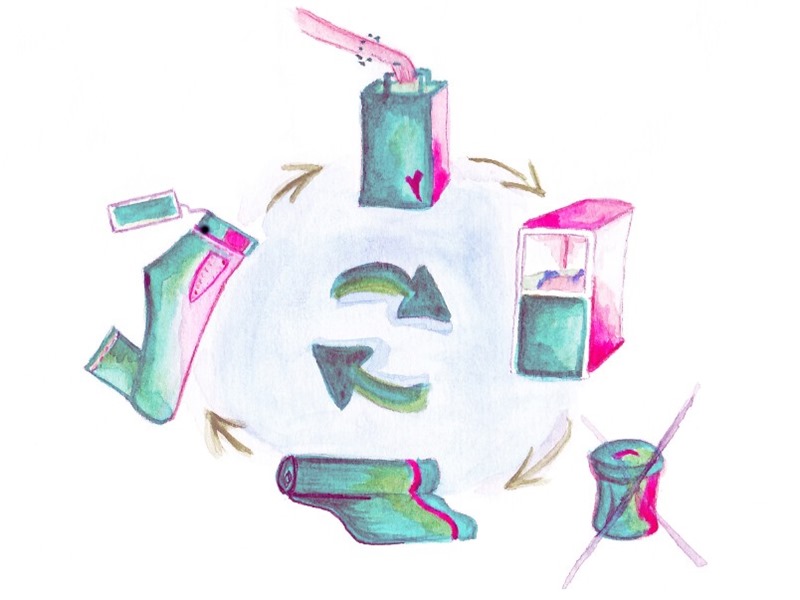 With an investment worth USD 5.8 million,  the H&M foundation further partnered with  The Hong Kong Research Institute of Textiles and Apparel (HKRITA) with an idea to develop the technology to recycle blended textiles into fabrics fit for new clothing . This paves a way for another partnership with a solution provider – I:Collect (I:CO) ,subsidiary company of SOEX . I:Collect has a plant which equals to the size of 13 football field and called Wolfen plant where H&M operates sorting and recycling on a major scale.
PROCESS
Since 2013, when H&M started the 'In-Store Garment Collection Initiative', the garments collected there have been brought here through logistics by I:Collect from all over the world, and has been operating  two similar facilities—in the U.S. and India to ensure zero-waste use of clothes, shoes, and textiles that would otherwise likely end up in landfills. The garment sorted here are still contribute very minor share in the total of 85% of discarded clothes that sent to landfills (the rest are donated), yet the operation requires an operation 13 times the size of a football field,  seven hundred employees most of whom work in the 24-hours-a-day business of sorting. On an average 14 metric tons of unwanted remainders collected from recycling bins at H&M's thousands of locations from Europe's closets trucked by around 25 to 30 vehicles in a day.
There are 350 different measures over which this sorting process is based on which later identifies whether the old clothes will be re-sold, partly re-used ,or fully recycled.If the process finds it unable for reuse, it goes into recycling . Clothes which are usable are sent to 90 countries in Africa and Latin America to be sold through Used Clothes Stores. The three main segregations are :
Rewear – clothing that can be worn again will be sold as second hand clothes.
Reuse – old clothes and textiles will be turned into other products, such as cleaning cloths.
Recycle – everything else is turned into textile fibres, and used for things like insulation.
But everything that comes to I Collect  is used, in one way or another. The most worn-out cotton items head to a shredder, where they are gradually broken down and repackaged into inviting bales of fluff, and become wipes and cleaning cloths. The huge amount of dust produced during the process is sold to paper industry as brickettes .
The new garments being made are not 100% recycled . H&M says :
" Currently, one single garment can contain up to 20% recycled fibres (recycled cotton or recycled wool from collected garments) without any loss of quality or durability. We are working to get that number to increase by creating demand and investing directly in technological innovation. The first step is to minimise the risks of fashion going to landfills – we believe our clothes deserve better! In the long term, we want to find the technological solutions needed to be able to fully reuse and recycle all textile fibre. When using other recycled material (blended or pure) such as recycled polyester, a garment can already now be made of 100% recycled material."
RESULT
According to Anna Gedda, H&M's head of sustainability, The company has collected about 34,000 tons of waste, or the weight of 100 million t-shirts so far . However, H&M produces about 550-600 million garments p.a and this quantity might seem very less against the same . However,still the initiative is big and a game changer. If some of the large retailers adopt this model, we may see Fast Fashion doing much less damage to the environment than it is currently inflicting !
---