Denim fairs are held in different countries of the world. On this page we are listing the denim fairs/shows in Europe (Germany, France, Italy , Spain etc.) , in USA and other countries of the world. that are important from the perspective of denim industry and are of great interest to the denim community. The denim exhibitions shall be listed in the descending order i.e. the last upcoming exhibition first. The title of the Denim fair will have a link to the fair website and the other details like place,dates etc. will be given. What is something new is that we shall be giving "Review Links" i.e. links to the reviews after these fairs have taken place. This will enable even those who could not visit these fairs to have a feel of the same. The links are given as 1,2 ,3 etc. – so just click on them and reach the review pages..
You can also SEARCH THESE FAIRS from the search box given under the table: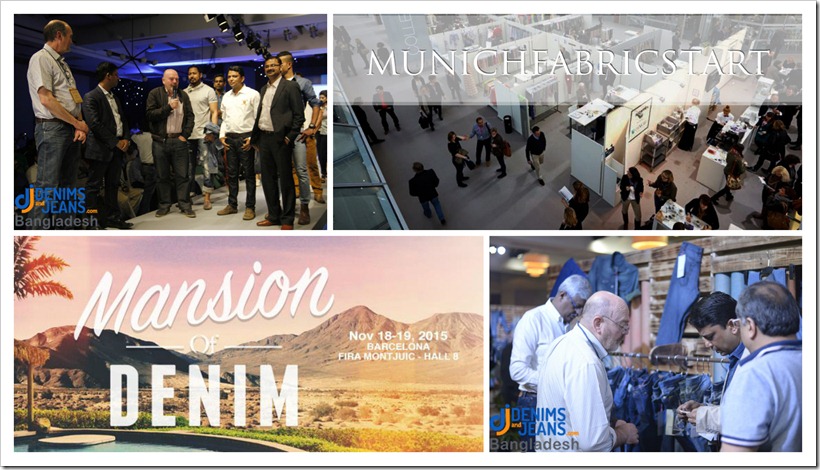 Latest Denim Fairs 2013 Around the world ……..
| | | | | | |
| --- | --- | --- | --- | --- | --- |
| FAIR NAME | COUNTRY | CITY | DATE | WEBSITE LINK | CONTACT EMAIL |
| INTERTEXTILE SHANGHAI APPAREL FABRICS | SHANGHAI | CHINA | OCT 11, 2016 – OCT 13, 2016 | | |
| DENIMSANDJEANS.COM BANGLADESH | BANGLADESH | DHAKA | OCT 5, 2016 – OCT 6, 2016 | | |
| PREMIUM ORDER MUNICH | GERMANY | MUNICH | AUG 6,2016 – AUG 9, 2016 | | |
| BLUEZONE | GERMANY | MUNICH | AUG 30,2016 – SEP 1, 2016 | | |
| MUNICH FABRIC START | GERMANY | MUNICH | AUG 30,2016 – SEP 1, 2016 | | |
| COPENHAGEN FASHION WEEK | Denmark | Copenhagen | AUG 10, 2016 – AUG 12, 2016 | | |
| LIBERTY | NEW YORK | USA | JULY 10, 2016 – JULY 12, 2016 | | |
| PREMIUM VIEW | GERMANY | BERLIN | JULY 5, 2016 – JULY 6, 2016 | | |
| DENIMSANDJEANS.COM VIETNAM | VIETNAM | HO CHI MINH CITY | JUNE 16, 2016 – JUNE 17, 2016 | | |
| PITTI IMMAGINE UOMO | FLORENCE | ITLAY | JUNE 14, 2016 – JUNE 17, 2016 | | |
| DENIM PREMIÈRE VISION | Spain | Barcelona | MAY 18, 2016 – MAY 19, 2016 | | |
| INTERTEXTILE SHANGHAI HOME TEXTILE | CHINA | SHANGHAI | MARCH 16, 2016 – MARCH 18, 2016 | | |
| INTERTEXTILE SHANGHAI APPAREL FABRICS | CHINA | SHANGHAI | MARCH 16, 2016 – MARCH 18, 2016 | | |
| CAPSULE PARIS WOMEN'S | France | Paris | MAR 4, 2016 – MAR 6, 2016 | | |
| DENIM PLAYGROUND DHAKA 5TH EDITION | Bangladesh | Dhaka | MAR 2, 2016 – MAR 3, 2016 | | |
| ASIA APPAREL EXPO | Germany | Berlin | FEB 24, 2016 – FEB 26, 2016 | | |
| CAPSULE NEW YORK WOMEN'S | USA | New York, NY | FEB 21, 2016 – FEB 23, 2016 | | |
| AGENDA LAS VEGAS | USA | Las Vegas, NV | FEB 15, 2016 – FEB 17, 2016 | | |
| CAPSULE LAS VEGAS | USA | Las Vegas, NV | FEB 15, 2016 – FEB 17, 2016 | | |
| PREMIUM ORDER MUNICH | Germany | Munich | FEB 13, 2016 – FEB 15, 2016 | | |
| COPENHAGEN FASHION WEEK | Denmark | Copenhagen | FEB 3, 2016 – FEB 5, 2016 | | |
| JACKET REQUIRED | UK | London | FEB 3, 2016 – FEB 4, 2016 | | |
| MUNICH FABRIC START | Germany | Munich | FEB 2, 2016 – FEB 4, 2016 | | |
| PITTI IMMAGINE FILATI | Italy | Florence | JAN 27, 2016 – JAN 29, 2016 | | |
| CAPSULE NEW YORK MEN'S | USA | New York, NY | JAN 26, 2016 – JAN 28, 2016 | | |
| INEXMODA, INSTITUTE FOR EXPORT AND FASHION | Colombia | Medellin | JAN 26, 2016 – JAN 28, 2016 | | |
| MRKET | USA | New York, NY | JAN 24, 2016 – JAN 26, 2016 | | |
| PROJECT | USA | New York, NY | JAN 24, 2016 – JAN 26, 2016 | | |
| CAPSULE PARIS MEN'S | France | Paris | JAN 22, 2016 – JAN 24, 2016 | | |
| PREMIUM INTERNATIONAL FASHION TRADE SHOW | Germany | Berlin | JAN 19, 2016 – JAN 21, 2016 | | |
| PITTI IMMAGINE UOMO | Italy | Florence | JAN 12, 2016 – JAN 15, 2016 | | |
| VIEW PREMIUM SELECTION | Germany | Munich | DEC 9, 2015 – DEC 10, 2015 | | |
| DENIM PREMIÈRE VISION | Spain | Barcelona | NOV 18, 2015 – NOV 19, 2015 | | |
| DENIM PLAYGROUND DHAKA 4TH EDITION | Bangladesh | Dhaka | OCT 7, 2015 – OCT 8, 2015 | | |
| INTERTEXTILE | China | Shanghai | OCT 13, 2015 – OCT 15, 2015 | | |
| TEXWORLD | France | Paris | SEP 14, 2015 – SEP 17, 2015 | | |
| MUNICH FABRIC START | Germany | Munich | SEP 1, 2015 – SEP 3, 2015 | | |
| PREMIUM | Germany | Berlin | JULY 8, 2015 – JULY 10, 2015 | | |
| BREAD& BUTTER | Germany | Berlin | JULY 7, 2015 – JULY 9, 2015 | | |
| DENIM BY PREMIERE VISION | France | Paris | MAY 27, 2015 – MAY 28, 2015 | | |
| DENIMSANDJEANS BANGLADESH | Bangladesh | Dhaka | MAR 1, 2015 – MAR 2, 2015 | | |
| TEXWORLD | France | Paris | FEB 9, 2015 – FEB 12, 2015 | | |
| MUNICH FABRIC START | Germany | Munich | FEB 2, 2015 – FEB 4, 2015 | | |
| PREMIUM | Germany | Berlin | JAN 19, 2015 – JAN 21, 2015 | | |
| BREAD& BUTTER | Germany | Berlin | JAN 19, 2015 – JAN 21, 2015 | | |
| CAPSULE SHOW S/S 2015 NEW YORK WOMEN'S | USA | New York | JAN 19, 2015 – JAN 21, 2015 | | |
| PITTI UMO | FIRENZE | Italy | JAN 13, 2015 – JAN 16, 2015 | | |
| DENIM BY PREMIERE VISION | France | Paris | NOV 21, 2014 – NOV 22, 2014 | | |
| KINGPINS AMSTERDAM | Netherlands | Amsterdam | OCT 28, 2014 – OCT 29, 2014 | | |
| DENIMSANDJEANS BANGLADESH | Bangladesh | Dhaka | OCT 15, 2014 – OCT 16, 2014 | | |
| TEXWORLD | France | Paris | SEP 15, 2014 – SEP 18, 2014 | | |
| CAPSULE SHOW S/S 2015 NEW YORK WOMEN'S | USA | New York | SEP 12, 2014 – SEP 14, 2014 | | |
| MUNICH FABRIC START | Germany | Munich | SEP 3, 2014 – SEP 4, 2014 | | |
| PREMIUM | Germany | Berlin | JULY 14, 2014 – JULY 16, 2014 | | |
| PITTI UMO | FIRENZE | Italy | JUNE 17, 2014 – JUNE 20, 2014 | | |
| BREAD& BUTTER | Germany | Berlin | JULY 8, 2014 – JULY 12, 2014 | | |
| DENIM BY PREMIERE VISION | France | Paris | MAY 21, 2014 – MAY 22, 2014 | | |
| DENIMSANDJEANS BANGLADESH | Bangladesh | Dhaka | MAR 1, 2014 – MAR 2, 2014 | | |
| TEXWORLD | France | Paris | FEB 17, 2014 – FEB 20, 2014 | | |
| MUNICH FABRIC START | Germany | Munich | FEB 4, 2014 – FEB 6, 2014 | | |
| BREAD& BUTTER | Germany | Berlin | JAN 14, 2014 – JAN 16, 2014 | | |
| DENIM BY PREMIERE VISION | France | Paris | NOV 27, 2013 – NOV 28, 2013 | | |
| TEXWORLD | France | Paris | SEP 16, 2013 – SEP 18, 2013 | | |
| MUNICH FABRIC START | Germany | Munich | SEP 3, 2013 – SEP 5, 2013 | | |
| BREAD& BUTTER | Germany | Berlin | JULY 2, 2013 – JULY 4, 2013 | | |
| PREMIUM | Germany | Berlin | JULY 2, 2013 – JULY 4, 2013 | | |
| PITTI UMO | FIRENZE | Italy | JUNE 18, 2013 – JUNE 21, 2013 | | |
| DENIM BY PREMIERE VISION | France | Paris | MAY 22, 2013 – MAY 23, 2013 | | |
| TEXWORLD | France | Paris | FEB 12, 2013 – FEB 15, 2013 | | |
| MUNICH FABRIC START | Germany | Munich | FEB 5, 2013 – FEB 7, 2013 | | |
| BREAD& BUTTER | Germany | Berlin | JAN 15, 2013 – JAN 17, 2013 | | |
| PREMIUM | Germany | Berlin | JAN 15, 2013 – JAN 17, 2013 | | |
| PITTI UMO | Italy | Florence | JAN 8, 2013 – JAN 11, 2013 | | |
| DENIM BY PREMIERE VISION | France | Paris | NOV 28, 2012 – NOV 29, 2012 | | |
| DENIM BY PREMIERE VISION | china | Shanghai | OCT 23, 2012 – OCT 24, 2012 | | |
| BREAD& BUTTER | Germany | Berlin | JULY 4, 2012 – JULY 6, 2012 | | |
| PREMIUM | Germany | Berlin | JULY 4, 2012 – JULY 6, 2012 | | |
| DENIM BY PREMIERE VISION | France | Paris | MAY 23, 2012 – MAY 24, 2012 | | |
| PROJECT | U.S.A | Las Vegas | FEB 19, 2012 – FEB 21, 2012 | | |
| PROJECT | U.S.A | Las Vegas | FEB 13, 2012 – FEB 15, 2012 | | |
| TERMINAL- 2 | Copenhagen | Denmark | FEB 2, 2012 – FEB 4, 2012 | | |
| MUNICH FABRIC START | Germany | Munich | JAN 31, 2012 – FEB 2, 2012 | | |
| PROJECT | U.S.A | New York | JAN 16, 2012 – JAN 18, 2012 | | |
| PITTI UMO | Florence | Italy | JAN 10, 2012 – JAN 13, 2012 | | |
| DENIM BY PREMIERE VISION | France | Paris | MAY 25, 2011 – MAY 26, 2011 | | |
| TEXWORLD | France | Paris | FEB 7, 2011 – FEB 10, 2011 | | |
| PROJECT SHOW | Las Vegas | U.S.A | FEB 14, 2011 – FEB 16, 2011 | | |
| MUNICH FABRIC START | Germany | Munich | FEB 1, 2011 – FEB 3, 2011 | | |
| PROJECT SHOW | New York | U.S.A | JAN 16, 2011 – JAN 18, 2011 | | |
| DENIM BY PREMIERE VISION | France | Paris | DEC 1, 2010 – DEC 2, 2010 | | |
| PROJECT SHOW | USA | Los Angeles | AUG 17, 2010 – AUG 19, 2010 | | |
| TERMINAL-2 | Denmark | Copenhagen | AUG 12, 2010 – AUG 15, 2010 | | |
| PROJECT SHOW | USA | New York | JULY 19, 2010 – JULY 21, 2010 | | |
| BREAD& BUTTER | Germany | Berlin | JULY 7, 2010 – JULY 9, 2010 | | |
| DENIM BY PREMIERE VISION | France | Paris | JUNE 2, 2010 – JUNE 3, 2010 | | |
| MAGIC SHOW | USA | Las Vegas | FEB 16, 2010 – FEB 18, 2010 | | |
| TERMINAL-2 | Denmark | Copenhagen | FEB 11, 2010 – FEB 14, 2010 | | |
| MUNICH FABRIC START | Germany | Munich | FEB 2, 2010 – FEB 4, 2010 | | |
| BREAD& BUTTER | Germany | Berlin | JAN 20, 2010 – JAN 22, 2010 | | |
| DENIM BY PREMIERE VISION | France | Paris | DEC 2, 2009 – DEC 3, 2009 | | |
| TEXWORLD | France | Paris | SEP 14, 2009 – SEP 17, 2009 | | |
| MUNICH FABRIC START | Germany | Munich | SEP 1, 2009 – SEP 3, 2009 | | |
| MAGIC SHOW | USA | Las Vegas | AUG 31, 2009 – SEP 2, 2009 | | |
| TERMINAL-2 | Denmark | Copenhagen | AUG 6, 2009 – AUG 9, 2009 | | |
| BREAD& BUTTER | Germany | Berlin | JULY 1, 2009 – JULY 3, 2009 | | |
| DENIM BY PREMIERE VISION | France | Paris | JUNE 3, 2009 – JUNE 4, 2009 | | |
| MUNICH FABRIC START | Munich | Germany | FEB 3, 2009 – FEB 5, 2009 | | |
| BREAD& BUTTER | Spain | Barcelona | JAN 21, 2009 – JAN 23, 2009 | | |
Search The Denim Fairs
(Egg , search 'Denim Trend')