We had previously posted trends from Denim by PV here . Here are some more great trends kindly provided by Stylesight.com
Broad Trends :
Three Dimensional
Winter Texture
Indigo Outre
New Coatings
Three Dimensional Fabric
Characterful textured constructions continue to trend with more 3-D weaves emerging for 2013. Dobby weaves, waffles and indigo cord / Denim Valley by ROYO indigo seersucker / Herringbones become intricate and over-constructed / Corduroy advances in an indigo palette / Destroyed and laundered patterns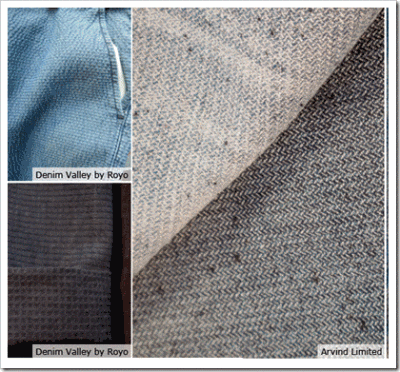 Herringbone Fabric
Herringbone constructions move into denim with laundered and indigo aspects for F/W 13. Herringbone weaves continue / Updates make constructions more denim-centric / Soft and supple weaves for tactile . winter options / Laundered and faded indigo looks / Visual weaves move from specialist to core markets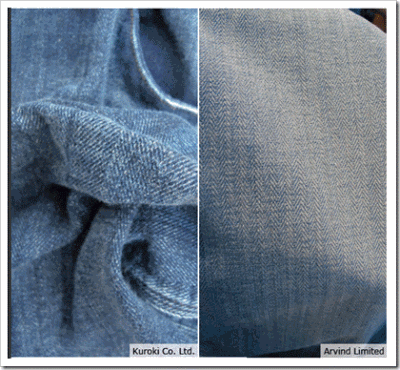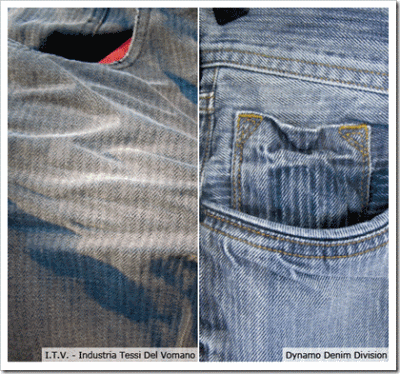 Tweed Wefts Fabric
Debuted at the last edition of Denim by PV, tweedy winter weaves continue for F/W 13. First pioneered by directional mills for S/S 13 / Strong winter story focuses on tweedy textures / Twisted yarns and
salt ʻn' pepper wefts / Indigo and ecru or black and white color ways / Space-dyed fill yarns / Strong menswear heritage feel / Cozy and brushed surfaces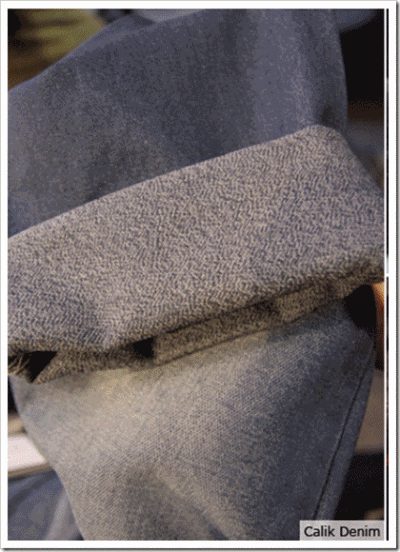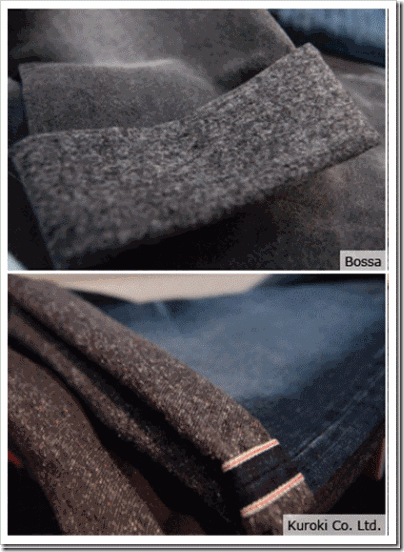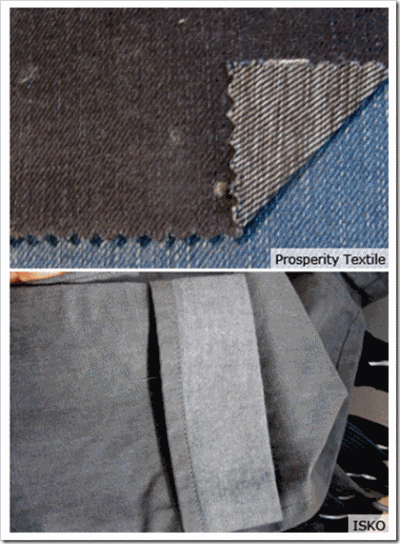 Brushed Fabric
A perfect F/W trend, brushed and tactile surfaces are luxuriously soft denim options. Brushed denim faces and reverses / More vivid move-on from S/S 13's soft focus surface trend / Focusing on hand,
mills look to brushed finishes for increased winter appeal / Brushed cottons with peached surfaces / Soft moleskin and fluffy appearances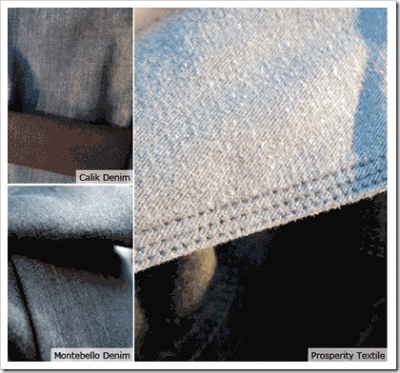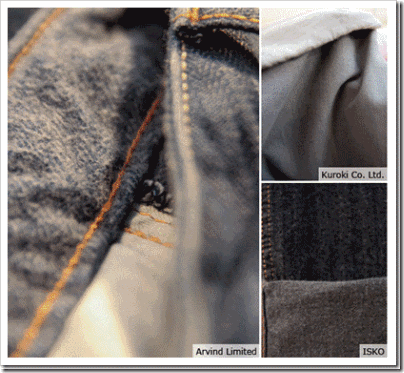 New Neps Fabric
Returning for F/W 13, neppy imperfections update with various effects. Multicolor neps for F/W 13, as predicted in Stylesight's Denim Outlook Summer 13 / Bold neps with colored rainbow flecks / Melding of traditional vintage imperfections and modern, playful updates / Un-singed and unrefined surfaces / Thick winter wool looks / Continuation of the tweed trend for F/W 13 / High contrast white neps on deep indigo.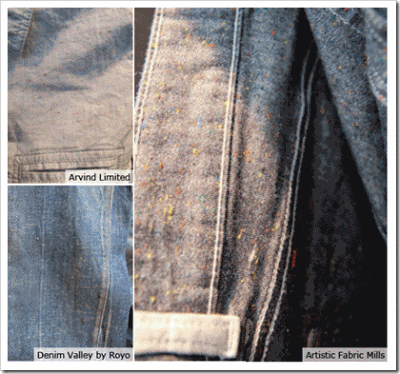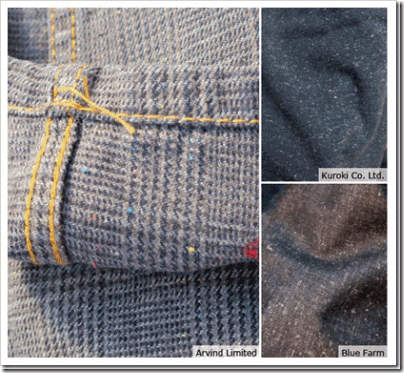 LumberJack Looks Fabric
First documented in Stylesight's Denim Outlook, Runway and Denim Developments, plaid denim continues to diversify. Focus on outdoorsy lumberjack looks / Cozy denim styling drives this fabric trend / Teflon coatings create strength. as well as warmth / Woven plaid jacquard denims at Nihonmenpu / Fine and lightweight jacquards offer a refined look at Tavex / Printed and brushed wefts / Harris tweed looks play to heritage themes.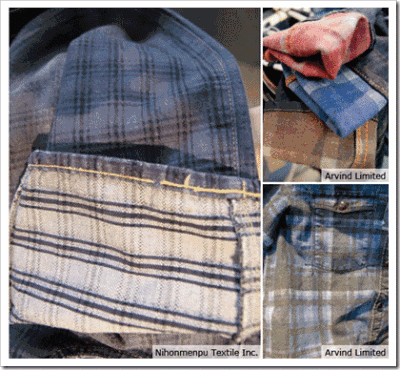 Knit Denim
Building since S/S 11, knit denims remain key at many PV stands.
Strong construction for F/W 12 and S/S 13, the look continues for F/W 13 / Isko patented knit indigo range expands for F/W 13 with new items and washes / High stretch, active denim capabilities / Knit-look denim and denim-look knits / Super-soft and ultra comfort denim / Laundry techniques become more aggressive and sophisticated / Selvedge knit from Nihomenpu / Now at retail, this fabric development will be key for the next few seasons.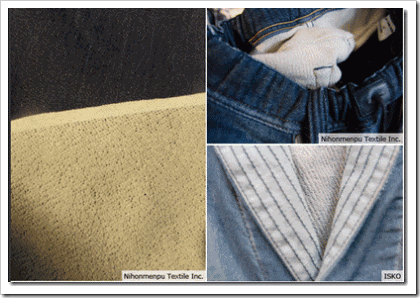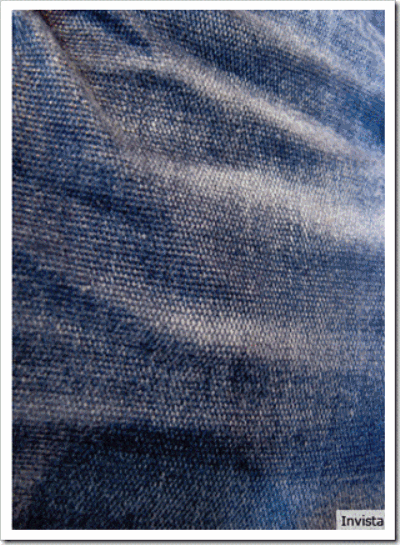 Rigid Stretch Fabric
Clean-looking high-stretch denims develop for F/W 13. Alternative to satin or Tencel® jegging stretch, rigid stretch looks look 100% authentic / Appealing to Men's and purist denim markets / Visible twill lines and clean, saturated indigos / Mix of authentic denim looks with technical stretch capabilities.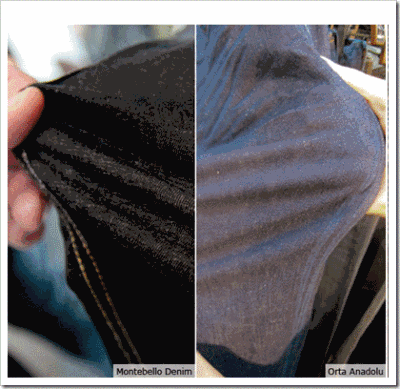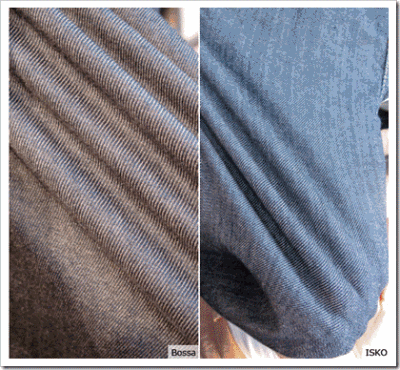 Flattened Fabric
Contrasting the high level of texture for F/W 13, clean, compact and slick denims remain strong. Smooth and refined finishes and glossy surfaces create premium denim looks / Raw denim in 70s bright casts / Durable, dry and dense weaves / Premium rigid and selvedge fabrics / Deadstock raw, clean constructions / Compact constructions give denim smooth shine.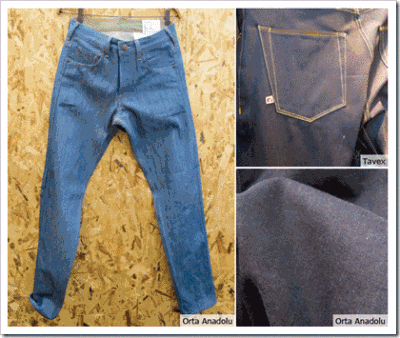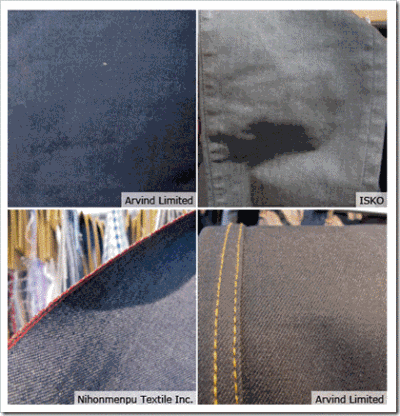 Sateen Fabric
Sateen continues to appeal to the premium Women's denim market.
Strong for Women's winter stretch denims / Compact and glossy constructions / Soft focus and peached aspects / Many mills releasing flexible prepared-for-dye (PFD) fabrics / Laundered finishes and shot indigo effects.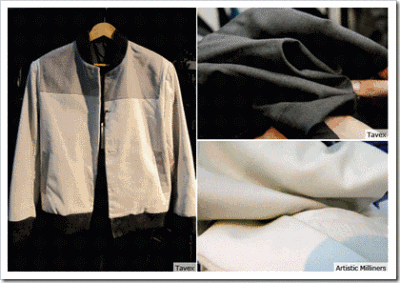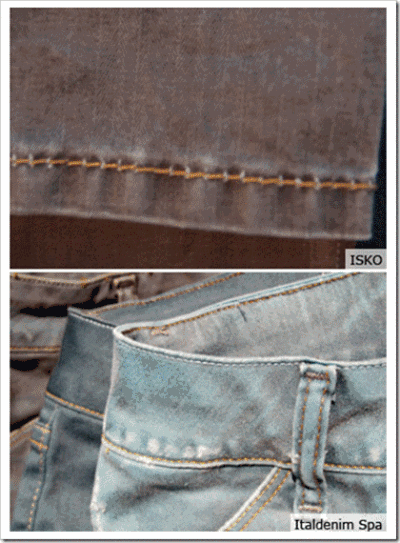 Plastic Aspect
Glossy denims show no sign of abating for F/W 13. Leather looks morph into a plastic aesthetic / Continuation from S/S 13 Denim Outlook story / Clear plastic and PVC looks / Premium finishes and outdoorsy waxed looks / Quilted, creased and cracked looks update coatings for F/W 13 / Mirrored shine and wet-look effects.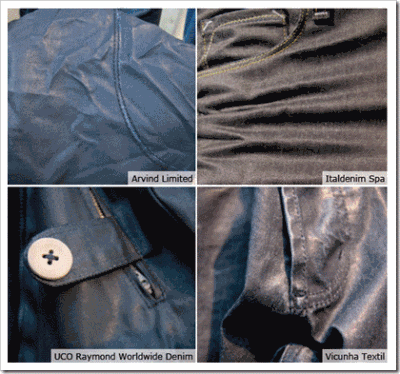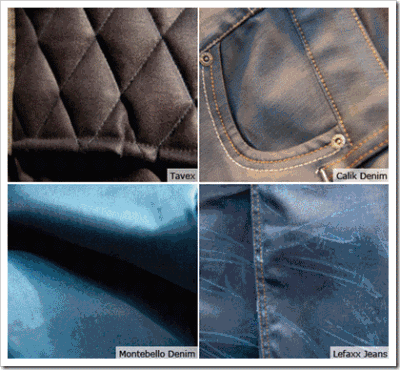 Destroyed Coatings Treatments
Thick resin coatings become denim-centric with new rubbed and destroyed looks invigorating the market. Last winter's leather looks become destroyed and rubbed / Dark palette of black, gun metal and deep chestnut / Rubbed-off resins reveal contrast denim beneath / Tumbled and stone-washed finishes grind off coatings / Matte
surfaces or glossy finishes / Unisex story.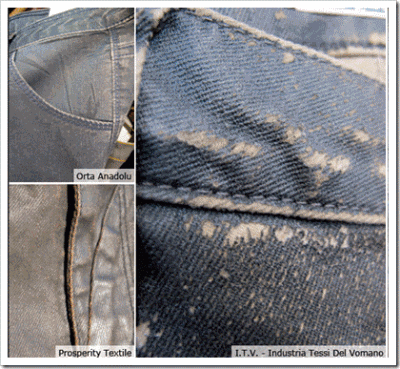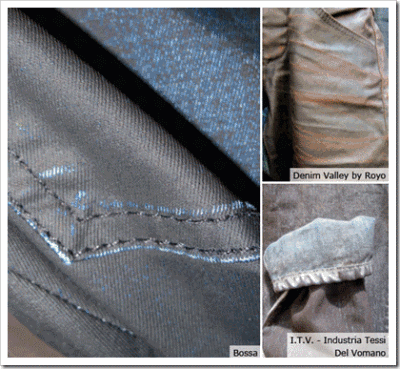 Pastel Pearl Treatments
First called out for S/S 13's Denim Outlook, the pastel pearlescent trend moves into F/W 13. Pearlescent finishes move leather and metallic trends forward / Tight, romantic palette of muted pastels and pales / Pearlized finishes update denim colors / Cosmetic and skin shades / Sprayed color creates various laundered looks at Artistic Milliners / Pearlescent and iridescent effects soften denim / Key look for Women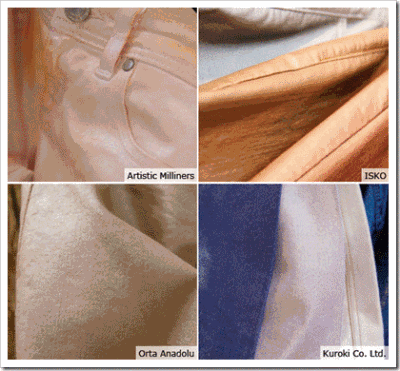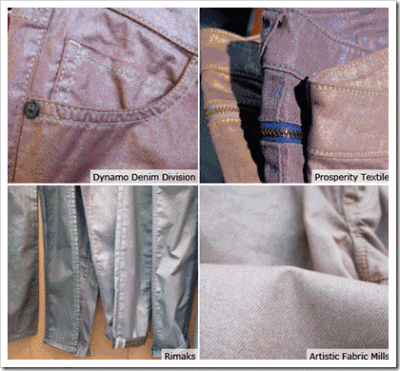 Disco Denim Treatments
Denim treatments develop with eveningwear finishes and high-shine looks. Shine and coatings become key denim looks for winter / Glossy disco looks for 2013 / Woven shine and Lurex continue / Fashion color palettes renew the look / Purple, pink and white mix with metallics / Lurex wefts in stretch denims / Sprayed, painted and resin-coated glitter.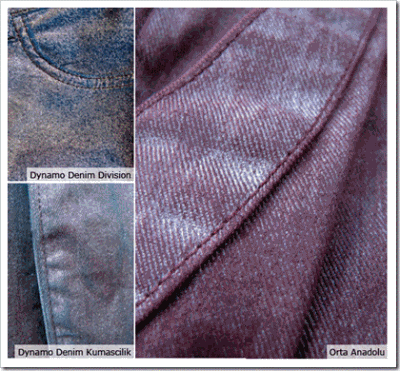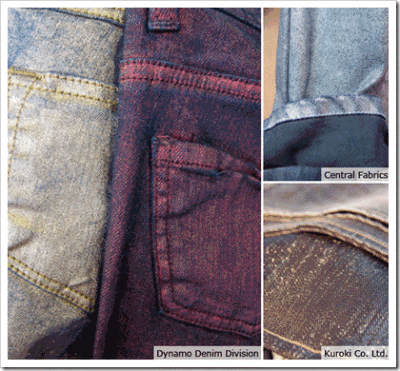 Denim Thertrics Finish + Texture
Opulently feminine denims emerge for F/W 13. New flocked and jacquard surfaces / Focus on tactile textures and expensive techniques / Indigo and black color ways / Dramatic reds, golds and yellows update the look / Flocked looks become winter's fashion-denim surface / Floral, lace motif and William Morris designs.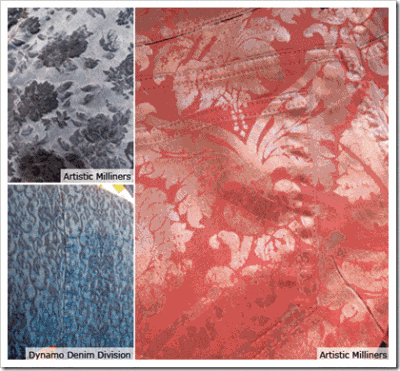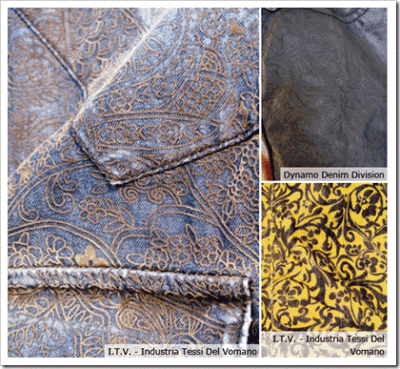 Indigo Patterning Print + Patteren
The indigo pattern trend continues with new techniques renewing the story. Modernized Japanese influences / Micro check and stripe patterns / Dobby surface pattern weaves / Japanese Wabash spots rework for the European market / Aztec looks rework in indigo / Florals transform in layered indigo ways.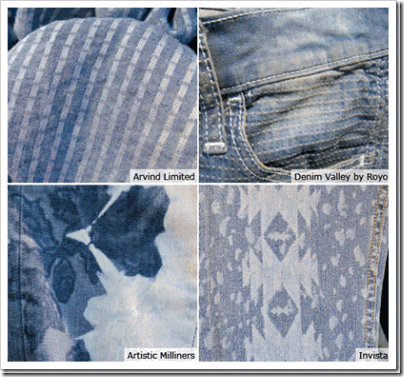 Laundered Stripes Print + Patteren
As traditional railroad looks begin to wane, new effects enliven assortments. Combination of print with laundry creates a rich, layered look / Worn-out and destroyed stripes / Faded and obliterated prints give items real denim appeal / Classic indigo and ecru palette updates with bright overdyes / Chalky and smudged pinstripes / Awning stripes in new fashion shades.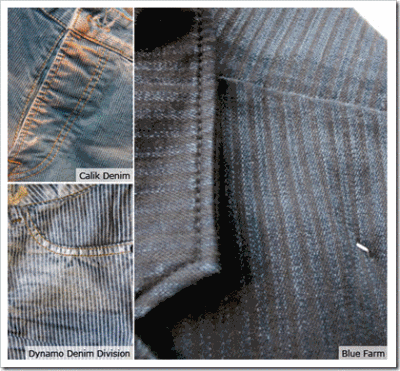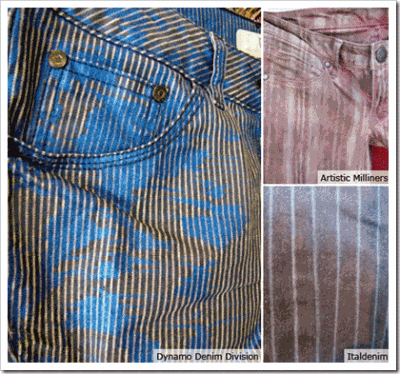 Spray Wash Wash + Color
Diffused spray laundry trends are key this season creating fresh effects. Smudgy hand-painted sateens at I.T.V. / Spray effects offer many new wash possibilities / Gradations and color bleeds / Creased then sprayed denims for a modern take on whiskering / High-color story with pinks, purples, oranges and reds / Flocked surfaces are rubbed and destroyed to create soft-focus looks.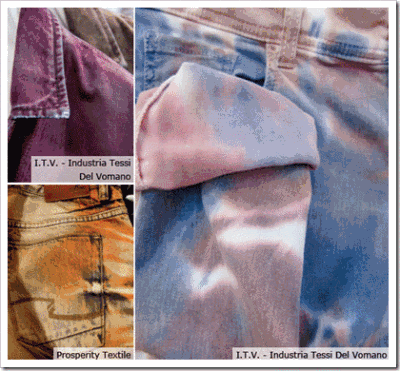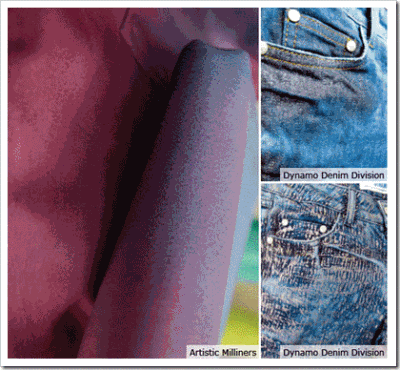 Threadbare Color Wash + Color
Contrast wefts remain strong; destruction techniques create new effects. More fashion-driven wefts in bright tones and chalky pastels / Indigo, grey or black warps / New pale warps emerge
with laddered and destroyed effects / Bright contrast wefts revealed / Color moves from S/S 13 to F/W 13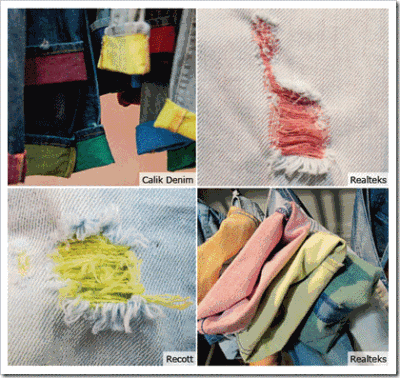 About Stylesight: Stylesight is a leading provider of trend content, tools and technology for creative professionals in the fashion and style industries.
Sponsored Link:
Women's Denim Collection : Autumn/Winter '13-14