We have been late in bringing the report of trends from Denim by PV for the Spring/Summer 2013. However, its better to be late than never!
Here is a report from Stylesight – the leading trend agency worldwide – on the trends from Denim By PV held in Dec'11.
Cheat Sheet
Soft touch remains a key focus for many mills Cellulose TENCEL® and Modal fibers become essential Soft-focus looks for peached surfaces and dense, tactile hands.
Growing each season, eco-friendly technology remains key for S/S 13
Recycled yarns become more widely used and aesthetically pleasing
Low-impact technologies, fibers and processes remain priorities for mills.
Finishes and treatments evolve shine for S/S 13 Pearlescent and iridescent looks move on from traditional resin shine. Two-tone and shot silk looks create fashion-forward denim surfaces.
1.Engineered Herringbone
Herringbone evolves for S/S 13 with new 3-D weaves. Graphic and pronounced herringbones create cord-like surfaces / Deep ridged textures offer tactile touch / New take on the engineered stripe trend / Workwear and tailoring references / Double weaves and double-faced fabrics.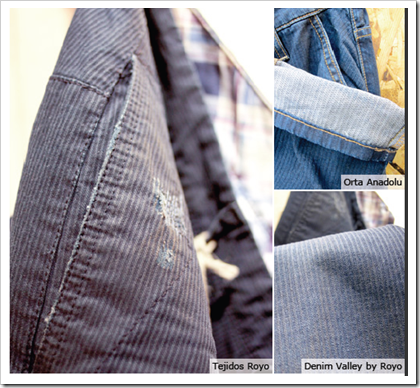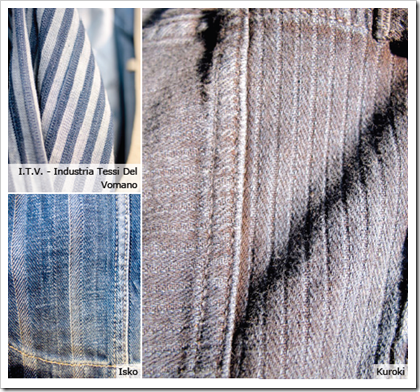 2.Dobby Weaves
A trend that emerged at last winter!s show, dobby weaves had a stronger presence this season. Small, intricate designs created using dobby attachments on looms / Allover geometric designs / Raised, extra
yarn weaves create 3-D looks / Honeycomb and waffle appearances / Broken twill variations / Strong white weft presence on fabric faces.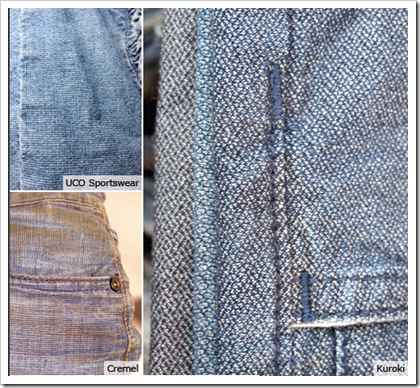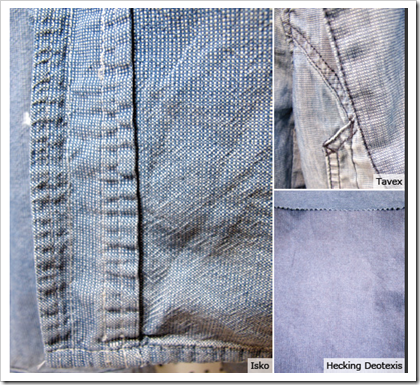 3.Duck Canvas
A trend that emerged two seasons ago at niche mills, duck canvas offerings grow to meet demand.Clean and durable canvas constructions, reminiscent of workwear fabrics / Neutral shades of ecru and mustard /Indigo overdyes and yarn dyes / Premium selvedge canvas as chino alternative / Popular visual texture with rugged associations.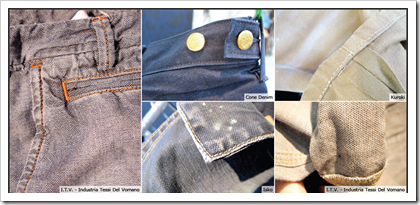 4.Salt+Pepper wefts
Tweedy textures emerged two seasons ago and continue their importance for S/S 13.Switching focus to weft yarns, creates a more subtle, wearable fabric / Weft textures add visual interest to denim faces after wash-down / Twisted yarn alternative with a more menswear and heritage feel / Cozy denim look for summerweight denims.
5.Marled Grey
Mélanges create a summery textured yarn for S/S 13.Neppy, textured and flecked greys / Jersey denim looks / Inspired by retro marls and activewear / Cone Denim!s recycled yarns / Twisted yarns and slubby surfaces / Menswear-centric story.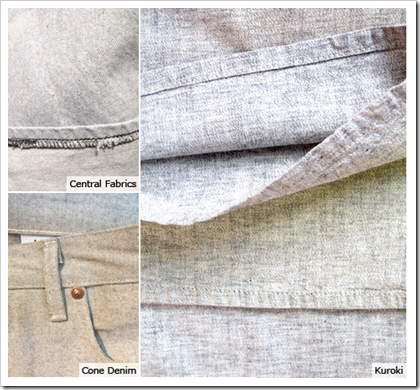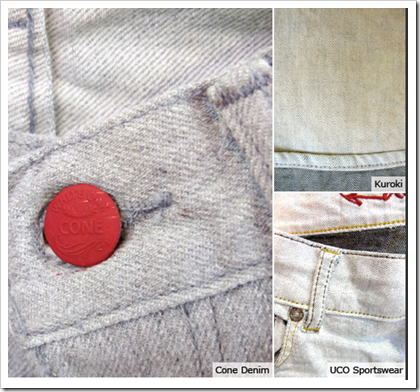 6.Knit Indigo
Jersey-look indigo or indigo-look knits emerge for S/S 13.Knit indigo is making big waves in denim / Focus on comfort denim with soft and stretch capabilities / Indigo knits at Isko led to Diesel!s "Jogg Jeans" range / Bossa, Calik and Montebello are all experimenting / Ultra-high stretch / Improved recovery and super-soft hands / Activedenim hybrid fabrics for casualwear.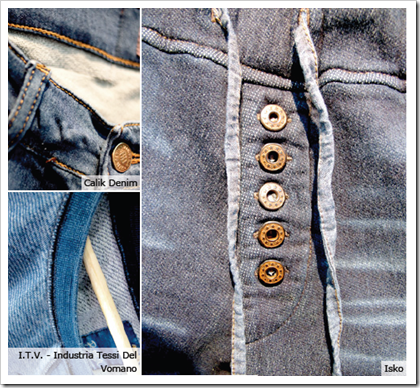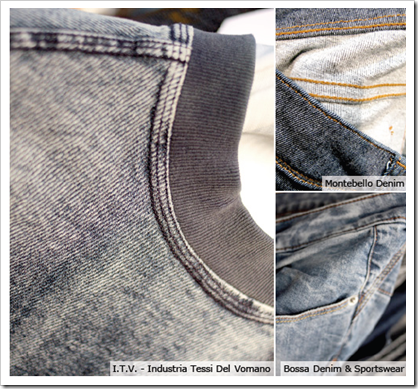 7.Tencel Stretch
Stretch continues to be a key denim initiative with new TENCEL® blends for S/S 13. Super stretchy blends merge the fluidity and softness of cellulose / Orta Slow Fit TENCEL® and cupro blends have memory stretch / Huge range of TENCEL® stretch fabrics by Italdenim includes colored denims / Surfacesare glossy, super-soft and malleable / Second skin feeling.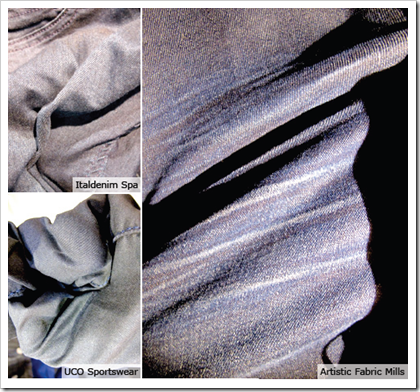 8.Soft Focus
Focusing on hand, mills look to finish, weave and fiber advancements for increased tactility.Brushed cottons have peached surfaces / Sateen weaves remain important / Tightly constructed, dense stretch weaves/Soft moleskin looks and fluffy appearances.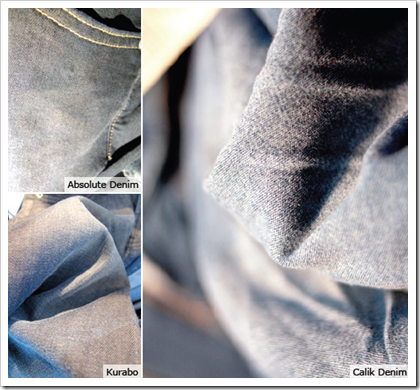 9.Dense+Compact
Clean, compact fabrics have smooth and refined denim finishes.Premium looks with clean and compact surfaces / Durable, dry and dense weaves / Deadstock raws and clean constructions / Dry and flat finishes give denim smooth shine.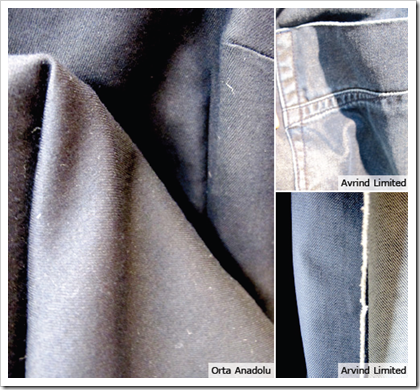 10.cellulose updates
Cellulose alternatives to traditional cotton are flooding the denim market.
New innovations continue to drive these denims forward / Lyocell expert Royo offers colored, laundered and treated blends for S/S 13/ Cone explores unexpectedly authentic yet super-soft blends, proving denim does not have to be lightweight and fluid / Black TENCEL® denims emerge.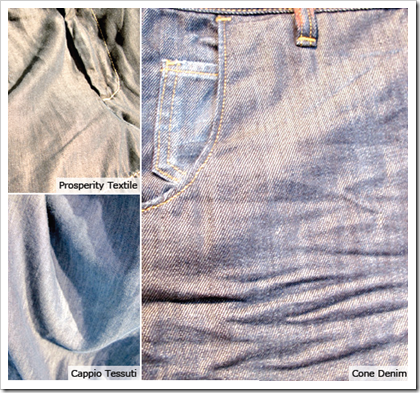 11.Vintage Drape
Open construction and drape offer comfortable hands and summery, vintage attitude. Lightweights reemerge for summer / Focus on open, fluid and unstable weaves / Crosshatch lightweights remain an important texture story from S/S 12 / Comfortably worn-in fabrics create an "old favorite" jean feeling / Bias cuts enhance drape.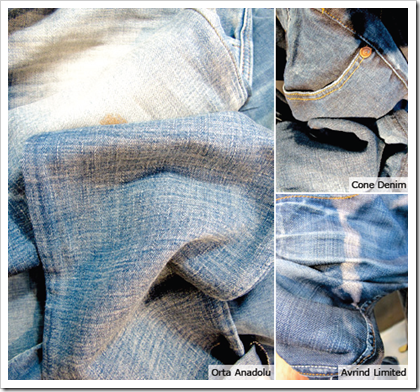 12.Recycled Yarns
Working toward a sustainable future, mills highlight recycled denims.
Reused denim scrap waste from fabric and garment manufacturing stages / Cone Denim!s EarthSPUN wefts made from recycled green, brown and blue plastic bottles / Eco-premium recycled selvedge denim from Nihonmenpu / Paper wefts at Calik Denim / Unique indigo shades and neppy constructions / Textured fill yarn qualities.
13.Linen/cotton
A key S/S 13 development, mills look to linen to update traditional all cotton denim.Air-dried and creased looks have casual summer attitude / Linen wefts bring cooling properties / Glossy yet relaxed surfaces / Neppy and slubby yarns / Used on 7 to 12oz. denims.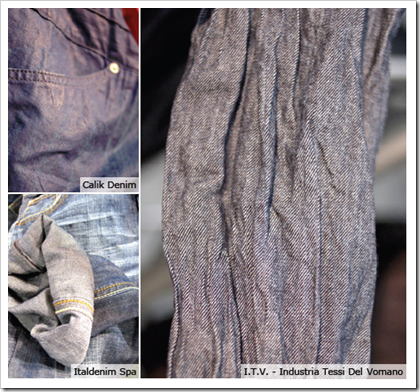 14.Slub chambray
Chambray looks rustic with slubby and neppy textures.Vertical and horizontal slub yarns / Rustic updates for plain weaves / Exaggerated crosshatches are key / Skyblue indigo shades / Vintage loom defects nod to the Dust Bowl era.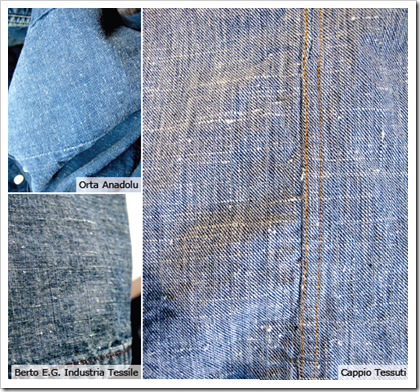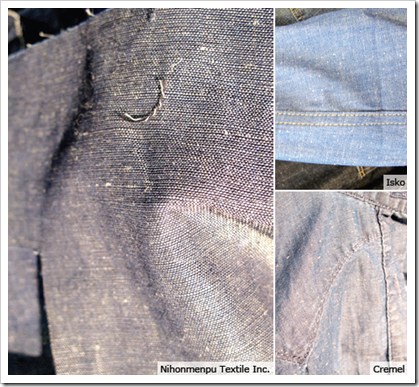 15.Summer greens
Last season!s green-cast denims become laundered and muted for S/S 13.
More obvious, cleaner greens take over from tinted green indigos of last season / Chambrays and textured,neppy denims / Rustic weaves and vintage laundries / Pale pastel looks and recycled wefts at Cone Denim /
Unisex denim story mixes vintage with fashion.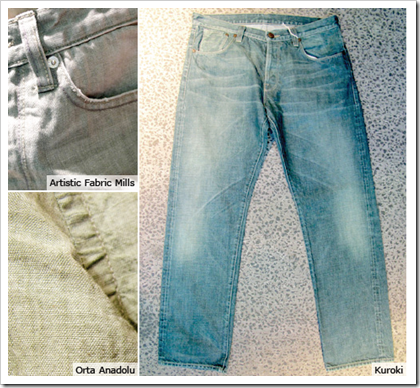 16.Pastel wash
Pale shades are two-tone, diffused and laundered.Soft palette of baby blue, mint green, peach and pink / Whitened colors and coated pales / Pastel shades bleed through at seams / Colored wefts with white warps / Breakages and surface distressing create interest.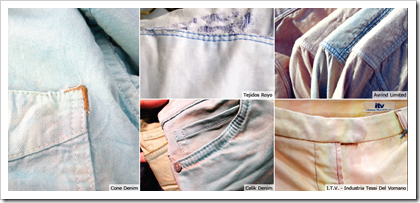 17.Pearlescent
For S/S 13, resin finishes become pastel and pearlescent.New stretch coatings offer summer alternatives to leather / Super shiny / Glitter particles / Color ranges from pastels to girly brights / Pearlescent resin finishes suit Juniors and Tweens.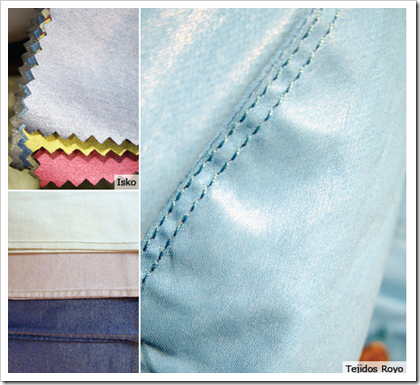 18.Luminescence
Distinctly purple-cast, two-tone denims emerge for S/S 13.Two-tone indigo replicates shot silk / Colored wefts with indigo warps / Iridescent yarns and glossy TENCEL® /Focus on glossy surface sheen.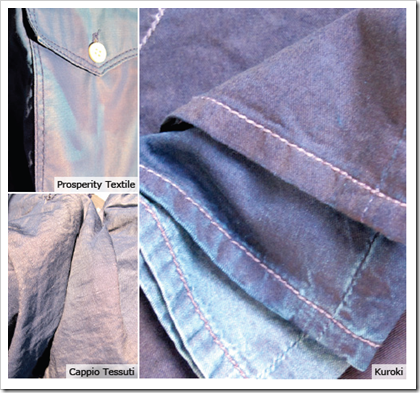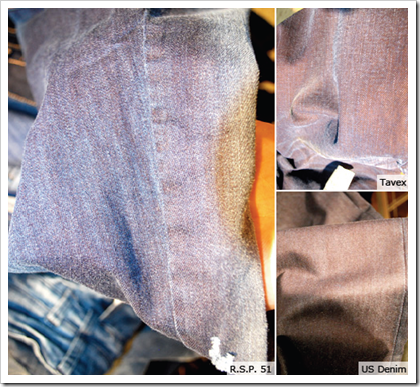 19.Lurex shine
The shiny denim trend strengthens with metallic yarns, wefts and treatments expanding offerings.Liquid gold and silver effects add dazzling glamour to denim / Iridescent metallic lightweights at Kuroki / Metallic
coatings become malleable, lighter weight and fluid for summer / High stretch constructions.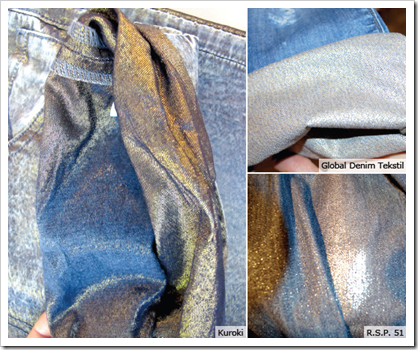 20.Plastic people
Clear resins give new plastic shine to black and indigo fabrics.Polished looks achieved with new resin layers / Flattened constructions create a starched and pressed effect /Shine creates sculptural and molded relief to denim / Clean, classic denims transform with sophisticated finishes.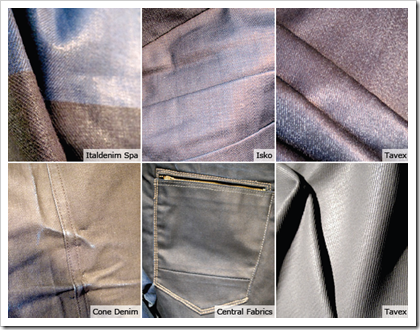 21.Color explosion
Attendees could not ignore the vast color ranges for S/S 13.Color stories show no sign of abating for S/S 13 / Colored wefts in significantly brighter shades / Saturated brights and gemstone palettes / Quirky contrast red, purple and green wefts against blue.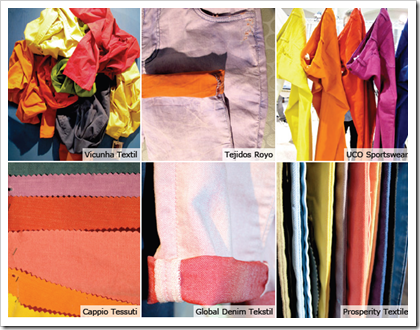 Color d : Colored Premium Denim Fabrics For Spring – Summer 2013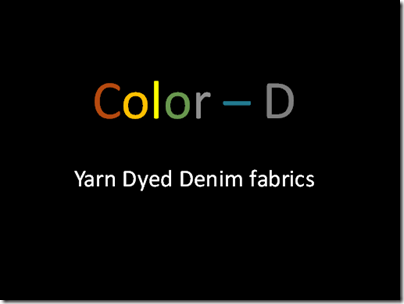 22.Awning stripes
Railroad stripes inspire a new breed of indigo pattern for S/S 13.Thick woven awning or prison stripes / Horizontal looks / Mattress ticking and vintage tea towel looks / Doubleweave denims with striped wefts / New jacquard plaids at Nihonmenpu / New proportions and scales move the story forward / Screen-printed and discharge stripes / Ecru and indigo color palette.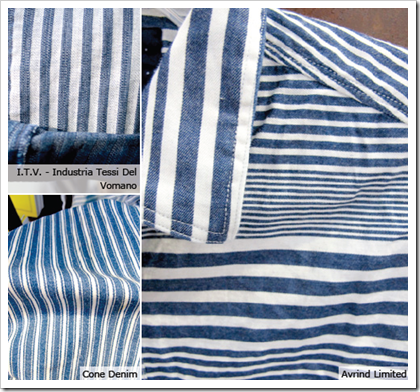 About Stylesight:  Stylesight  is a leading provider of trend content, tools and technology for creative professionals in the fashion and style industries.