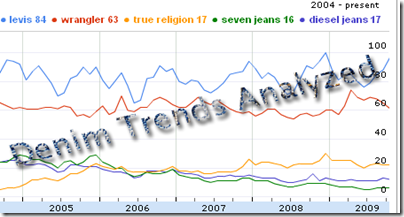 Denim trends – like all other trends – are always difficult to quantify. Eg though we know that a particular trend is on – eg Skinny Jeans trend – how can we find how this trend compares to another trend – say Wide Legged Jeans . Fortunately there are some tools provided by Google which can help us find the same.
We have now created a page dedicated to denim trends which will have dynamic charts to help find out
What the consumers are looking for in their denims.
Which brands they are searching more ..
Which trends are getting popular in a time frame of as less as last 1 quarter.
How these trends compare with each other relatively – Eg if one trend is having a popularity index of '1' and another is having a popularity index of '5' , we can safely assume that the second trend is almost 5 times as popular as the first trend (though these are always approximations).
So if you are looking for a dynamic and continuous information on denim trends, bookmark and VISIT THIS PAGE