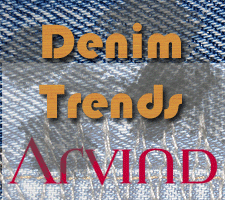 The Indian market is a fast growing market for denim products.  From a small market in early 1990s , we are looking at a market today which consumes over 250 millions pcs of jeans in a year and is growing at a pace of over 10%. Going at this pace, the Indian market will overtake that of US – which consumes about 590 million pcs of denim apparel – in about 6 –7 years !
This makes the market for denim in India very serious .. It has enabled a  number of new mills to make entry into the denim market in the last 3-4 years and their productions have got absorbed easily. We are also looking at a number of expansions in the market in the coming year and the production capacity of Indian mills is likely to cross 750 million mtrs pa. Large international denim mills have started showing interest in the market despite high rate of import duties – to gain an early foothold in the market which is expected to be of huge size in the coming years.
 Arvind mills is the largest denim mill in the market and is present in almost every segment of the market . Being market leaders , they are in a position to study the market deeper . One of the ways to study about the happenings in the market is to get to see what people are wearing on the streets. This is one of the activities the company does to study the market and regularly arranges street wear shoots in various Indian cities. This gives further insights into the market.  They have kindly shared some of these streetshots with us and we are reproducing them herebelow  in different presentations. The shots have been taken separately in the three big markets – Delhi, Mumbai and Bangalore.  Its interesting to see what people are wearing in these cities . It must be remembered while watching these shots that about 85% of the denim market in India is still dominated by unorganized sector and less than 15% share is held by brands. Another fact of the matter is that , again , about 85% of the market share is held by men's denim – and the rest by women's and children. This is basically due to conservative nature of Indian society – something which is changing fast !
Denim Streetwear Trends in Delhi
Denim Trends : Streetwear Shots from Mumbai
Denim Trends in India : Streetwear shots from Bangalore
Some interesting observations from these pictures . Please take them with a pinch of salt since these could change with change in the timing and places where shots are taken! .
Denim consumers in Delhi like more of embellishments , embroidered and generally differentiated looks as compared to other markets.
Mumbai likes more of dark and subtle looks on their denim .
Girls generally have a preference for skinny fits in all the  three cities.
Distressed looks are generally not in – probably its difficult for youngsters  to convince parents  in India the logic to buy a torn jeans !!
Hardly any color denim is visible . This will change with the season and hopefully 2012 will see more of colors.
Girls  in Delhi are more conscious of denim fashion – sorry Mumbai and Bangalore !
For the lower ends of the market, accentuated embroideries, big streaks and cross hatches , bold whiskers and big patches of sandblasting or pp washing are visible. But as we have seen before, the consumers grow up very fast and change their preferences. Poly denim, which was probably one of the highest selling denim product , seems to have lost some sheen over time.
For more information on these street shots, contact Rajesh Gupta from Arvind
Any other comments ? Please feel free to leave. We would love to have them