Indigo is a color that was traditionally regarded as a color on the visible spectrum and as one of the seven colors of the rainbow: the color between blue and violet.
Indigo is a deep, purply blue with some indigos having more blue or more violet. Some of the many shades of indigo:
Bright Indigo (Crayola) | Hex #4F69C6 | RGB 79,105,198
Denim (Crayola) | Hex #1560BD (more blue) | RGB 21,96,189
Indigo (Web color) | Hex #4B0082 | RGB 75,0,130
Pure Indigo blue color has been used for centuries to dye wool, silk and cotton products and of course denim . The traditional indigo blue color gives out a resplendent blue tone and is markedly reddish blue in color. We have been seeing this color ever since we lay our eyes on 'Jeans'-  the traditional day to day jeans blue ..
Denim brands today are looking to differentiate themselves on various levels – whether its quality of fabric, wash, styling or their marketing . However, one of the key elements of this differentiation is now the cool and numerous SHADES OF INDIGO.. Deep dark indigo is still fascinating for the denim enthusiast. But  keeping the tradition of versatility, many new colors of denim are fascinating the consumers.
These new shades can be seen at various catwalks and also in look books and stores of some of the famous brands. These shade range from bright royal blues to dark and dusky dark overcast blues. Lets have  a look below at some of the looks from brands like Nudie Jeans , Mavi , J Brand etc..
This jeans and jacket duo from Mavi has that sky  blue bright cast giving a totally different flavour to the indigo.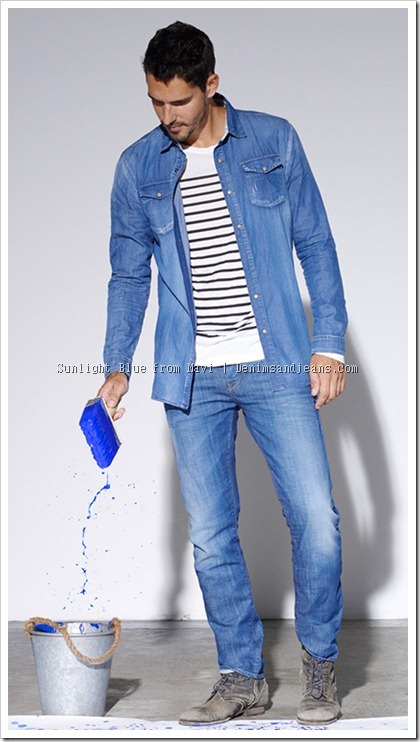 This heavy rigid super dark indigo from Nudie jeans is just an example of how the one end of indigo spectrum might look like when it goes real deep and dark.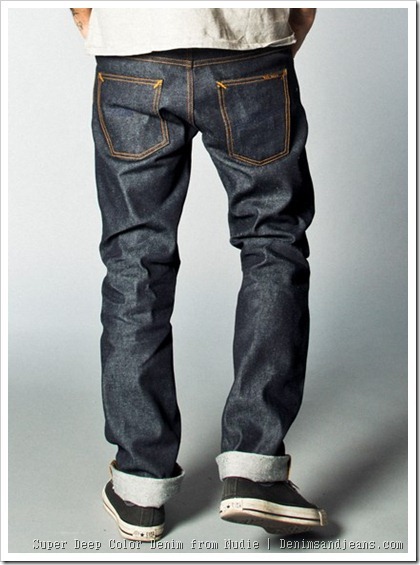 A tinge of violet in the indigo ?? From J Brand ..
Another shade of indigo – the green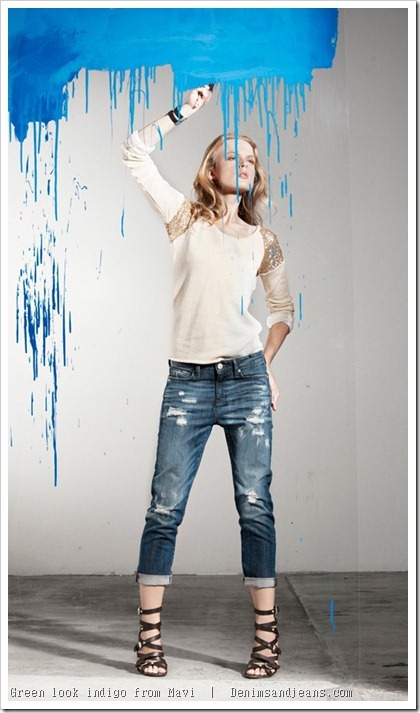 Soorty Denim – Nature's Beauty
While these trends are getting hot, the denim mills are not resting on their laurels. Their product development departments are working overtime to create new colors – new looks and hence the new shades of Indigo. We look below at some of the latest shades in indigo from Soorty denim of Pakistan. Their AW 14/15 collection has some interesting shades categorized as
1)Volcano…
2)Chlorophyll…
3)Blue Flag…
As the names indicate , these are different shades within indigo  closely resembling their names. During the recent Denim by PV show, companies like Soorty updated their color palette with a new collection "Nature's Beauty"
This collection  has new colors inspired by nature's beauty. Soorty's  R & D department has this to say about the "Nature's Beauty" color collection:
"…It has been one of the best sellers in the last PV and people are also asking them in summer collection. What does this trend indicate? It indicates the changing mood of today's consumer. The willingness to accept innovation is increasing and now suppliers can show off their new collection with less fear of consumer rejection. Each of these shade has its own indigo story to tell and washes out totally differently…".
The company asserts that they are capable of doing many more colours in a wide spectrum of indigo range.
Here are some images from Soorty's  new colors..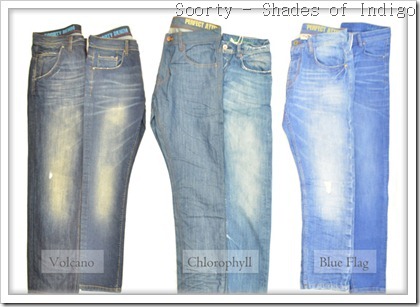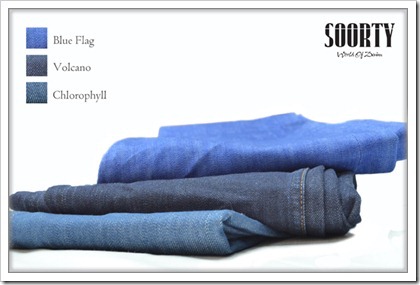 For more details on "Nature's Beauty" collection, contact Soorty here. .