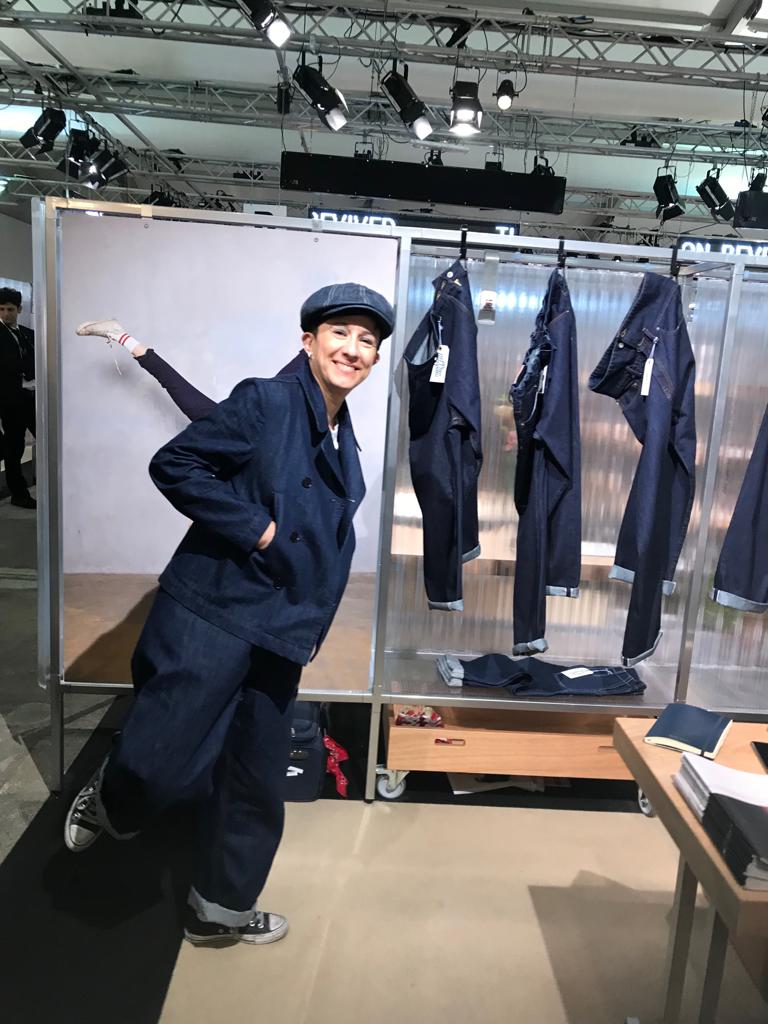 Simona Testucci – an accomplished designer having worked in different reputed brands – had brought out her denim brand PEPPINOPEPPINO some time back. Looking at the latest capsule collection we were drawn towards philosophy of the brand with all the women's denim styles inspired by original workwear and military pieces. And we thought it was time to talk to her and bring this collection for our readers.
So as you read further  below, you will find excerpts of our talk with her as well as looks from her collection flowing side by side. This collection is a selection of vintage pieces that were made for real life, durability and work. The talented pattern Alessio Ber translated them into perfect and timeless denim silhouettes.
Q. Hi Simona, first of all, the most obvious question. Why this unique name PeppinoPeppino ?
A lot of people asked me what is the origin of the name PeppinoPeppino. Well, when I created my Instagram account (PeppinoPeppino Magazine), I was living in Berlin. I was walking in the Mitte, thinking about a name that had an Italian flavour, sounding ironic and funny and, for some inexplicable reasons, PeppinoPeppino came up
Q. You are a well known designer working in large corporate. What prompted you to launch your own label.
I have been working in the fashion business for almost 20 years. I covered all the roles, from sales assistant, to visual merchandiser, buyer and then product manager, developing a 360 degrees experience.
In March 2015 I founded PeppinoPeppino Magazine, an Instagram account focused on denim, vintage workwear and Japanese aesthetic. Through that, I have been able to gather a group of faithful followers that understand and appreciate the style of my posts and feeds. I have wanted to create my own denim brand since I started working in the industry. It took me a while but I finally managed to do it. I launched the first PeppinoPeppino capsule at Pitti last year and I am very proud of it.
I couldn't have been luckier to collaborate with Alessio Berto. He is an incredibly talented pattern maker, able to translate my ideas into perfect silhouettes. He has become also a friend and mentor.
I started PeppinoPeppino because I felt there was a void in the market and felt I could address that void. The denim market is definitely saturated. However, I do believe that there is still so much to explore especially when it comes to shapes and fit
TYPE 10
50's tailored vintage menswear pants remade in soft broken twill 100% cotton. Relaxed and easy to wear fit, with frontal double pleats and adjustable back buckle. Timeless styling .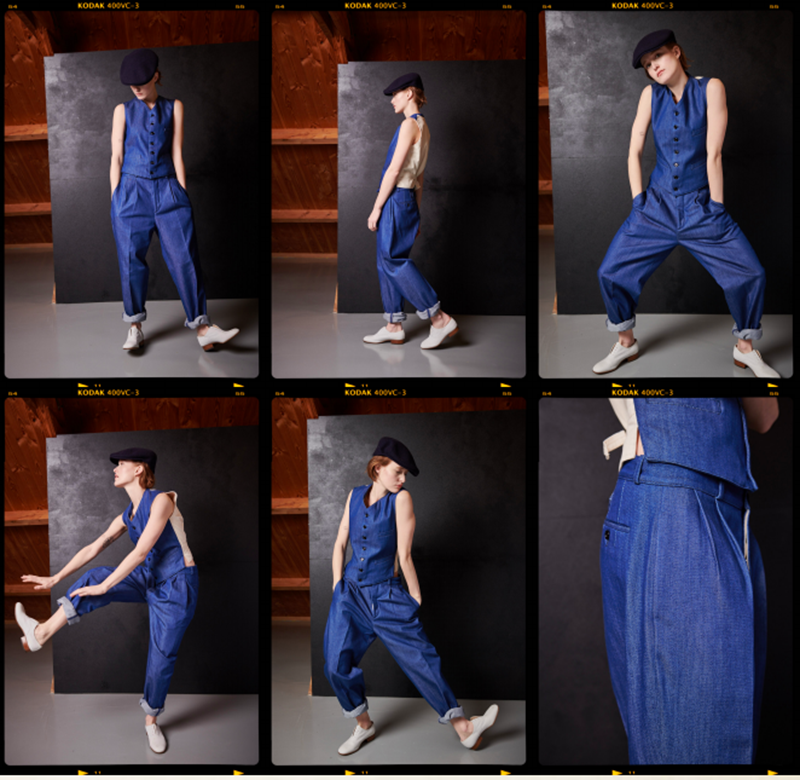 TYPE 11
Vintage vest remade in soft broken twill 100% cotton. A tailored piece with a one-of-a-kind sensibility and character, featuring the classic adjustable back buckle.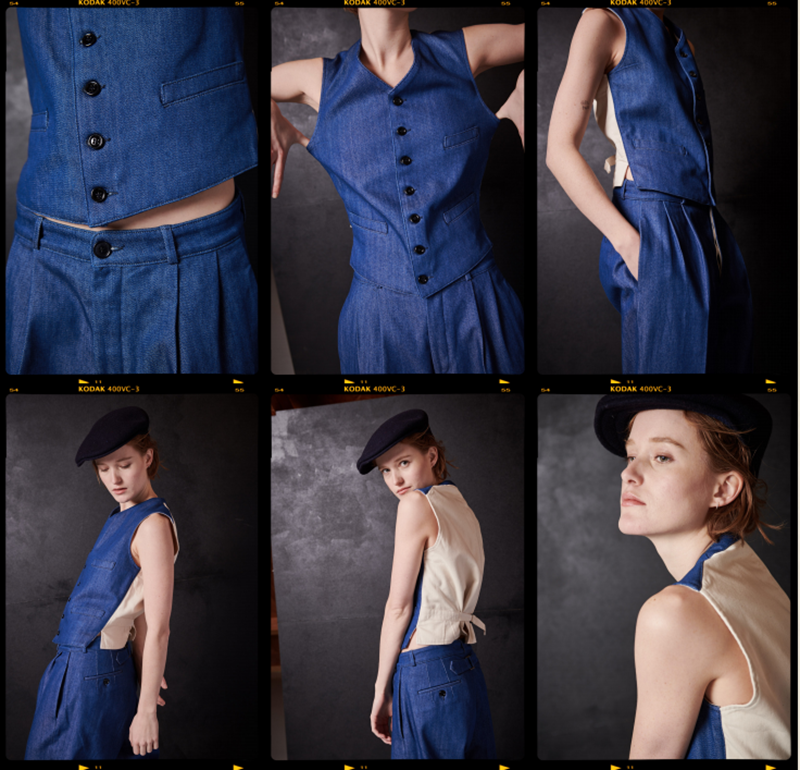 Q.The capsule looks so interesting with wonderful silhouettes . You have used inspiration from workwear and military to create women denims. Tell us more about it.
I have always been fascinated by authentic craftsmanship and vintage clothing (especially military and workwear).  Nothing makes me more emotional than a pair of old denim pants or a nice piece of vintage workwear. On top of that I have been a denim lover since I finished college. It came out pretty natural to put together those two elements into a denim line.
All the PeppinoPeppino styles are freely inspired by o
riginal workwear and military pants/jackets, featuring the same volumes and details. The philosophy of the brand is combining denim and vintage pieces that were made for real life, durability and work. From FA20 the brand is dual gender, having some styles available also in men's sizes.
What the denim market currently lacks is "emotion". The majority of denim brands, from premium to high street, offer the same things, in terms of washes and fits, no matter how much of the cost of the product is. On the other hand, the luxury brands offer super expensive and fashionable styles, not easy to wear in your every day life.
If you asked me if I will ever do a five pockets skinny fits in power stretch fabric, I would say no. This is not the philosophy of the brand. I would never do anything that I wouldn't wear, PeppinoPeppino denim fully represents my style. In this regard I don't want to compromise. I hope customers will embrace this untraditional and anti-fashion way of interpreting and wearing denim.
I hope that PeppinoPeppino will be seen as a hit of freshness and newness in the current denim market.
TYPE 12
PeppinoPeppino denim reinterprets the iconic US Navy deck jacket. A unique silhouette in broken twill 100% cotton, that becomes a cozy, oversize, cardigan. Utility frontal patch pockets with buttons closure.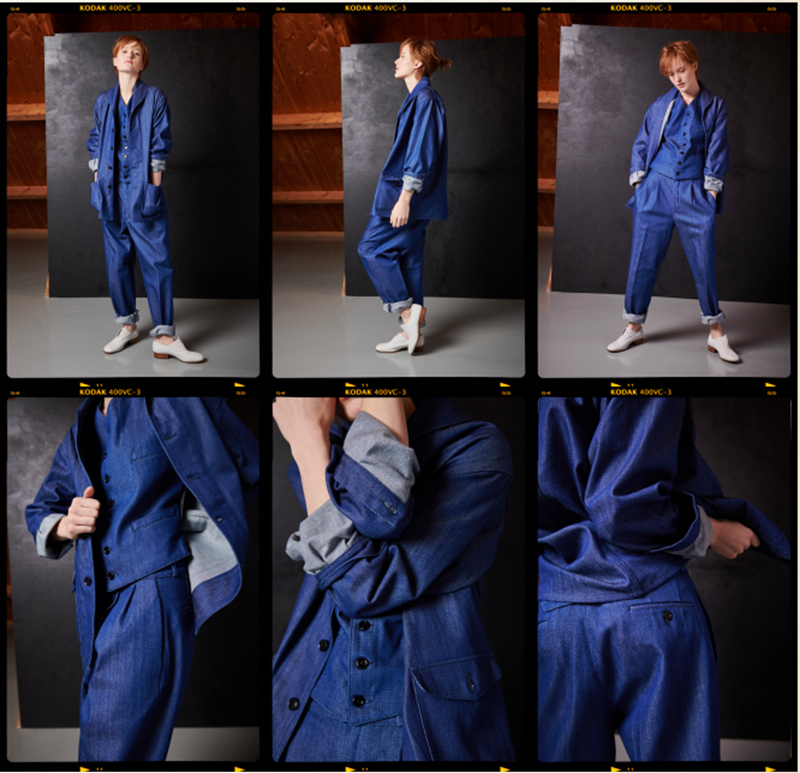 TYPE 13
Overalls have become a PeppinoPeppino denim's staple. Type 13 has been inspired by an authentic vintage French workwear overall, with the same volumes and details. The silhouette is intentionally oversize and it is made in 100% cotton Italian denim. Adjustable straps.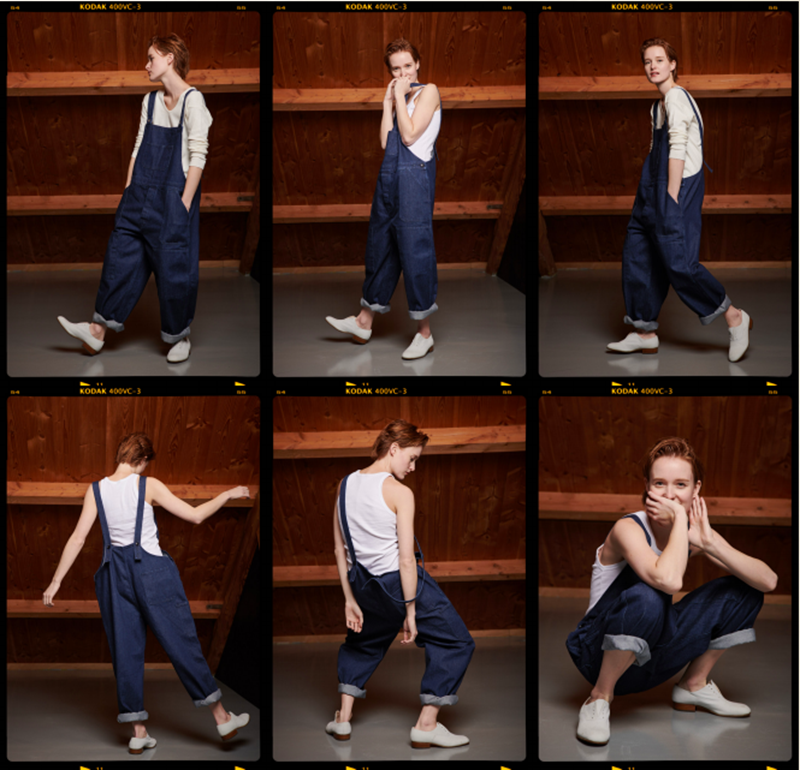 TYPE 14
Military chino in 100% cotton Italian selvedge denim. Easy and commercial silhouette. Mid rise, straight leg, with single frontal pleat and back flap pockets. Unusual and playful "half selvedge" finishing.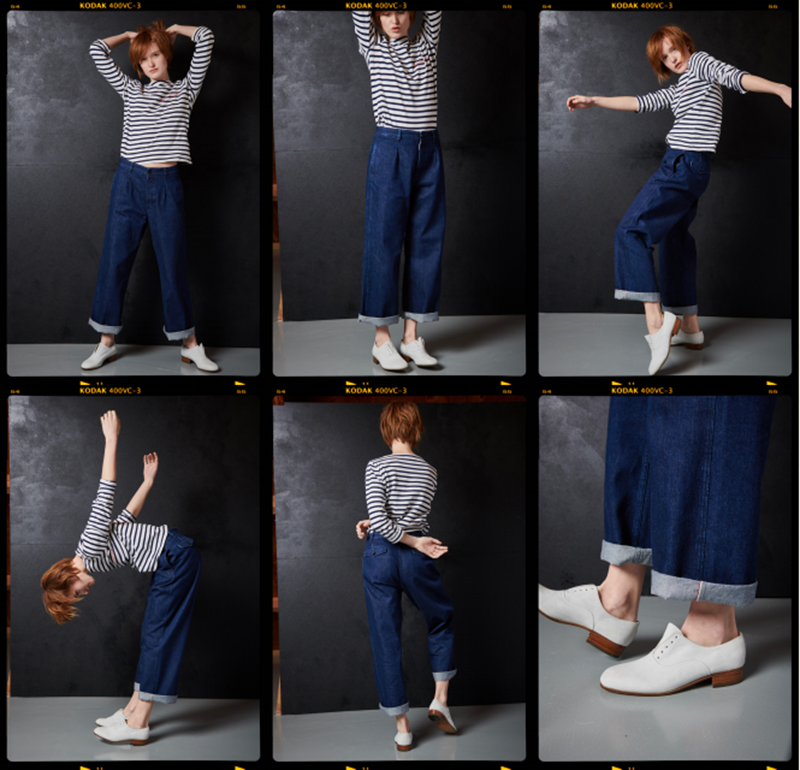 Q. All your pieces are made in Italy. Do you think this makes a big difference to your brand. What about the fabrics, are they also from Italy.
All the garments are made in Italy, using Italian and Turkish fabrics (Candiani, Berto and Isko), accessories are YKK, with 1950's replica zippers made by YKK Japan. I am Italian and the "made in Italy" is still, in my opinion, an additional value. I am not interested in easy margins, relocating the production abroad. I want to offer to my customers timeless and high quality products that last for a long time and get better and better with every day wear.
TYPE 15
Rugged, vintage wool military cargo pants found in an army surplus store have been faithfully remade in 100% cotton Italian denim. Easy to wear fit, slightly cropped as per the original one, with button closure at the bottom hem.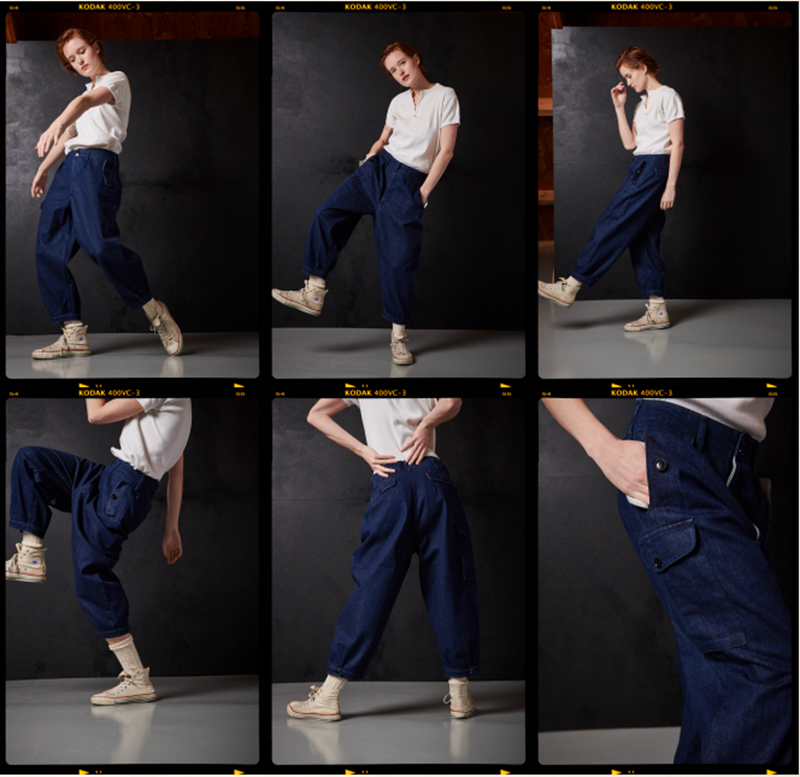 TYPE 16
Collarless denim jacket in 100% cotton Italian denim. Like an old vintage denim trucker, this piece features frontal pleats and authentic round bartacks. A line silhouette for a more feminine appeal.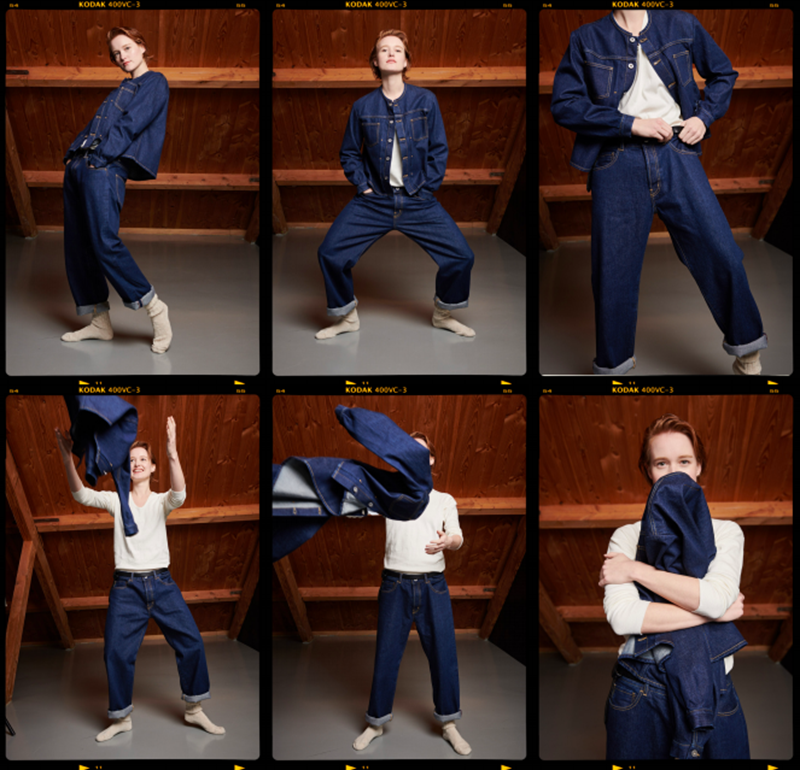 TYPE 18-R
Finally the PeppinoPeppino denim's interpretation of a classic five pockets. Oversize, boyfriend silhouette with details taken from vintage 40's/50's denim pants. The authentic tobacco stitching, the buttons fly and the premium, Italian selvedge denim make this style cool .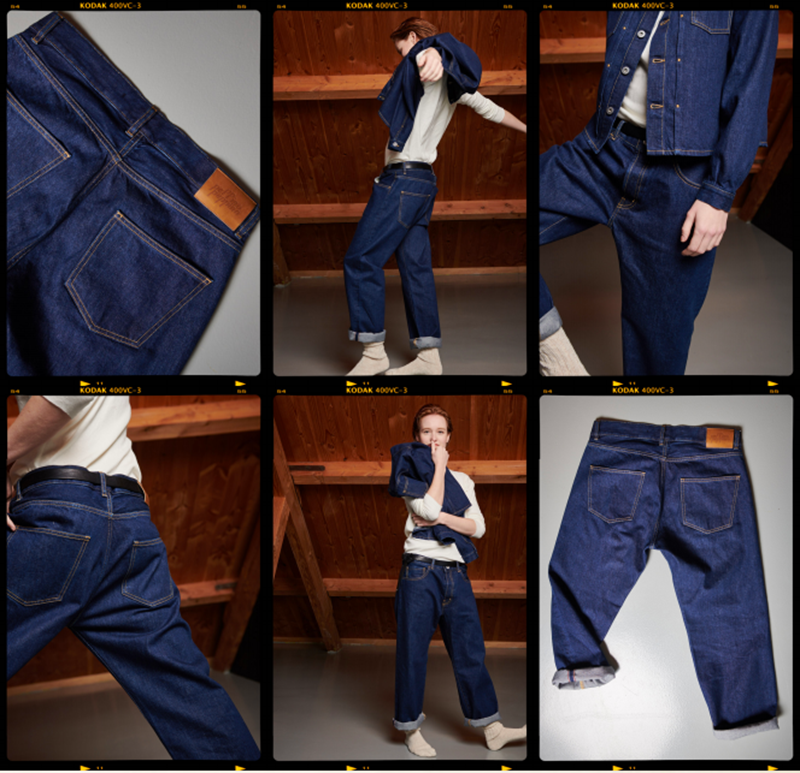 TYPE 18-W
Type 18 is available also washed. Heritage and authentic look with true vintage characteristics. The perfect rugged, worn-in look with an eye on sustainability.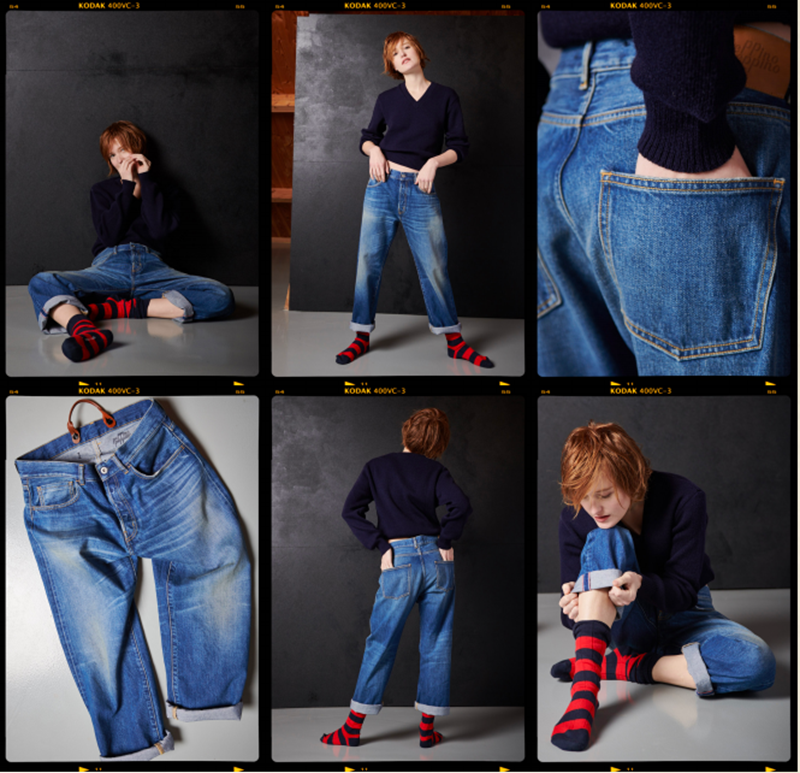 TYPE 19
Type 19 is freely inspired by a vintage Italian biker trousers. Made with 100% premium Italian denim, this high rise overall can be adjusted at the straps and at the sides with buttons closure.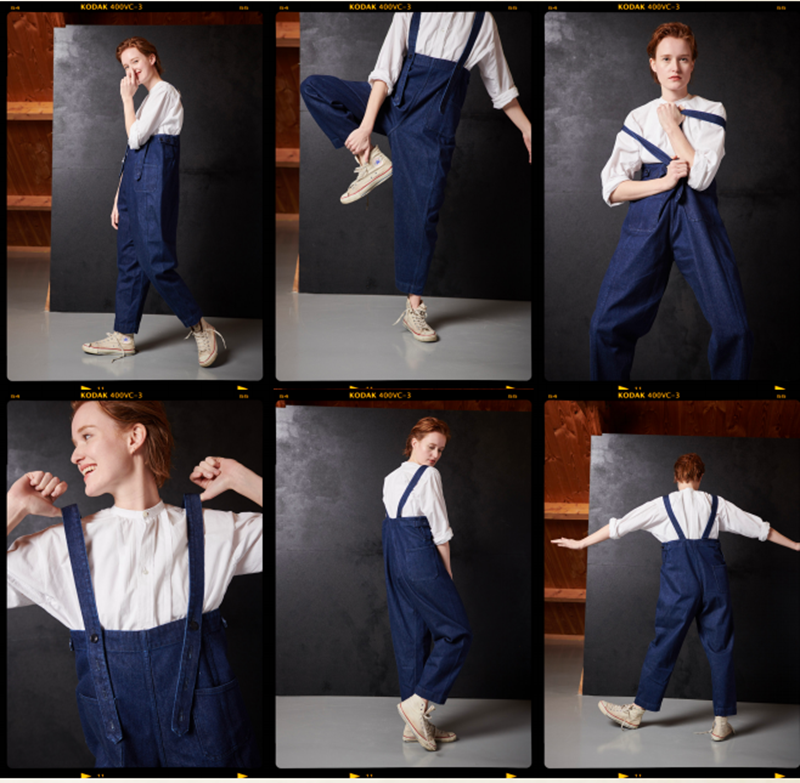 Q.Which of the pieces from this capsule is your personal favorite?
My favorite piece is called Type 6. It is salopette, belonging to my first SP20 capsule. It is a replica of a US WWII deck overall. It is so cool and comfy. I wear it all the times!
Q.Where will you be retailing this collection.
Currently PeppinoPeppino is distributed in Italy, UK and Germany. Next step will be the US and Japan. It takes time and patience, but, like we say in Italy, "Rome was not built in one day".
---