As we previously announced the launch of the jobs board at Denimsandjeans.com. I would like to inform about the latest additions to this board . It is now much more extensive and can be used by professionals around the world for searching for denim jobs .
Denim jobs in USA
This section is now very extensive and enables one to find denim jobs in various states/cities of USA including L.A, New York and many other places. Have a look at the picture below. The arrow shows the cities in US for which the denim jobs can be searched. Just click on any of the cities to find latest denim jobs in those cities.


The left panel on the board also enables one to filter the results by various other criteria eg Designer jobs, Production Jobs and can be combined with other criteria of job type like  Permanent, Part-time, Contract etc and the results can be collectively filtered. See image on the left side
Denim jobs in rest of the world
What about denim jobs in the rest of the world?
We have now made it easier to find latest denim jobs in various countries around the world eg Hong Kong, Italy, Australia, Canada, India etc.  Have a look at the image  below  :

Just click on 'Anywhere' if you are searching for jobs at any place around . Once you are on the new search page, just search for any query eg 'Designer'. You will find new job listings in the search results which would be from anywhere in the world.  However, if you want to restrict your search to any particular country, we have given the option for some countries including Hong Kong, India, UK, Australia, US, Canada and Italy. We shall be adding more individual country searches soon.
Just click on any country name and the search page for that country will open. Eg, for denim jobs in Hong Kong, we click on 'Hong Kong' and we immediately get results for denim jobs there. Searching for any position eg ' 'Merchandising'– would enable one to find the merchandising jobs in Hong Kong. Similarly , jobs in other countries can also be searched individually.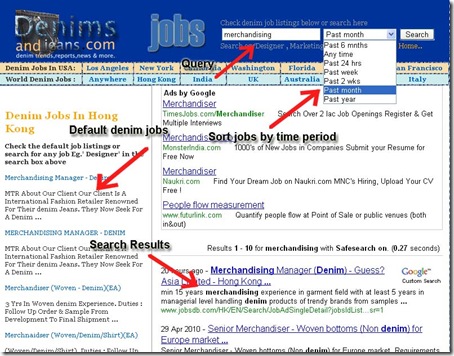 Thus you can use the extensive jobs board for searching for almost any kind of denim job around the world. 
Posting denim related requirements
Companies can also post their denim jobs on our jobs board and get eyeballs of a large number of denim professionals .  For a small fee, the jobs would be posted on the main job search page and remain there (at the Top) for 30 days .This , however, entails a small fee .
We would be very happy to receive reader comments on our jobs section and it would enable us to make this service more useful to the industry.