The first Denimsandjeans India show Indian Denim show by Denimsandjeans India has concluded with amazing responses on September 26 at the Hotel Lalit ,Bangalore. Being one of the most busiest denim show ,both exhibitors and visitors expressed their satisfaction with the visits at the show .On both the days ,    the show had to be extended  on the requests of exhibitors and visitors.
The show concluded giving great satisfaction to all the stakeholders  . With over 1500 visitors from over 250+  companies from India and overseas at this two days of  International Denim Supply Chain show, Denimsandjeans India made a successful debut on their home ground. After running over 9 shows in Bangladesh and Vietnam, the first edition was brought out  in India and it was surprisingly the best debut show .  It had most of the premium denim companies from India besides many other companies coming from  Bangladesh, Turkey, Spain, Switzerland, Brazil, Italy, Ethiopia etc as participants. With about 34 companies, the show was a niche boutique show with a very informal,denimish environment!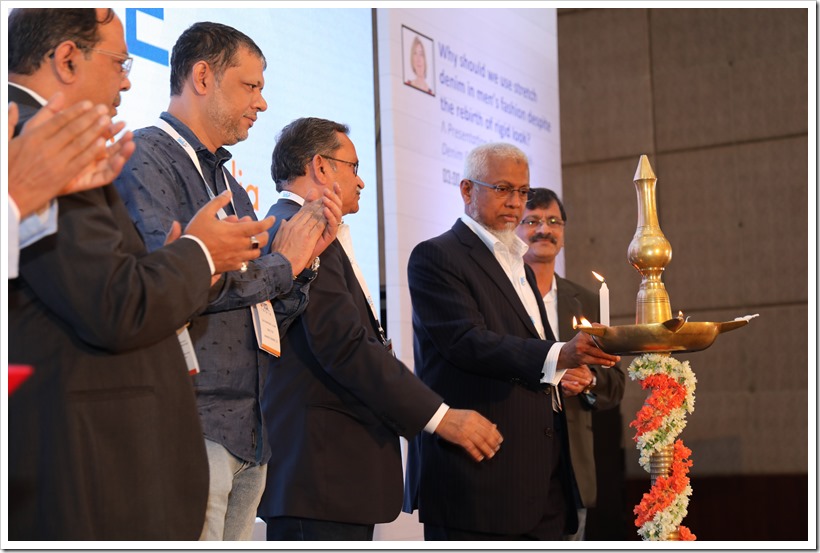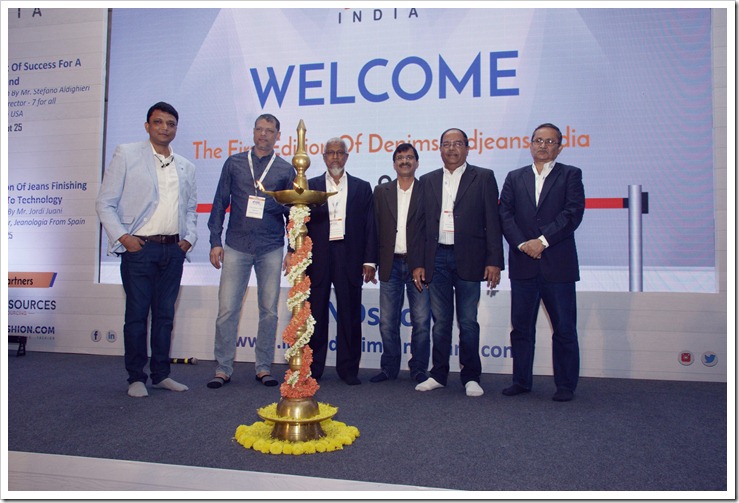 The organizers received phenomenal response from the visitors.  All the major retailers and brands including H&M, Marks & Spencer, VF Corporation (all major divisions) , VF USA , Landmark Group , Li Fung , GAP Inc , Zara , Tesco , Pepe Jeans , Killer Jeans , Spykar , Target , Benetton , V-Mart , Shopper Stop , Reliance Trends , Myntra , Hypercity Retail, ITC Limited , Levis, Marks and Spencer , C&A ,Being Human, Blackberry, Jabong, Pantaloons, Tata Cliq, Tata Trent, FFI, Ajio, Westside, Asmara India , Asmara Bangladesh , Bestseller , Ostin , Mufti, PVH, Aditya Birla Fashion, Arvind Brands, Raymonds Apparels, etc have visited the show.  Some of the most reputed factories and exporters including Orient Craft, Gokaldas Exports, Shahi have also visited the show along with their team. Many tier  I and tier II brands along with big fabric dealers and distributors have also marked their presence at this show thus providing a complete basket of buyers to the exhibitors . Companies like Hirdaramani and others travelled from overseas to attend the show.
Exhibitor Feedbacks
We had some very encouraging feedbacks from some stalwarts and  exhibitors of the industry. Sharing some of them :
"It is a real pleasure to be here, it is a great platform that team Denimsandjeans have set up for the denim fraternity here in India.It is really amazing to see such fraternity of denim producers, buyers, laundry people, washing experts coming together. I wish Sandeep and team a lot of success for this endeavor and I am really looking forward this to become a regular annual event for the country"
Mr. Aamir Akhtar , CEO – Arvind Mills
"Very beautiful exhibition! The customers flocked here like anything throughout the day, it was full. All the good brands came here and we got the opportunity to exhibit here all our products. We wish Denimsandjeans all the best and look forward to participate in their upcoming editions"

Mr. Prabir Bandhopadhyay , CEO – Denim Fabric Business , LNJ

This kind of a particular show has happened after a very long time in India and I think such a footfall has never happened in any of the overseas shows also. I am really really thankful to Denimsandjeans that this is one of the best of its kind which has happened this time", said Mr Suketu Shah, Business Head and President – Mafatlal Industries
"The show is fantastic , the footfall was amazing . We were busy catering our customers throughout the day . I wish all the good luck to Denimsandjeans for their future endeavors".

Mr Abdel Amouche , Area Manager – Vicunha Textil
" This is a fantastic show and we have been here for the first time . This show is a great platform to understand the Indian Apparel Industry and we met a lot of buyers at the show . Fantastic Show ! "

Mr . Munir , MD – M&J Bangladesh
"This was our first exhibition in India and it was very nice, much better than our expectations. We are very satisfied with the show and we met many buyers including Levis, PVH and so on. We are extremely happy with this exhibition"

 Mr. SB Lee ,Marketing Manager- Hyosung Corporation S.Korea
"This is our first time in India and the kind of response we are getting here is really amazing and we are feeling very good and positive and we are wishing all the best to the team Denimsandjeans"

Engr. Sirajul Islam , General Manager-  Mahmud Denims Ltd.
"I want to congratulate you on the success of the show that went beyond our rosiest expectations.Everything was topnotch from exhibitors roster to attendance to organization," said Mr. Marco Nava, Global Sales Director – Garmon Chemicals
"I feel that this is the fantastic initiative taken to organize this show for the 1 st time in India. It has been really helpful and we had lot of customers coming on the both days and we've been able to cater so many of retailers and brands in India and we hope that this will be continued so that we will keep be catering our customers in future as well",
Mr. Manish Khanna Marketing Consultant – Ultra Denim




SEMINARS & PRESENTATIONS
Besides the show, some important talks on the latest trends, technologies, sustainability, latest innovation and developments by renowned global experts from Spain and US happened on the both the days. Experts from USA, Spain, Turkey, and Portugal have been invited to take some important  denim sessions at the show. The seminars went houseful on the both days and the turnout was so high that the organizers had to make extra arrangements to accommodate the audience. In all the four seminars had over 300 + audience and it made  it very encouraging for the speakers to give their best !
On the first day,  Stefano Aldighieri – ex-Creative Director of 7 for all Mankind, with his vast international experience,  talked about the "Secrets of making a Denim Brand Successful". He explained the success mantra of some very famous denim brands including 7 For All Mankind during his presentation. He talked about as how important is it to understand the dynamics of market and consumer behaviour before launching a new product.
Download presentation- The Secret of Success For A Denim Brand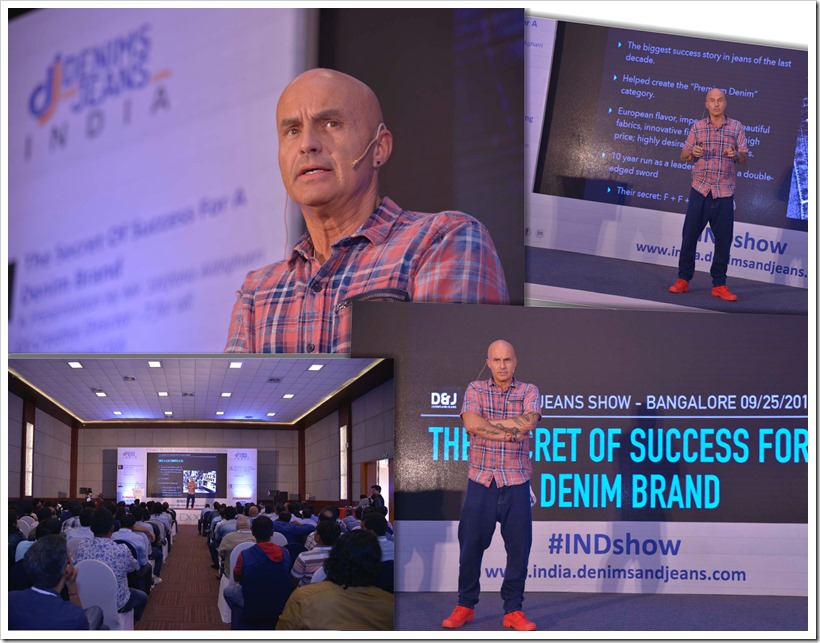 Jordi Juani , Division Director Jeanologia gave details about "Evolution of jeans finishing from hand to technology" and how new washing technologies have changed the jeans world.
Download presentation – The Evolution of Jeans Finishing From Hand To Technology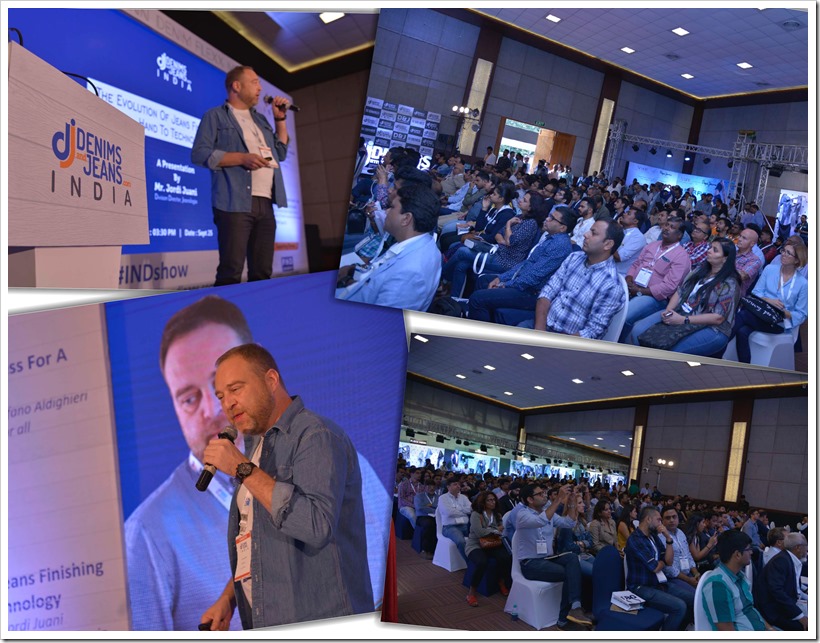 On the second day, reputed denim product and marketing consultant Dr. Dilek Erik from Turkey shared her ideas on why Rigid denim is coming back but Stretch is still being used. How the lines between menswear and womens wear were being blurred and what role stretch was playing in the same.  She also talked about the latest trends in the market for the season AW 18/19.
Download presentation : Why should we use stretch denim in men's fashion despite the rebirth of rigid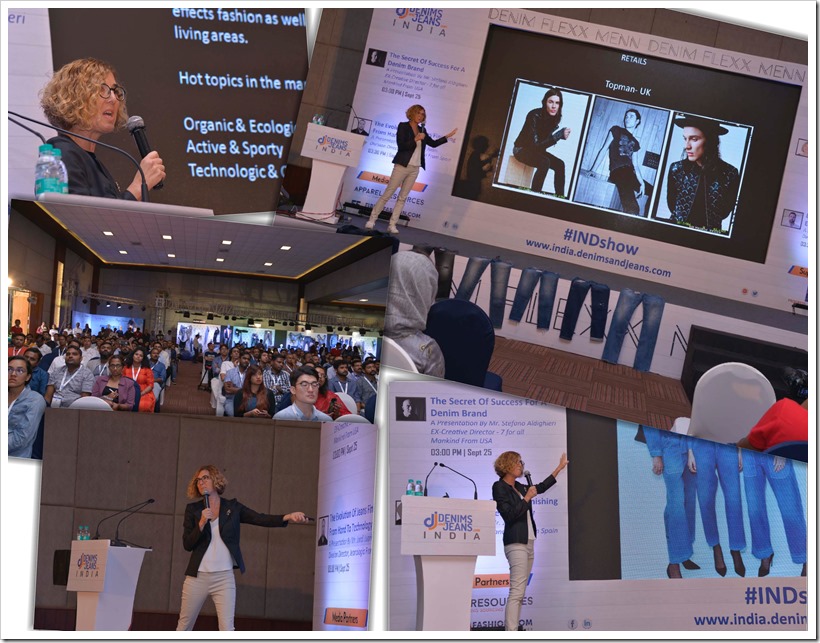 Vasco Pizarro, Marketing Director at the largest European Laundry spoke about Denim Wash trends from Top European Brands for AW18 season and also showcased some of the amazing developments which they have done for global brands. With over 100,000 garments of wet processing in a day and many more for printing and finishing, Pizarro is a globally reputed and renowned laundry which works for almost all major brands in Europe and US. The production and human processes at the laundry were greatly appreciated by the audience with many flocking to see their garments.
Download presentation : Denim Wash Trends From Top European Brands For Aw18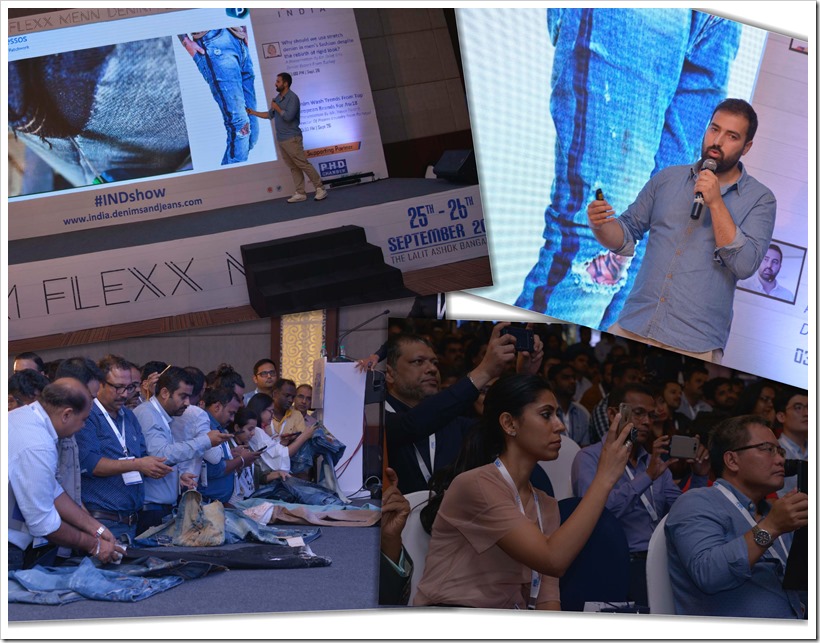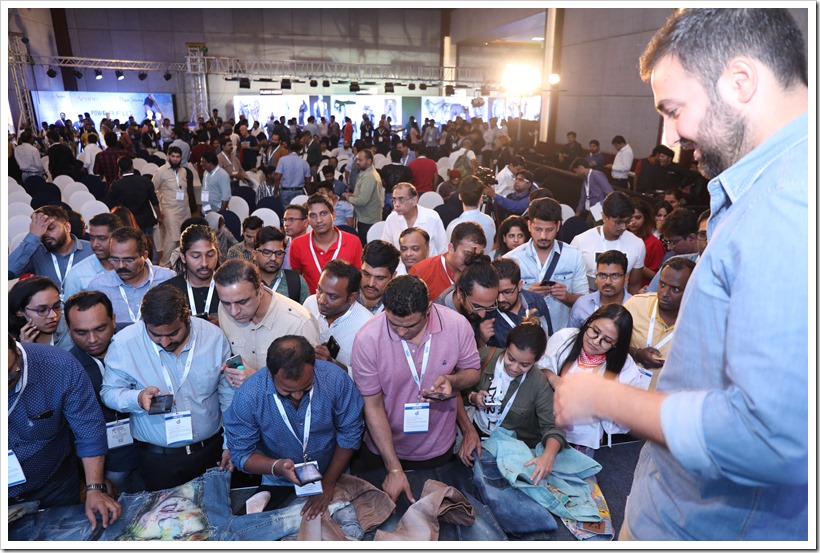 TREND AREA
A trend area on the major trends emanating globally created where latest looks in various categories had been also created at the show so that the visitors will be able to savor the latest global looks. Denim market in India is looking up as production and consumption both look up sharply . India is primarily a men's market with over 80% share . The recent trends in this segment show a big share for Dobby weaves and structures in stretch . Companies have been investing to satisfy the continuous demand for structures denims . Color variations with toppings and bottomings add flavor to these structures . However women's market is now on the uprise as denims spread to tier 2 and 3 cities with Women and girls shedding cultural inhibitions. Super stretches is the category of women which most brands are now looking to tap  Elegant athelisure sportswear look denims are being taken up by brands like Pepe , Levis and others.We are going to see a complete overhaul in the women's market as the females get more assertive and market share between two sexes is more balanced.
A Fun Evening
After a hard days' work, the exhibitors and visitors were able to unwind and relax a bit during the Stand up Comedy act by Kunal Rao. Bringing anecdotes from the fashion industry as well as from the our daily lives, the large audience was in splits during the show and fresh for a hefty dinner.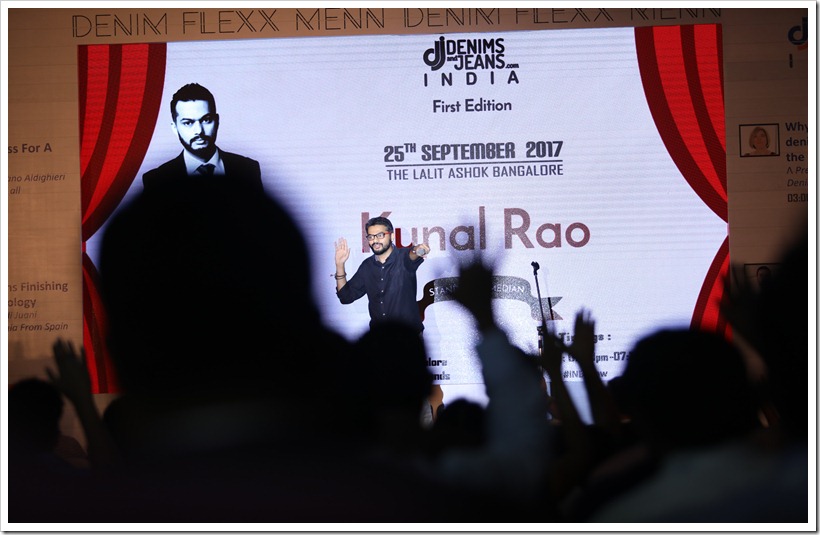 Denimsandjeans feels that denim business is set to grow manifiold in India. India is already the second largest consumer of denim apparel globally and is expected to grow at a fast pace in the coming years.The main idea behind Denimsandjeans show was to create a platform where the best in class denim products and technologies can be displayed and knowledge can be shared at one place. We would like to say a BIG THANKS to all our exhibitors and visitors for making it a great success and we hope to create more value in our coming shows for all of them !
For more details, you can visit the official website of Denimsandjeans India – www.india.denimsandjeans.com and for any query, email them at info@denimsandjeans.com