Pocketing material is used in most trousers including denim jeans. It comes in various qualities going from 100% cotton to nlyon and polyester pocketing. 
Normally denim jeans use white, cream or similar lighter shades of different qualities of  pocketing fabrics . But what pocketing do you use if you are creating a vintage jeans and want your pocketing material to completely align with the looks of the jeans ? You want to show that your pocketing is as aged as your jeans ?
Normal pocketing fabrics do not work in such a case . One has to use specialised pocketing fabrics which actually fade with the washing processes done on the jeans.. However, that is not enough – one has also to ensure that the fading of the pocketing fabric stops at certain stage and it retains color which does not bleed on to the undergarments.
I came across some fabrics from Copen at Kingpins Hongkong , which actually have all the characteristics mentioned above.  I found the fabrics quite interesting – some of them are shown below :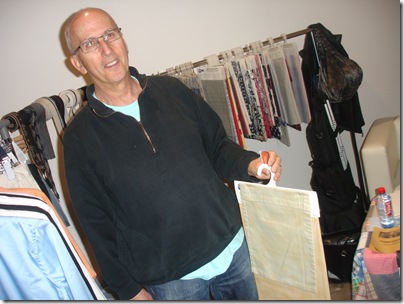 Barry Emanuel from Copen showed me a number of such interesting fabrics which they supply to almost all major denim brands in the US. With the premium denim space getting more competitive, the brands are always looking at various ways to distinguish themselves from other brands and as Barry told me
" In a premium denim jeans everything has to be premium whether it is fabric, the pocketing, the rivets, tags or any other accessory' .
He also says "We have made pocketing fabrics – which is otherwise a very boring product – into a very interesting and lively product". Agreed..
About Copen :
Copen was established in 1946 and has been in business for over 55 years. The company was originally a waistband manufacturer with a factory located on a military base in Jackson Tennessee. The company manufactures pocketing fabrics , waistbands ,printed bias tapes etc at various locations around the world.