"Sustainability" in textiles refers to methods employed in the production of fabrics that are more environmentally friendly. "Sustain" means "to uphold" or "maintain", which in regard to manufacturing calls for establishing practices which maintain a balance in nature. A sustainable fabric is one that is produced in such a way that reduces the effect on the environment including recycling of water and raw materials, heat recovery from waste water and steam generation and reduction of dye and chemical usage and chemical substitution.
Cotton Incorporated, USA,  is sponsoring a study of sustainability related to dyeing in denim fabric to be published and distributed world-wide in January 2013. Companies and individuals that participate and contribute includable material will be afforded recognition for their efforts to reduce effects on the environment.
The issue of sustainability with regard to dyeing in denim (fabrics)  has for many years been a matter of concern to environmentally-concerned garment consumers as well as leading jeans retailers. By demonstrating a commitment to reducing demands on resources like water and energy, pollution of water and air as well as wastefulness of dyes/chemicals for denim dyeing and waste and degradation of cotton yarns and fabrics, participating denim producers establish themselves as truly responsible providers of the world's most popular fabric.In the area of denim dyeing, there is enormous potential for reducing demand on resources including unnecessary dye/chemical consumption, water treatment and energy.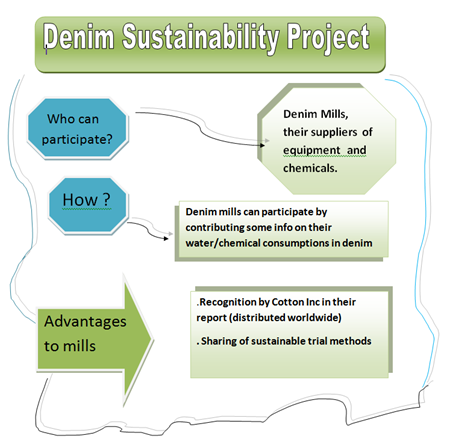 The benefits of employing sustainable practices in the denim dyeing include:
Improved brand reputation to concerned garment producers, retailers and jeans consumers.
-Improved customer satisfaction by establishing your company as an environmentally-responsible fabric producer.
Improved profitability by reducing waste, especially reducing excessive use of dyes and chemicals which occurs in most denim operations.
Reduction of waste water treatment by identifying and correcting causes of unnecessary dye losses in washing.
BENEFITS OF BEING INVOLVED
-This project will be surveying denim producers and their suppliers of equipment and chemicals for methods that they have already implemented in order to reduce water, energy and raw material waste.
-Additionally, participants will be asked to conduct trials using methods that have been employed in a few denim companies that reduce consumption of resources and have reported to have produced significant savings as well as quality and weaving efficiency improvements. Those that provide study results will receive recognition in the Cotton Incorporated Report when distributed world-wide next year.
HOW TO BECOME INVOLVED
Nominate a responsible manager from your company along with contact details.
Provide a report of those activities that you have already undertaken in the last 10 years to promote sustainability.
Answer as many of the questions on this initial survey and provide the details by November 15th.
Questionnaire
A) Mention Dyeing method
1) ROPE
2) SLASHER
3) LOOP
4) SKEIN
B) Mention Water Consumption
1) Liters of water consumed in washing per kilogram of yarn
2) Kilograms of steam used per kilogram of yarn.
3) Liters of water recovered per kilogram of yarn.
4) Liters of water used in dye/chemical mixes per kilogram of yarn.
C) Dye Consumption : % Dye on  weight of yarn  (average)
1) INDIGO
2) SULFUR (BLACK)
3) SULFUR BOTTOM
4) SULFUR TOP
5) OTHER DYES(STATE TYPE)
D) Dye Reducing Agents
TYPE: GRAMS/KILOGRAM YARN
1) SODIUM SULPHIDE (Na₂S)
2) SODIUM HYDROSULFIDE (NaSH)
3) DEXTROSE
4) SODIUM DITHIONITE (HYDROSULFITE-Na₂S₂O₄)
5) HYDROGEN
YARN WASTE
1)Kilograms of cotton yarn delivered to dyeing versus kilograms of yarn delivered to weaving.
2)-Disposition of waste yarn: disposal as waste, sold as waste with price per kilogram or reuse in fabric as reclaimed fiber, leader yarn or in special fabric constructions.
For more information and/or for getting involved in this project , pl contact Harry Mercer (from Indigo BLue) and Michael Tyndall from Cotton Inc on email here
Also check out our comprehensive report on the world denim market launched recently.