Taking a cleaner approach to the timeless style 'Volcom' jeans and chinos have come to be known for, they have streamlined their fits and elevated the performance features on each and every pair of Volcom jeans. With their roots in skateboarding and using history as a guide, they have taken their last 25 years of designing pants and scrutinized and modernized every last detail to create a line of jeans and chinos made from high quality materials and construction methods with all the key signature Volcom details . Every pair of Volcom jeans features felled interior stitching and clean finished pocket bags for added comfort and less chafing, upgraded dual finish hardware for increased durability, a hidden phone pocket and double belt loops for convenient utility, while the asymmetrical detail of the offset back yoke and the "V" belt loop remain uniquely Volcom.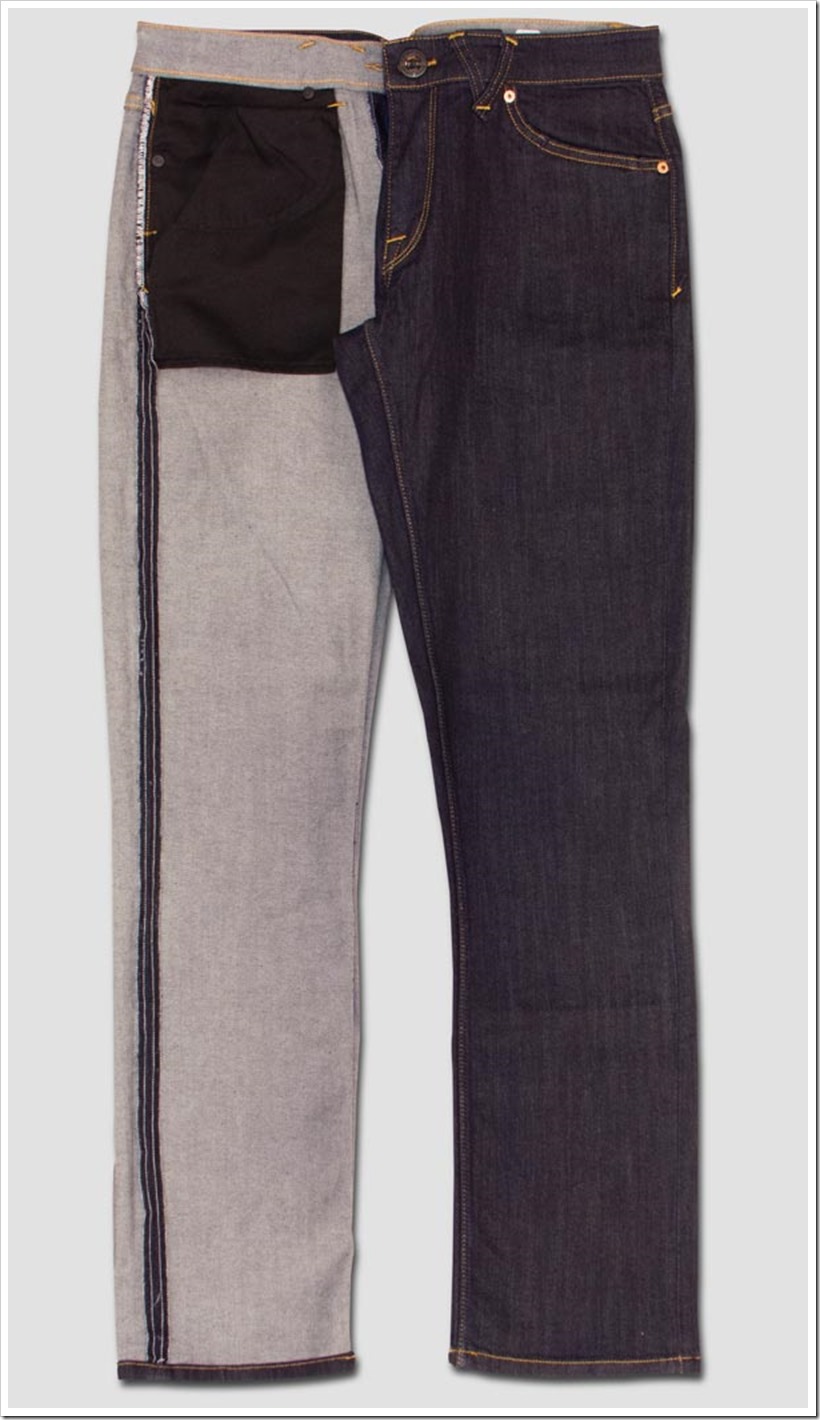 Below are the two top picks from the collection which have been launched by Volcom in a collaboration with Cone Denim .
Vorta Jeans – S Gene® Selvedge | USD$130.00
The raw, unwashed, USA S Gene® Selvedge (SGS) jean – is a perfect blend of heritage and modernized denim between art of selvedge with introduction of Cone Denim's® patented S Gene® Technology.Premium leather embossed patch. The slim fit wears close to body, but still offers mobility for any activity. Leg openings measure 15 inches. Medium rise hits just below the waist. Selvedge denim is made at the Cone Denim White Oak® plant in Greensboro, NC claiming High mobility, comfort, and recovery with Cone Denim's® patented S Gene® Technology. 93% Cotton / 6% Polyester / 1% Elastane.
Signature Details

Superior Stretch

This denim features S GENE® by Cone Denim®, the patented technology that     delivers breakthrough stretch performance and unsurpassed recovery. With twice the power of normal stretch denim fabric, Cone's S GENE® recovery is superior in its ability to retain its original shape, virtually eliminating "bagging knee" syndrome.
Metal Buckle Button

Inspired by button closures found on military gear,  dual finish metal buckle button is   secured by a bar tacked piece of denim fabric for a durable and       nearly indestructible hold.
Hidden Phone Pocket

Patented inner phone pocket (left front) keeps your phone snugly secure          while leaving your pocket free for your hands and everyday carry objects.



Double Belt Loops

Designed to accommodate various belt sizes, from a standard 1.5″ leather        belt,    to a 1″ cloth scout belt, down to a shoelace.
Vorta Form Jeans – Indigo | USD$80.00
This Indigo (IND) jean exposes denim in its true rinse wash and rugged form. Heavy stitch circle embroidery on front pockets–replacing metal rivets–to prevent hip punctures. Premium denim fabric woven with durable yarns has been used, making it stronger than cotton. CONEgard™ treatment repels water, moisture and all mishaps. An exclusive, anti-microbial finish that inhibits the growth of bacteria keeping your jeans fresh & odor free. 75% Cotton / 24% Polyester / 1% Elastane



Durability

The company is claiming that they have taken durability to the next level in the Volcom Stone Made jeans with the introduction of new innovative denim fabric      that features yarns spun with LYCRA® TOUGH MAX™ technology that combines stretch for freedom of movement with enhanced durability and resistance to          tears and abrasions.



Anti-Microbial

Features sustainable anti-microbial finish that allows for these jeans to be        worn longer and harder between washes with less odor. Exclusive to Volcom         in stretch denim and developed by Cone Denim®, an anti-microbial finish using positive ions is applied to the denim at the fabric state that effectively reduces odor caused by bacteria.



Water Resistance

Whether battling the elements or just daily mishaps of a liquid kind, the water    and stain repellent finish, CONEguard™ by Cone Denim®, is a groundbreaking Durable Water-Repellant eco-friendly PFC-free finish applied to the denim at the fabric state.
Stitched Rivets

Only available on the Form fit, we've replaced all the metal rivets with stitched rivets to ensure your movements are snag-free, a true performance feature.